= 50)" :class="navScrolled ? 'lg:mt-20' : 'lg:mt-32'" x-transition >

The new version of Time Off is here! Before, your team had to figure out how much time off they've earned by looking at their pay stub (or maybe even a spreadsheet) prior to submitting a PTO request on GoCo.  Now, you and your team can see how much time off they've earned right on GoCo!
Setup Your Company's Policy
We now allow you to define how your company's time off policy should work.  Choose from offering Vacation, Sick, and Personal time off and decide whether employees are allowed an unlimited amount of PTO, or if they should accrue time off.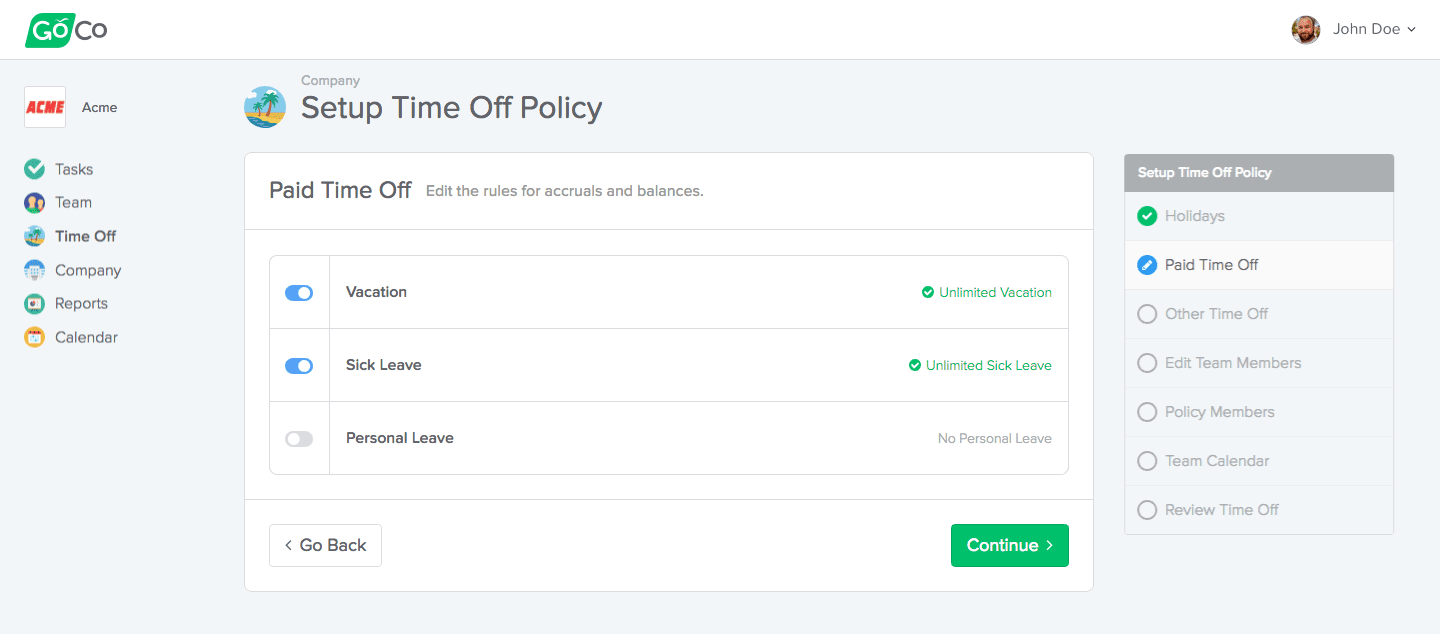 Accruals & Balances
Just tell us how much time off your employees get each year for vacation, sick, and personal leave and we'll take care of tallying up their accruals.
Additionally, you can customize your policy with more advanced settings such as:
Tenure Accruals - Do employees get extra time off if they've been with the company for awhile?  Example: increase by 10 hours at the 1 year anniversary

Maximum Balances - Do you limit the amount of PTO team members can accrue to their balances?  Example: A team member cannot earn more than 120 hours of PTO

Annual Resets or Carryovers - How does earned time off carry over from year to year? Example: Reset balance to 0 every year

Minimum Request Increments - Do team members need to request a minimum amount of time-off?  Example: You must request at least 4 hours or more

New-Hire Waiting Periods - Do new employees need to wait before requesting time off? Example: No time off or accruals for 30 days after hire

New-Hire Proration - Do new hires receive pro-rated PTO hours on their start date?

PTO Liabilities - Does your company need to track unused or overused PTO liabilities so they can be paid out upon termination?  Example: Some states require unused Vacation PTO to be paid out upon employee termination.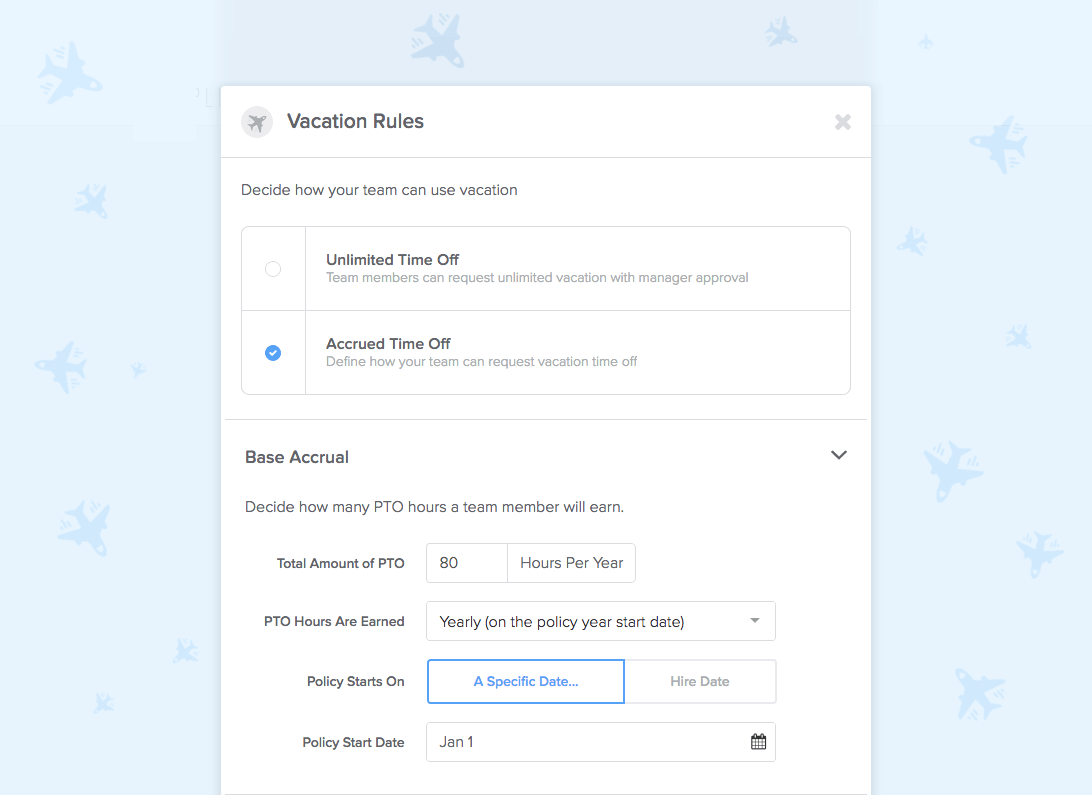 Other Types of Time Off
Not all out of office requests fit neatly in the vacation, sick, and personal leave buckets. So, you can create and track other types of time off such as Jury Duty, Bereavement, and Work From Home. These other time off types can be counted toward one of the existing time off balances (Vacation, Sick, Personal) or set as Not Counted (which won't affect any PTO balances). When team members request time off, they'll be able to choose from the standard paid time off types (Vacation, Sick, Personal) as well as any custom types you have defined.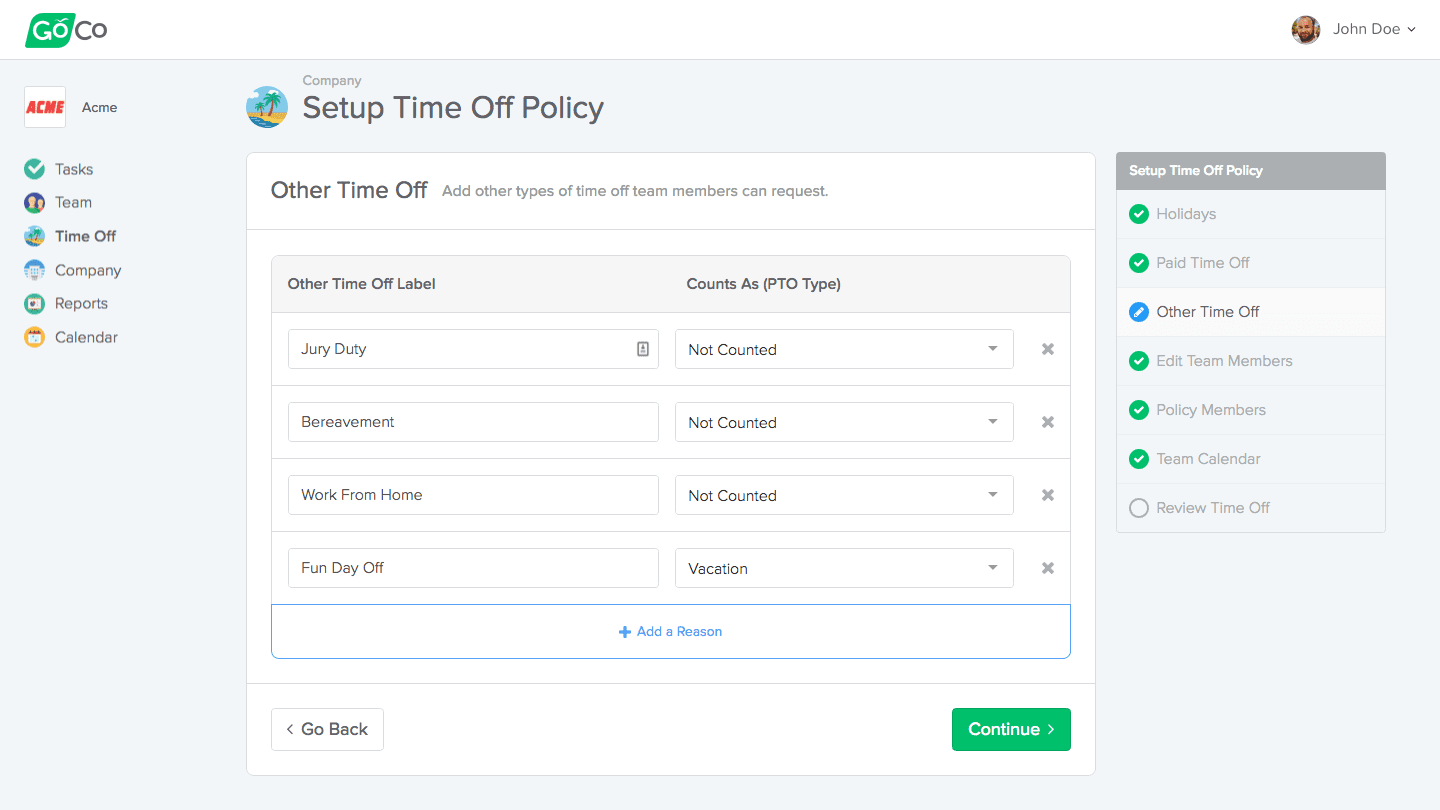 Requesting Time Off
After you've set up your policy, team members can request time off using GoCo, by going to their profile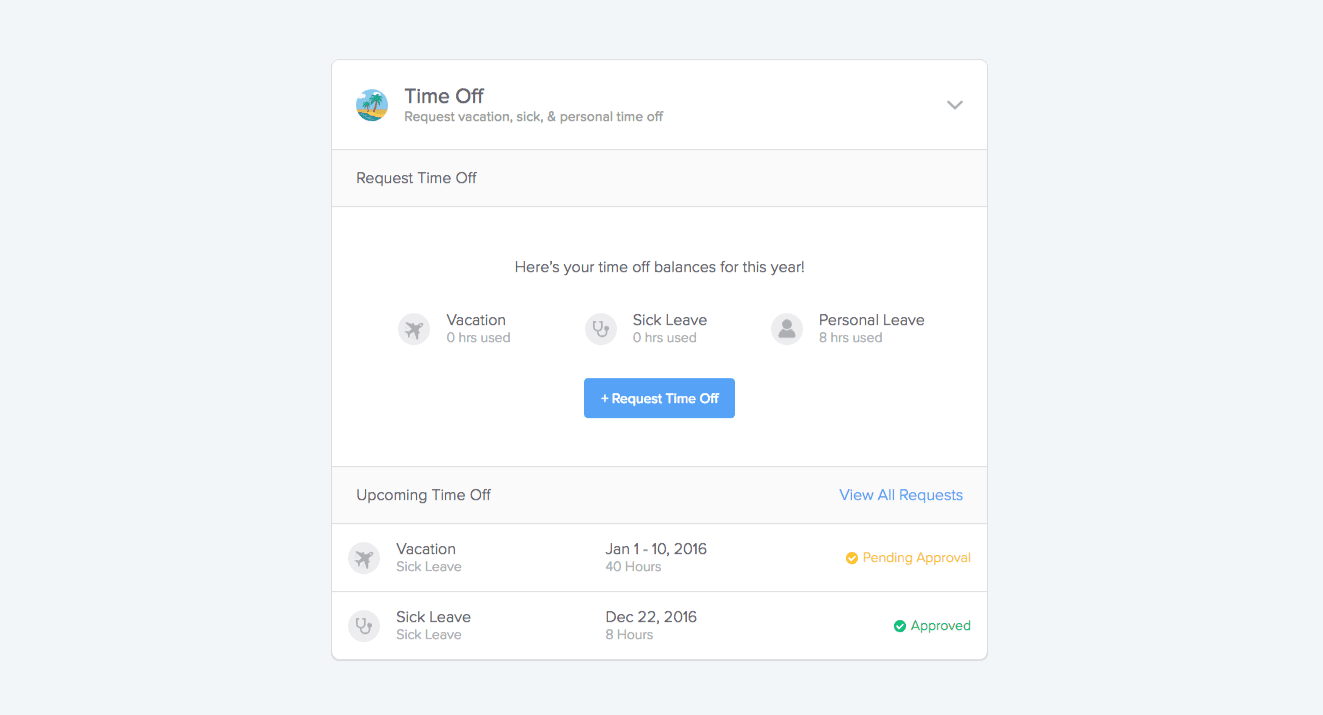 For convenience, we show them a calendar with weekends and holidays highlighted to help employees understand which days count toward time off. We'll automatically avoid counting weekends and holidays from their time off requests. Employees can also choose between full and partial days out of office. Upon submitting the request, we will notify the employee's manager for approval. If the employee does not have a manager, we will notify the administrator instead.
Manager Approvals
Managers (or the admin, if a manager is not set) will receive a notification from GoCo when a new time off request is made. To simplify the approval process, we present the most relevant information to the manager at the time of approval. This includes the employee's available time off balance, the total number of hours already used this year, and other people who will be out of office at the same time. Using this information, the manager can easily approve or deny the request, and the employee will be notified of the decision.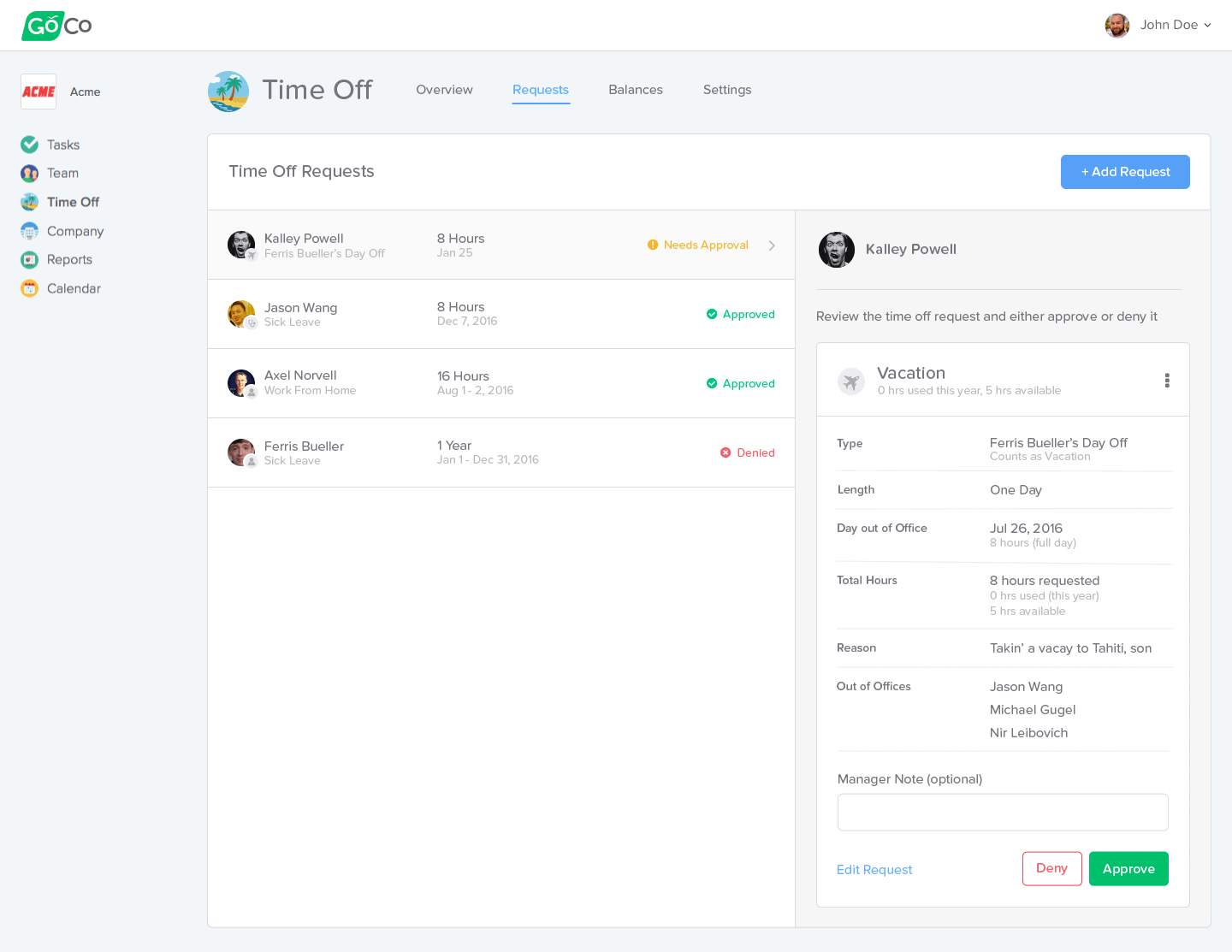 Time Off Overview
From the Time Off Overview, you can see a snapshot of your entire company's time off usage and liability, if applicable. You will also see a summary of pending requests, who's currently out of office, and upcoming out of offices.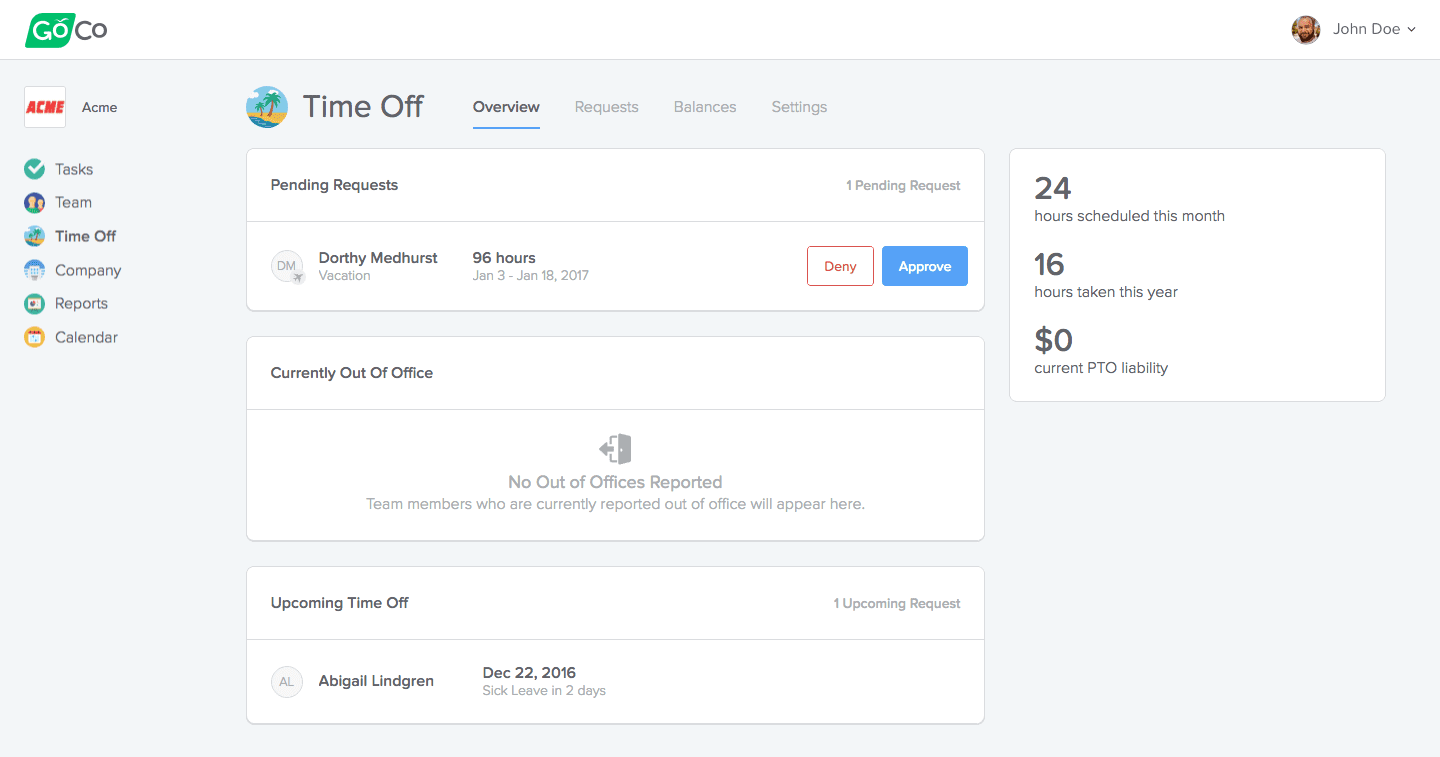 You can view balance histories to get a detailed view of how each employee has accrued time off since they started.  If needed, you can manually edit their balance or override their accrual rate.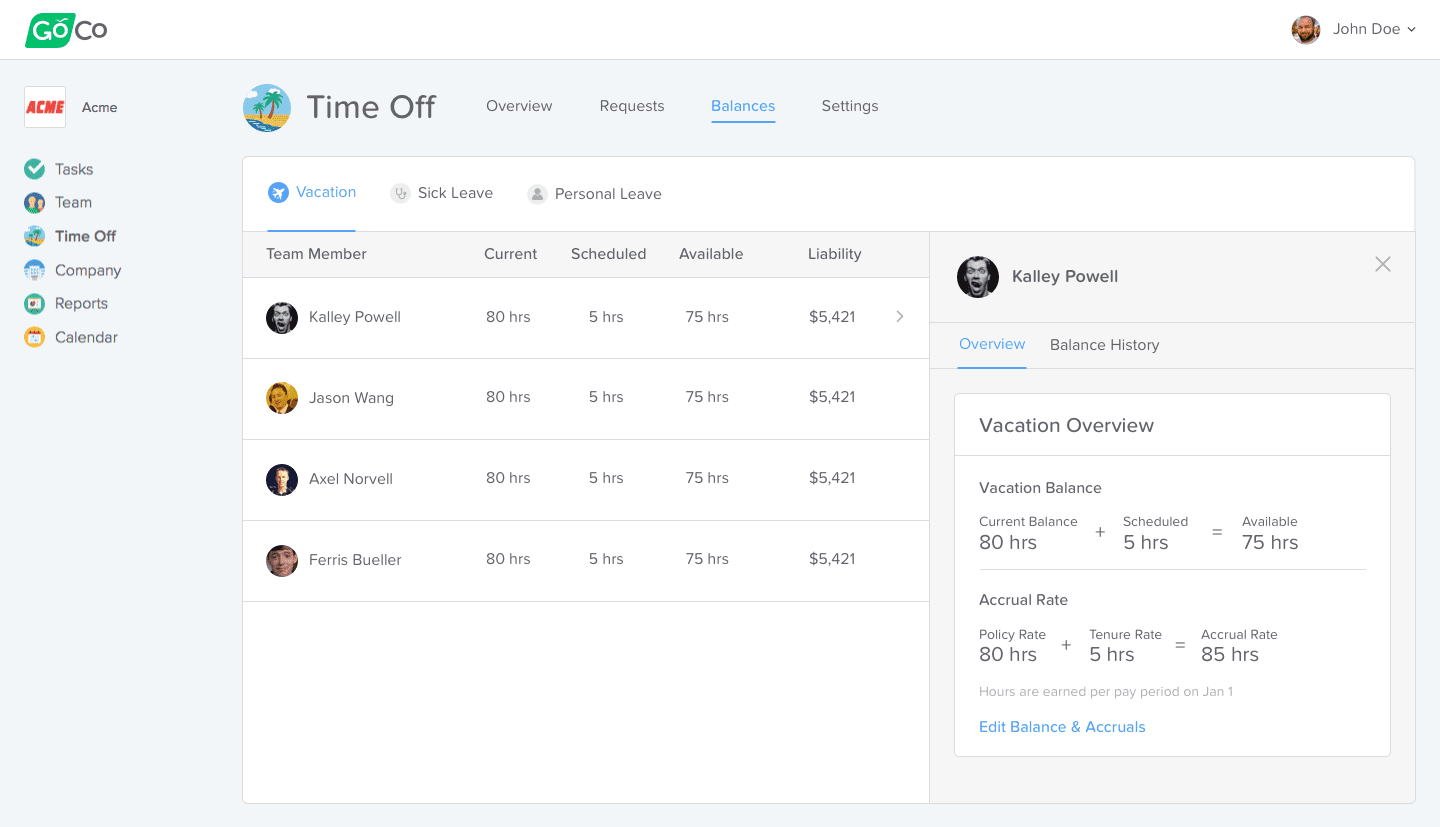 PTO Liability
Some states, such as California, require employers to pay out any unused time off when an employee leaves the company. Now, you'll be able to see an employee's time off balance and how much would have to be paid out if that employee left the company. You can turn liability on or off through the policy settings or when setting up your policy for the first time.
 
Time Off Reports
If you need to export your data, we've got you covered.  Head over to the Reports section and you'll see two new Time Off reports that you can download.  The two new reports are:
Time Off Taken - See how much time each employee has taken for a particular time period.

Time Off Balances - See the breakdown of each employee's accrued balances on a particular date.

Conclusion
We hope you'll love the new time off features! If you have any questions about the new Time Off feature, please feel free to contact us.
To get started using Time Off on Goco, log in or take a tour.