= 50)" :class="navScrolled ? 'lg:mt-20' : 'lg:mt-32'" x-transition >

Blog Articles
It's Not Too Late to Give Your Employees a Gift They Actually Want for Christmas in 2021
How we turned our last-minute gift ideas into an annual holiday tradition.
by Allie Collins, Vice President of Marketing @ GoCo - December 11th, 2020
I don't think we were alone this year when we looked at the calendar and realized that we were running late on coming up with a socially-distanced holiday gift for our employees. 2020 threw us all through a loop, and 2021 continues to pose in-person challenges. And while we would normally host an upscale event (in non-COVID years) to show our appreciation, we understand the pandemic is still very much a concern in 2021. 
As a leadership team, we ruminated on lots of ideas for months, but we still didn't have consensus around what employees would actually want. We agreed on the criteria. We knew we wanted to give something that: 
Appeals to a diverse set of interests and tastes

Brings some much-needed cheer to a holiday season that's unusual (at best)

Demonstrates our genuine appreciation for our employees' extraordinary hard work and dedication
2020 and 2021 have been huge years for us at GoCo. In spite of all the headwinds of the pandemic, our employees really stepped up and helped us grow our business and evolve our product in a big way. So none of the traditional holiday swag felt adequate to express our appreciation. Gift cards and cash felt too impersonal. Company-branded swag felt too predictable. We came up with dozens of gift ideas, but how could we choose ONE item that would appeal to so many different tastes and lifestyles? 
I had heard of some companies selecting a few gifts for employees to choose from, which sounded nice, but detracted a bit from the traditional magic of gift-giving. We had landed on that as our best option, and in jest, our CEO said something like "instead of Oprah's Favorite Things®, it's GoCo's Favorite Things!"

And that's when it clicked. To make it extra special, we could invite each member of our leadership team to hand-pick some items that they love, and create a really special, customized catalog that would represent GoCo, and our team, on a personal level. We could even make it an annual tradition for years to come!
Your employees will understand that there may be delays due to COVID-19, so even if the items don't arrive in time for Christmas, you can organize a pre-Christmas reveal of the catalog so they know it will arrive soon. Alternatively, you could consider only choosing gift options available on Amazon to get them sent on time.

Benefits of a Customized Holiday Gift Catalog

Get to know your team better. Just as you can learn a bit more about the leadership team's interests through their gift picks, you can also learn more about your team members when you see what they select. Finding common interests can bring your workforce even closer, and in a way you may not have considered before. 

Don't let the gift go to waste. Like we mentioned above, every employee has different interests -- from fitness to crafting and even skincare. Because your employees get to select from a wide variety of gifts, they're likely to get a lot more use out of the gift. This also decreases the chances of team members receiving a repeat gift because they get to choose ahead of time!

Show your workforce how much you care. Though it takes a little more work than a standard gift, the payoff is well worth it. Having every member of the leadership team contribute lets your employees know how much effort you put in, and how much they're appreciated.

How to Put Your Plan into Action
Now that we've convinced you to create a personalized employee gift catalog for the holidays, let's talk about how to get started and how modern HR software like GoCo can help. 
1. Download our template, or create your own. We've done the heavy lifting so you can focus on picking the right gifts for your team! Your leadership team can easily fill in the template with product images, a personalized note or description, and even a link to the product. 
Below is an idea of what your catalog will look like once it's fully completed! As you can see, GoCo's leadership team had a great time adding personal touches to each catalog item, and the variety of gifts is sure to appeal to every employee.
2. Create a streamlined checklist/workflow for employees to submit their selections. Identify what you need from employees for a smooth process. In our case, it made sense to confirm mailing addresses were current, and ask employees which gift they were selecting.
3. Once you have your checklist, create a new workflow template in GoCo. Name it, add your checklist tasks, add assignees, update permissions, and set a due date for the tasks.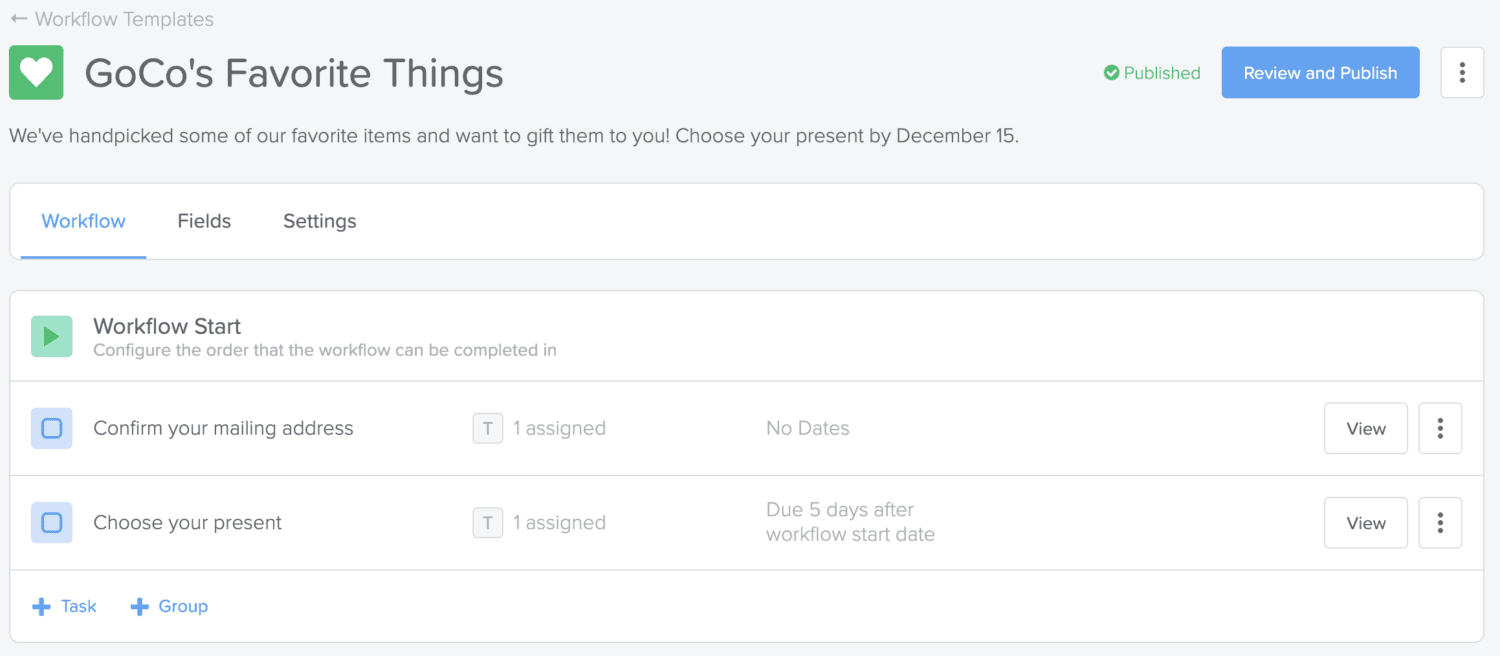 4. Add custom fields. To make sure employees reviewed their addresses and made any necessary edits, we created a custom field for the correct address. Custom fields can be anything from text boxes to drop-down menus, and you can choose to make them required or optional. In our case, employees had the option to confirm the existing option on-file, or add a new address. We also created a custom field drop-down for the gift selection, so employees could select their gift of choice.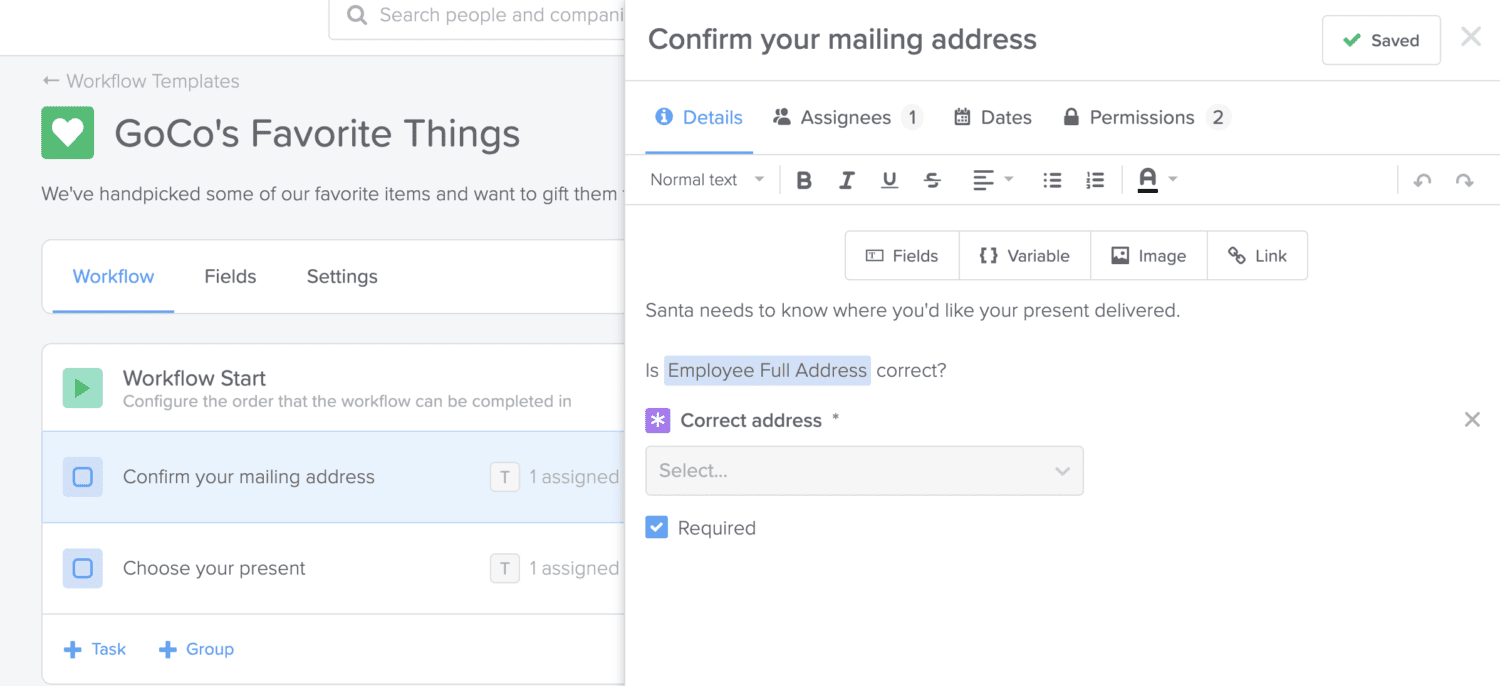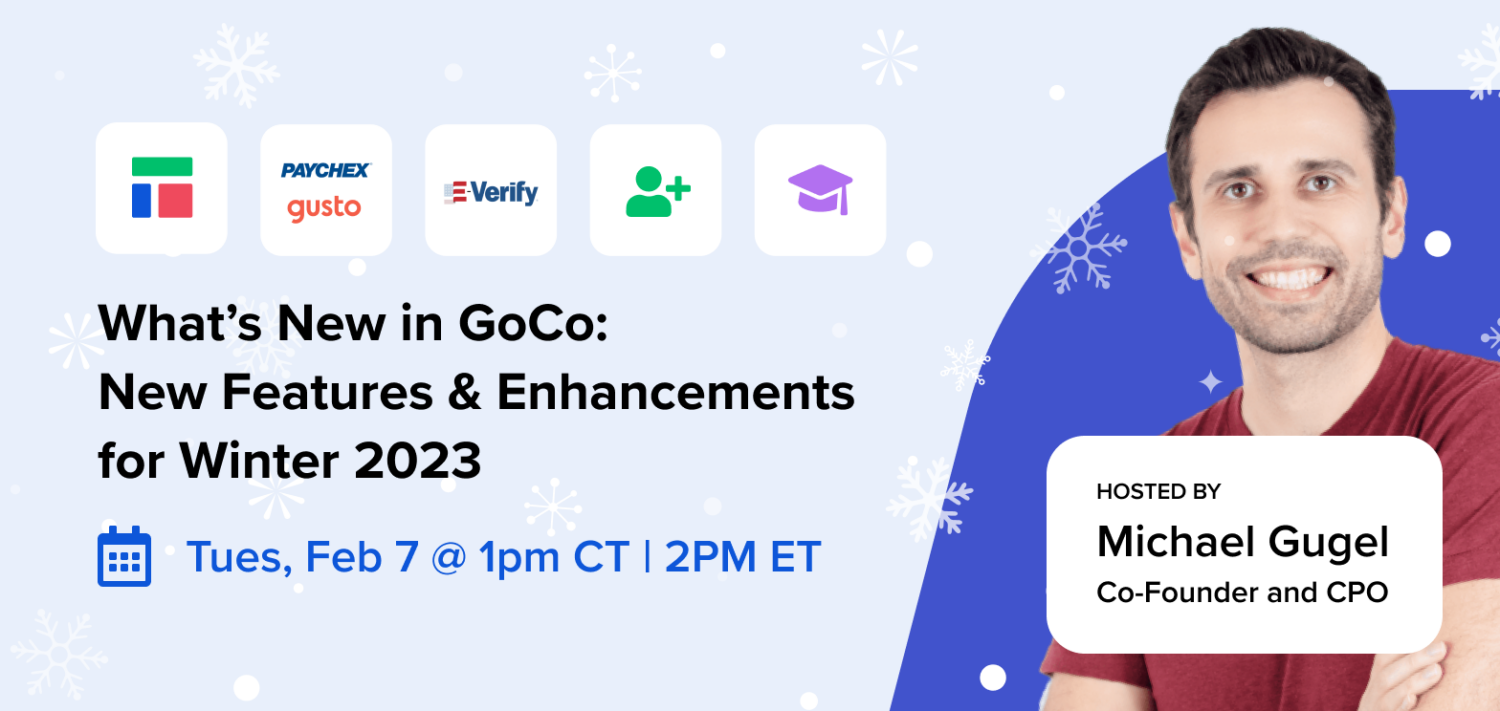 5. Report on custom fields. Make it easier to report on and organize the information from custom fields, so you can get to work on ordering/shipping gifts. As you can see here, we can easily customize and assign fields, and see the number of employees that have already selected certain gift options, which makes it much easier to plan next steps.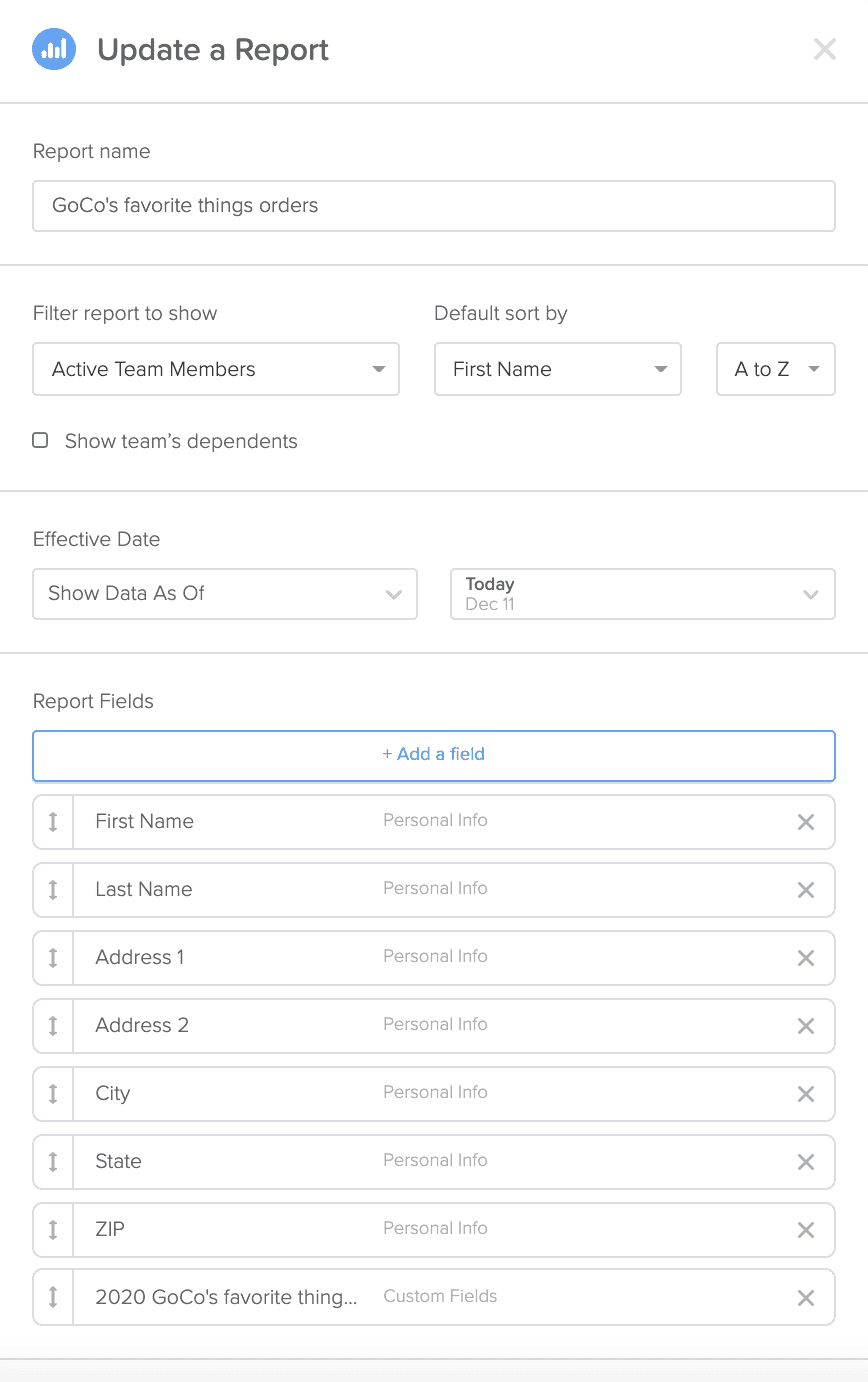 6. Run the workflow and the report, and you're done! Send triggers and notifications to employees with the click of a button so they know to complete the workflow, or any outstanding tasks.
For more information on how to transform any HR process into a standardized workflow, take a free interactive tour today!