= 50)" :class="navScrolled ? 'lg:mt-20' : 'lg:mt-32'" x-transition >

Blog Articles
New Features for Fall 2023 Release
Check out all of the exciting new features released in GoCo this fall!
Pumpkin Spice Lattes are back and so is GoCo with our latest product release! As the weather outside gets colder, our latest release will warm you up with excitement as we offer new features and enhancements to boost efficiency, automate compliance, and track employee engagement better than ever. So, get cozy as we dig into what's new at GoCo this Fall. 🍁
Team Surveys: Get the Full Picture of Employee Satisfaction 
In our summer release, we launched Team Surveys with eNPS built-in to GoCo so you can track employee sentiment alongside your employee data. Tracking your eNPS score is great for understanding how likely your employees are to recommend your company. But, if the score starts dropping, there's no easy way to identify what's impacting that and where you as an HR admin need to focus to make improvements.
With this latest release, we've added a comprehensive survey with more questions (a lot more) so you can track satisfaction in 10 thematic areas like collaboration, recognition, workload, and management. With more data, you can easily see how employees are feeling in these different areas so you can create initiatives that get to the root cause and boost engagement across your whole workforce. 
Leverage AI to Save Time On Employee Questions
When employees can't find the information they need, HR gets bombarded with repetitive questions. It's frustrating for employees to spend time looking for answers and it's disruptive for HR, taking time away from focusing on important initiatives. Since our summer release, we've been beta testing our new AI Knowledge Base, and we're excited to launch it fully this fall. 
The AI Knowledge Base is specifically designed to answer your employees' repetitive frequently asked questions. It acts like ChatGPT for HR – employees can type in their questions and receive prompt and accurate responses as the AI searches through your company's specific policies and procedures. 
Time Updates: Track Breaks and Attendance in One Place
Automate Compliance With Built-In State Break Rules
Keeping track of and enforcing state break rules can be a daunting task. Errors and compliance issues can lead to costly penalties, legal complications, payroll discrepancies, and employee dissatisfaction.
This fall, we added all state break rules into GoCo time tracking so you can save time and let us manage it for you. Whether you use the default state rules or build a custom policy, GoCo will ensure meal and rest breaks are tracked on timesheets and get factored into payroll correctly. Plus, we have validation to handle missed breaks. This will save you time, keep you compliant, and give your employees a seamless time-tracking experience.
Save Time With At-a-Glance Attendance Tracking
We know tardiness and no-shows interrupt operations and cost you money. So, this fall, we added new attendance management capabilities that work hand-in-hand with GoCo's Scheduling. 
There are new attendance tracking widgets on the Time Overview page so you can see at-a-glance who's running late and who's going over scheduled time. We also added two new reports so you can track on-time percentage and attendance trends over time. Plus, now it takes less leg work to keep all shifts covered with automatic manager notifications when someone is running late.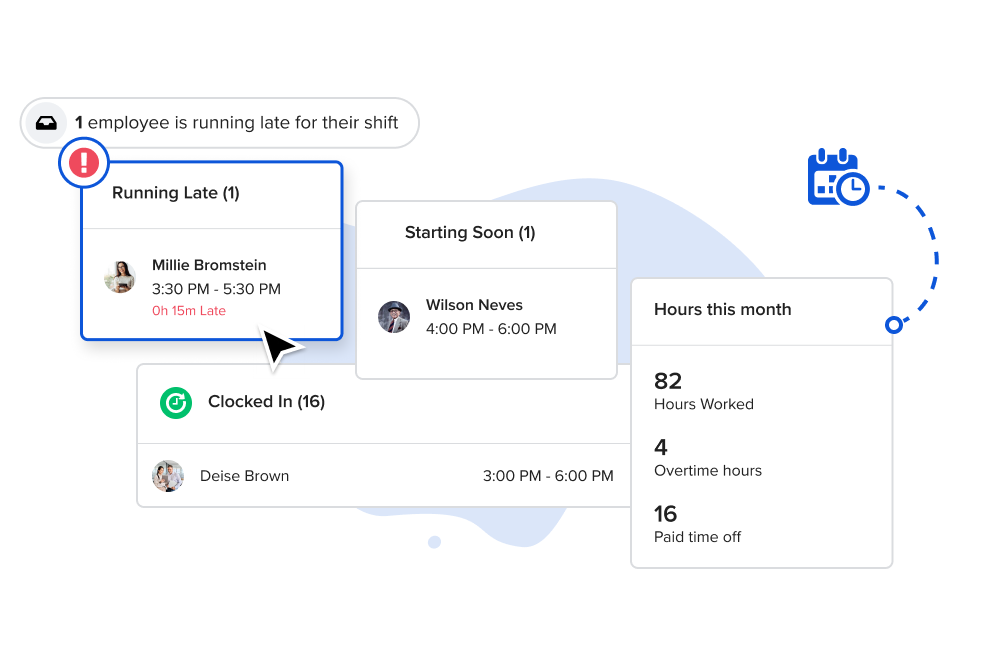 Workflow Updates: Work Smarter, Not Harder
Navigating Workflows Just Got Easier
GoCo's powerful workflow tool empowers you to standardize and automate any process. This fall, we enhanced the workflow experience, making it more intuitive and easy to use for admins and employees. 
On the admin side, you can get started with templates without going to the marketplace, or create workflows from scratch more efficiently with the new builder experience. We made it easier to walk through the crucial steps and settings you need to efficiently customize each task to meet your company's unique needs. And, for your employees, we simplified starting workflows and added notifications so they can be alerted when a workflow they started is completed.  
Make Workflows and Documents Work Together 
We know that for many of you, documents and workflows go hand in hand. So, we've enhanced workflows and performance reviews so you can start documents within them. This is great for streamlining your processes and allows you to provide more context when sending documents to employees. 
Whether you're sending out a new handbook and want to outline the changes or need a document to be signed as part of your performance process, this enhancement unlocks new ways for our features to work together for a seamless all-in-one experience. 
Get More Done With Automatic Calculations
Some processes, like expense requests or mileage reimbursements, capture amounts but require further calculation before you can enter it into payroll. Similarly, some performance reviews depend on average scores of competency ratings. It's annoying and inefficient to handle these manually, not to mention the human error that it introduces. 
To help you automate these calculations, workflows and performance reviews were enhanced to include calculated fields that can complete basic functions for you. Add this field into your process and set it to sum, average, or median to streamline data transformation and eliminate manual work. And, coming soon, you'll even have the ability to set up custom calculations.
Reports: Get Started With Marketplace Templates
When it comes to reporting on your company, you know what insights you need, but it can be hard to figure out how to build a report to get you there. So, we set out this fall to make some enhancements to deliver a clearer user experience that makes the process of getting the answers you need easy and intuitive.
Now, when you go to create a new report, you can choose to start from scratch or get started with a pre-built template from our marketplace. And say goodbye to scrolling through your long list of reports. We grouped our standard reports into categories and added a search bar, so it's easier than ever to find what you're looking for. 
Employee Updates: Small Enhancements With Big Impact
Track Leave With a New Status
We added a new employment status called "On Leave" so you can more easily track and filter your employees who are on leave. The new status can be seen on the employee card on the team page as well as on a banner on the employee profile. And, once the leave period has been set, you stay hands off – the employee will automatically be set back to active status on the date they return.
See GoCo Through Your Employee's Eyes
We're introducing a new function called "View As" that allows you to step into another user's shoes and check out what they can see and access. Whether you want to test permissions or need to troubleshoot technical issues for your employees, it's valuable to be able to strip away your admin access and see what your employees can see, without needing to create and onboard a test employee. 
Capture More Info on Your Contractors
Keeping separate profiles for contractors is important for staying compliant and tailoring the experience to streamline your payroll, benefits, and onboarding processes. This fall, we enhanced the contractor profile so you can track compensation information and add them to time off policies. You can also designate the contractor as a business and capture only the applicable information. And, if you have our embedded payroll, all the information will flow seamlessly, saving you time and eliminating manual work. 
Track All Employment History for Rehires In One Place
This fall, we transformed the way you rehire employees and contractors, eliminating the need for duplicate profiles and improving the experience. Now, you'll be able to access all past profiles and historical data within one record. You can easily toggle between the current period of employment and any past periods at the top of the profile. This will reshape your rehire process optimizing for better efficiency and more productivity.