= 50)" :class="navScrolled ? 'lg:mt-20' : 'lg:mt-32'" x-transition >

Blog Articles
How HR Can Support Black, Indigenous, and People of Color in 2020
Six actionable tips for supporting Black lives and Black voices in the workplace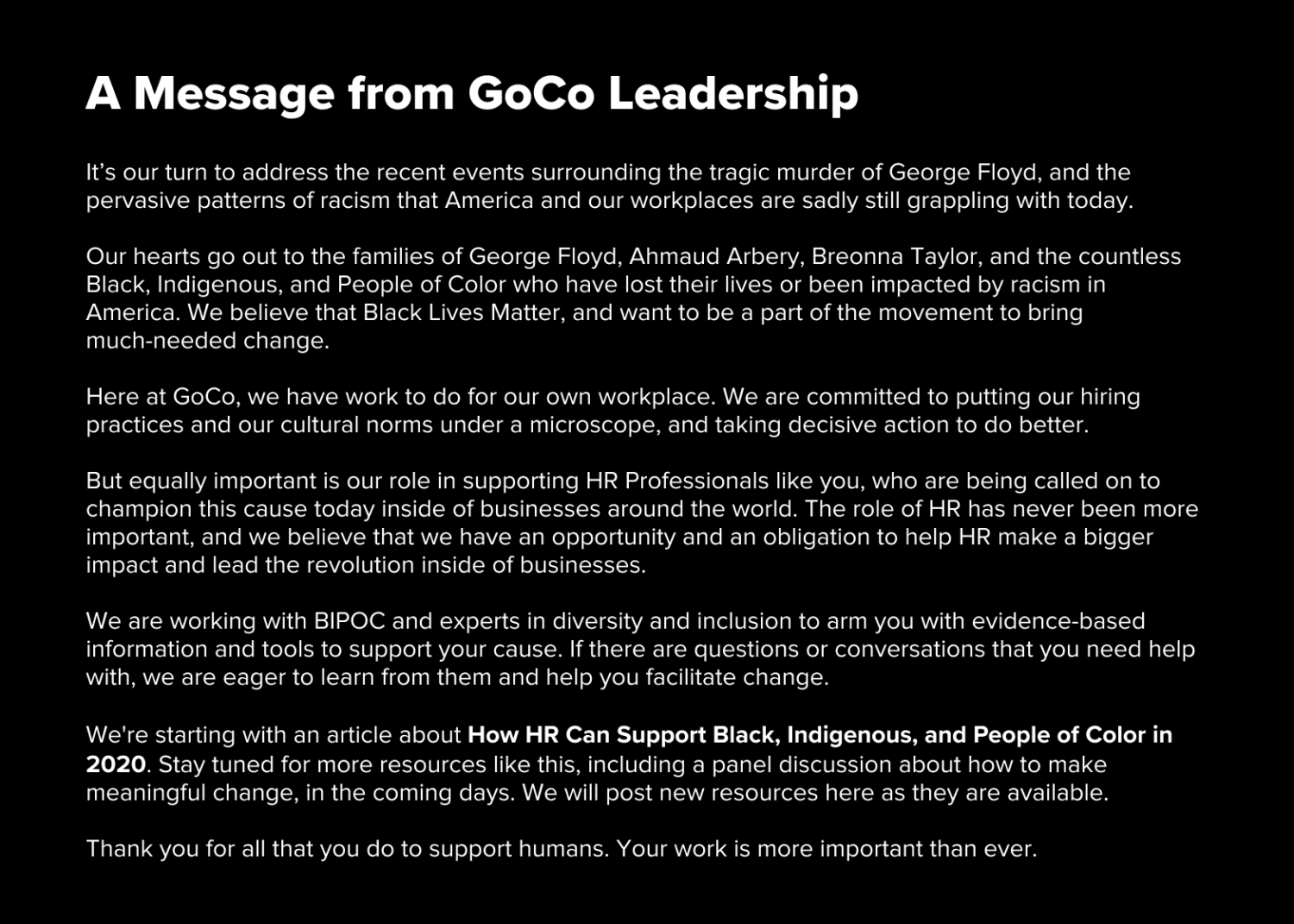 In this article, our own People Operations Manager, Sarah Koller, weighs in on the role of HR in supporting black people through this moment.
In the wake of COVID-19 and the ongoing tragedy of racism and the murder of black people, HR professionals are in the spotlight like never before. As the person responsible for human happiness at my workplace, 2020 has been a tumultuous, painful, and quite frankly soul-sucking year so far. I keep tabs on our eNPS, a metric that assesses employee happiness-- yet "happiness" feels like a near-impossible goal amid all of the chaos, uncertainty, and division that surrounds us.
But as impossible as it feels, now is a time for action. HR pros like me are being called to make changes in the workplace that could shape the future of inclusion, representation, and upward mobility for Black, Indigenous and People of Color (BIPOC) for generations to come.

First and foremost, we cannot be silent.This is not a "political" issue, it's a human rights issue. As protectors of the business we must create environments where diversity and inclusion are nurtured and encouraged. Because in addition to your employees and co-workers feeling safe and have a sense of belonging, we know that more diverse companies are also more successful. Studies have shown that "diverse companies produce 19% more revenue" than less diverse ones, so in addition to being the right thing to do, championing for diversity also makes good business sense.

But diversity and representation are only one (very important) piece of the puzzle. And with many of us resorting to hiring freezes and lay-offs, we need to seek every possible opportunity to elevate BIPOC. 

As HR professionals here are a few things you can do right now to make a difference:

Get leadership involved. We all know that HR is still fighting for its seat at the executive table, and now is the time to earn it. Arm your leadership team with stats about why diversity makes good business sense , and be ready to demonstrate that your employees need to hear a strong anti-racist stance from executive leadership. Research shows that HR professionals who lead with analytics are four times more likely to be respected by their counterparts and get executives bought into their initiatives.

To rally the support of your leadership team, align your initiative with the company values. This will make it clear to executives why the HR initiative makes sense for the company. A study of more than 1,000 businesses supports a strong correlation between financial performance and the degree to which employees trusted that the company's values would be upheld.


I am very fortunate to have the support of a leadership team that cares about human rights, and champions Integrity as a core value -- "we do the right thing, even when it's hard." If you don't have this kind of support, I genuinely empathize. This is going to be tough, but HR's role is that much more important inside of businesses that don't have champions at the top.

And remember, it's normal to feel overwhelmed and uncomfortable while initiating these changes. You don't need to change every policy at once. It's ok to start small to get the ball rolling. Kyana Wheeler, a strategist for Seattle's Race and Social Justice Initiative says, "Anti-racism is a journey. Justice is the goal."





Open up a dialogue about why Black Lives Matter and what your company, your leadership, and your employees can do to better support BIPOC. Start by making a public statement, if you haven't already, in clear support of Black lives. Do not use the words "all lives matter". That is a given. HR exists to support all lives, but the point of this moment is that we need to do more to show up for Black lives. Demonstrate that you understand white supremacy culture is predominate in America, and that you will be taking decisive action to combat it in your organization. Be ready to answer tough questions about what that means.

Invite employees to weigh in on the status quo and what you can do better, via survey, a town hall-style open forum, a Slack channel, or a committee. At GoCo, we chose to use a short, 2-question survey to assess our current state, and ask for ideas on how we can improve.

We will be using the results of this survey to put our own culture under a microscope, identify new programs and policies to help us improve, and take action.


You should also get specific with asking questions and looking for answers. Ask yourself, your HR department, your BIPOC, your leadership, and your employees:

-How can we hire more diversity? 
-Are we paying People of Color fairly?
-Do they have the same growth opportunities? 
-Are we listening?

However you approach the conversation, make sure that you elevate the voices of People of Color (don't let white voices overshadow or speak for someone else, even if they're well-meaning); ensure people get a chance to speak for themselves; and be ready to take action on whatever comes up.

Review your existing policies and create new policies. 

Evaluate your policies surrounding social media use, hiring procedures and interview practices. Refresh and remind everyone of your anti-discrimination, anti-harassment, and retaliation policies.

GoCo wants to help HR pros review and improve their policies, and are offering 30 days of free Policy Customization through our HR Support Center. Learn more

In addition to anti-discrimination and anti-harassment policies, review key workplace policies that could be potentially discriminatory in less obvious ways, including:

Employee pay review and benefits

Conditions of service

Employee performance reviews and promotions

Awards and recognition programs

Training

Dismissal and redundancy

Dress code

In reviewing these policies, ensure that delivery and verbiage used in these policies have no hint of exploitation or unfavorable treatment. Spell out objective criteria for each and every policy. 

After reviewing existing workplace procedures, take further action to create new policies and weave diversity and inclusion into your organization's leadership approaches.

Adjust recruitment procedures to provide expanded access to ethnic minorities and leads to a workforce that reflects the ethnic composition of your customers

Implement bias interrupters in your hiring policies to ensure that BIPOC will not suffer from systemic racism in your company

Revise job listings to remove discouraging language

Use software instead of people where it makes sense to screen applicants

Reduce hirings from referrals

Utilize a static set of interview questions and ensure they are free of nuances that only certain interviewees will understand

Ask applicants to omit their names and schools from their resumes

Take thorough notes during interview so you have information as opposed to impression

Review policies on access to promotions that clearly emphasize objective criteria to support the growth of your BIPOC employees

Build transparent open-door policies to encourage BIPOC employees to submit complaints without fear of adverse consequences

Offer PTO for protests, jury duty, and voting to support your employees

Create policies to outline how you handle office whispers if someone is seen at a demonstration

Understand your role as the HR manager or employer if someone is arrested or detained at a peaceful protest

Communicate your stance on protests/free speech. Let your employees know that you support their right to free speech and demonstration, and that they will not be sanctioned by the company for participating in Black Lives Matter protests. Outline your procedure if someone is detained or arrested for protesting peacefully, what happens if they miss work. But clearly point out that hate speech is not tolerated and refer to your anti harassment and anti discrimination policies.

I recommend this message comes from leadership and is enforced by HR. Here is a template we used to address the issue and vocalize our support for four of our GoCo employees who marched in a peaceful demonstration in Houston earlier this week. You're welcome to use it.
Support and give back to the Black community in your area. Your company probably has a bigger impact on your local community than you think. Use these opportunities to be intentional about supporting Black communities and Black-owned businesses: 



- Choose company-wide volunteer projects that support Black members of your community

- Participate in or initiate programs for mentoring BIPOC children, teens, and young adults

- Support Black owned businesses and vendors. For example, host your holiday party at a Black-owned venue, catered by a Black-owned restaurant, etc. 


Here at GoCo, we helped to bring Codebar, a nonprofit that facilitates diversity in the tech community, to our hometown of Houston. We host and fund monthly events in our headquarters in hopes of mentoring more minorities and preparing them for careers in technology.

Reflect and acknowledge your shortcomings and blind spots. Every company has to start somewhere. Sometimes as HR pros, we feel so overwhelmed by how much we have to do, it's difficult to know where to start. And it's always uncomfortable to point out our own failures. But acknowledging areas of weakness is the first step toward addressing them, so it's likely the most important step of all.

Take time to show up, listen, reflect, and put your policies under a microscope. Call out the problems, and even if you don't have all the answers for how to fix them, let your employees know that you see the problem first, and that you are committed to taking steps to improve.
I want to thank you for reading and encourage you to share your thoughts with me. Together we can make a difference,  continue to evolve, and strive to do better and to be better.
In the words of Janaya Khan, we need "To find the way to tell people the things that they need to know so they can face it and look at it for what it is." Help people "remove the armor so we can speak as human beings." Silence is complacent. We have to make meaningful change together because if not us, then who?
I'm proud to be a part of the HR community, and am optimistic about the change that we can make together.