= 50)" :class="navScrolled ? 'lg:mt-20' : 'lg:mt-32'" x-transition >

Blog Articles
Lil GoCoNut's Day 2022!
GoCo's spin on "Bring Your Kids to Work Day!"
Last week, we held one of our most highly anticipated events of the year - Lil GoCoNut's Day! This is our spin on the classic "Bring Your Kids to Work Day." We often forget that to the little ones, what their parents do for work can be a complete mystery. That's why we had a blast bringing them into the office and having them step into our shoes for a bit! The kids rotated through a series of stations that represented the various teams we have here at GoCo. They'd accomplish a task for that team, get a sticker on their adorable little time sheet, and then move onto the next station. Once all the stations had been completed, the kids collected their paycheck to spend at the GoCo store, where they were able to cash out on some awesome merch! Not to mention our onsite face-painter/balloon-animal artist, slushy machine, and ball pit! Needless to say, it was a ton of fun. Here's a breakdown of what our littlest team members got to do!
Station 1: Client Success!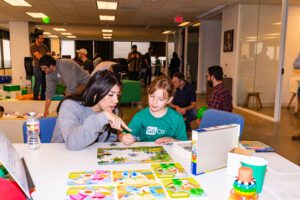 Our fabulous Client Success Team has the task of ensuring the smooth sailing of our customers by working through complex data and being able to find solutions for day-to-day issues. We wanted the kids to get a chance to think on their feet so they were tasked with a scavenger hunt for puzzle pieces which they then put together! This multi-level challenge got the kids to exercise their problem solving skills in a variety of ways and it was awesome to see the gears in their minds turning!
Station 2: Marketing!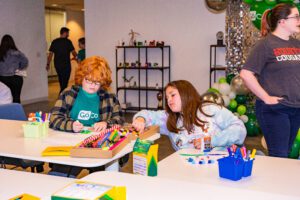 Marketing is in charge of making sure the GoCo brand gets out there in the world and that the brand's image is represented in the best way possible! That's why we gave the kids a shot at redesigning our logo. Their creativity really blossomed with these designs, and we even used some of them as our new official logos for the week!
Station 3: Sales!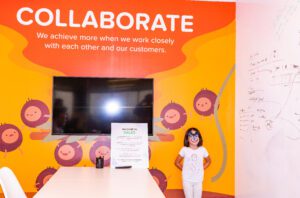 We can't expect anyone to choose GoCo if they aren't exactly sure of what we are and what benefits we can provide! Therefore, we had our younger kids make little videos saying what they think GoCo is and what exactly they think their parents do! Meanwhile, our older Lil GoCoNuts were able to make commercials for the company!
This is Elliott, and his mom is our VP of Marketing! Here's what he had to say in his GoCo debut.

We also think that GoCo is a really cool place to work, Elliott!
Station 4: Product and Engineering!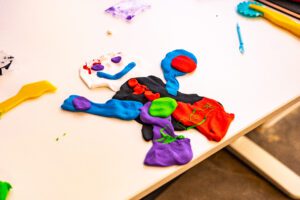 Product and Engineering are the wizards that built GoCo into what it is today and constantly work to make it even better! To capture that, we tasked the kids with building a new "feature." We gave them materials such as clay and sculpting tools to build out a new feature for our system! Their imaginations ran wild and we definitely have some great new ideas for potential product launches in the future!
The GoCo Store
Everything at the GoCo Store is a little piece of GoCo's culture. These items represent memories and past campaign efforts that have really made an impact on our company! Here's what the kids could buy.
Green Heart Sunglasses to match our use of the green heart emoji to spread positivity throughout the organization!

Dinosaur Plushies to go with our "Ditch Your Prehistoric HR" campaign, as well as our beloved mascot, GoCosaurus Rex!

Animal Lego Kits because legos are kind of a major part of our office decor!

Popit Bracelets just because they're fun! Why not throw 'em in?

Bubbles! We had a bubble machine going anyway, so we figured you can never have enough!
Some More Fun Stuff!
The kids could get their faces painted by the incredible Michelle from Twist It Up! She also made some amazing balloon twists that were beyond impressive!
Who doesn't love a good ball pit? We got this one from Houston Play Zone and the kids had such a blast!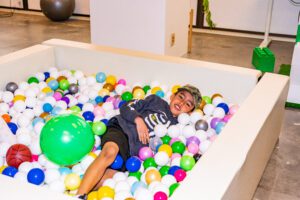 We can't forget about some of the mini architects in the bunch using our giant Legos to build this fort! We're thinking we'll keep it up for a while, it adds something special to the office!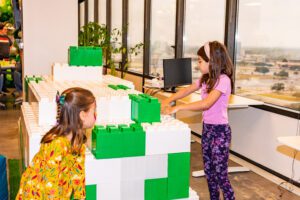 Finally, the cherry on top was this phenomenal backdrop from Houston Deco Balloons. They totally nailed the theme of the event as well as our brand!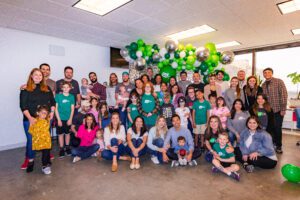 Another reason why Lil GoCoNut's Day is so near and dear to us is because we realize how incredibly difficult the pandemic has been for working parents. Balancing work and spending quality time with family is already hard enough, but when you throw in the constant threat of a virus that's spread across the globe, things get even more complicated. However, that quality time also gets that much more precious. We host this event as an effort to show our appreciation for our GoCo parents that always deliver, both in the office, and at home with their families. If you or your employees are struggling with this, check out some of our resources! We totally understand the pressure, so we want to help you alleviate it if possible.
We can't even begin to describe how much fun this was, and we really do look forward to Lil GoCoNut's Day every year! Here's a huge thank you to all the GoCoNuts who came out to participate, all the Lil GoCoNuts who were amazing sports, and to our stellar Spirit Committee for putting this event together. We're all so passionate about what we do here at GoCo, so we really appreciate the opportunity to share that with our loved ones at home. Till next year!
Recommended Posts
Fully automate your HR with GoCo.