= 50)" :class="navScrolled ? 'lg:mt-20' : 'lg:mt-32'" x-transition >

Blog Articles
Sample Written COVID-19 Vaccination-or-Testing Policy [+Template Download]
A downloadable sample policy adapted from official OSHA guidance
As many HR professionals already know, on December 17th, The U.S. Court of Appeals for the Sixth Circuit lifted the Fifth Circuit's stay of the Occupational Safety and Health Administration's (OSHA) Emergency Temporary Standard (ETS) on COVID-19 vaccination and testing for employers with 100+ employees. The Emergency Temporary Standard, initially issued on November 4th, established binding requirements in order to protect unvaccinated employees of large employers from the risk of contracting COVID-19 at work.
For covered employers of 100 or more employees, it's probably a good idea to begin preparing a written COVID-19 vaccination-or-testing policy by January 10th, 2022*, as the OSHA Directive requires a written policy.
The actual start date for the vaccination-or-testing requirement has been extended to February 9th, 2022, but other components of the ETS are still anticipated to take effect on January 10th – which means HR professionals and employers should start preparing as soon as possible.
*ETS guidelines and dates are subject to change given the U.S. Supreme Court's final answer, but businesses shouldn't wait for a final answer to start planning for compliance.
Here's a downloadable sample vaccination-or-testing policy adapted from official OSHA guidance, as well as step-by-step instructions on how to use an HRIS like GoCo to distribute and track policy completion.
Download the complete policy template here!
Sample Vaccination-or-Testing Policy Template
Sample COVID-19 Vaccination-or-Testing Policy
We've created a sample vaccination-or-testing policy template as a frame of reference. PLEASE NOTE: scope and procedures may vary depending on your business – this template is only a sample. Seek legal guidance for specific compliance requirements.
[Company Name]'s Vaccination, Testing and Face Covering Policy
As part of our continued commitment to maintaining a safe and healthy workplace, [Company Name] has adopted this policy on COVID-19 vaccination or testing to safeguard the health of our employees from the hazard of COVID-19. [Consider inserting additional statements about the positive impact of vaccination of employees on the safety of employees' families, customers, and the community.] This policy complies with OSHA's Emergency Temporary Standard on Vaccination and Testing (29 CFR 1910.501).
Scope:
This COVID-19 Policy on vaccination, testing, and face covering use applies to all employees of [Company Name], except for employees who do not report to a workplace where other individuals (such as coworkers or customers) are present; employees while working from home; and employees who work exclusively outdoors.
Effective [date no later than February 9, 2022], all employees, workers and contractors at [Company Name] are required to be fully vaccinated against COVID-19 or [if applicable to your company] submit a negative COVID-19 test result weekly. Employees are considered fully vaccinated two weeks after completing primary vaccination with a COVID-19 vaccine with, if applicable, at least the minimum recommended interval between doses. For example, this includes two weeks after a second dose in a two-dose series, such as the Pfizer or Moderna vaccines, two weeks after a single-dose vaccine, such as Johnson & Johnson's vaccine, or two weeks after the second dose of any combination of two doses of different COVID-19 vaccines as part of one primary vaccination series. Employees who are not fully vaccinated will be required to provide proof of weekly COVID-19 testing and wear a face covering at the workplace. 
All employees subject to this policy and hired after [company-wide deadline] are required to be fully vaccinated by their first day of work, or submit a negative test result dated no more than seven days prior to their first day of employment, with subsequent weekly testing as described in the procedures below.
All employees are required to report their vaccination status and, if vaccinated, provide proof of vaccination. Employees must provide truthful and accurate information about their COVID-19 vaccination status, and, if not fully vaccinated, their testing results. Employees not in compliance with this policy will be subject to discipline. 
Employees may request an exception from vaccination requirements (if applicable) if the vaccine is medically contraindicated for them or medical necessity requires a delay in vaccination. Employees also may be legally entitled to a reasonable accommodation if they cannot be vaccinated and/or wear a face covering (as otherwise required by this policy) because of a disability, or if the provisions in this policy for vaccination, and/or testing for COVID-19, and/or wearing a face covering conflict with a sincerely held religious belief, practice, or observance. All such requests will be handled in accordance with applicable laws and regulations and [insert reference(s) to the employer's applicable policies and procedures].  
[Note that employers should consult other resources for information about federal laws, including the Americans with Disabilities Act (ADA) and Title VII of the Civil Rights Act of 1964, that may entitle employees to reasonable accommodations. See What You Should Know About COVID-19 and the ADA, the Rehabilitation Act, and Other EEO Laws and Vaccinations – Title VII and Religious Objections to COVID-19 Vaccine Mandates.]
Procedures:
Provide Evidence of Full Vaccination
Any [Company Name] employee that chooses...
-------------------------------------------------------------------------------------
Download the complete policy template here!
Sample Vaccination-or-Testing Policy Template
How to Distribute & Track Vaccination Policies with an HRIS
With modern HR software like GoCo, HR professionals can easily transform their Vaccination-or-Testing policy into fillable, signable, and reportable forms. Here's how!
1. Upload your document template or create a new blank document within GoCo from scratch.
2. Customize your document workflow order. Whether you only need employees to acknowledge, or want an actual E-Signature, the decision is up to you.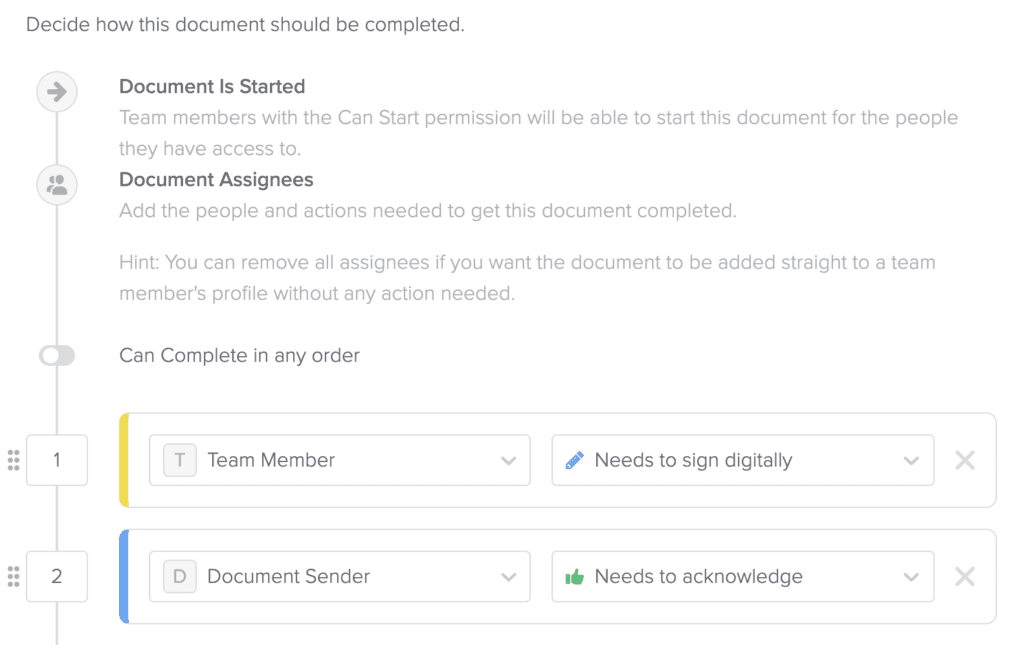 3. Start instantly placing Magic Fields on your document. Customize each field, add text boxes, dates, and more! Magic Fields will automatically fill in the existing GoCo information for each employee.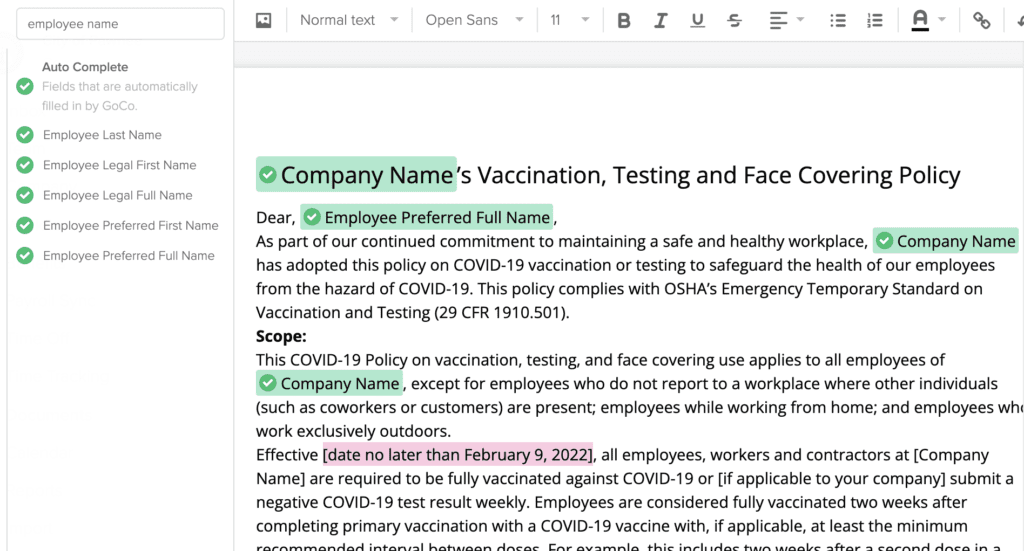 4. Add fields for E-Signatures and dates too!
5. Test your document before sending, and see what it would look like from any employee's perspective. Then, when you're confident in your document identify who you'd like to send it to, and send it away! Employees must then follow the workflow order you've set, sign/acknowledge the document, and you can acknowledge for completion.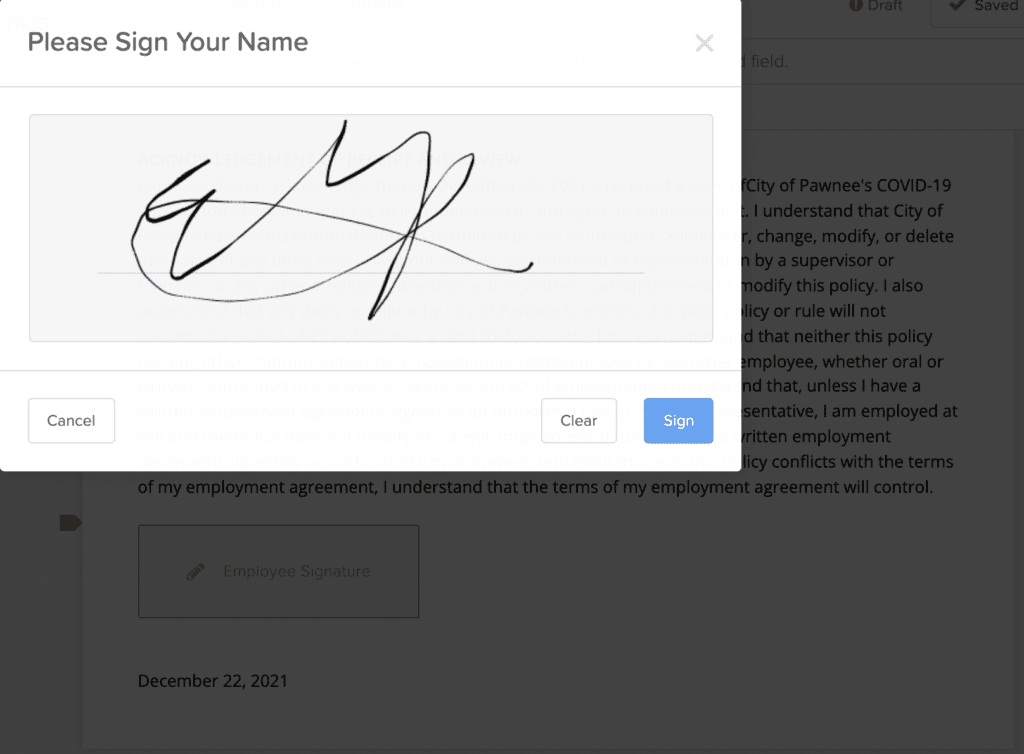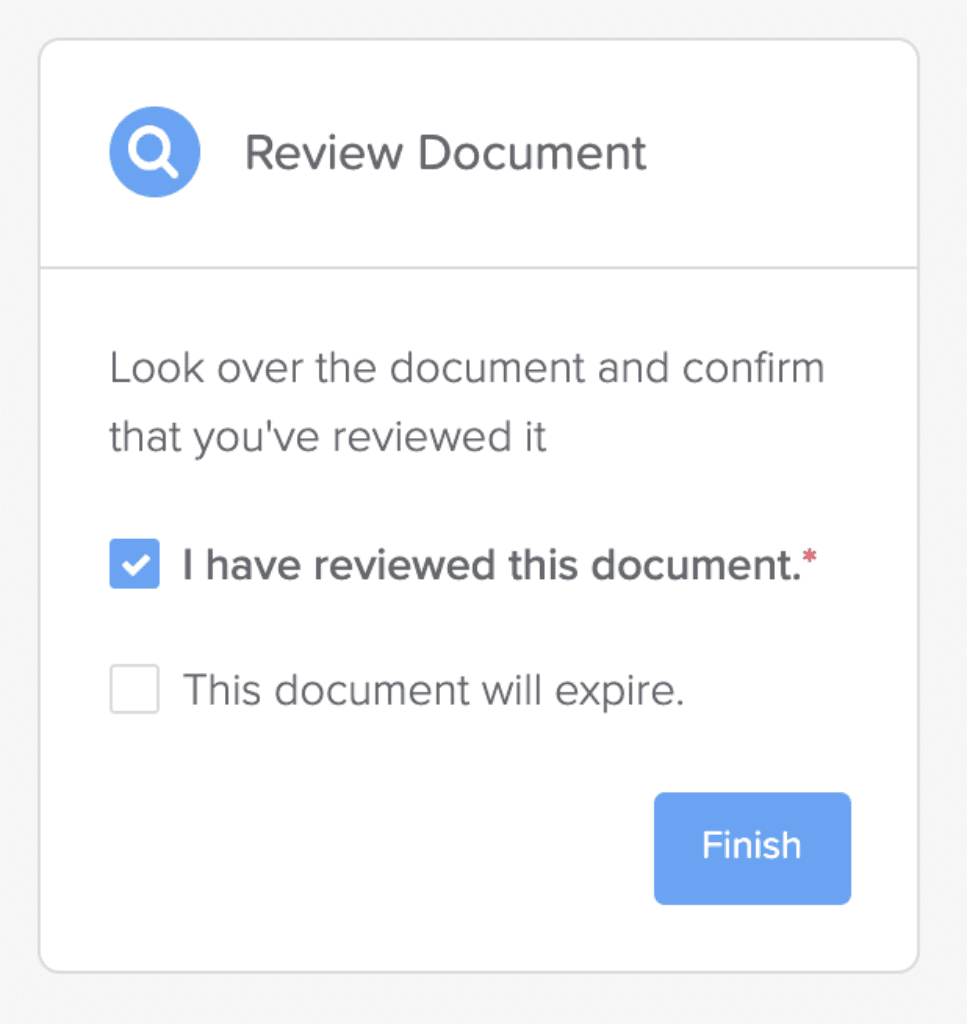 6. Track document completion progress and send reminders to employees who have not completed the policy document.

Though the revived OSHA ETS may come as short notice to many HR professionals, hope is not lost! Download our template and take a tour of GoCo to see how we can help distribute and track vaccination policies.