= 50)" :class="navScrolled ? 'lg:mt-20' : 'lg:mt-32'" x-transition >

Blog Articles
10 Ways HR Automation Tech Enriches (Not Replaces) HR Jobs
Despite automation reducing the need for some support roles, it's clear that HR jobs are being enhanced by technology.
We've been called many things in the HR profession! Over the years, we've continuously evolved and rebranded. Expletives aside, we've been referred to by many different names as a function, like "The Personnel Department" or "People Operations."
Download The State of Health & Safety In HR Report
New, more specialized job functions continuously emerge. Human resources job titles have undergone various iterations trending towards more business-focused names, like "HR Business Partner," to more people-focused roles, like "Chief Happiness Officer."
Our work has unquestionably become more impactful and rewarding, and we can now focus on specific areas within the HR discipline, like Diversity and Inclusion. But what made this transformation possible? Improvements in HR technology have played an essential role in elevating the HR function and allowing HR professionals to focus on business strategy.
Thanks to effective Human Capital Management Systems (HCMS) and other technology, Happiness gurus can now hone in on improving organizational culture with improved processes, employment branding, talent acquisition, performance management, and engagement.
A little-known fact about HR professionals: We HATE inefficient processes! HR technology automates manual, redundant tasks, allowing us to focus on the highest and best use of our time. Human Resources executives, in particular, see the value in automation. Garter's 2021 HR Leaders Agenda Poll survey revealed "hyperautomation" to be one of the top technology trends for HR Leaders.
And, while some HR professionals may hesitate to embrace HR technology fully, available data paints a positive picture of HR tech implementation. HR tech is constantly improving, and employee and company adoption is improving along with it. PWC's 2022 HR Tech Survey found that most HR leaders' expectations for cloud-based HR systems were met or exceeded for each of the below ten possible outcomes:
More employees using the platform

Greater HR control over processes

Reduced support staff headcount

Money savings

Improved data security

Greater mobile capabilities

Greater manager utilization

Improved User Experience (UX)

Increased employee engagement

Improved productivity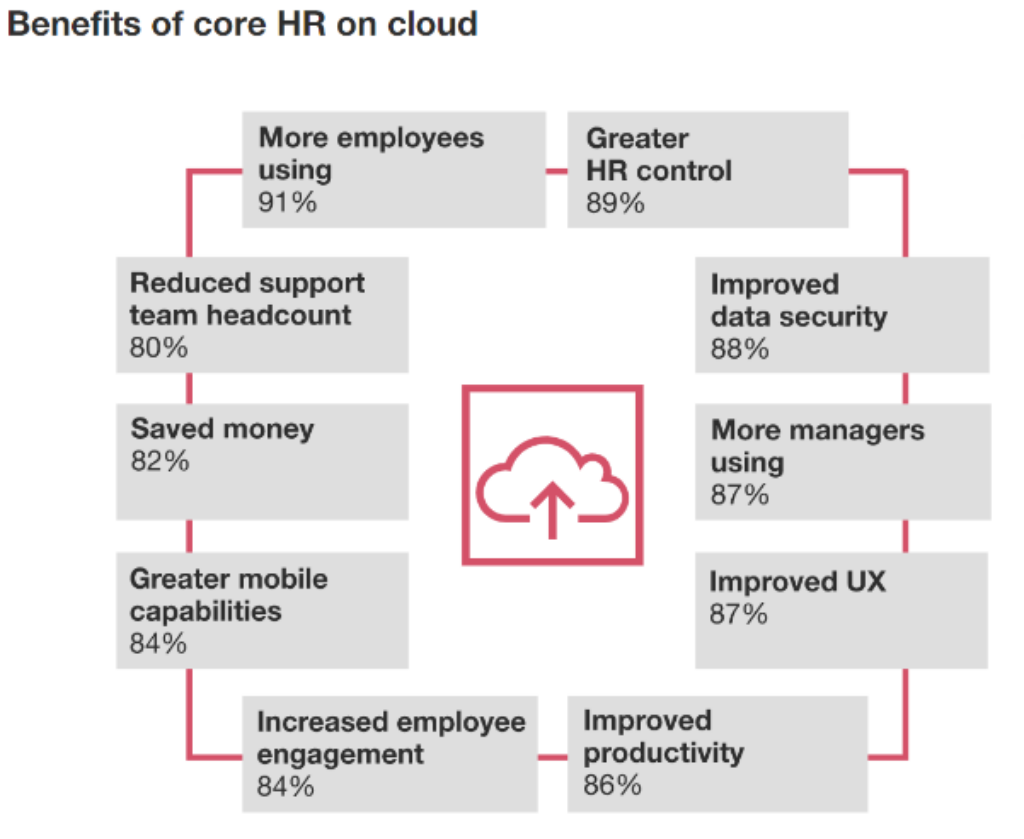 2022 HR Tech Survey: PwC
Emerging Human Resources Information Technology (HRIT) job functions and titles further highlight the importance of HRIT to HR leaders. So be prepared to talk tech at your next HR job interview.
6 HR Functions Improved By Automation
1. Employee Engagement
If you're a seasoned HR professional, you understand employee engagement's importance. Technology in this area has come a long way. Gone are the days of PDF announcement attachments and other forms of one-way communications. 
Now we enjoy employee engagement platforms that facilitate survey creation and real-time feedback on a company's performance. These systems gather information on organizational, job, and individual employee factors. Scholarly literature on the importance of employee engagement explains how employee engagement positively impacts employee behavior and commitment levels, customer satisfaction, and company financial performance. (Are we channeling your inner HR nerd yet?).
The best engagement applications provide essential insights into engagement levels via reporting and data analytics. For example, based on their engagement survey responses, you may see at-a-glance which high performers are at risk of leaving an organization. The ability to generate such highly impactful outputs elevates the HR function from tactical to strategic. 
You get to channel that inner HR nerd and apply your knowledge of organizational psychology, HR technology, and your specific organization to design the best communications, processes, and surveys to capture and report on important employee engagement trends.
Once you get your house in order with great tech and processes, you can set the direction of your company's people-based initiatives.
2. Rewards and Recognition
One of the most visible HR functions is rewards and recognition. That's because the stakes are very high. You do not want to make a mistake with someone's pay, forget their birthday or work anniversary or fail to praise them for a job well done. Employee rewards and recognition software allows HR professionals and managers to consistently recognize and reward employees by providing a shared vehicle for positive feedback and related alerts and reminders.
Research shows that effective praise is specific and delivered timely and publicly. One survey of 1,500 employees in the US, UK, and Australia found that 66% of employees feel their managers could do more to praise them in a specific, timely way. Many rewards platforms like HiThrive and Bonusly offer employees a monthly budget of points with specific monetary values for them to issue to their coworkers and direct reports. HR and payroll systems allow employers to give spot bonuses, which are effective motivators when leveraged correctly. 
These tools remove the need for tedious spreadsheet tracking and time-consuming double entry. You're finally free to focus on more meaningful work (And you NEVER have to go back!) By selecting and administering the best rewards and recognition tools, you can enhance employee/manager communication and improve employee retention.
3. Onboarding and Offboarding
Onboarding employees is a beast! And if onboarding isn't complex and stressful enough, offboarding throws in highly time-sensitive tasks with serious wage and hour and other employment law considerations (Yay!) The sheer volume and sensitivity of the individual tasks involved in onboarding and offboarding employees make automating these functions incredibly impactful.
Reduced errors, increased efficiency, and streamlined communication are all clear benefits of effective onboarding technology. Some Human Capital Management Systems automate custom communications, workflows, new hire paperwork, and even requisition software, hardware, and company swag based on individual characteristics like job title, work location, or employment type. 
HR is also able to ensure that new employees feel the love. Employees are automatically welcomed to the organization and introduced to their teams. Exiting team members can instantly receive important information on COBRA, final pay, and unemployment when you initiate offboarding.
4. Performance Management
Ah, the spreadsheet. Our old nemesis. This seemingly timeless tool has been used to track and analyze performance reviews manually. Greater adoption of automated, cloud-based HR systems has unchained HR professionals from continuously maintaining spreadsheets. 
Now HR can focus on solving problems with scalable, people-focused performance solutions. 
Built-in reminders and check-ins, automatically recurring 360 reviews, and goal setting help HR to engrain effective manager/employee communication into their company culture. 
Enhanced data analytics capabilities of performance management solutions also allow HR professionals to advocate for needed change effectively. 
For example, HR can show correlations between performance and other factors like attendance, training completion rates, manager experience level, employee engagement level, etc. All with real-time reporting… not spreadsheets!
And, for that CFO or Controller who loves spreadsheets, sure, you can still export data to CSV or Excel.
5. Talent Acquisition
Since the dawn of the digital age, hiring employees at almost every level in virtually every industry has begun to involve some degree of online candidate interaction. Even blue-collar workers with lower computer literacy rates have job boards and technology tools explicitly geared toward them. 
Online hiring now goes well beyond simply posting jobs online. Recently, talent acquisition technology platforms have improved hiring by facilitating greater collaboration.
Systems like JazzHR allow hiring teams to tag each other in candidate review notes, vote on which candidates they'd like to advance, and grade them on shared criteria. Recruiters on the HR team more easily stay in the loop with hiring managers on which candidates should advance and why. 
Recruiters can also automate workflows and communications with candidates to keep them informed of their progress constantly. 
Talent acquisition technology platforms go beyond traditional applicant tracking systems (ATS), offering suggested job descriptions, job boards, and improved syndication strategies. This saves Recruiters time and allows them to focus on the candidate experience and maintain productive relationships with hiring managers.
6. Diversity, Equity, and Inclusion
Employees need to know that anyone can have a future at your company. They can move up, be valued, given choice projects, etc. This makes visible commitments to diversity, equity, and inclusion (DEI) critical to recruitment and retention. Findings from a study by Deloitte include the top three functional areas of the talent lifecycle that are supported by DEI technology solutions.
Talent acquisition, people analytics, workforce experience, and engagement benefit most from DEI technology. HR systems can support DEI by explicitly targeting specific demographic groups and implicitly supporting DEI with structured candidate review (which limits the potential for bias), pay transparency, and pay equity reporting.
HR professionals with DEI responsibilities use this technology to identify gaps better, create a more welcoming, inclusive culture, develop affirmative action plans, and implement DEI awareness training.
New HR functions created by technology advances
1. Artificial Technology (AI) and automation job creation
Prepare for the end! The robot apocalypse is nigh!... Yeah, not so much. Despite automation reducing the need for some support roles, it's clear that HR jobs are changing, not disappearing. 
Research has shown that companies that invested heavily in Artificial intelligence (AI) from 2010 to 2018 did not reduce their need for employees in areas like customer service, HR, and legal.
AI relies heavily on humans to support its development, delivery, and maintenance. Many of the roles involved in AI are not even technical roles. Think of the workers at Amazon who listen to Alexa conversations and provide feedback to the developers on customer and application interaction.
One of the HR roles created by advances in HR technology is Human Resources Information Technology (HRIT) Specialist. People in this position manage, configure and troubleshoot HRIT systems and applications. Their focus is on creating and maintaining people-centric processes for their internal customers. They leverage HR systems to boost company culture with improved communication and increased employee productivity and engagement.
Automation and AI are creating many more HR roles at all levels. WTW identified the following eight emerging HR job roles in their paper "Shaping People Strategies in the Fourth Industrial Revolution." Some of these new jobs are pretty awesome:
Employee Experience Specialist

Bot Monitor

Head of Work Reinvention and Reskilling

Head of Relevance and Purpose

Head of Insights

HR Data Scientist

Culture Ambassador

Diversity and Inclusion Officer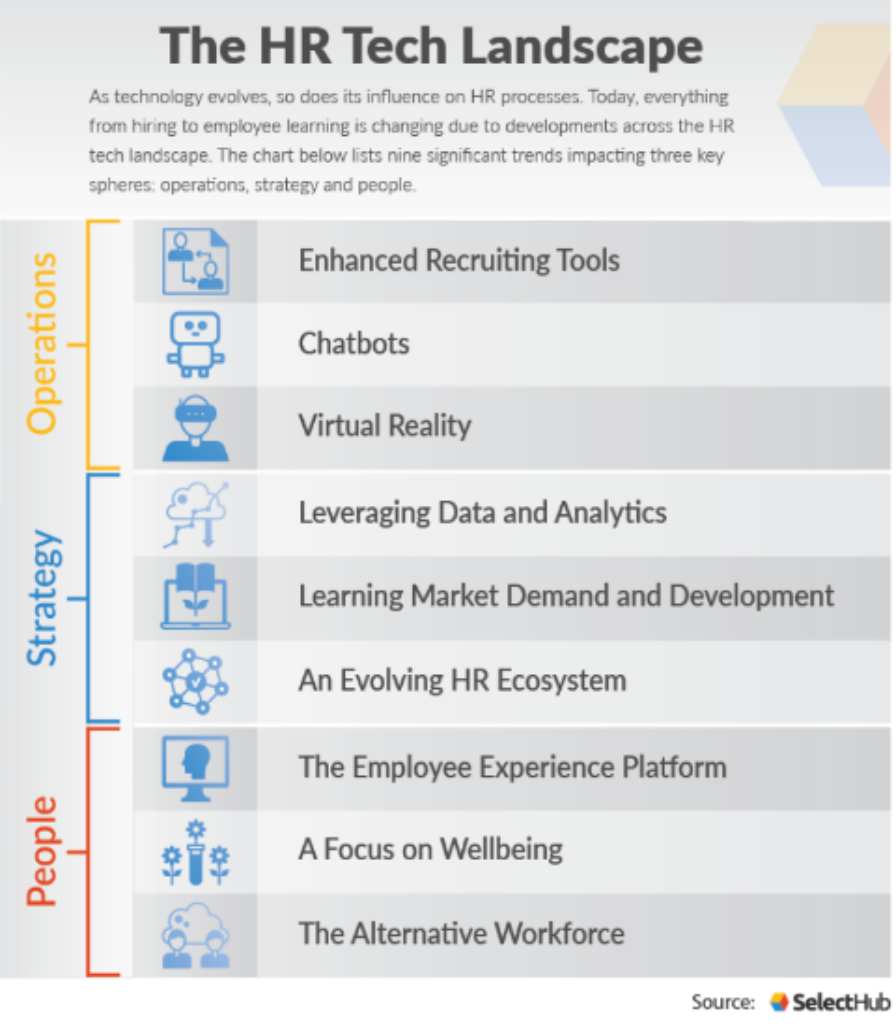 2. Metaverse / Virtual Reality (VR) jobs
Employees meeting up with avatars in completely simulated environments- What could go wrong? 
Are you prepared for this new take on reality? In addition to the skill sets required for the above HR jobs, HR professionals must familiarize themselves with the metaverse and learn how to manage workforces that engage via virtual reality (VR).
If your compliance brain just exploded, you get where this is going. HR needs to consider policies and procedures to reduce the risks and capitalize on opportunities related to VR workplaces. 
Future careers in all HR functional areas will be impacted by virtual reality. HR will be key in determining how organizations recruit, engage with, train, evaluate, and retain talent in the metaverse.
Final Thoughts
HR technology has revolutionized the industry and allowed HR professionals to focus on business strategy. Improvements in HR technology have resulted in the automation of manual tasks, allowing for greater efficiency in HR processes. In addition, emerging HR job functions created by technological advances have made HR more specialized and impactful.
If you're an HR professional looking to enhance your processes, take a tour of GoCo for a variety of HR services aimed at streamlining your HR needs. Learn how HR technology can benefit your company and allow you to focus on higher-level tasks.
Recommended Posts
See our top-rated HR solution in action