= 50)" :class="navScrolled ? 'lg:mt-20' : 'lg:mt-32'" x-transition >

Blog Articles
Report: The State of HR in 2021
We surveyed hundreds of HR professionals to reflect on what's changing in 2021, and what's ahead for the future of work
The one-year mark since the coronavirus pandemic upended organizations and employees has passed. Maybe your company is still largely working remotely. Or maybe you've already called employees back to the office and are looking to resume business as usual. No matter what your organization is experiencing now or has undergone in the last year, the widespread effects of remote work, virtual hiring, and the rapid development of new policies and procedures are still highly visible. And for many, these shifts have forever changed the face and function of Human Resources.
In this 2021 State of HR Report, we checked in with more than 600 HR professionals to find out how the pandemic has affected them one year later, what's changed, and what they predict moving forward.
Read our new State of HR 2023 Report:The Great Resignation, Recession and Human Resources.
Pandemic Response in 2021
New data collected by our 2021 State of HR survey shows some very promising trends that indicate we are on the road to recovery compared to data from this time last year.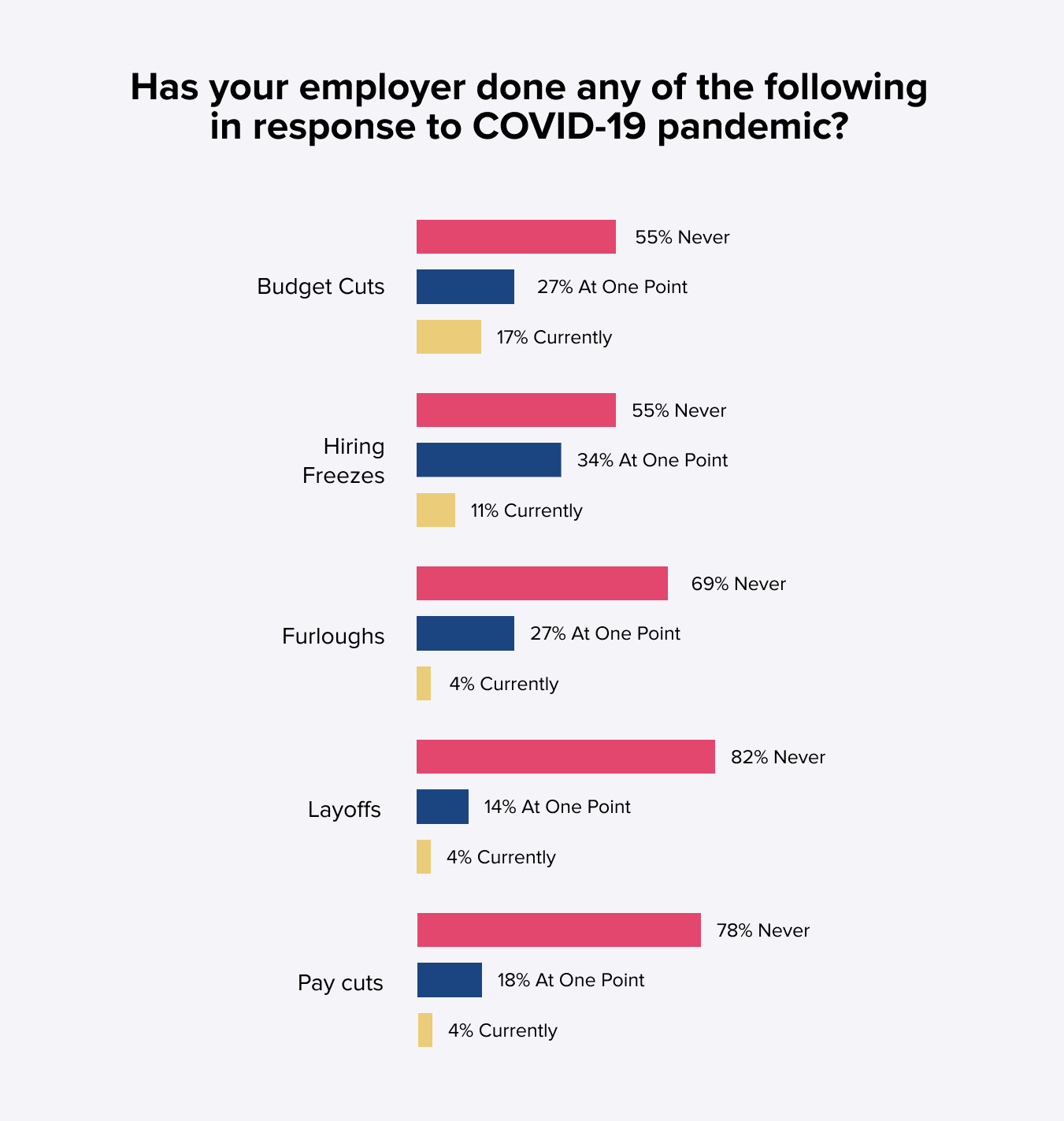 To continue reading, please enter your work email
In 2020, our survey indicated that 45% of organizations made budget cuts in response to the pandemic. This year, only 18% report continuing to do so. Likewise, 45% of companies last year reported that they froze hiring; this year, only 11% of companies have reported a current hiring freeze.
Also last year, a quarter of companies revealed they had to lay off or terminate workers' employment, while 29% shared they furloughed workers. For staff that remained, many respondents said they had to reduce work hours, freeze salary increases, halt promotions, and decrease or eliminate bonuses.
Our recent survey results paint a much brighter picture. Only 4% of organizations say they have workers who are currently furloughed, less than 5% are currently laying off workers, and less than 4% are currently cutting pay.

A recent Harvard Business Review reminds us that the unemployment rate went from 3.5% in February to more than 14% in April of last year. Currently, unemployment sits at 6.2%—just less than double what it was in February 2020 and less than half of what it was in April 2020. This is a good sign that companies who had previously held hiring freezes or furloughed workers are now able to support more positions as they continue to rebuild and regrow.
Key takeaway: The difficult choices of reducing workforces and cutting pay and hours are showing significant signs of slowing, indicating positive signs of recovery.
The State of Remote Work in 2021
In our 2020 State of HR Report, which surveyed more than 500 HR professionals, keeping employees engaged and productive was a top priority (24%), second only to maintaining compliance during COVID (41%). Our 2021 State of HR report found that engagement and productivity efforts were largely successful: 55% of respondents reported that remote work had a positive effect on their employees' work/life balance, while 85% of respondents said remote work had a positive or neutral effect on productivity. What's more, 85% also reported that remote work had a positive or neutral effect on the company's ability to meet key business goals.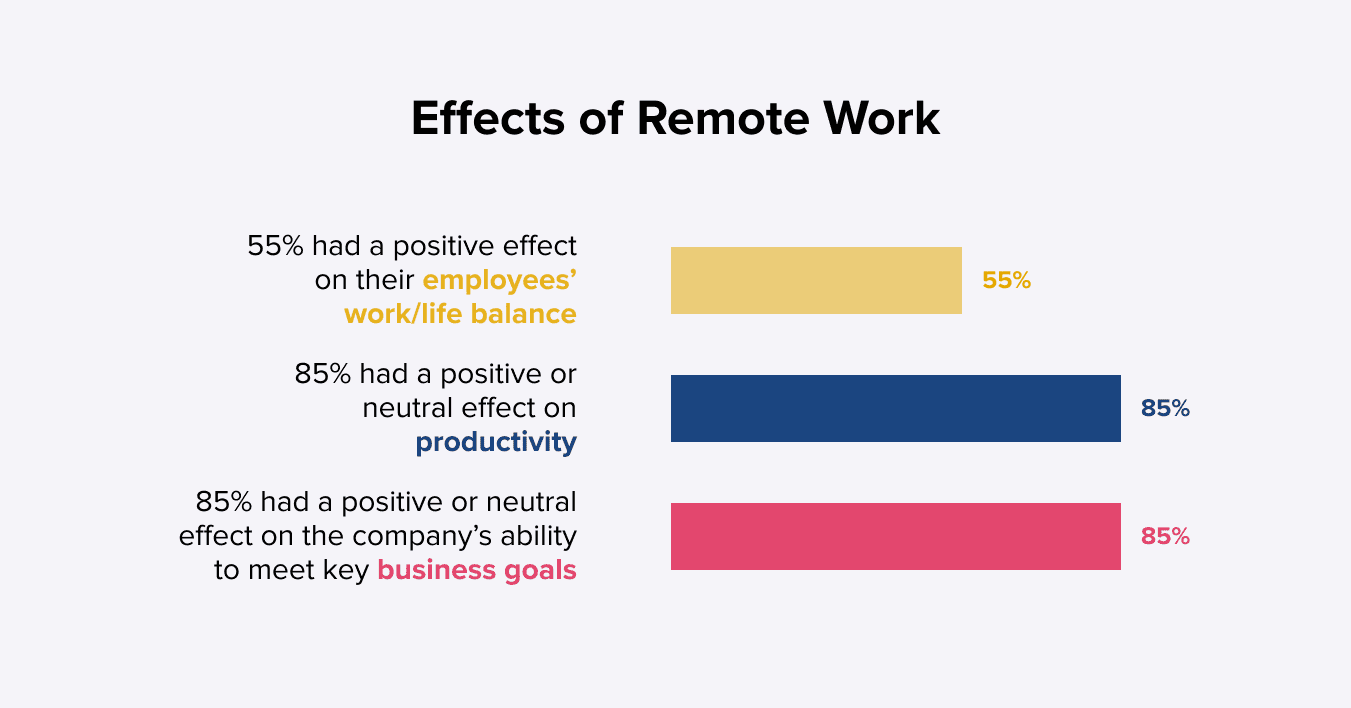 "From what I've seen in our company, we would be more than happy to continue working remotely since the productivity of the employees was up by about 20%, and more revenue started coming in," says Hometree's Dan Foley.
However, as stated in our 2020 report, it can take years to cultivate a supportive, collaborative, and positive workplace culture, and without in-person interaction, much of that culture is no longer visible to employees. For 76% of respondents in our 2021 survey, remote work had a neutral or negative effect on collaboration between teams and departments, while 37% reported a negative impact on mental health.
"We have made it our number one focus to be helping employees stay in peak mental and physical condition and take good care of themselves," shares Mayank Batavia, Head of Marketing and Partnerships at QuickEmailVerification. "Today, we as an organization are constantly working on improving the ways we support our teams in coping with the feeling of isolation that inevitably comes with remote work. Even after things return to normal, some of us will still choose to work remotely. We will explore ways to help them remain socially active in the ways they want to and take very good care of their physical and mental health."
Key takeaway: Remote work can provide an effective option without many of the downsides that organizations initially expected. For many employers, the pros outweigh the cons, provided that employee mental health and wellbeing can be protected in other ways.
The Future of Remote Work in a Post-Pandemic World
One of the burning questions of the past year is whether remote work is here to stay. Multiple sources say yes, and companies that don't embrace some sort of remote option may find it difficult to compete for top talent.
Many major companies have recently announced a long-term shift to remote work for certain positions, including Amazon, American Express, Coinbase, and Infosys, alluding that remote positions are a big part of the future of work. A recent PwC report states that remote work has been "an overwhelming success" in terms of productivity, with 83% of employers now saying it's been a positive move for their company (compared to 73% in June 2020).
Based on our 2021 State of HR survey results, the future looks promising for the remote work trend. Of the 93% of respondents that said they were working remotely at some point during the pandemic, only 19% say they have fully returned to the office.
"Right now, we're content to stay remote," shares In Motion Marketing's Head of Marketing, Bryan. "It would cost more to rent office space for us and redo our physical infrastructure."
Only a slight 6.7% of respondents say that no employee worked remotely at all during the pandemic. And in certain cases, some positions cannot be performed remotely.
"Our shipping manager position would be difficult to implement via remote work, as they are responsible for inventory management and the secure shipping and distribution of customer orders," explains Bill Joseph, Founder of Frontier Blades. "As this position requires a hands-on approach, we request our shipping manager work within the office environment. Throughout the pandemic, our shipping manager has been more than willing to work within the office environment and takes necessary precautions to ensure COVID-19 best practices are being implemented."
Others believe that while remote work served an essential purpose during a critical time, they still value having an office environment.
"We won't be ditching the office," states Alan Spurgeon, Founder & Director at Hedgehog Digital. "It's too important for the physical connections we deem essential to our business—like culture and knowledge sharing. Plus, we want to welcome clients to use our office as a getaway when thinking about their business plans and a healthy escape from the distractions of their own environment."
Key takeaway: Remote work continues to get mixed responses from organizations, and job function and purpose play an important role. Depending on the position and the nature of work, remote options may make more or less sense compared to other companies. It's clear that companies are using what they learned during the past year to make informed decisions around remote work moving forward.
Back to the Office
Last year, 80% of companies shared they planned to work remotely during the pandemic. According to data collected this year, the number of companies that engaged in remote work was much higher at 93%. More than 36% of businesses say some or most of their employees are no longer working remotely, while nearly 45% say their offices remain closed or vacant.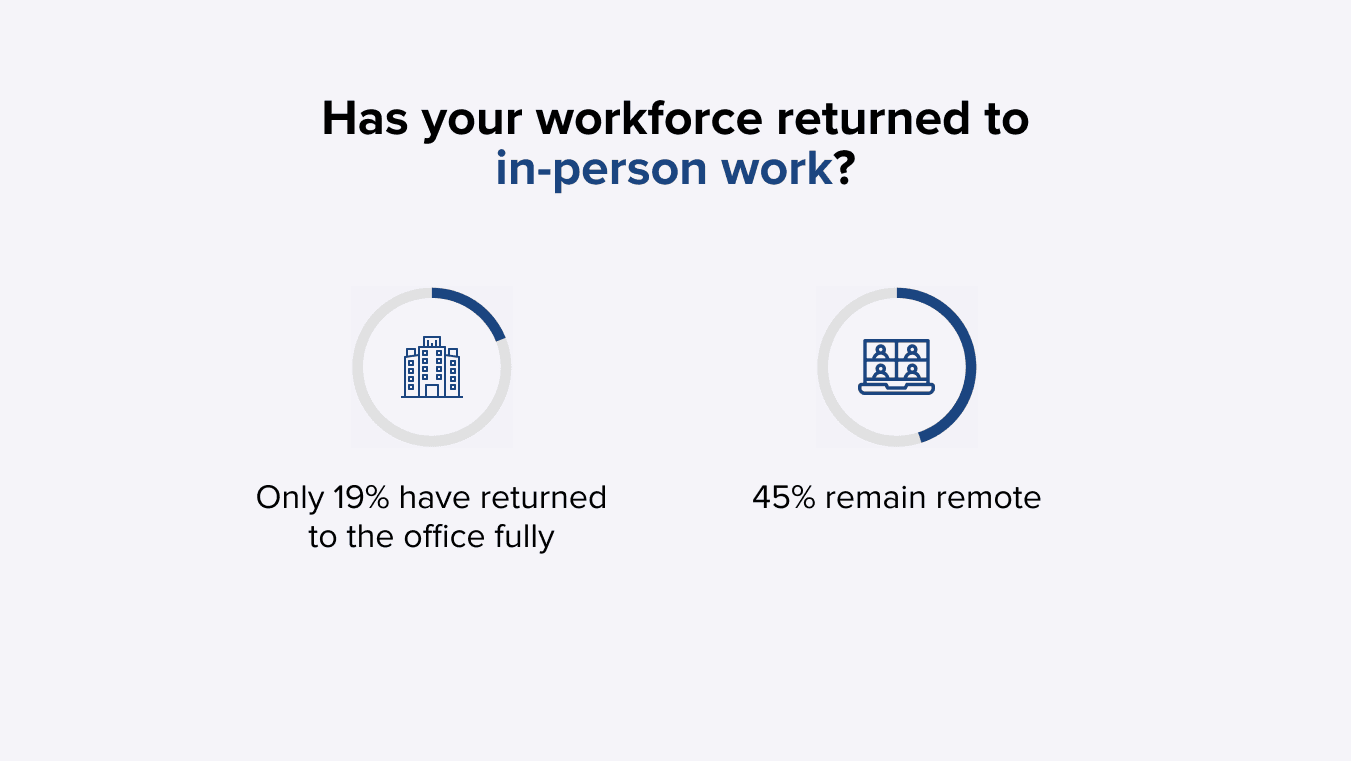 Of those who are still working remotely, less than half are currently planning to return to the office at some point in 2021. The majority, however, remain undecided.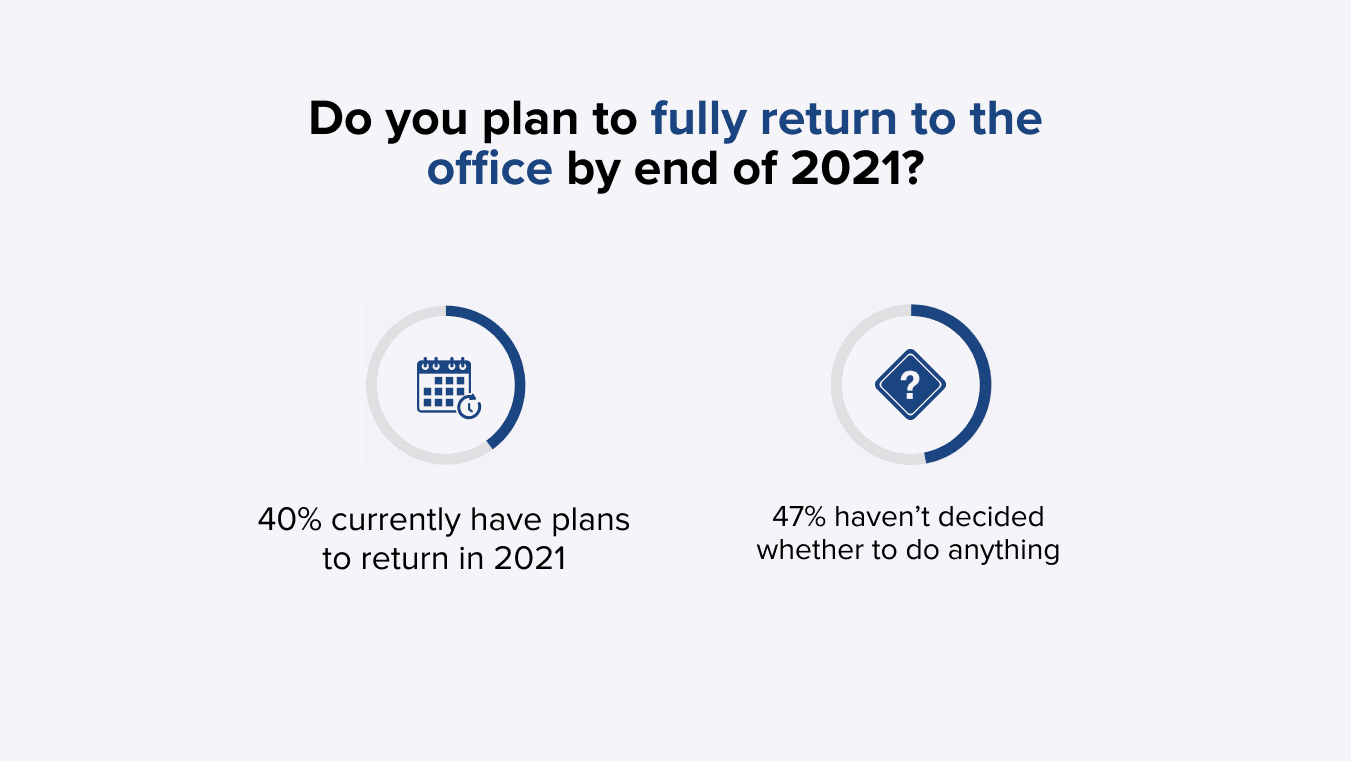 PwC believes the office isn't going anywhere, but its role will certainly change. Less than one in five executives want the office to return to pre-pandemic conditions. Many want to extend remote work options or at least offer them on a part-time basis. However, they're reluctant to give up the office altogether because they feel it adds value to collaboration and relationships.
"Our return to the physical workplace depends on what happens in the next few weeks or months, with vaccines being rolled out," admits Thomas Jepsen, Founder of Passion Plans. "I would imagine some kind of arrangement that would ensure both our employees and clients are in a safe environment all the time."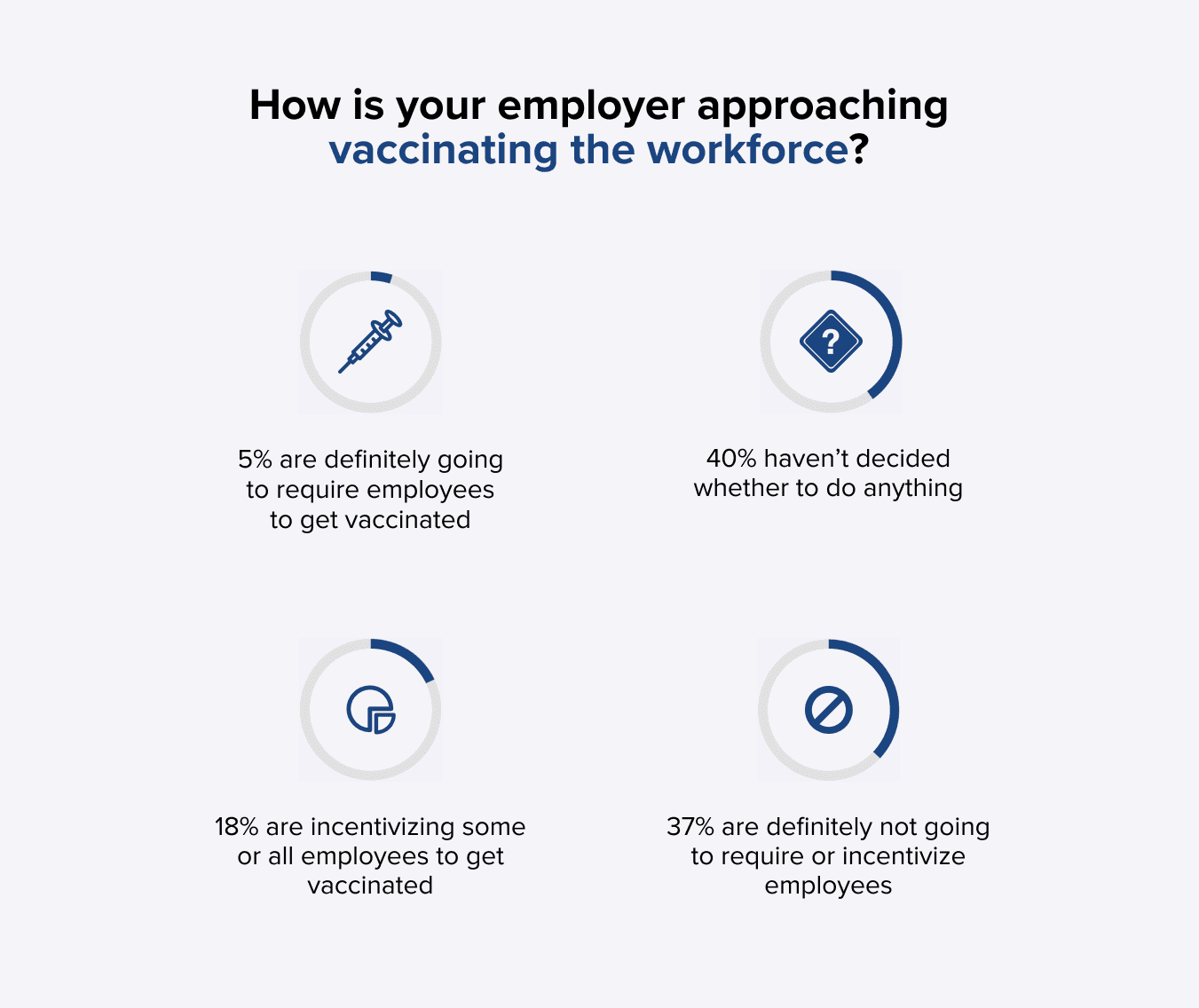 Those who have gone back to the office, at least in part, say they've had to make (or are planning to make) a number of changes to their facilities:
Enhanced cleaning protocols (88%)

Hand sanitizing stations (71%)

Socially distanced workstations (65%)

Staggered schedules or hybrid/remote options (58%)

Different office layout (30%)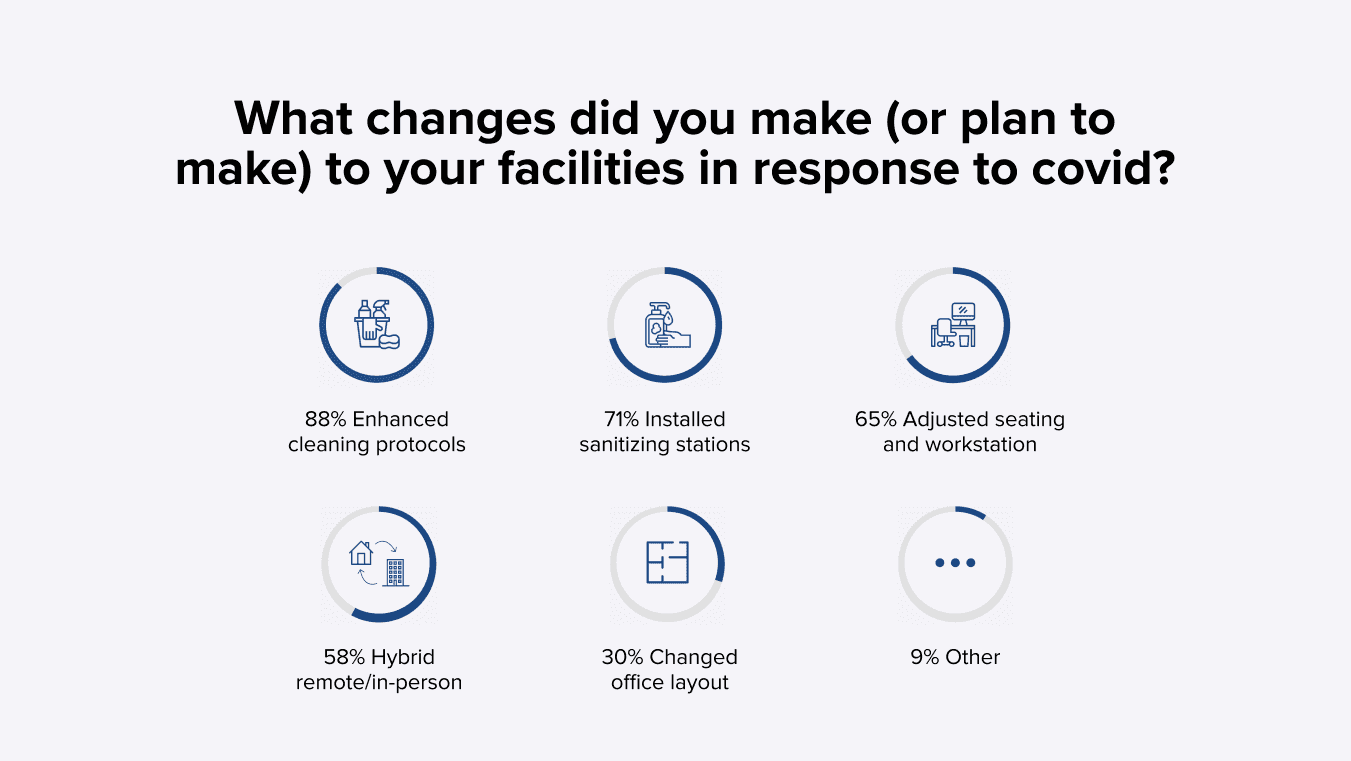 Other changes include staggered lunches, providing PPE, mask and distancing protocols, limiting visitors, screening and temperature checks, and limiting the restrooms to one person at a time.
"After talking with everyone within the business, they are all excited to be back in the office," says Seb Dean, Founder of Imaginaire. "The entire team knows that if they want to keep working from home, they have our full support to do so. However, everyone seems to be looking forward to having the office back."
In addition to safety adaptations, many companies are considering modifying the space based on a new hybrid vision where individual work happens at home, and teamwork happens at the office.
"We are redesigning our workspaces to focus more on collaboration and innovation," says Melanie Swan of Next PR. "We will create areas that allow for creative brainstorms, providing spaces with bigger social areas, innovation corners and team tables as well as the more traditional meeting and event spaces to help improve the customer and employee experience."
Key takeaway: The transition back to the office has been a slow and challenging one but not wholly impossible and not entirely unwelcome. The right protocols can not only achieve compliance but also give employees peace of mind, and usher in a new model for hybrid workspaces.
The State of HR Functions in 2021
When the pandemic first initiated office closures, HR professionals faced a myriad of obstacles that needed to be addressed immediately. Last year, top challenges in HR included the need to get government reimbursements (27%) and figuring out how to be compliant with new COVID regulations (26%). Others were also concerned about paid leave (FMLA and EFMLA) eligibility, transitioning to remote work while keeping productivity and engagement high, hiring virtually (47%), and reducing budgets (22%).
Some of these same challenges remain in 2021. Seven out of ten respondents claim that employee engagement is more challenging a year later, while 59% agree that recruiting and hiring virtually is a bigger obstacle. In addition, 53% struggle with onboarding new hires remotely, and almost half of respondents say that training has become more difficult.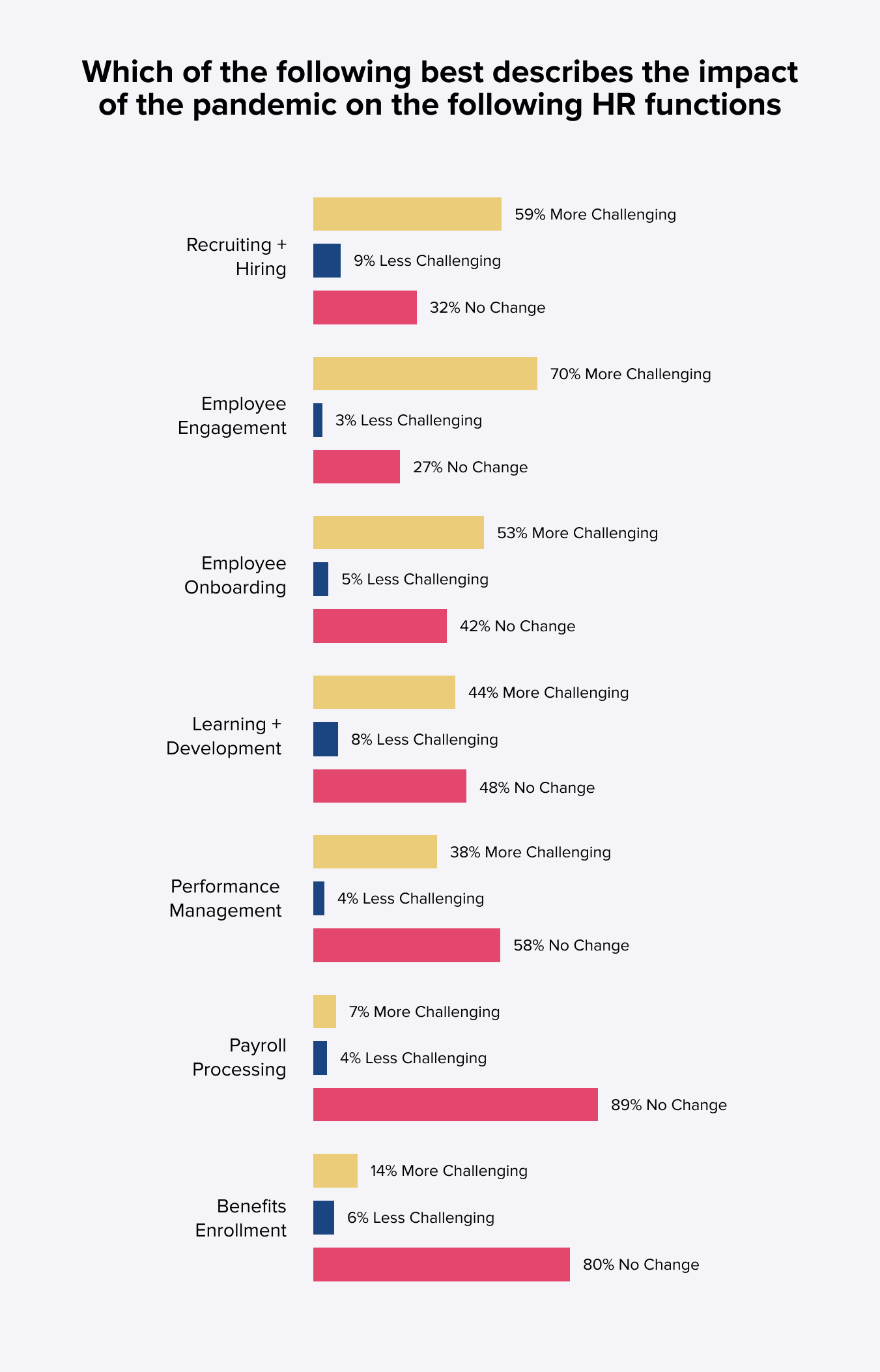 "Our biggest concern about continuing to allow remote work is keeping our employees engaged," says Kristen Fowler, Vice President and SHRM-SCP at JMJ Philip Group. "It is harder to get a sense of how employees are truly feeling when they are behind a screen. We also feel that some in-person work is necessary to provide proper training and development for future growth and advancement within the company."
According to the Aberdeen Group, companies that do a great job of onboarding new hires can expect to see as much as a 52% increase in employee retention rates, so getting onboarding right is critical in these turbulent times.
"Onboarding and welcoming new-hires was challenging enough in-person," according to Liz Orea, People Operations Manager at GoCo.io, "but now that we're fully-remote, I'm so grateful to have tools in place that automate manual onboarding tasks and paperwork, so that my team can focus fully on creating great experiences for our new-hires. Automation is really the key to making onboarding work in a remote or hybrid environment."
Interestingly, what hasn't been as burdensome for HR managers is payroll, performance management, and benefits enrollment. The majority of HR leaders say they've seen little change in difficulty since transitioning to remote work in each of these three categories.
When we asked HR professionals what their top concerns were in 2021, the top response was protecting the health and safety of employees (75%). Other top challenges and priorities include:
Promoting employee happiness and wellbeing (66%)

Engaging employees remotely (50%)

Maintaining workforce productivity (46%)

Transitioning back to the workplace safely (40%)

Dealing with the financial impact of COVID on the business (33%)

Deciding whether to extend remote work after COVID (30%)

Hiring and onboarding new employees remotely (28%)

Training employees remotely (28%)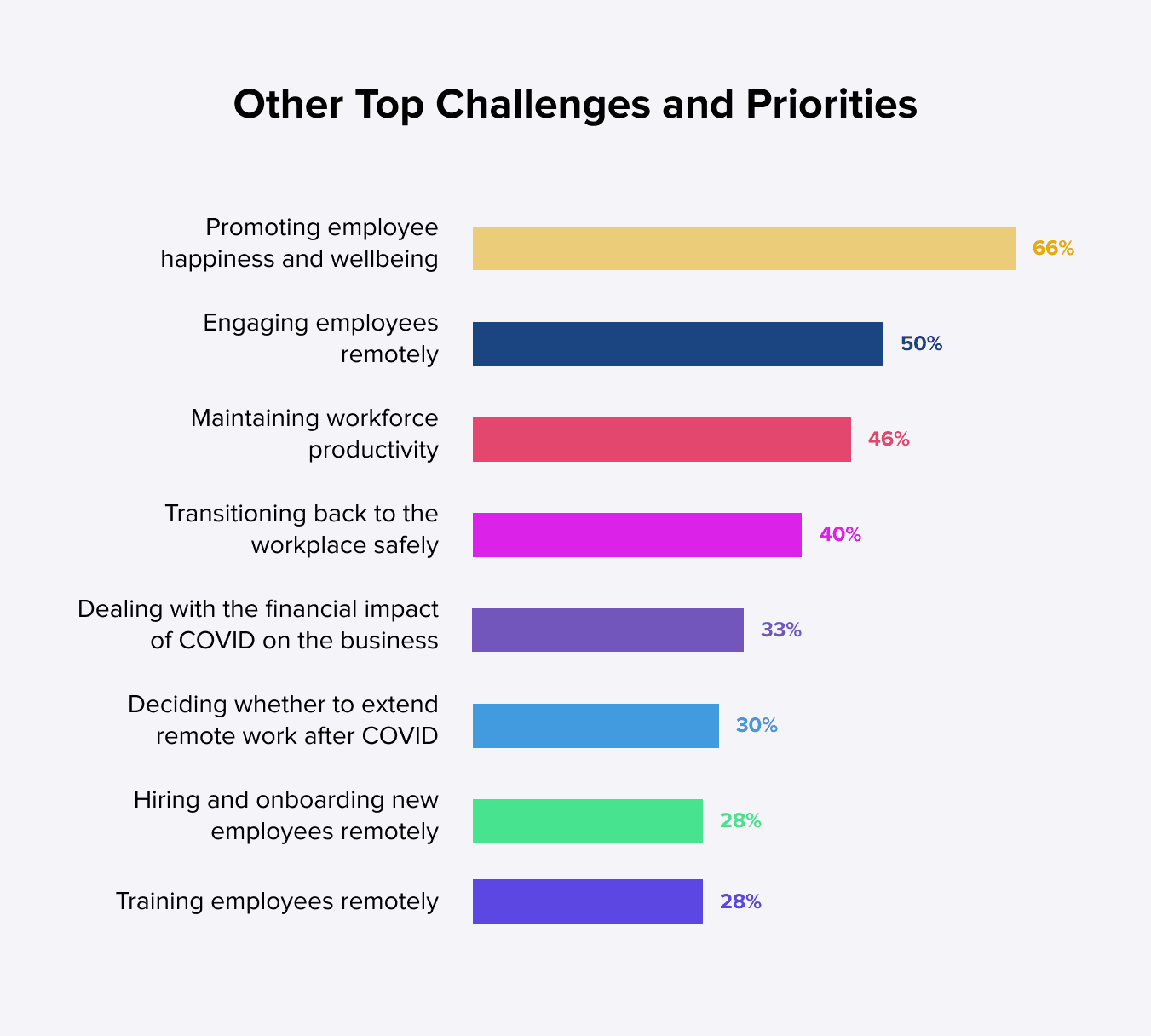 "When the pandemic hit, we transitioned to the hybrid model of work," shares Tidio's Eve Melon. "We value our employees' freedom and personal wellbeing; thus, we didn't see it as necessary to put a lock on our office door. We grew fast in 2020, and this growth could partly be attributed to the efficiency of such a model. People thrive best when they are given freedom of choice, and we are happy to provide it."
Key takeaway: Because HR is such a people-centric role, shifting to remote work has created numerous complexities around hiring, onboarding, and training. However, some functions can easily be done from anywhere, such as day-to-day tasks like performance management and payroll. Adopting a hybrid approach may provide the best of both worlds and properly support the HR function.
The Role of HR Technology in the Pandemic and Beyond
Technology became a central force in supporting remote work and continues to shape the way companies carry on working remotely today. Last year, 83% of HR professionals reported feeling confident using technology to address HR challenges, including tools for interviewing, negotiating offers, and onboarding new hires.
This year, the majority of respondents report using the same technology they used last year to handle critical HR functions: recruiting and hiring, onboarding, learning and development, employee engagement, performance management, payroll, benefits, and time tracking/PTO. Roughly one in five wants to explore other options across each of these categories, while another one in five has already adopted new technologies.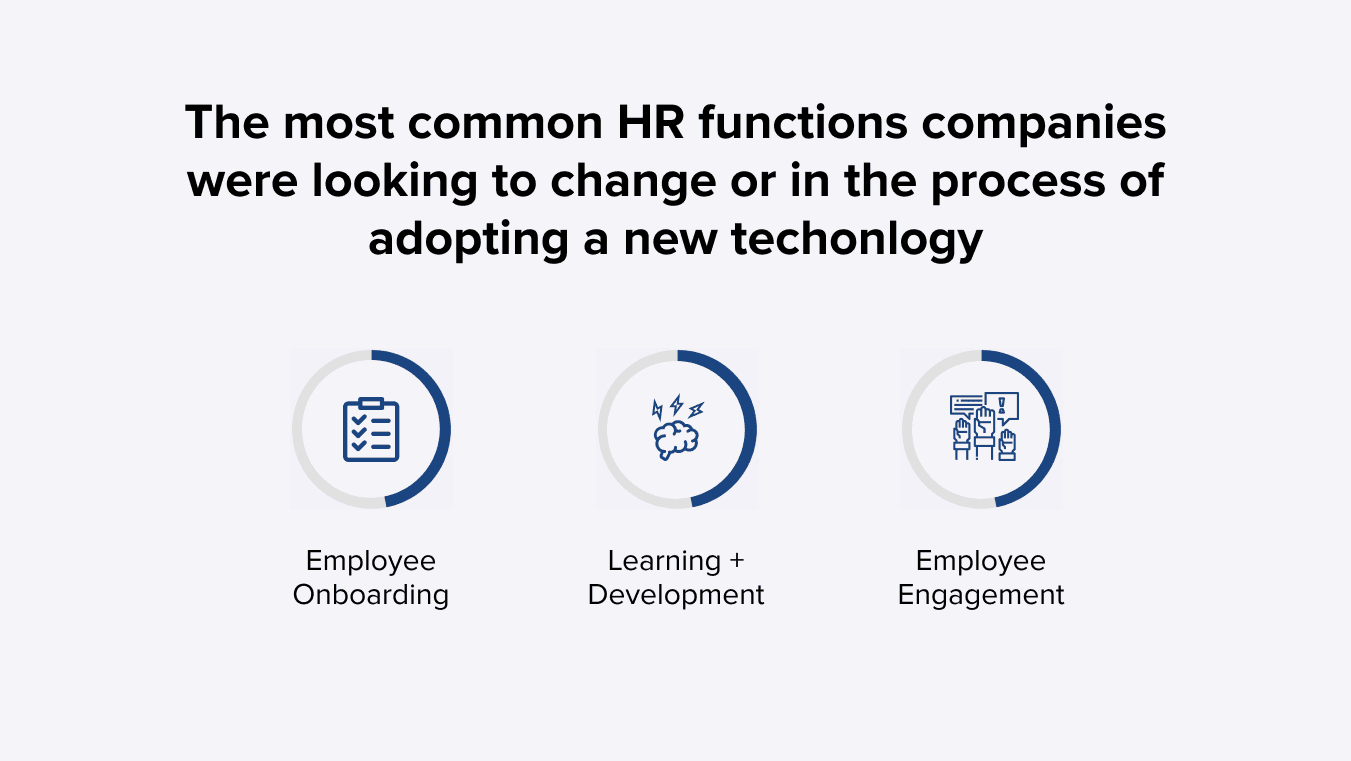 The major challenge with utilizing previous technologies for critical HR functions now is the lack of features necessary to support a fully remote and pandemic-proof work environment. Working from home calls for the ability to virtually and securely collect employee data, completely onboard employees without meeting face-to-face, and efficiently streamline common HR task lists. Modern HRIS technology like GoCo is SOC 2 certified, designed with the remote age in mind, and built on a modern infrastructure specifically to protect employees from data security threats at every layer. Additionally, remote HR software gives HR professionals the ability to send totally digital offer letters, collect, customize and manage documents virtually, and provide employees with the freedom to select self-service benefits from the privacy of their own homes. The pandemic and age of isolation also means HR needs to make time for higher-value tasks like employee engagement and mental health initiatives. In order to make this happen, HR workflow software can automate any checklist, from onboarding to performance reviews to termination. These are all HR tech priorities that may not have been as much of a focus before the large-scale shift to remote work last year.
Finding simple HR technology solutions that support productivity will likely continue to be a key focal point in the coming months so that HR teams can focus more on the functions they provide and less on the technical and manual aspects.
"Technology is key, and we will ensure people can easily and securely connect to the content that they need from wherever they are," says Melanie Swan of Next PR.
Key takeaway: The biggest area of focus for HR teams is finding better solutions for recruiting and hiring, onboarding, engagement, learning and development, and performance management, all of which are congruent with a need for better remote functionality.
Final Thoughts
These new insights in our 2021 State of HR Industry report demonstrate the resilience HR departments have shown in adapting and responding to the COVID-19 crisis in the past year. These findings also show great promise on the road to recovery as HR leaders are rethinking the workplace and remote work policies and carefully weighing whether a transition back to the office makes sense for them.
Remote work has been pervasive throughout the last year, and any negative impact on business functions has been relatively small. Productivity and the ability to meet business goals have not suffered, and employees have reported a better work/life balance.
However, going remote has made certain HR functions (including hiring, onboarding, and engagement) more challenging, which correlates with a demand for new technology solutions to support those areas. Exploring new technologies will be a prime subject of focus in the coming months as organizations carry on with fine-tuning their version of a new normal. Whatever your organization's next steps, thinking in the short and long terms can guide your efforts to choose the right tools and technology that will continue to help you build your resilience.