= 50)" :class="navScrolled ? 'lg:mt-20' : 'lg:mt-32'" x-transition >

Blog Articles
Rights and Responsibilities In the Workplace Under the NLRA
Everything you need to know about employee-employer relationships, documentation, and policies.
As an HR department leader, it's vital to understand how the NLRA impacts your organization and employees' rights and responsibilities. It can come in many forms, such as the relationship between an employee and employer, the handling of documentation, and an organization's policies. In this blog post, we'll look at what the NLRA does, what rights and responsibilities are provided under this act, and provide tips on ensuring compliance with the NLRA within your organization.
Read our Guide to HR Compliance to learn more.
Download the 2023 HR Compliance Calendar
What Is the NLRA, and What Does It Do?
The National Labor Rights Act (NLRA) gives private sector workers legal rights to join unions and bargain collectively with their employers. But how do those rights impact the workplace?
In the 1930s, tensions rose between workers and their leaders. Organized labor sought relief from employers who had been free to spy on, question, penalize, fire, and blacklist union members. As a result, a significant wave of strikes occurred across the nation, and violent altercations occurred between workers, police, and private security forces defending the interests of anti-union employers.
Congress passed the NLRA, ensuring employees had the right to form, join, or help labor unions, collectively bargain, and perform concerted activities that provide mutual aid and protection. The NLRA exempts employers involved in airlines, railroads, agriculture, and government.
Rights and Responsibilities Under the NLRA
The NLRA states that Employees have the right to:
Organize a union to negotiate wages, hours, and other terms and conditions of employment with an employer.

Form, join, or assist a union.

Bargain collectively through representatives to set a contract with an employer regarding wages, benefits, hours, and other working conditions.

Discuss the terms and conditions of employment or union organizing with others.

Perform concerted activities and take action with one or more co-workers to improve working conditions.

Strike and picket, depending on the purpose or means it's performed.

Choose not to do any of these activities.
It's against the law for unions to
Threaten an employee that they will lose their job unless they support their union.

Refuse to process a grievance because an employee has criticized union officials or is not part of the union.

Use or maintain discriminatory standards or procedures

Cause or attempt to cause an employer to discriminate against an employee because of their union-related activity.

Take other adverse action against an employee based on whether an employee joined or supported the union.
It is against the law for an employer to:
Prohibit an employee from soliciting for a union during non-work time

Question an employee about their union support or activities in a way that discourages the employee support for their union and their activities.

Fire, demote, or transfer an employee, reduce an employee's hours or change their shift, or otherwise take adverse action against an employee, whether or not they are part of a union or are participating in a consorted activity.

Threaten to close a workplace if employees are part of a union.

Promise or grant permissions, pay raises, or other benefits to promote or condemn union support.

Prohibit employees from wearing union hats, buttons, t-shirts, and pins.

Spy on or videotape union activities and gatherings or pretend to do so.
It's essential to keep these rights in mind when understanding the full context of what the NLRA encompasses within the workplace.
What Is the NLRB, and What Does It Do for Employees' Rights?
Congress created the National Labor Relations Board (NLRB) in 1935 to protect employees' rights as an independent federal agency to enforce the NLRA. The NLRB holds a position of power similar to the Supreme Court regarding labor law. The current president's party gets three of the five board seats when the president comes into office. The NLRB's decisions hold jurisdiction over issues concerning employee and employers relationship, union elections, standards in the workplace, and employee grievances.
If the NLRB determines that an employer has committed an unfair labor practice, the Board can order the employer to:
Stop violating employees' or union rights under the NLRA

Order job reinstatement and back pay for employees who have been fired for unlawful reasons

Reverse any action taken against an employee because the worker engaged in activities protected by the NLRA
This process is in the following flowchart: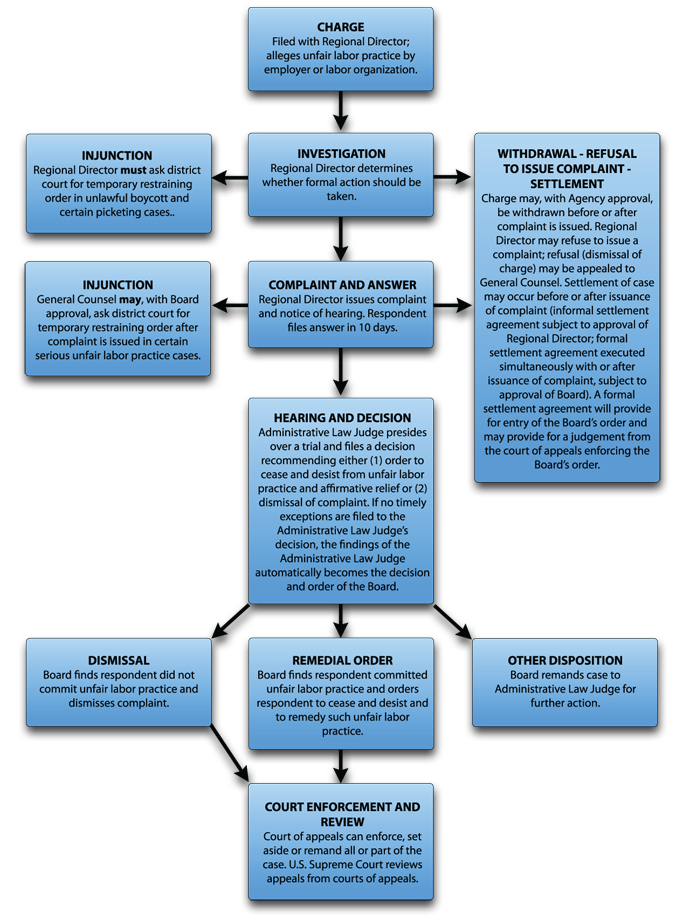 News and Jurisdiction of the NLRB
The NLRB is a prominent topic in today's news. Most recently, Tesla and Starbucks have been facing complaints over unlawful labor practices. They have violated the NLRA with Tesla restricting Florida employees from discussing workplace issues, and Starbucks refusing to negotiate with newly unionized workers. These companies face the scrutiny of the NLRB and its investigation.
These recent events propelled the NLRA and labor law into news headlines, prompting experts to share their perspectives on the situation.
"It's hard for people to appreciate their [NLRB's] significance if they don't spend all of their time thinking about labor law," says Charlotte Garden, a University of Minnesota Law School professor. "But working conditions during the pandemic brought home to many workers, including workers that don't think of themselves as part of the working class, that employers have unanswerable power to set conditions."
Due to NLRB's power to set precedents with its legislation, labor law has gone back and forth over the years, depending on the current president's appointments to the board. New board members can change previous precedents. That makes the first year of rulings with a new president critical.
Mistakes to Avoid to Stay In Compliance with the NLRA
So what are some of the common compliance issues faced by businesses? Let's look at the top 5 mistakes and how to comply with the NLRA and avoid legal problems!
Misclassifying New Hires
Some organizations face legal trouble by misclassifying new hires. For example, hiring someone as an independent contractor allows the employer to avoid providing benefits and paying certain taxes, but doing so when their job is meant to be an employee can result in state and federal penalties.
Each state has different definitions or tests to determine workers' classification. These regulations examine how much authority employees have over performance. For example, in certain states, the common law control test is used to determine if an employee/employer relationship exists. In common law, if an employee performs services for a person or company, it is an established employee/employer relationship in which the employee has authority over the services they provide.  In addition, the Department of Labor and the IRS have their own criteria for classifying employees under the Fair Labor Standards Act (FLSA).
Denying Employee Breaks
Lawsuits regarding meal and rest breaks are becoming more common. Employers must provide these breaks according to their state's law and maintain records of when an employee started and stopped their breaks. This is directly stated under the FLSA in which 5 to 20 minutes rest breaks have become commonplace in the industry as they are compensable time. While meal breaks are not compensable, meal and rest breaks must be recorded.
Denial of employee breaks is more commonly seen in hourly employees. For example, Dollar Tree and Dollar General have recently been under a flurry of reports, lawsuits, and investigations for unacceptable labor practices by denying their hourly employee breaks and discouraging unionization. Therefore it is important to communicate your organization's meal and rest break policy and expectations in your employee handbook and adequately store your employee meal and rest break records.
Neglecting Employee Handbooks
Employee handbooks protect your organization from legal liability by demonstrating your compliance with federal and state labor laws. It also serves as a  point of reference for an employee who takes your organization to court. A well-documented handbook lets courts analyze your organization's policies in case of a legal dispute.
An example of this problem would be an employee interpreting the handbook as an assurance of continued employment so long as they do not violate written policies. To avoid this understanding of the handbook, be sure to include language that states that your organization reserves the right to terminate employment for reasons not stated in the handbook.
The handbook is a formal illustration of the company's expectations regarding implementation. In addition, it provides an overview of the benefits provided and summarizes the relationship between an employee and employer. Therefore, having your employee handbook be thorough and in compliance with state and federal laws is crucial.
Inadequate Documentation
Ensuring a way to store proper employee documentation is essential to keep in line with the NLRA. Proper employee documentation includes keeping a written record of all warnings given to an employee, meal breaks, and forms filled out during the onboarding process. If an employee files a complaint and your organization lacks proper documentation, it can be a liability for a lawsuit.
An easy and efficient way to store and access documentation digitally can help you avoid this common mistake. GoCo, offers an all-in-one HR software that keeps track of hiring and onboarding, benefits, payroll, and time tracking. In addition, an automated HR software system can make it easier to handle employee documentation and comply with state and federal laws.
Improperly Addressing Employee Complaints
Employers may subject themselves to legal action if they fail to respond appropriately to complaints relating to harassment and discrimination. Therefore, recording all complaints and taking appropriate remedial action is essential. Under the NLRA, it's against the law to punish employees for complaining about harassment and discrimination. However, punishment can include less apparent actions, such as adjusting the complaining employee's responsibilities or excluding them from meetings.
Employers should also acknowledge complaints relating to workplace settings that impose difficulties for employees with disabilities. The Americans with Disabilities Act (ADA) requires employers to provide qualified individuals with disabilities an equal opportunity to benefit from the full range of employment-related options available to others. In addition, it requires that employers make reasonable accommodations to the known physical or mental limitations of otherwise qualified individuals with disabilities unless it results in an undue hardship. Examples of reasonable accommodations are providing medical leave, flexible scheduling to allow an employee to receive medical treatments, and ergonomic equipment in the workplace, such as adjustable desks or monitors.
By taking these steps to handle employee concerns properly, a business can protect itself from a discrimination lawsuit and the damage those lawsuits inflict on the company's standing.
NLRA In Your Organization
Now that you're familiar with the NLRA, what's next?
First, ensure that all your processes and documentation are in order.

Second, provide or revise your Employee Handbook with your expectations and policies that align with the NLRA.

Third, investigate your federal and state laws concerning employment and employee rights to ensure your organization follows them.

Fourth, provide proper communication outlets for complaints to be responded to appropriately. These are the primary steps to ensure your organization's compliance with NLRA.
Recommended Posts
See our top-rated HR solution in action