= 50)" :class="navScrolled ? 'lg:mt-20' : 'lg:mt-32'" x-transition >

Customer Stories
American Pharmacies Customer Story
How GoCo's exceptional customer service set a group of 60 companies up for success
"With GoCo, employees found it easier to get through the enrollment process. It holds your hand and guides you through each step."

Rida Ashraf ∙ Director of Benefits ∙ American Pharmacies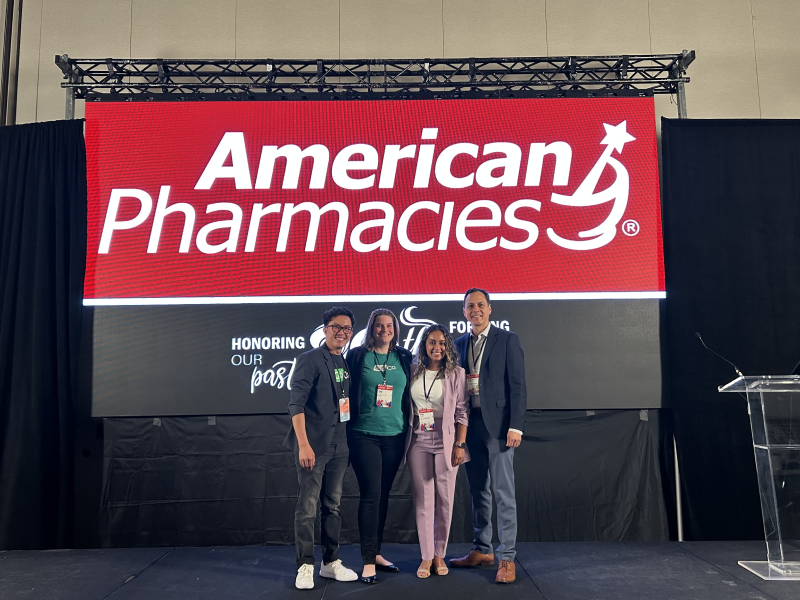 Managing benefits can be complicated and stressful for just one company, let alone 60. Rida Ashraf, the Director of Benefits at American Pharmacies, was tasked with finding an HR software solution to support all 60 pharmacies in their benefits program. Benefits administration was the most significant pain point that had proven difficult to get right in past experiences with HR software, and Rida was looking for an HRIS with a bespoke approach that perfectly matched the spirit of these small, family-oriented pharmacies.
Before GoCo: Messy Benefits and Confusion
American Pharmacies is a cooperative of hundreds of independently owned pharmacies across the nation, often small mom-and-pop shops in rural areas. Each pharmacy operates independently, with different payroll schedules and state regulations. Of those hundreds, 60 pharmacies are part of American Pharmacies' Multiple Employer Welfare Agreement (MEWA) that allows the members to pool contributions together and offer better benefits packages to their employees. 
Rida needed a solution to manage benefits across all of them, and since the company setup differed for each location, centralizing this aspect proved challenging. Past software vendors Rida had worked with didn't take the time to understand each pharmacy's structure, resulting in inaccurate data and wasted time.
"We had times where it looked like some employees were paying less for benefits than others because of being on different payroll schedules. Every year was a struggle. There was so much confusion."
Rida had worked with GoCo at a previous job and remembered how easy GoCo made it to customize the benefits set up. 
How GoCo's Client Success Team Turned Things Around
These mom-and-pop pharmacies are family-oriented and deliver personalized service to their customers, so it's no surprise they expect that same level of personalization from their vendors. Having had negative experiences with other software vendors in the past, Rida gained confidence in GoCo during the implementation process. 
"It was a big task to unify 60 companies under one software. Right away, we were handed various spreadsheets from GoCo, and just by looking at those, you could tell how detail-oriented and thorough GoCo was in getting us set up."
During implementation, Rida was assigned a client success team to answer questions, offer guidance, and communicate with the insurance carriers on her behalf. "GoCo's Benefits Specialist did an amazing job setting up our files and answering any questions we had. Our Platform Implementer was so thorough in setting up each pharmacy in GoCo and stayed on top of every detail."
Open enrollment happened right before the holiday break, which is already a busy time for anyone in HR. But GoCo's support never wavered in the busy season. "We were blown away with how supportive GoCo was while we were onboarding during a hectic time."
Life with GoCo: Simplified, Personalized HR Service 
Rida loves how the employee's portion of the benefits plan is laid out in GoCo. Employees can see how much benefits will cost per pay period and compare plans to see what suits them best. They can make quick and easy decisions based on their budget and healthcare needs.
The pharmacies within the co-op aren't always tech-savvy, but switching to GoCo means they don't have to be. "With every open enrollment, even if we were using the same vendor, getting employees onto a computer and completing their benefits paperwork was hard. With GoCo, employees found it easier to get through the enrollment process. It holds your hand and guides you through each step. There's no place you can click that would mess up the process, and you can go back to verify the information you already entered before submitting it." 
Rida's life has changed for the better too, especially since she's pulling double duty as the Director of Benefits and a paralegal for the company. She can fix errors herself (such as a misspelled address) and customize the experience without having to contact support. Being able to handle issues herself cuts out a lot of the back-and-forth she experienced with other vendors. 
"What's been extremely helpful is having weekly meetings with my Client Success Manager and Client Success Specialist. They offer great tips for troubleshooting, and if I have issues throughout the week, I can write them down and mention them at the next meeting. They walk me through it on the spot."
Overall, GoCo has provided a streamlined and accurate benefits administration experience for a complex, unique company structure. With a dedicated support team and a user-friendly interface that even non-technical employees love, GoCo helps American Pharmacies save time, effort, and frustration. 
American Pharmacies
| | |
| --- | --- |
| Core Business | Healthcare |
| Became a GoCoNut in | 2022 |
| Biggest HR Challenge | Centralizing Benefits Administration |
Schedule a Demo