= 50)" :class="navScrolled ? 'lg:mt-20' : 'lg:mt-32'" x-transition >

eBooks
Think Like a Marketer [eBook]
Conquer HR challenges by adopting a marketing mindset
by Anna Coucke - August 11th, 2023
Today's HR professionals are adapting to more challenges than ever before, from the sudden rise of remote work to the Great Resignation. When it comes to hiring and retaining employees, HR departments can look to practices that marketers use to connect, build relationships, and ultimately acquire customers.
In this series, GoCo's marketing team leaders explain some of their favorite marketing concepts and best practices, along with how they can be applied in the HR landscape. First, let's explore marketing practices that can be applied to recruitment.
To continue reading, please enter your work email
The Marketing Funnel Journey
The first marketing concept that can be used in HR is called the marketing funnel. Marketers think about the path to purchase as a funnel: at the top, people become aware of your brand, they engage with it, and then they move down to the bottom of the funnel to eventually buy.
We think about this as being shaped like a funnel because a lot of people will start off at the very top, but as you move closer to the desired end result, fewer and fewer people will move through to the next step.
An example marketing funnel, from top to bottom, may look like this:
A Facebook ad is placed that a large number of people will see.

A few of these people will then click on the ad and travel to the advertised website

Only a very few people end up actually purchasing the product

A small number of people who purchase recommend the product
Each step through the funnel is called a conversion. We calculate the rate at which each prospect moves through that funnel into a conversion rate. So, of all the people that view the Facebook ad, about 5% might click on it. Of those who click on the ad, maybe 10% browse the website, and so on. Each of these is what we call a conversion rate. 
We marketers have goals for conversion rates at each step in order to figure out how many people need to move through each step of the funnel. That's how we calculate budgets and figure out how much traffic is needed in order to hit purchase goals.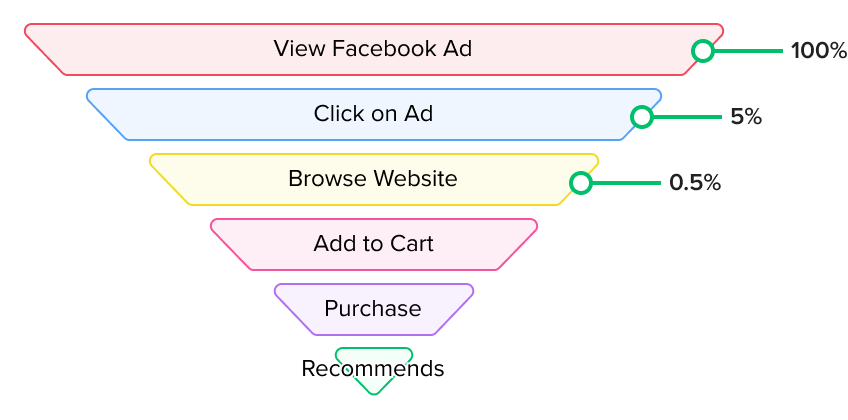 Creating a Recruitment Funnel for Top Talent
You may be wondering how all of this applies to HR. The fact is that you can think of recruiting as a funnel too!  Here's what it may look like:
Candidates become aware of an employer by viewing job descriptions

They apply and interview

A job offer is extended

In most cases, the offer will be accepted

Some of those who accept will recommend your employer to other people.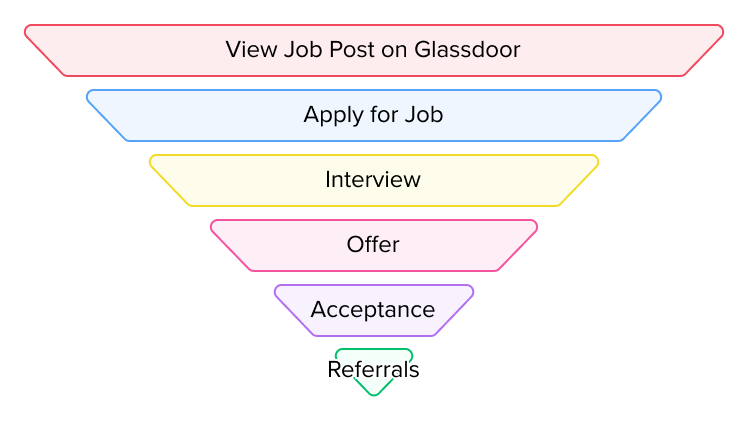 By looking at historical data, you can find conversion rates that allow you to determine how many job post views, phone screens, and interviews are needed on average to fill a role, which helps you set a budget and determine the overall cost to acquire talent. GoCo's Applicant Funnel Calculator helps you easily calculate your conversion rates and compare those to benchmarks – no math required!
Once you have found your conversion rates in each section of the funnel, you may be wondering what a good conversion rate to aim for is. A survey from Jobvite found that on average across all industries, 11% of careers page or job posting visitors end up applying.
Since this figure is across all industries, you might want to find benchmarks specific to your industry, because it could vary dramatically from one to the next. However, this is a good place to start. 
If you use the Applicant Funnel Calculator and find that your application rates are lower than 11%, don't worry – there are a few things that you can do to improve.
Stage 1: Job Post to Application
The first thing to consider is polishing up your employer brand. It's important to know that the brand you're projecting out to visitors to your website is going to have a really heavy impact on whether people feel like applying. Make sure that your company culture is accurately represented on your website so that applicants get an idea of what it is like to work at your company.
Remember that the hiring process is a two-way street, and jobseekers want to work at a place they feel excited and proud to be a part of. So, make sure that your careers page is reflecting your brand in a way that is representative of your culture, and update it ASAP if it isn't.
Next, consider improving job descriptions. One way to do that is to focus on inclusion, particularly in the language used. It's helpful to add information like that applicants don't need to meet 100% of the listed criteria in order to apply. We know there's some gender bias when people think that they have to meet all the criteria, particularly for women.
Stage 2: Application to Interview
The second part of the recruitment funnel is the application to interview stage. Jobvite's survey tells us that on average, 12% of applicants progress from the application to the interview stage. If you're below that average, focus on middle funnel activities,  such as your process for scheduling. Emailing back and forth and struggling to find a time that works for everyone can create friction and frustration.
At GoCo, we saw that adopting a tool like Calendly streamlined our booking process by letting people book directly on our talent acquisition coordinator's calendar. The result was that we got twice the response rate on our outreach.
Finally, consider using surveys through tools like SurveyMonkey to offer an incentive in exchange for candid feedback. If someone applies and doesn't make it to the interview process, or if a candidate interviews and either doesn't make it to the final stage or rejects an offer, you can offer them a small incentive (like a $5 Starbucks gift card) in exchange for their feedback, which allows you to gain some major insights.
Stage 3: Interview to Offer
In the interview-to-offer stage, an average of 17% of candidates progress. This is where you should focus on your ideal candidate criteria, because if a large percentage of people are making it to an interview and then get lost in that process, that's a sign that the right candidates aren't progressing through the funnel. 
Spend more time with the hiring managers and have them give you a rubric that tells you exactly what criteria they're going to be evaluating. This allows you to ensure that the process is equitable, every candidate is being held to the same standard, and that you know what you're selecting for. 
Stage 4: Offer to Acceptance
Finally, an average of 89% of candidates progress from offer to acceptance. If yours is a lot lower, try to spend time understanding why candidates might reject, and consider a more expensive gift card incentive for completing either an anonymous in-depth survey or an in-depth interview. That's a great way to get really candid feedback.
Buyer Persona
Next, let's discuss how you can not only recruit better, but recruit more quality hires by using a concept that we in marketing call quality of hire, which is a way of measuring the value that a new hire brings to your organization. 
You might measure this by considering engagement, productivity, retention, or their overall impact on the business. Overall, it's a way to show there are measures in place to know whether you've made a good hire or not.
There is another concept that marketers use called buyer persona, which allows us to paint a picture of what an ideal customer looks like. You can think about it like a vision board for a target market.
For example, a great fit for GoCo's buyer persona is an HR professional in a small department (possibly the only person in the department) who is struggling with paper and spreadsheets and with too much employee onboarding pain. In recruiting, you can use the same vision board philosophy to identify and zero in on an ideal quality of hire for each role or each department that you're hiring for.
Creating an Ideal Candidate
When building a buyer persona, we look at all kinds of traits such as personality type, goals, and what value our product brings to them. With recruiting, you can apply this same philosophy to your hiring goals. 
So, if you have a target role that you're hiring for, this is a great way to go beyond just a job description and actually paint a picture of the ideal target. 
Some of the things you will want to include are:
Broad strokes on information such as education and work experience. For example, while a candidate with a formal education or a certain amount of experience is nice, there are more desirable traits that we want them to possess. 

Personality traits and strengths. When hiring at GoCo, we like to use the DISC personality profile to pinpoint a candidate's strengths and weaknesses.

Motivations, ambitions, pet peeves, and values. We want to know what's important to them and what motivates them. These tell you a lot about a candidate's personality and what environment they work best in.
On the other hand, don't include things like demographics, appearance, familial status, or anything else that could introduce bias. If you are including a photo, focus on representing the journey rather than the appearance of the person.
Engagement
According to Gallup organization research, 67% of US employees report that they are disengaged in their workplace. Disengagement means they're ignoring Slack messages, not reading emails, and turning off their camera during meetings to focus on something else. 
Getting employees engaged is often passed to HR, and it's much more complex than just sending out surveys to employees for event ideas. As marketers, we are constantly battling for our customers' attention and engagement. We examined how several marketing practices can be easily adapted to work for HR pros trying to boost employee engagement.
Using the Three Pillars of Marketing Campaigns in HR
Although engagement is often left to HR, it truly is a team effort and a responsibility of the entire organization. Employee surveys can get you some information on how employees feel, but it's a single score that just reflects one point in time, which can change rapidly. 
Employee engagement is also dependent upon consistency. Since it's constantly changing, it must be built as a series of consistent everyday interactions. There's no one thing you can do one day to flip that switch and make your employees engaged again. 
While employee engagement initiatives like events can be costly, the investment is worth it. Disengaged employees cost a lot – they have 37% higher absenteeism, 18% lower productivity, and cost their companies an average of 34% of their total annual salary. 
In marketing, an organized, strategized effort to promote a specific company goal is known as a marketing campaign. For a successful campaign, we marketers use three pillars to guide us: goals and key performance indicators (KPIs), audience, and communication.
As HR pros, you can use this same mindset and shift it into thinking about employee engagement and marketing internally to your team.
Setting Achievable Goals and KPIs
The first pillar of marketing campaigns that HR can use is goals and KPIs. Since improving employee engagement is so broad, you need to break it down into a series of campaigns, each with its own achievable goal that is clearly defined, measurable, and attainable.
An example of an actual campaign we ran at GoCo to improve employee engagement 
was our GoCompete Wellbeing Challenge. Amid quarantine in 2020, we realized that everyone was feeling isolated and stressed, so our goal with this event was to improve employee well-being. 
We took a holistic, inclusive approach to wellness and what that means to each person beyond just fitness. The KPI we focused on was participation, which we measured through point tracking and a dedicated Slack channel. The inclusivity and competitiveness of this event made it a huge success and one that our employees still enjoy today.
Identifying and Understanding Your Audience
The next pillar is all about identifying and understanding your target audience. When it comes to employee engagement, you may think that your intended audience should always be every employee in your organization, but that's not always the case.
To make it simple, you're already never going to be able to make everybody happy with every event or initiative. Instead, focus on planning many different types consistently – this way, you're much more likely to have something that hits with every person eventually.
Some of the events we held at GoCo are meant to appeal to a smaller audience and not necessarily everyone in the company. However, we ensure that everyone is invited and can participate, which means having events that work for a hybrid company.  These include:
Take your kids to work day

Monthly yoga flow 

Book club

Game nights

Anime club
Not all of these events will appeal to every employee. But, by identifying and catering to a wide range of interests, you are more likely to eventually have at least one event that each employee can find an interest in.
How to Craft Effective Communication
The final pillar focuses on effective communication. Proper communication is not just about your message – it's about where and how you say it. Consider the existing communication channels your employees use – such as Slack, email, meetings, and text – and use all of them to get your word out. 
When creating your messaging, keep the following points in mind that marketers use when communicating with an audience:
Keep your messaging clear, concise, and to the point – details (and interest) get lost in large blocks of text 

Don't use new processes or communication methods that create friction

Over-communicate – say your message in multiple ways, multiple times

Get creative with messaging – emojis are great!
Crafting a Call to Action
The next tip is to focus on what we in marketing refer to as your call to action (CTA), which is what you want people to do next in response to your message. You want to limit it to one CTA per message and use action-oriented text that tells your audience exactly what they need to do next. 
While in marketing a CTA may be something like "buy now" or "call today," HR may use action-oriented messaging such as:
Mark your calendar

Attendance is limited, sign up now

Watch your inbox for a certain email
Remember, keep your messaging short and simple. Drawn-out asks are more likely to lose people's interest and get buried in their physical and mental inboxes.
Retention
The current job market continues to be unstable, with 57% of knowledge workers in the U.S. reporting that they're open to finding a new job within the next year. Younger workers are much more likely to leave their current jobs than older generations, meaning that employers should focus their recruiting energy on how to best attract workers from this crowd. 
Millennials and Gen Z are advocates for their personal brands and want to be associated with an employer whose brand matches their identity – so now is a great time to create or improve your employer brand in order to attract these candidates and retain the talent you already have.
What is an Employer Brand?
In short, an employer brand is an identity that your organization projects to an audience of current and future employees. It tells people what it's like to work for your organization, the value being delivered to employees, employee sentiments about their workplace, and what future opportunity looks like within your company. 
If you're wondering if your organization has a strong employer brand, think about what an employee's Day In the Life video may look like. That video should show something that you and the employee would feel proud of and that aligns with your company values.
Employer Branding Tips
If you want to focus on employer branding but don't know where to start, try to first think of how you can transform ordinary things in your workspace into something that feels more personal and exciting. Don't be afraid to get creative (and silly)!
For example, at GoCo, our employees are known as GoCoNuts, and our weekly all-hands meeting is called WhatChaGot. These are just a couple of examples of how we took ordinary things and branded them into something more flashy and unique.
Using Symbols To Make an Impact
When creating a brand, symbols are extremely powerful. Symbols not only make it easy for people to recognize your brand but also drive connection and meaning.
You can start by looking through your Slack channels or your team's meetings and watching for emojis that are really popular. Look for symbols that indicate smoke behind the fire of a potential brand moment in symbols. 🔥
For example, at GoCo we use an app in Slack called HeyTaco, which allows us to show recognition to our colleagues by tagging them with a taco emoji. As a result, tacos have become a symbol within our organization – we even have taco pillows in the office! 🌮
Another example is when our Spirit Committee arranged to have live alpacas at our company holiday party. The upfront cost of this has paid for itself in dividends in terms of people seeing our employees post on their own social media and getting our employer brand out there. This gets people's attention and piques talent's interest in working at the company that has alpacas at their holiday parties. 🦙
Identify Brand Ambassadors
No matter what HR and leaders want to project as their brand, its success ultimately lies with employees. You should invite employees to be part of building the company brand they want to be part of and use their individuality to do so. Identify brand ambassadors within your company, and allow them enough time and resources to help foster your company brand. 
Department-sponsored events let employees within each department showcase their skills and interests, and perhaps even eventually form committees or clubs around popular interests and causes. Committees for company-wide initiatives can also be formed to allow employees to take ownership of important matters and foster their growth.
Brands in Leadership
Remind your leadership team regularly that they, too, have a brand. While they each have their own individual brand as a leader, there's a collective brand around your executive leadership team that you should also pay attention to. Newly hired leadership roles should have an introduction to the existing brand by meeting the other leaders and understanding how they lead and run their departments.
This collective brand in leadership should reflect your organization's brand voice and values. That way, when tough news or questions arise, you already have an established brand pattern through which an aligned response can be made.
Final Thoughts
HR pros are having to adapt faster than ever to changes in today's unstable market. In recruiting, engagement, retention, and everything in between, it's often up to HR to win the attention and loyalty of their organization's prospects and current employees – much like marketers do every day with their customers. 
By thinking like a marketer, HR can rethink how they approach these responsibilities in order to attract (and keep) the right employees – all while improving their company's culture and brand along the way.