= 50)" :class="navScrolled ? 'lg:mt-20' : 'lg:mt-32'" x-transition >

eBooks
State of HR Report: How the Great Resignation is Impacting HR
How the talent wars are impacting recruiting, retention, and more
by GoCo - November 8th, 2021
Millions of workers have left their posts this year, leaving employers struggling to fill mission-critical positions. A record 4 million people quit their jobs in April 2021, followed by another 3.6 million in May. The August quit rate of 2.9% was the highest on record. But despite the harrowing data, is the "Great Resignation" as bad as employers (and employees left behind) are making it out to be? 
We asked this same question, through the lens of HR leaders. To answer it, we surveyed 500 HR professionals on all things Talent Management 2021 to learn how the Great Resignation has affected them, what's changed since it began, and how they plan to address labor challenges moving forward. 
The Great Resignation: A Threat AND an Opportunity
Specifically, we gained an inside look at whether resignation rates are higher and whether they pose a real concern. If so, how can HR professionals resolve hiring challenges in the modern workforce?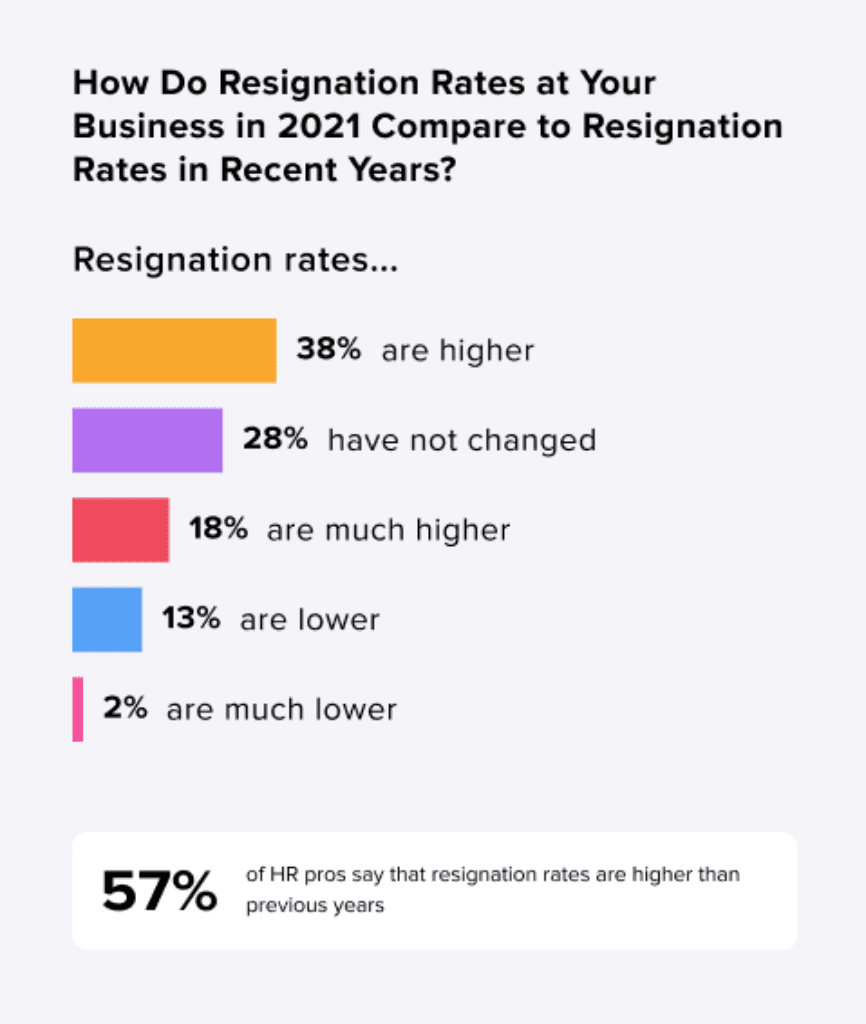 According to the survey, 57% of HR pros say that resignation rates are higher than previous years. Our respondents cited multiple reasons they think this is the case, ranging from poor compensation to a lack of feedback or advancement opportunities. 
"Many employees report that they do not receive the appropriate type of manager feedback," shares Tanner Arnold, President & CEO of Revelation Machinery.  "According to a Gallup poll, employees who received favorable feedback from their bosses are four times more likely to be engaged, while only 3.6 percent are actively looking for other positions."
Darsh Ray, CEO & Founder of Job Alert, echoes this idea. "Employees may feel lost if there is no clear direction, and they may seek advancement elsewhere. Companies can reduce turnover by establishing a path for employees to advance within the organization."
This is just the tip of the Great Resignation iceberg. Here's a breakdown of our findings so you can prepare your HR department for the future of work.
1. The State of the Current Talent Market in 2021: How Bad Is It, Really?
In our HR Survey, we asked HR leaders to describe the current talent market based on its competitiveness. Even before the pandemic, sources were reporting an increase in competitiveness when hiring talent. But the pandemic and the subsequent Great Resignation have only increased the stakes for employers.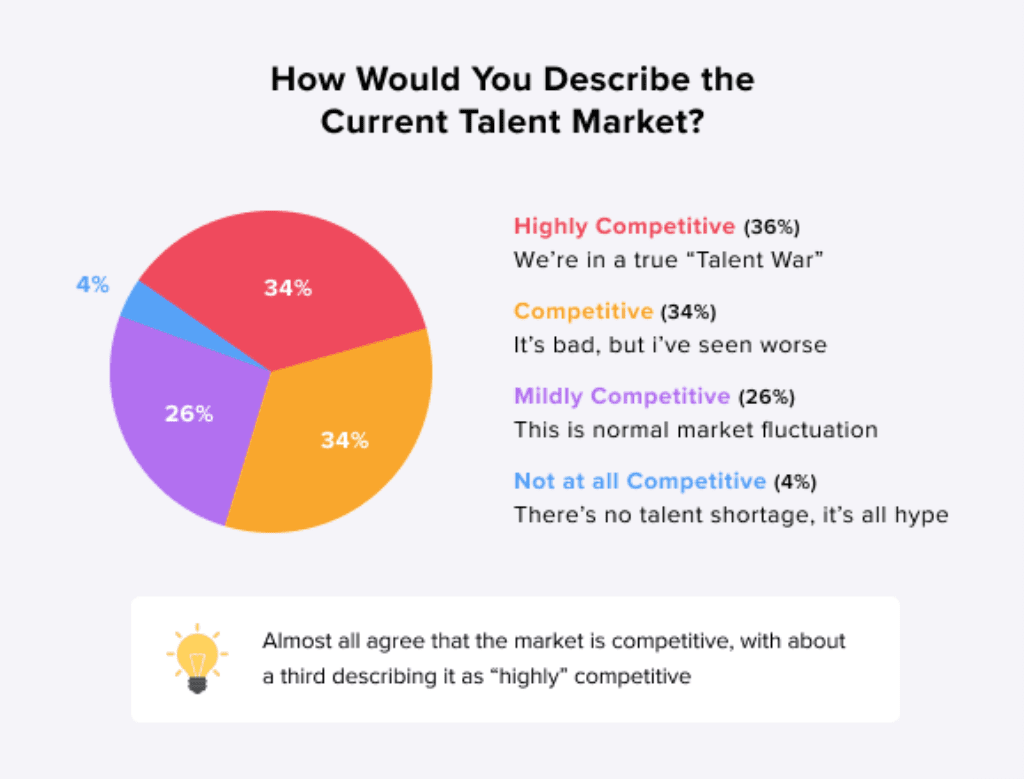 Almost all respondents agree that the market is competitive, with about a third describing it as "highly" competitive.


To continue reading, please enter your work email
Moreover, certain roles and skill levels are having a harder time than others. Entry level positions are seeing a 52% resignation rate, with entry level and associate level positions accounting for more than 80% of turnover. Sales and customer service roles are seeing the highest resignation rates, with about 31% and 35% turnover, respectively.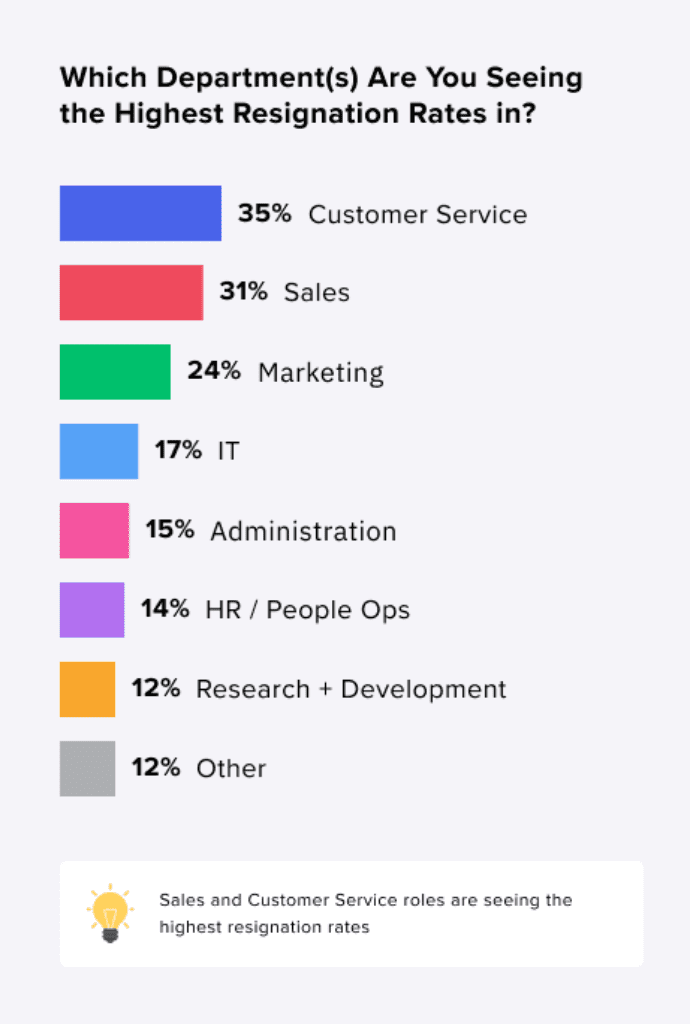 Other surveys reflect similar data. More than 4 in 10 companies say that entry-level positions are the hardest to fill. One potential reason for this is that entry-level jobs are often among the first to be eliminated, as shared by the State of Oregon Employment Department. Coupled with lower, entry-level salaries, companies may continue struggling to fill these roles as more employees change their line of work or rely on experience to apply for higher-level roles.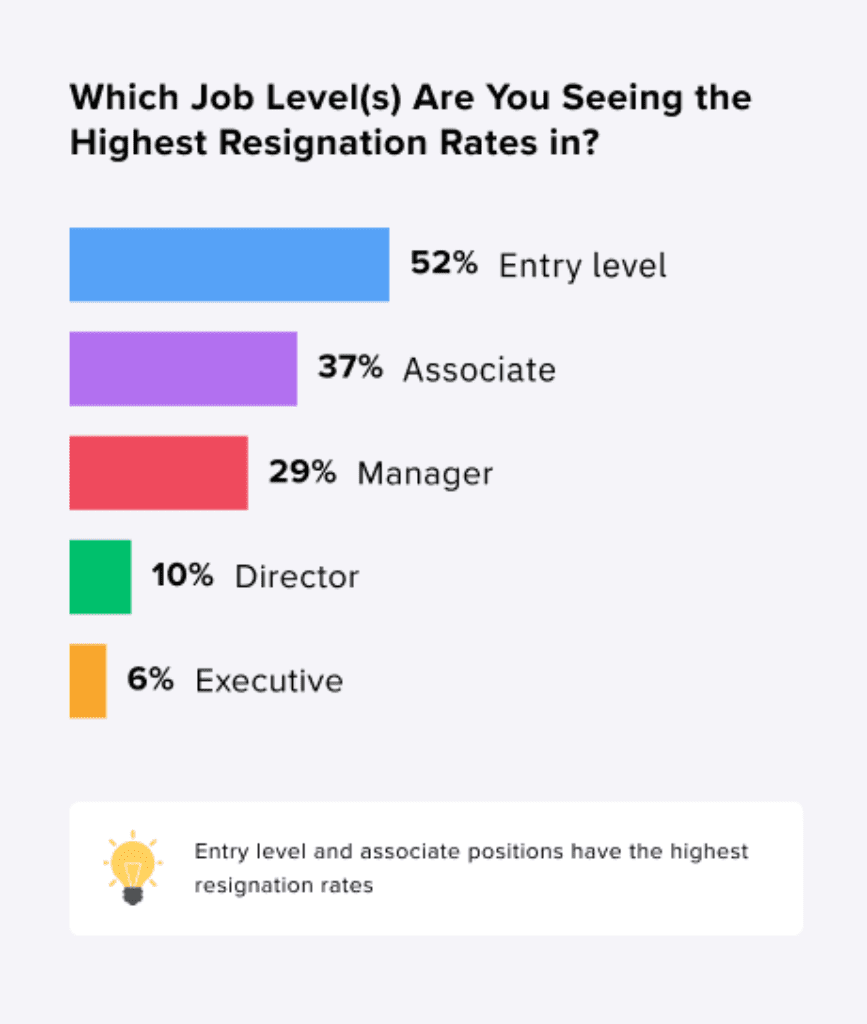 Why such a huge shift away from these roles that, until recently, served employees at least well enough to avoid a hiring crisis? According to Jon Hill, Chairman & CEO at The Energists, one idea is that employers were always in a precarious position and the pandemic was the straw that broke the camel's back. 
"Many employers got into a habit of viewing employees as easily replaceable, and didn't see a need to focus on building employee loyalty or ensuring a positive long-term environment. Added to this is the fact that there have been significant shifts in the workforce due to business closures and individuals leaving the workforce because of the pandemic (e.g, early retirements, COVID deaths/long-haul symptoms, and those forced out due to child care/elder care needs). This has opened up opportunities for some employees to increase their compensation or find a healthier work environment, driving those who have been considering a career shift to take that leap."
IN SUMMARY
The talent market is more competitive than ever. Employers can look at the trends behind turnover (e.g., hard-to-fill roles, pay, etc.) and make changes to address candidates' hesitations and make these roles more appetizing.
2. The Future of The Great Resignation and Talent War: How Long Will It Last?
Right now, the competitive talent market has no end in sight. But how long do HR professionals think it will last? 
The overarching consensus is that competition for talent at this level isn't going anywhere soon. In our survey, 53.88% of respondents estimate it will last 6 months to 1 year, while 29.82% think this is the "new normal" of talent acquisition.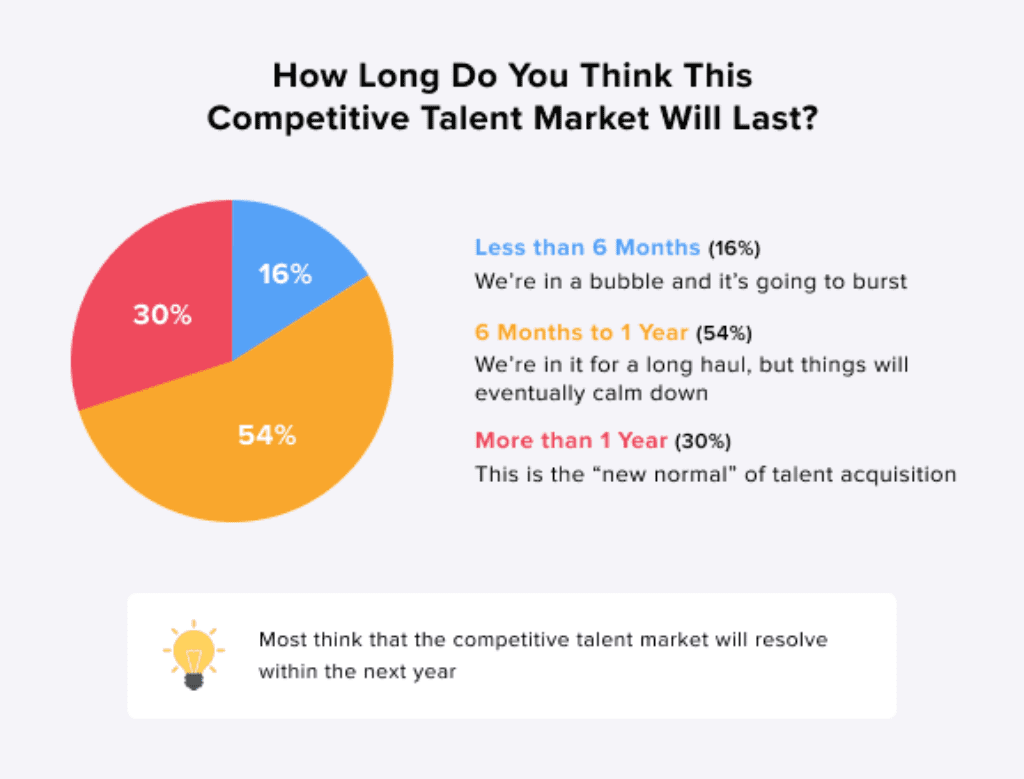 The bar has been raised on what employees will accept upon offer, as well as what companies need to do to retain them. More workers are demanding to maintain a remote work or hybrid work option. Companies that can't or won't meet these demands risk losing workers altogether. 
IN SUMMARY
More companies are raising minimum wages and rethinking benefits and perks to attract talent, which raises the bar for other companies to follow suit. Candidates certainly have the upper hand when it comes to choosing their work, forcing HR managers and business leaders to understand what it is that candidates want from their role, and then figure out how to meet them wherever they are. In this sense, employment becomes a personalized experience.

3. The Great Resignation's Impact on the HR Role: Is Being an HR Professional Harder than Ever?
The Great Resignation is taking a toll on HR -- in fact, 77% of respondents agree that being an HR pro is harder than ever.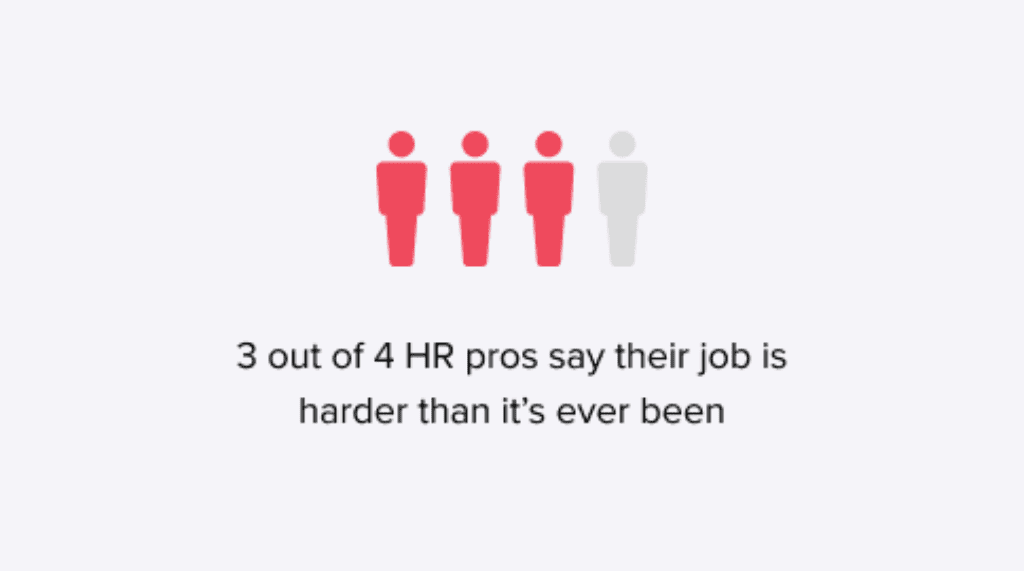 In the face of increased job vacancies and fewer viable candidates, 74% of HR teams are facing increased pressure from leadership to find and retain qualified talent. This pressure is even greater for HR managers in companies that are struggling to hire. However, companies that are proactively combatting the Great Resignation by offering higher pay, benefits, retention bonuses, and expanded engagement programs are less likely to feel pressure.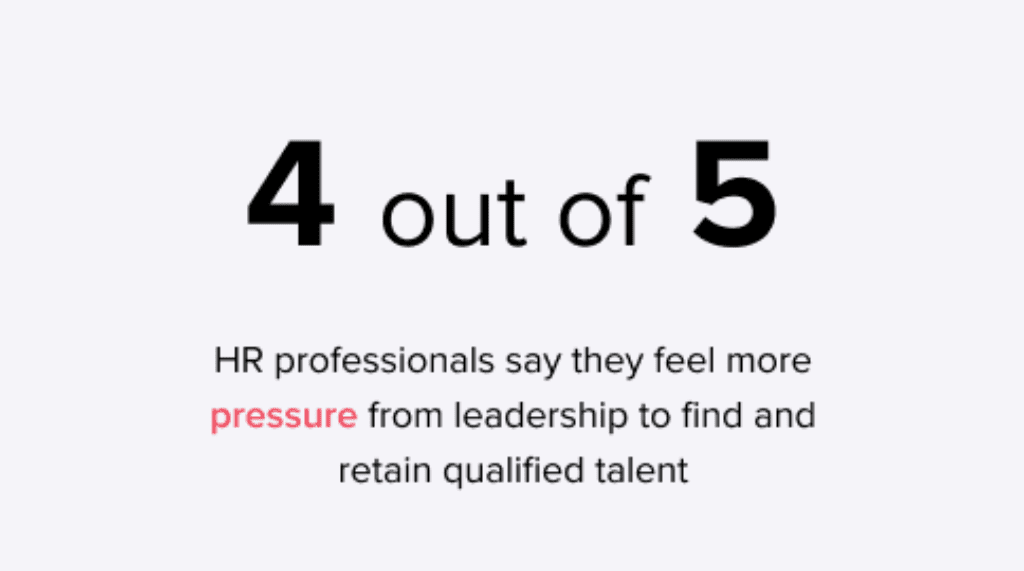 Nearly three in four companies are struggling to hire key roles, but 80% of companies feel they are well equipped to navigate current hiring challenges. In addition, 80% of companies believe they are doing everything they can possibly do to bring new talent on board and prevent existing employees from leaving. 
With regard to the current talent market, 77% believe their employees are happier than employees at other companies. However, this figure is lower for companies who are doing nothing to address talent issues, with just 58% of companies feeling confident their employees are happy.
But the data raises some important questions.
Our research shows that 77% of HR pros think their employees are, on average, happier than employees at other companies. But in light of the Great Resignation, this obviously can't be true... so why is there a disconnect? 
"The disconnect between how happy HR thinks employees are vs. how happy they actually are starts with communication issues," shares Stephen Light, Co-Owner and CMO at Nolah Mattress. "If HR professionals truly seek to hear employee thoughts, feelings, and ideas, that's a good first step to lessening the disconnect. But it's not just about listening, it's about taking action to ensure that employee feelings are honored and changes are made to fix any pitfalls in the workplace culture."
There's another glaring disconnect based on our survey responses: Many HR pros feel they know what they need to do in order to hire and retain talent, and they feel equipped to do so. Yet many are still struggling with hiring and retention. If HR knows what to do, why isn't it working?
"Many of the things that would work to drive retention in a durable way simply cost more money," believes Devon Fata, CEO & Founder, Pixoul. "Offering better pay, flexible hours, or remote work simply isn't in the budget for many places, so HR professionals are left with less-effective options."
IN SUMMARY
It stands to reason that less than 50% of employees can be happier than the average employee, with "average" being the middle ground. But according to 80% of HR professionals, their employees are among those that are happier. This is a discrepancy that HR managers need to understand and own — and then find ways to uncover the real answer behind employee satisfaction. One of the most effective ways to do this is to challenge company leaders to offer better training and resources to HR professionals. Give them access to tools like industry benchmark reports and pulse tools to quantify employee happiness so they can support their views with data, not guesswork or feelings.
4. Staying Competitive Amid The Great Resignation: Are You Equipped?
Staying competitive during the Great Resignation isn't just about finding qualified talent to join your team; it's equally about keeping the employees you already have, the ones who know your company, your customers, and their role better than any newcomer.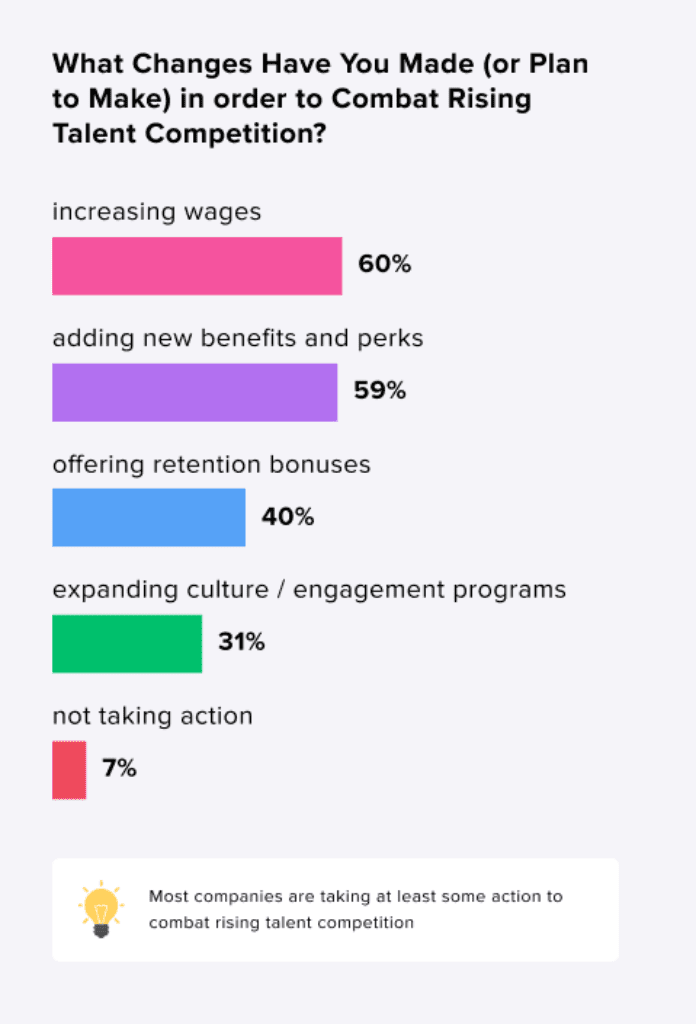 According to our survey data, many HR professionals are making changes or planning to make changes to better equip them for hiring and retention:
60% are increasing wages (highest among energy, real estate, agriculture)

59% are adding new benefits and perks (highest among energy, entertainment, finance)

40% are offering retention bonuses (highest among finance, real estate, healthcare, agriculture)

31% are expanding culture and engagement programs (highest among energy, nonprofit, real estate, and agriculture)

7% are not making changes (higher in companies <20 employees)
Unsurprisingly, the majority of HR professionals agree the single most important thing they can do to stay competitive amid the Great Resignation is to increase pay and/or benefits.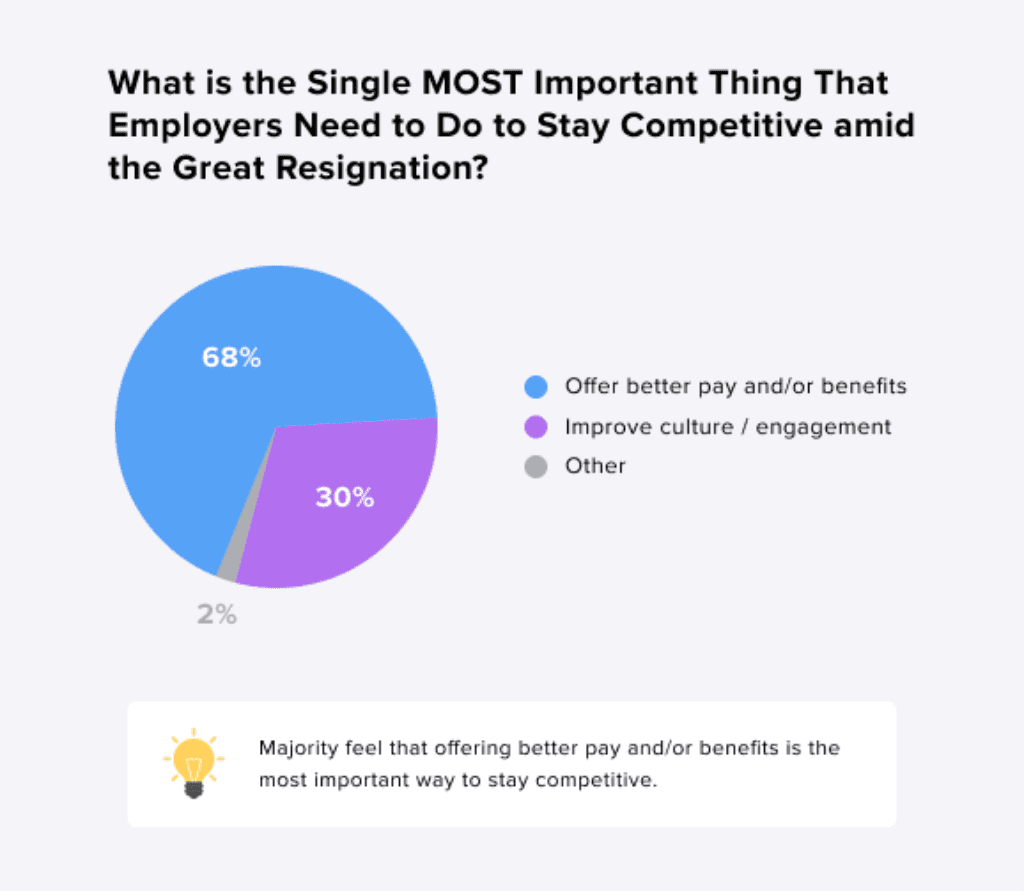 However, other sources believe that pay isn't a silver bullet. Creating a positive work culture, promoting employee well-being, and understanding employee needs can go a long way in fostering long-term loyalty. With an increased focus on diversity, equity, and inclusion, companies may need to give their corporate culture a complete makeover to remain competitive. 
"The demand for effective training initiatives in cross-cultural communication and sensitivity has exploded lately, driven by the desire to prevent misunderstandings and boost corporate competitiveness in the global industry," says David Reid, Sales Director at vem-tooling.com. "The commitment to upgrading internal and external cross-cultural communication must become part of the organisation's culture and be applied to everyone equally, from the CEO down."
Take time to train and invest in your employees. Ask for and act on feedback. Create a clear path forward. Communicate, engage, and praise. 
We found out more about what other HR professionals are doing to stay competitive during the Great Resignation, specifically when it comes to adding perks and benefits. 
Auto Lease Payments. "One of our favorite perks is an automatic auto lease payment issued by the company when top achievers or employees of the month are compensated. The employer pays for their auto payment based on their performance or on criteria established by the company." Lauren Cook-McKay, Director of Marketing & Content of Divorce Answers
Face-to-Face Meetups. "Annual meetups and company-paid employee excursions are essential to improving employee morale and retention in an online-only business." Alexandra Tanya, Co-Founder & Creative Director at Miss Amara
Employee Referral Rewards. "Implementing an employee referral program (particularly one that rewards employees with cash or bonuses) is an excellent approach to engage your entire firm in recruiting. Additionally, these initiatives help employees feel more committed to their organizations, particularly if they are able to bring friends or professional colleagues with them." Daniel Foley, CMO at Scooter Guide
Growth Opportunities. "If you want to keep your best employees, as a leader, you must understand how they want to advance in their careers, support that growth in any way you can, and provide them with opportunities to do so within your organization." David Wurst, Owner and CEO, WebCitz
Student Loan Assistance. "If your company relies on Millennials, student debt aid could go further than complimentary bagels or smartphone plan reductions. When it comes to advantages like student debt aid, you need to think about your target audience and demographic. If the bulk of your employees have graduated from college, loan help may not be as valuable, but it is for entry-level employees and recent graduates." Gerrid Smith, Chief Marketing Officer, Joy Organics
IN SUMMARY
HR professionals agree that pay is important, but their actions clearly say that it's not the only priority. They're thinking outside of the box in terms of how they can address employees' needs beyond a paycheck, from student loan assistance to auto stipends. And because these needs can vary from culture to culture, organization to organization, HR professionals should feel inclined to explore all options instead of settling for standard salary increases alone.
5. The Role of Technology in the Future of HR: How Can Technology Help?
As stated in Section 4, our research indicates that 77% of HR professionals feel their role is harder than ever. Hill helps to explain why:
"HR has been instrumental for companies that needed to suddenly go remote, and are equally involved in bringing employees back to the office (or creating a long-term remote strategy). They've also been at the forefront of tackling employee mental health concerns and navigating the changes to hiring and recruitment mentioned above. This is a lot of change to face at once, and it's easy to see why many HR staff are feeling a bit overwhelmed."  
Overcoming a challenge as widespread and gargantuan as the Great Resignation isn't something that HR professionals can do single handedly, nor can they rely only on industry-standard HR tools like job boards, applicant tracking systems, and recruiting firms. 
Technology is contributing to the Great Resignation and worker shortage by enabling remote work and allowing candidates to explore and acquire opportunities beyond their local markets. However, technology can also be a solution in terms of creating a competitive advantage in hiring and retention, as well as take on some of HR's increasing workload by automating manual tasks so they can dedicate more time to the priorities we've outlined.
GoCo is an example of how companies can get ahead of the Great Resignation at a time when HR's responsibilities are increasing but their resources are not. GoCo's automated workflows apply to the entire HR ecosystem, from hiring and onboarding to benefits administration to time tracking and payroll. For example, GoCo's Magic Docs feature provides a central source for all of your HR documents, with "magic" customization that does all the heavy lifting for you. Track hours and PTO from a single place, automate onboarding paperwork, and maintain compliance without the stress. It's flexible and customizable to adapt to your company's needs and scales with your workforce as employees onboard or exit your organization. 
But the advantages of technology in HR don't end with GoCo. Automation at every turn can help support your HR department, allowing recruiters and managers to spend more time vetting candidates and implementing new benefits and perks that keep employees on board.
According to Hill, "HR is usually the first department to come under fire when there are staffing and employee woes. Leaders who are struggling to retain employees are likely looking to HR for answers, even if the underlying problems are completely outside of HR's control (e.g. people are quitting for better compensation, but leadership won't allow HR to increase salary offers)."
It's time to challenge company leaders to offer better training and resources for HR professionals. They're already seeing the impact of what happens when people resources become scarce, and addressing this scarcity begins with HR. 
Taking manual processes out of the HR equation allows you to focus on meeting big picture objectives. Once you're automated, you can add personal touches to your hiring and onboarding, which is proven to help with retention and engagement. 
6. The State of HR in 2021: Final Thoughts
Companies are increasingly reliant on HR to do the heavy lifting through the Great Resignation beyond hiring and retention. HR professionals are juggling their normal duties while also increasing focus on engagement, morale, mental health, remote work policies, new COVID protocols, and many other tasks.
This is a time of restructuring throughout the organization, and much of what happens next will depend on what's happening in the HR Department. 
If ever there was a time to adopt new and better technologies to support HR responsibilities, it's now. Companies that are able to give things like salaries, benefits, perks, and other workplace changes careful consideration will be the ones to make the most impactful changes for better hiring and retention outcomes.