= 50)" :class="navScrolled ? 'lg:mt-20' : 'lg:mt-32'" x-transition >

Customer Stories
Stoughton School District Customer Story
How a one-woman payroll and benefits department supports 500 employees using GoCo.
"We hire about 40 new teachers per year... With GoCo I send them benefits information with their contract during the summer so they have more time to look it over. It's been a major time-saver for everyone."

Shelly Riddle ∙ Payroll Associate ∙ Stoughton Area School District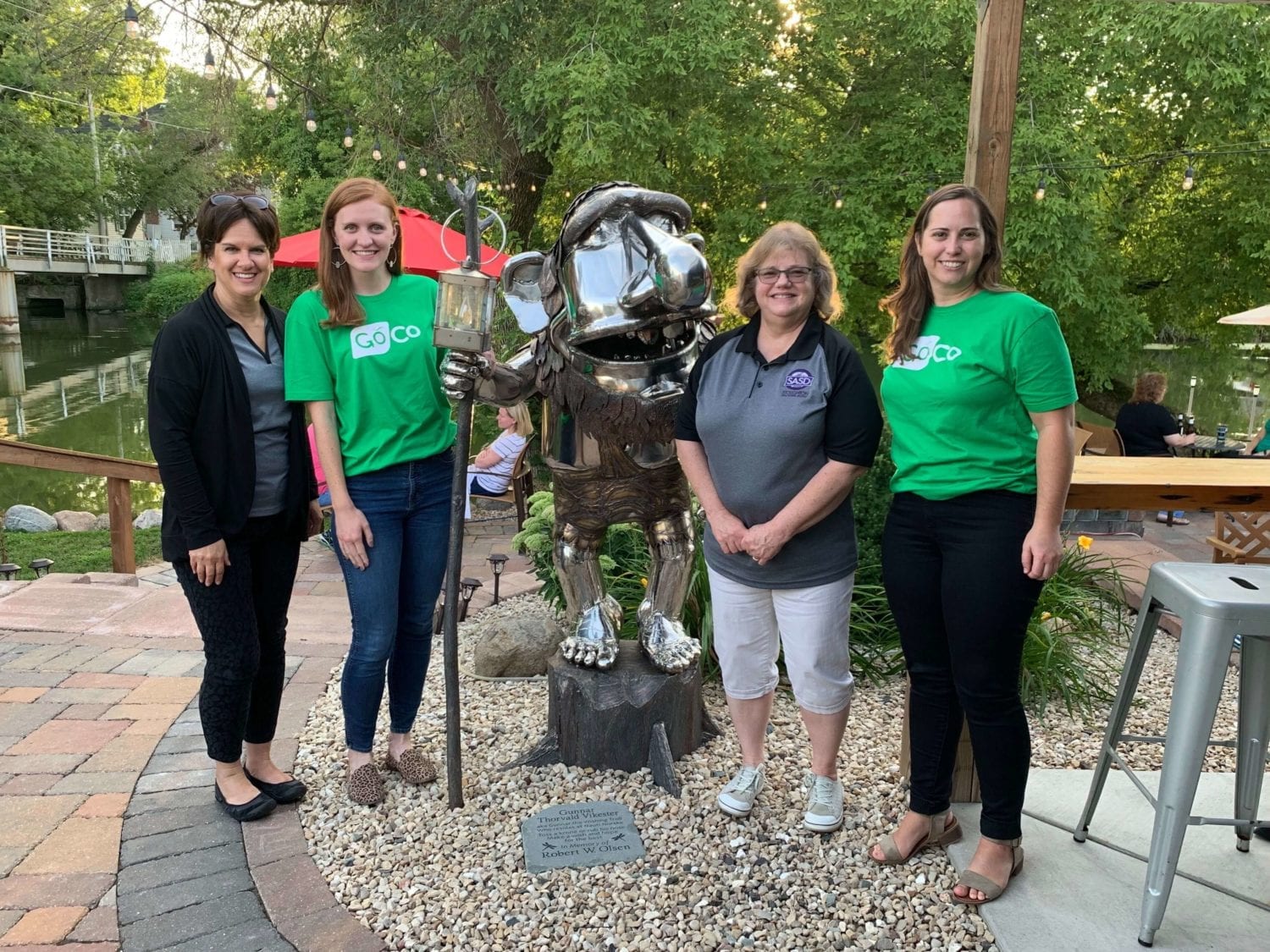 After nearly 20 years of running payroll and benefits for the Stoughton School District, Shelly Riddle has her job down to a science. But the tedious, manual nature of her tasks left her feeling stretched thin, particularly during open enrollment.
After exploring several options for HR tech, Shelly found success in partnering with GoCo to streamline payroll, benefits, and onboarding.
Before GoCo: Payroll & Benefits Was a One-Person Department
As a graduate of Stoughton school district herself, taking a job doing payroll for the district felt like a homecoming. "I like working here because it makes it a little easier to be a working mom and have kids in school," Shelly recalls.
Shelly was hired alongside another employee who handled benefits, but as enrollment declined, she found herself juggling both duties. "Once they decided to cut the benefits person, I was handling both benefits and payroll for about 500 people," she mentions. "We hire about 40 new teachers each year and pay our 500+ employees twice a month… it's a lot of work."
Shelly plans on retiring soon and knew she'd be leaving big shoes to fill. That's when she started trying to find a solution—and discovered a new level of productivity and simplicity with GoCo.
How Stoughton Improves Payroll and Onboarding with GoCo
Around the same time, Shelly learned that the school's HR department, which is in charge of employee hiring, onboarding, and termination, was also on the hunt for a way to streamline its duties. GoCo stood out to Shelly and HR because it was the only software recommended by their broker that could handle onboarding, payroll, and benefits in the same platform.
"What I noticed first was how easy it was to use and how fun the GoCo team was when we talked to them," says Shelly. "They were on the cutting edge of things, and that made us want to use them."
Shelly had implemented new payroll software before and was expecting a challenge, but she was surprised she didn't have to reinvent the wheel with GoCo. "GoCo had everything planned out for us," she recalls. "Even uploading our census was a breeze. We just gave them the raw information for health insurance, dental plans, life insurance, and pay cycles, and they put everything in for us."
Stoughton holds open enrollment every July, and Shelly found that the entire process from start to finish was less time-consuming and confusing compared to a paper-based process. Employees had more control over their information and could sign up for benefits online. Plus, Shelly didn't have to worry about meeting compliance as everything was in black and white.
"I'm supposed to offer open enrollment each year [for compliance purposes]. Now, I can say with confidence [employees] were offered open enrollment, and all of their information is correct. That's the part I feel really good about."
After GoCo: A Time-Saver for Teachers and Administrators Alike
One of the most notable differences since using GoCo is the unification of the payroll and HR departments. In the school district, hiring is a separate function from payroll and benefits, but Shelly notes that GoCo's Magic Docs feature has been game-changing for both departments.
"Kim in our HR department did all our contracts this year through GoCo, which replaced our paper contracts. GoCo put in all the information (salary, extended days, etc.), and the teachers would go in and sign it, and we could see at a glance who'd completed their docs and who hadn't."
This was the first year they had every contract signed before the end of the school year. It's also given Shelly enough time to set up payroll for the first cycle and take away some of the new school year stress.
"Much of the guesswork is gone," remarks Shelley. "We hire about 40 new teachers per year and go over benefits with them during orientation, and they just look at us like deer in headlights. They're already overwhelmed with setting up classrooms and learning about the school, but with GoCo, I send them benefits information with their contract during the summer so they have more time to look it over. It's been a major time-saver for everyone."
Final Thoughts: GoCo Starts Every School Year on a High Note
For Shelly, one of the biggest things that stands out is GoCo's customer service. She knows the team by name, and they're always just an email away. Shelly likes not having to wait a week to get a response and getting direct access to real people who can help her figure out how to see more from her investment. The customer service, combined with eliminating much of the manual work and paper-driven processes, has given Shelly more confidence about how she will be leaving the department when she retires in a few years.
Stoughton Area School District
| | |
| --- | --- |
| Core Business | School District |
| Location | Stoughton, WI |
| Workforce | 500+ Employees |
| Became a GoCoNut in | 2018 |
| Biggest HR Challenge | Streamlining onboarding, payroll, and benefits Administration |
| Website | https://www.stoughton.k12.wi.us/ |
Schedule a Demo