= 50)" :class="navScrolled ? 'lg:mt-20' : 'lg:mt-32'" x-transition >

Blog Articles
15 Small Business Tools That Help Boost Productivity
With the overwhelming amount of productivity tools available on the market, it can be tough to figure out which tools will work best for your organization's needs. Here's what leaders recommend.
Technology is moving faster than ever, and workplace productivity must be able to keep up. With the overwhelming amount of productivity tools available on the market, it can be tough to figure out which tools will work best for your organization's needs.
To help small business owners enhance their productivity, we reached out to 15 business and HR leaders for their top tool recommendations. Read on to discover the diverse range of tools and strategies these experts suggest for maximizing efficiency and success in your business.
Asana
As a remote team leader, I would recommend small business owners consider implementing a comprehensive project management tool to boost productivity. And there's nothing better than Asana. 
Peaking at versatility, Asana allows teams to organize work, manage projects, and track progress in one place. It's a tool that can be tailored to fit the unique needs of your business, making it an excellent choice for small businesses.
This allows the team to see at a glance what needs to be done, who is responsible for each task, and when each task is due. With Asana, our team is never puzzled by what their next day at work is going to look like. A high level of organization can significantly boost productivity by ensuring that nothing falls through the cracks.
However, the key to successfully implementing a tool like Asana is to ensure that it is used consistently across the team. Ever since the adoption of Asana, productivity hiked and every department of ours has achieved amazing results.
Johannes Larsson, Founder and CEO, Financer.com
Freelance Marketplaces
As a small business owner, we are asked to support a wide variety of tasks ranging from finance and sales to customer service and marketing.
It's unreasonable to expect a business owner to be excellent in all of these areas, which is why hiring talented team members is so critical for businesses. But, making early hires can be a large financial commitment for business owners.
Because of this, we have found it is best to try using freelancers first to provide a low-cost proof of concept before making a more significant investment. Freelance marketplaces like Fiverr and Upwork have given us the ability to instantly get outside help in areas where we don't have existing expertise. 
And this process has the added benefit of helping us define these roles more specifically while giving us insights into what characteristics we will need in that role from a more permanent hire.
Brett Ungashick, CEO and CHRO, OutSail
ClickUp
ClickUp has got everything that a business owner needs, from project management to communication. This tool can be used to record the tasks needed to be done, assign them to specific people, and set deadlines for these tasks. 
It can even be used as a notepad, board, mind map, and can even record your screen. Communication can even be done within this tool. Hence, ClickUp is one productivity tool every business owner needs.
Steven Mostyn, Chief Human Resources Officer, Management.org
Trello 
The single best tool we've used to boost our productivity is Trello Boards and Gantt Charts.
One of the most difficult aspects of managing a small business is that there are hundreds of small to-do's.
Adding all the to-dos on one giant list actually makes the problem worse because there's no way of prioritizing. We used to spend so much time on small insignificant things that we frequently lost direction on what really mattered.
Now we've set up multiple boards in Trello with P1, P2, P3, P4 to signify priority. This also helps our team members visually see if they're spending too much time on their least priority tasks or not.
Pair this with the new Gantt chart feature and our teams are absolutely unstoppable!
Bogdan Zlatkov, Lead Instructor for HR and Hiring, Growth Hack Your Career

JazzHR 
As an owner of a digital marketing agency, I'd highly recommend JazzHR for small business owners looking to boost productivity. It's an applicant tracking system that has drastically changed our recruitment process. 
I can remember after implementing JazzHR, we saw a significant increase in the speed at which we filled our vacancies—with a 35% reduction in time-to-hire within the first six months. In addition, it has a feature-rich interface that simplifies tasks and helps us stay organized. Not to mention, the communication with potential candidates improved, and we've received positive feedback on our efficient hiring process. 
So, for improved efficiency, JazzHR gets my vote.
Josh "Snow" Elizetxe, Founder, Customer Feedback
Actionable Employee Programs
One low-hanging fruit would be to offer a virtual or in-house suggestion box and act on it. Sometimes small yet meaningful ways to share where team members can get in the habit of sharing successes or challenges. 
Also, another low-hanging fruit is to start an employee recognition program that spotlights employees who are exceeding and going above and beyond. Don't forget to tie back to the organizational goals and make sure you add a prize such as swag, Paid Time Off if applicable, or gift cards (don't forget about any tax implications). 
Develop a team to run it, give the ownership to a high performer, and allow them to lead and get out of the way. You are doing the following: building a high-performance culture, allowing others to lead without a title, building the brand, and showcasing talent. Continue to tweak and redefine the process and the program so it always stays relevant. Don't forget fun too. Who can leave out fun? Said no one!
Tanya Turner, MBA, SHRM-CP, PHR, HR Director, SALTO Systems, Inc 
Airtable
Our business runs on Airtable. It is one of the best project management tools I've ever come across, as it is incredibly customizable, template-able, and suitable for many automations via Zapier (or natively). 
While we hire using our own solution, we run everything else on Airtable: our content calendar, our invoicing process, our sprints, product development, and even video production. Automations we set up save us so much time on menial tasks so that we can all focus on things that matter.
Gordana Sretenovic, Co-founder, Workello
Pre-Employment Testing Tools
Many performance and productivity tools on the market today merely conceal the real problem: the quality of hire.
Realistically, some people are inherently more productive than others, and these individual differences can be attributed to specific abilities, traits, characteristics, and skills. Pre-employment tests are designed to measure these precise constructs, enabling HR teams and business leaders to identify the highest-performing candidates.
Furthermore, pre-employment testing is even more crucial for smaller businesses than larger ones, as individual hires carry higher stakes for smaller businesses. Therefore, it is logical to consider pre-employment testing as an investment in future productivity, aiding in the long-term enhancement of organizational performance.
Chloe Yarwood, HR Manager, Test Partnership
HubSpot
Honestly, HubSpot's CRM has revolutionized our business over the years from when it was a handful of copywriters to now, where it has grown to a 20-person multi-service agency. It does everything you could possibly need for marketing from scheduling blog posts and social media posts to hosting your website. 
The main productivity benefit, in my book, is the ability to set up automations, which means a lot of those manual tasks of qualifying and handing leads from marketing to sales can be done by the software, leaving your team free to pursue those leads that are most likely to turn into deals.
Matthew Stibbe, CEO, Articulate Marketing
Tability
As a productivity consultant, if there's one tool I'd recommend to small business owners looking to boost productivity, it's definitely Tability. It's a goal-tracking platform that helps you stay focused on your most important tasks and objectives.
Tability's clean, user-friendly interface lets you easily visualize your progress and stay aligned with your business goals. By regularly checking in on these goals and tasks, you can ensure that you're on the right track and not wasting time on less important matters.
It essentially holds everyone in your team accountable, providing that gentle nudge we all sometimes need to stay productive. With Tability, you build a business strategy based on the desired outcome and keep seeing continuous progress.
Juliet Dreamhunter, Founder, Juliety
1Password
I think at last count I have at least 50 or 60 different platforms that I use regularly for my business, and keeping the passwords straight for all of them is borderline impossible if I want to also follow good cybersecurity principles. 
Using 1Password was a bit of a game-changer, as beforehand I would end up wasting an hour or two every so often to reset my various passwords when I couldn't remember which one was used where. Now I just need to remember the one to my password vault, so no more tedious password resets, and I'm not tempted to make my password for everything qwerty to make it memorable.
Dragos Badea, CEO, Yarooms
QuickBooks
QuickBooks helps in keeping the financials simple and straightforward. Bookkeeping and accounting are often very tedious aspects that are almost always a headache for every business owner. Automating these tasks slashes a significant workload for small business owners, who are typically a one-man team as well. It also reduces room for human error.
QuickBooks streamlines all expenses, invoices, and payroll to eliminate the need for manual recording. It also has accounting features that are beginner-friendly, so it's not intimidating for first-time business owners navigating their own financial data.
Khris Steven, Owner and Marketer, KhrisDigital
Appreciative Gestures
It's easy to forget to let your team know how good of a job they are doing. By helping them celebrate their small wins, you are boosting morale and encouraging them to continue to do a good job. Explaining what they are doing and the positive impact it has when they do their job well gives them understanding and shows them the importance they have within the business.
I have worked at places where you feel like a number; it's important your staff never feel that way.
Ashlea Harwood, Associate Director (HR), Darwen Electrical Services Ltd
Superhuman
Most small business owners often manage all the emailing on behalf of the company, which can be hectic and time-consuming. To cut some slack there, they can use Superhuman, a paid tool filled with features that make emailing more efficient.
Some of the key features that I enjoy the most are the Split option, where one can categorize their inbox. So for clients and prospects, you can make separate categories and never miss any of their emails. The "remind me" feature is also a lifesaver, as it helps by reminding you to follow up or snooze emails for set periods. The "send later" option is great if you have overseas clients with different time zones.
You just use the command, add the time and name of the place, and it will automatically select the correct timezone and schedule accordingly.
Overall, the tool can reduce the time you waste on emails by 10X and save time for other essential tasks.
Sajna VM, Head of People and Customer Success, WebPipl
Independent Feedback Platforms
Independent Feedback Platforms offer a unique combination of Performance Management and Project Management capabilities. Unlike traditional HRIS solutions that can be cumbersome and expensive for small businesses, these modern feedback applications are designed to be nimble, user-friendly and affordable.
By implementing an Independent Feedback Platform, small businesses can foster a culture of regular and candid feedback within their teams, creating a collaborative environment focused on continuous improvement.
The key advantage of these platforms is their flexibility. They don't enforce rigid KPIs or structured workflows, making them ideal for agile businesses that value adaptability and freedom from strict SOPs. Instead, they offer features such as AI analysis, attribute rating, and real-time feedback, enabling employees to receive immediate insights into their performance and development areas. 
By creating a culture of real-time feedback, owners can boost productivity and drive continuous improvement.
Manav Gupta, Business Analyst, Naman Integrated Management Services Pvt. Ltd.
Final Thoughts
With a multitude of tools and strategies available, the challenge of increasing workplace productivity lies in selecting the right tools for your organization. Amidst the recommendations from business and HR leaders, there emerges a common thread – the need for comprehensive solutions that seamlessly integrate various aspects of productivity.
GoCo's modern all-in-one HRIS platform is a complete software solution, offering small businesses a versatile toolkit of features and integrations to enhance organization, time tracking, performance management, payroll, and much more. If you are ready to see how GoCo can streamline your operations, boost your productivity, and propel your business toward success, take a free tour today!
Ready to explore GoCo?
Check out our interactive Product Tour.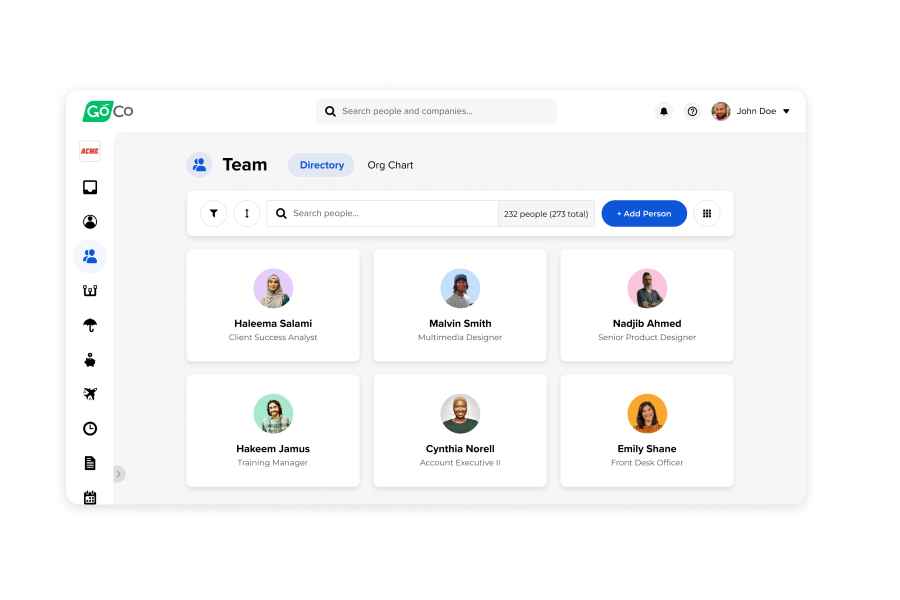 Take a Tour →
Recommended Posts
See our top-rated HR solution in action