= 50)" :class="navScrolled ? 'lg:mt-20' : 'lg:mt-32'" x-transition >

Blog Articles
Performance Management Do's and Don'ts
Things you should and shouldn't do when navigating performance reviews.
Performance management is crucial to ensuring your team is aligned in progressing toward organizational goals. Implementing a strong performance review process will make it easier for both managers and employees alike - managers will have a clear understanding of how to evaluate their employees, while employees will receive concise feedback on what they're doing well and what adjustments they need to make moving forward. 
Download The Performance Review Ebook!
We understand that creating and shaping this process can seem pretty complicated once you get into the weeds. That's why we've compiled a list of do's and don'ts to get you on your way with some handy performance review tips!
Do's: Things You Definitely Want to Include in Your Performance Review Process
DO Encourage an Open Conversation
While performance reviews are essentially what you think they are, a chance to review your employee's performance, they are also fantastic opportunities for your employees to ask questions and provide feedback from their end. That being said, it's important that you are open and receptive to what your employees have to say. That way, you've turned a widely dreaded review into a productive and positive experience!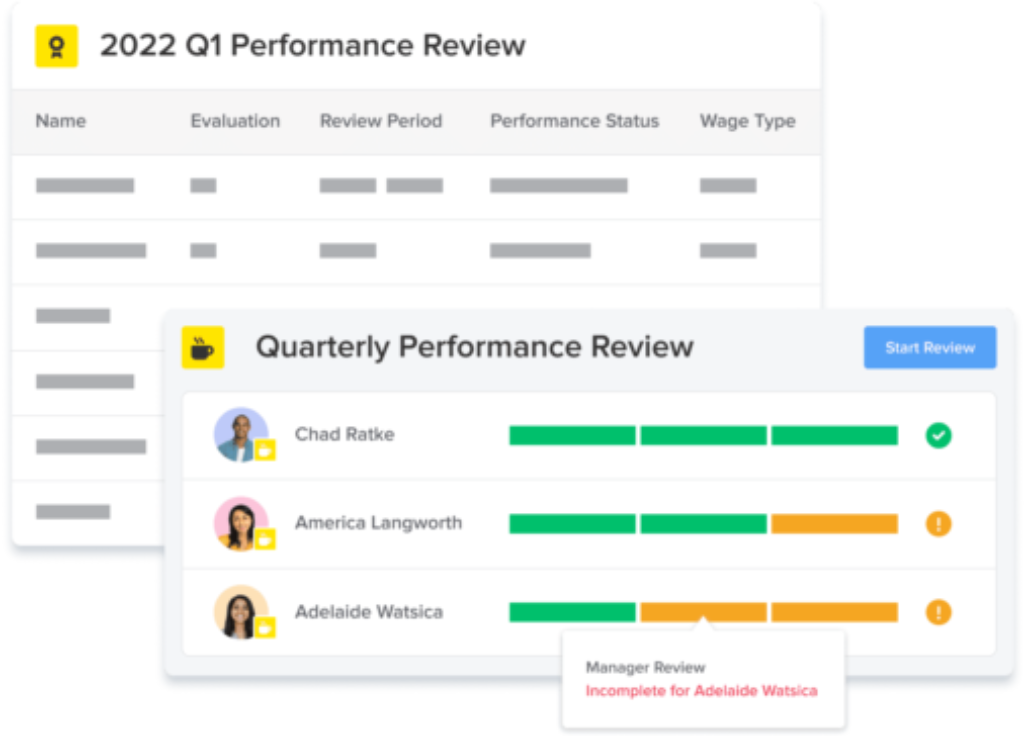 DO Provide Specific Performance-Based Feedback
When reviewing your employee, remember to be intentional with what you say and be able to back your feedback up with real examples. A manager should be pretty granular with their comments on a performance review. This gives you and your review solid credibility while equipping the employee with reference points for suggested improvements and/or adjustments. The more specific you are with your feedback, the more specific you can be with goal setting for the future, which brings us to our next point!
DO Set Specific Goals for the Future
A great structure for goal-setting is SMART goals, meaning the goals you create are Specific, Measurable, Achievable, Relevant, and Timely. Keeping your goals aligned with this framework will ensure that later on, you can reevaluate those goals with your employees against clear criteria and adequately assess results!
DO Share Your Evaluation Criteria Beforehand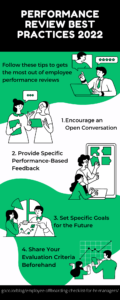 It's important for employees to know what criteria they are being held to. Even outside of performance reviews, publicizing this criteria will give your employee a solid reference while executing their tasks on a daily basis. This transparency is sure to be appreciated by your team! A big part of what makes performance reviews so daunting is the fact that so much of the process is unknown to the employee. 
By lifting the curtain, you can ensure to your team that there are no "gotchas," just tools to succeed! GoCo's Workflows feature can help streamline the way your performance management process is communicated to your employees, ensuring that you provide a consistently positive experience!
Don'ts: Avoid These Actions When Navigating Performance Management
DON'T Blindside Your Employee
One of the worst things a manager can do is wait until review time to give feedback to their employees. The channel for constructive feedback should constantly be open. When performance reviews roll around, you can evaluate not only core performance, but also how your employee responded to feedback and criticism throughout the previous review period. Blindsiding your employee will hurt their trust in you as a manager, undoubtedly causing your professional relationship to suffer. Just like any other relationship, communication is key!
DON'T Dwell on the Negatives Without Constructive Feedback
Quite frankly, criticism without any constructive element is useless and rude. When giving criticism to your employee make sure you deliver it in a way that promotes a growth mindset! Ask what they learned from a negative experience and guide them in thinking about steps to avoid repeating the same mistakes. Offering solution-oriented feedback is really the core factor that takes performance management from a dreaded, outdated business practice to an eye-opening opportunity to gain some perspective and optimism for the next term!
DON'T Use a One-Size-Fits-All Approach
If all of your employees aren't doing the same job, no cookie-cutter approach can adequately measure the performance of varied job functions! While this may seem like extra work for managers, creating custom-tailored review criteria for people with different jobs is the best way to get an adequate read on where each employee is in the bigger picture of your company's goals. This is especially important if the stakes for performance reviews include compensation.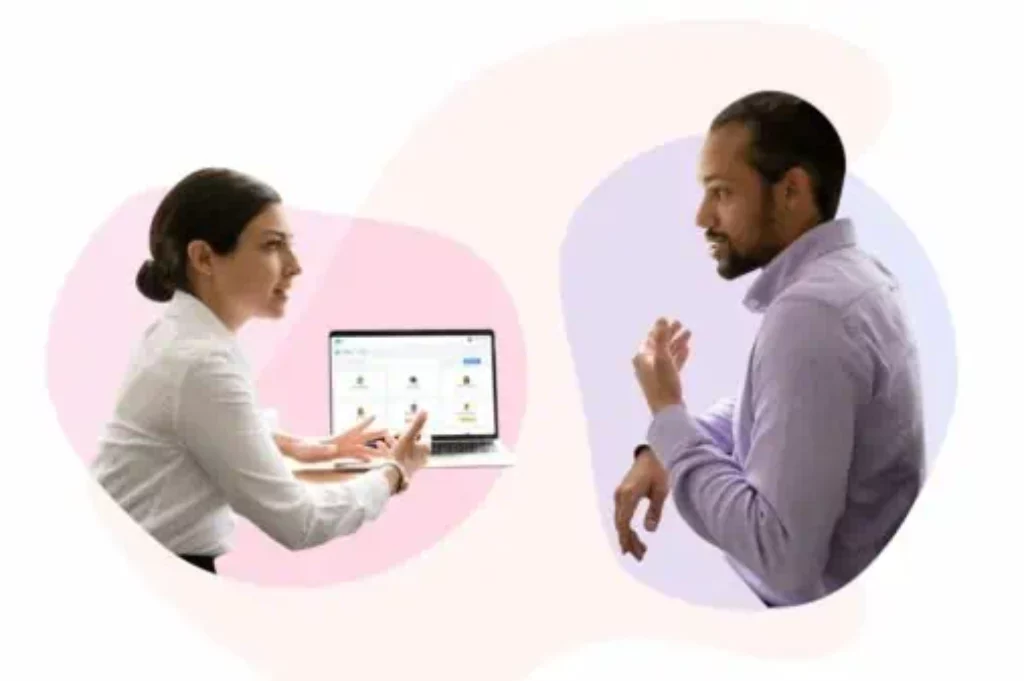 DON'T Use Performance Management as a Fear Tactic
Performance reviews can be stressful for both managers and employees. On the management side, these reviews can be tedious to coordinate and execute. Meanwhile, employees dread performance reviews because they worry about their assessment and the consequences that may occur. That's why you need to frame performance management as a positive opportunity for reflection and growth instead of "Judgment Day." Negative reinforcement is an extremely questionable tactic in developing children and pets. Why would your team members respond any differently?
10 Performance Management Tips From Experts
To help you build a performance management program that drives results, we contacted HR leaders and executives for their best advice. From implementing 360-degree assessments to setting goals, communicating, and developing, these experts share the top 10 insights on creating an effective performance management program.
Implement 360-Degree Assessments
"Use 360-degree assessments for a well-rounded performance evaluation. You can collate supervisor, peer, subordinate, and external stakeholder feedback. Doing so provides a comprehensive view of an individual's performance and helps identify areas where they need further enhancements.
"Trust must be the foundation when leveraging 360-degree assessments. This means you must ensure anonymity in the feedback process, and it should not affect anyone personally, regardless of the feedback given. 
"This approach promotes self-awareness, fosters growth, and enhances teamwork. It also lets individuals overcome weaknesses and reach their full potential without resenting their co-workers."
Normand Chevrette, President and CEO, CME Corp.
Align Program with Key Objectives
"One of the best ways to create a performance management program that gets results is by focusing on critical objectives and basing your performance and management on goals. This helps keep the entire company aligned towards the same objectives, helps break down individual tasks, and helps understand each employee's role in the bigger picture. It also helps analyze their performance based on a specific objective and the results they achieve."
Max Wesman, Chief Operating Officer, GoodHire
Customize Performance Management Programs
"Unlike traditional models with annual check-in, the best results come from future-focused programs that motivate teams to achieve wildly impressive results with accountability and support throughout the year. The secret to success? Tailoring the program to each team and individual to ensure it aligns with the company's mission, vision, and values."
Julie Blomsterberg, People Consultant, Bonfire Women, Work Friendly
Train and Humanize the Program
"Employees cannot be expected to dive into a new program and figure it out independently. Thus, I would advise getting managers up to speed on the program so they are confident using it and can effectively train their team. Utilize walk-throughs to dispel any potential anxiety that your employees might experience.
"To make the most of your program, ensure your employees are trained on the human side of things after teaching them the technical aspects of the system.
"Take, for example, when we introduced a new performance management program with new tools. The software and program were top-notch, sure. But I didn't just throw it at my people and say, "Figure it out." I got on the ground with them and explained how this was a game-changer in serving our clients better. The result? The performance shot through the roof.
"So remember, make the training essential, but most importantly, make it human. Because, in the end, it's people that drive results, not programs."
Maria Harutyunyan, Co-founder, Loopex Digital 
Create a Comprehensive System
"When effectively managing a company's performance, it is essential to understand that performance is not always quantifiable. While many performance management programs focus on productivity and efficiency, other critical performance aspects must be considered. For example, employee morale and satisfaction can significantly impact a company's overall performance.
"One way to ensure that all aspects of performance are managed is to create a comprehensive system that measures all aspects of performance. This system should include quantitative and qualitative measures and measures that track employee morale and satisfaction. When all aspects of performance are being measured and managed, it is easier to understand how to get the best results from your employees."
Luciano Colos, Founder and CEO, PitchGrade
Align with Company Goals
"Your performance management program will have the best results when it aligns entirely with company goals. This ensures that all efforts are designed to help the business achieve success. 
"In addition to primary performance goals such as productivity standards and effectiveness, performance management can include upskilling, reskilling, or addressing knowledge gaps because these are directly related to individual employee and company performance."
Mark Pierce, CEO, Cloud Peak Law Group
Establish Objectives and Adapt
"First, you should establish concrete objectives for your team members, including their specific roles and the criteria by which they will be evaluated. This makes it more likely that everyone has the same goals in mind.
"Instead of conducting performance reviews only twice a year, adopt a more flexible performance management strategy allowing regular, informal check-ins. Regular feedback helps workers see where they can make changes and set aspirational targets for the future.
"Use measurements and data to conduct objective, impartial performance appraisals. You can more easily monitor development and evaluate outcomes if you use technology to automate and streamline performance management operations.
"Let the employee know, and write it down so you don't forget at review time if the company's goals alter in a way that could affect them."
Aleksandar Ginovski, Career Expert, Resume Expert, and Product Manager, Enhancv
Focus on People and Conversations
"Performance management should not be about a process. Put the human at the heart.
"You have to think about your people as people. Look at them overall and not just at what they have delivered. Even the best people could be exhibiting behaviors not aligned with your values.
"Listen to them; are there challenges or blockers you haven't been removing for them to perform at their best? Ideally, you have these conversations weekly or monthly in a more informal setting. So nothing in performance management conversations is really a big surprise.
"Ensure you drive better performance conversations by balancing what you want your people to do and how you want them to do it.
"Many businesses focus on making people jump through hoops. Remember, high performance is about being valued, not just how they are rewarded."
Jo Taylor, Managing Director, Let's Talk Talent
Empower Employees, Guide from Afar
"PM programs are often viewed as a "set-it-and-forget-it" type of system, which can make employees feel like they don't have any sense of control over their performance. This is a huge mistake! The most successful PM programs place ownership of the process in the hands of the employee.
"The boon of this approach is that it gives staffers an active role in their performance development. At a granular level, they can track their progress, understand their expectations, and receive feedback on their performance. 
"At the same time, HR leaders must step back and zoom out from micromanaging staff performance instead of focusing on providing broader guidance, support, resources, and coaching. But this approach carries a potential bane: without proper oversight/guidance from leaders, these reviews can become nothing more than a box-ticking exercise in tracking activity with little or no impact on performance."
Darren Shafae, Founder, ResumeBlaze
Set Goals, Communicate, and Develop
"Managing performance is essential to any organization, ensuring employees meet and exceed expectations. For it to be effective, focus on these four areas:
Establish definite, quantifiable goals and expectations for individuals and teams. By aligning them with the organization's objectives, everyone understands what success is.

Communicate regularly and provide constructive feedback to employees so they understand their performance. Establish a culture of open communication.

Create regular performance check-ins for measuring performance. Use impartial standards to evaluate performance. Ensure an open, reasonable, and consistent evaluation process.

Provide employees with resources, training, and workshops to advance by encouraging them to acquire relevant skills and knowledge for their current and future goals. Invest in their development for better performance.
"Managing performance requires continuous effort. Adaptability and flexibility are key as feedback and circumstances change."
Hitesh Soni, Senior Consultant, Naman Integrated Management Services Private Limited
Final Thoughts
The key takeaway is that if you prioritize growth, transparency, and accountability, then you and your employees should be nothing to fear when performance reviews roll around! Performance management is one area where it's extremely important to remember the "human" aspect of human resources - your employees are people, so treat them as such! Our goal here is to provide actionable performance review tips for employers, but our mission doesn't stop there. 
Take a GoCo tour to learn about how an HRIS can help your organization reach its full potential!
Recommended Posts
Fully automate your HR with GoCo.