= 50)" :class="navScrolled ? 'lg:mt-20' : 'lg:mt-32'" x-transition >

Blog Articles
Performance Management Do's and Don'ts
Things you should and shouldn't do when navigating performance reviews.
Performance management is crucial to making sure your team is aligned in progressing towards organizational goals. Implementing a strong performance review process will make it easier for both managers and employees alike - managers will have a clear understanding of how to evaluate their employees while employees will receive concise feedback on what they're doing well and what adjustments they need to make moving forward. 
We understand that creating and shaping this process can seem pretty complicated once you get into the weeds of it. That's why we've put together a list of do's and don'ts to get you on your way with some handy performance review tips!
Do's: Things You Definitely Want to Include in Your Performance Review Process
DO Encourage an Open Conversation
While performance reviews are essentially what you think they are, a chance to review your employee's performance, they are also fantastic opportunities for your employees to ask questions and provide feedback from their end. That being said, it's important that you are open and receptive to what your employees have to say. That way, you've turned a widely dreaded review into a productive and positive experience!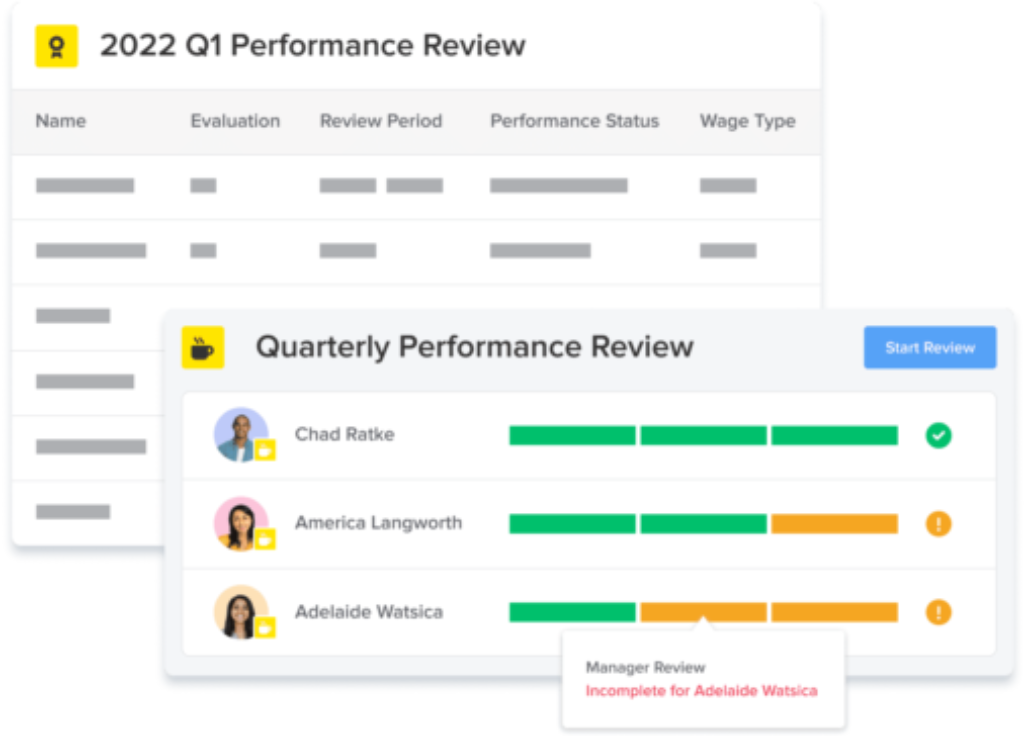 DO Provide Specific Performance-Based Feedback
When reviewing your employee, remember to be intentional with what you say and be able to back your feedback up with real examples. A manager should be pretty granular with their comments on a performance review. This gives you and your review solid credibility while equipping the employee with reference points for suggested improvements and/or adjustments. The more specific you are with your feedback, the more specific you can be with goal setting for the future, which brings us to our next point!
DO Set Specific Goals for the Future
A great structure for goal-setting is SMART goals, meaning the goals you create are Specific, Measurable, Achievable, Relevant, and Timely. Keeping your goals aligned with this framework will ensure that later on, you can reevaluate those goals with your employees against clear criteria and adequately assess results!
DO Share Your Evaluation Criteria Beforehand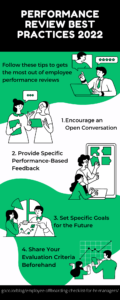 It's important for employees to know what criteria they are being held to. Even outside of performance reviews, publicizing this criteria will give your employee a solid reference while executing their tasks on a daily basis. This transparency is sure to be appreciated by your team! A big part of what makes performance reviews so daunting is the fact that so much of the process is unknown to the employee. 
By lifting the curtain, you can ensure to your team that there are no "gotchas," just tools to succeed! GoCo's Workflows feature can help streamline the way your performance management process is communicated to your employees, ensuring that you provide a consistently positive experience!
Don'ts: Avoid These Actions When Navigating Performance Management
DON'T Blindside Your Employee
One of the worst things a manager can do is wait until review time to give feedback to their employees. The channel for constructive feedback should constantly be open. When performance reviews roll around, you can evaluate not only core performance, but also how your employee responded to feedback and criticism throughout the previous review period. Blindsiding your employee will hurt their trust in you as a manager, undoubtedly causing your professional relationship to suffer. Just like any other relationship, communication is key!
DON'T Dwell on the Negatives Without Constructive Feedback
Quite frankly, criticism without any sort of constructive element is useless and rude. When giving criticism to your employee make sure you deliver it in a way that promotes a growth mindset! Ask what they learned from a negative experience and guide them in thinking about what steps they'll take to avoid repeating the same mistakes. Offering solution-oriented feedback is really the core factor that takes performance management from a dreaded, outdated business practice to an eye-opening opportunity to gain some perspective and optimism for the next term!
DON'T Use a One-Size-Fits-All Approach
If all of your employees aren't doing the same job, there's no cookie-cutter approach that can adequately measure the performance of varied job functions! While this may seem like extra work for managers, creating custom-tailored review criteria for people with different jobs is the best way to get an adequate read on where each employee is in the bigger picture of your company's goals. This is especially important if the stakes for performance reviews include compensation.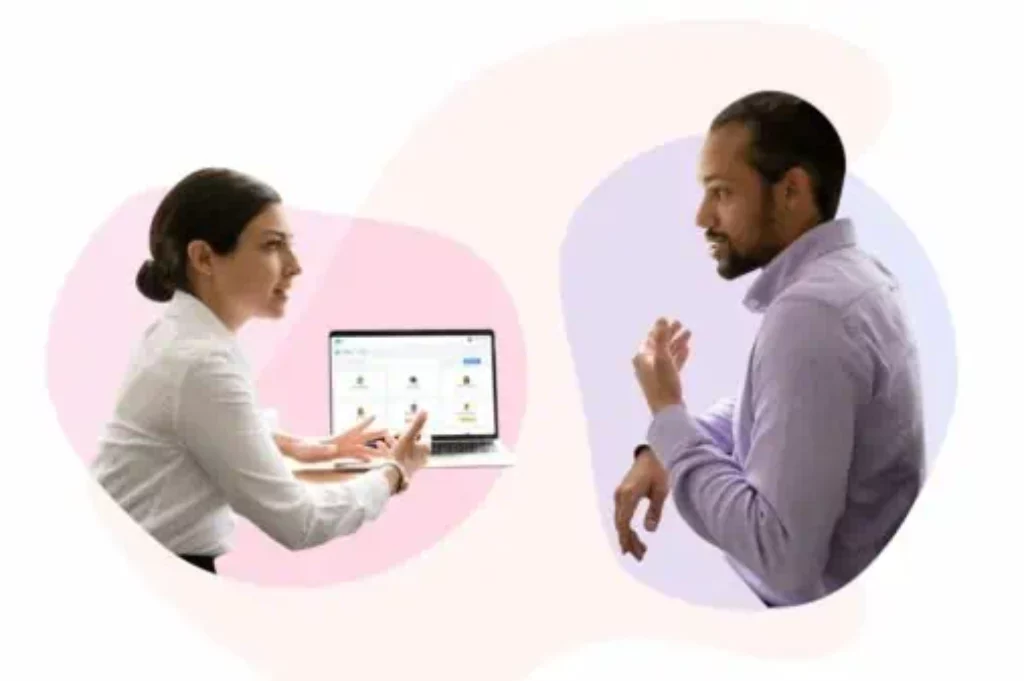 DON'T Use Performance Management as a Fear Tactic
Performance reviews can be stressful for both managers and employees. On the management side, these reviews can be tedious to coordinate and execute. Meanwhile, employees dread performance reviews because they worry about their assessment and the consequences that may occur. That's why you need to frame performance management as a positive opportunity for reflection and growth instead of "Judgment Day." Negative reinforcement is an extremely questionable tactic in the development of children and pets. Why would your team members respond any differently?
The key takeaway here is that if you prioritize growth, transparency, and accountability, then you and your employees should have nothing to be afraid of when performance reviews roll around! Performance management is one area where it's extremely important to remember the "human" aspect of human resources - your employees are people, so treat them as such! Our goal here is to provide actionable performance review tips for employers, but our mission doesn't stop there. 
Take a tour of GoCo to learn about all of the ways an HRIS can help your organization reach its full potential!
Recommended Posts
Fully automate your HR with GoCo.