= 50)" :class="navScrolled ? 'lg:mt-20' : 'lg:mt-32'" x-transition >

Blog Articles
Introducing BenAdmin v2 - Improved workflows for setting up benefits
GoCo's new Ben Admin workflow is now launched!
We've applied everything we've learned about setting up benefits over the last few years to help make implementing benefits easier than ever before!
Most of the workflow should seem very familiar, but there are a few key conceptual changes that will help you get used to the new way of doing things.
Getting Started?
We've created a Getting Started page under the Benefits app which puts everything you need to launch benefits in one place.
When setting up a new company, simply go to the Benefits app, and you'll land on the Getting Started page.  All the sections that are required before launching benefits will have an Incomplete status.  Complete everything and launch the benefits app when you're done!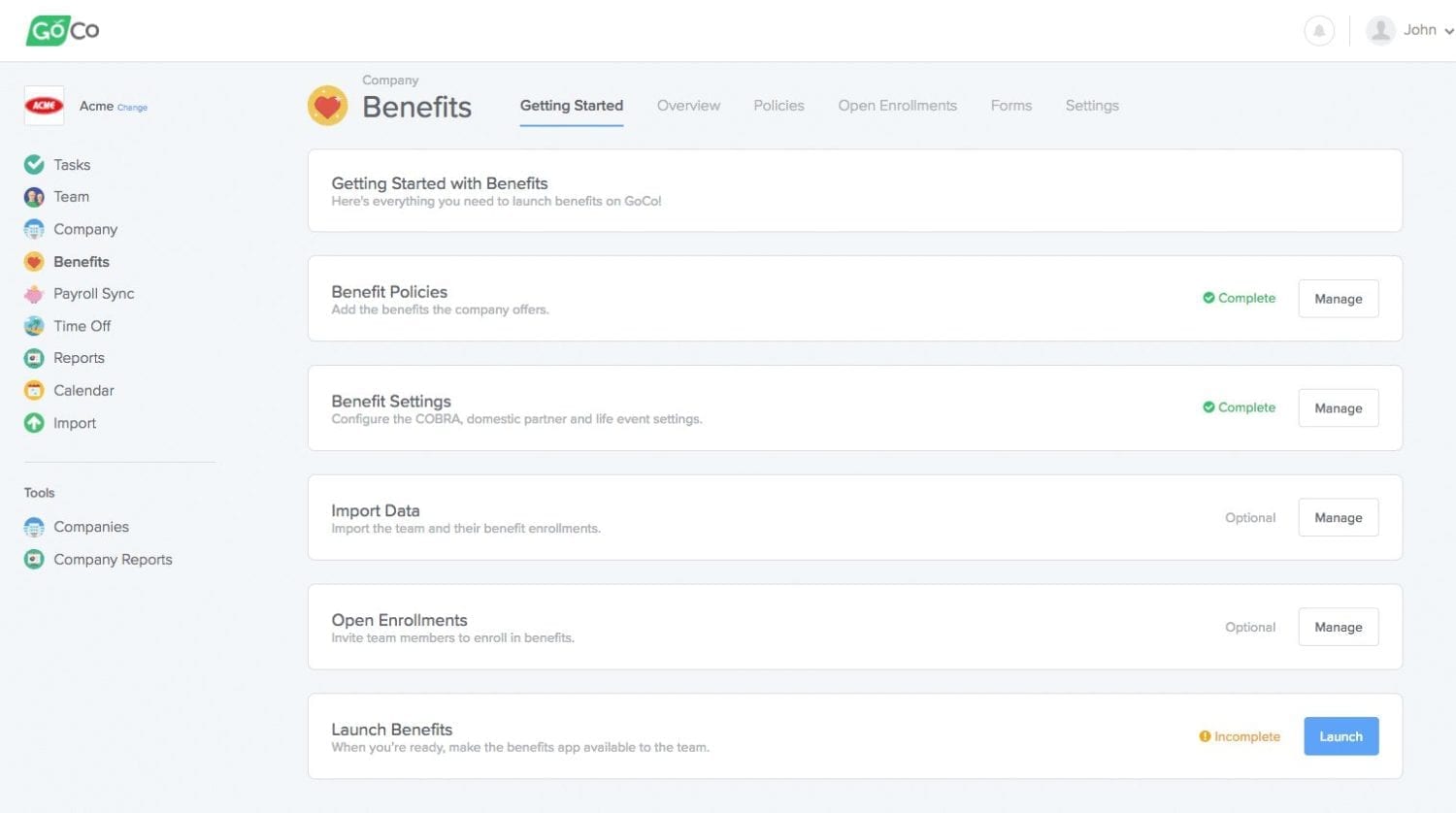 Benefit Policies ❤
In the previous version of Ben Admin, we required you to group all benefits under an Open Enrollment bucket.  That was fine if you were actually adding a company that was going through an open enrollment. But oftentimes, you would add a company that wasn't in a renewal period and adding their benefits to an Open Enrollment bucket didn't make a whole lot of sense.
So instead of organizing benefits in Open Enrollment buckets, they're now organized under Policies. Think about Policies as just the types of benefit coverage the company offers (Health, Dental, Vision etc.).

Implementing a Company with Existing Benefits
After you create and publish the benefit policies, you can import the team's existing enrollments by either: (1) navigating to the Import section from the Getting Started page or (2) clicking Import from the left navigation.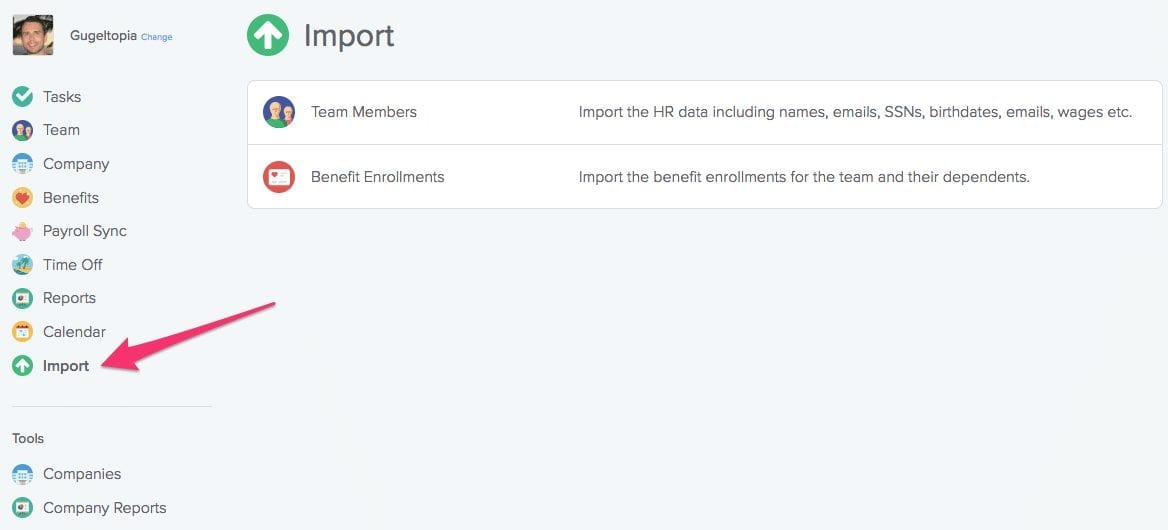 Benefit Renewal (Open Enrollments)
After you create and publish the benefit policies, you can schedule an upcoming open enrollment. You can now even customize an email that will invite the team to enroll!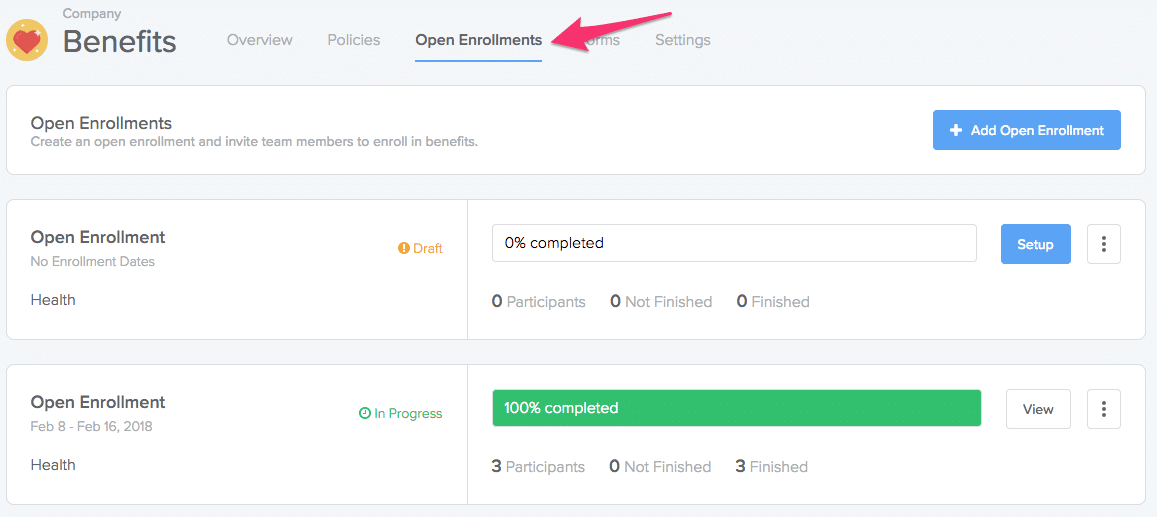 Benefit Policy Visibility
You'll no longer have to Activate an Open Enrollment and set the Benefit Visibility.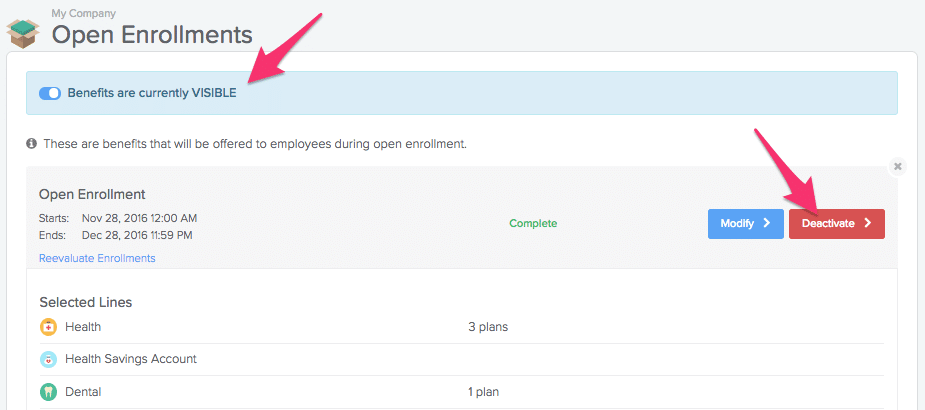 You can now control who sees each individual benefit line. This will let you review the benefit configuration with the company admins before making them available to the rest of the team. There are 3 main states a line can be in:
Draft
x Available to company admins
x Available to the team
Fill in all the information for the benefits policy, then Review & Publish it.
Review (admins only)
✓ Available to company admins
x Available to the team
Allows you and company admins to review and test the benefits.
Publish
✓ Available to company admins
✓ Available to the team
Makes the benefits available to new-hires and for use with open enrollments.
There's just 1 little caveat: If the Benefits app hasn't been launched (that's the last step in the Getting Started section), the benefits won't show up for the team (but will show up to the admins) even if a line is in a Published state.
Finally, in both the Review and Published state, carrier sync notifications will be generated to the benefits processing team and benefit deductions will show up in the Payroll Sync app (if it's set up).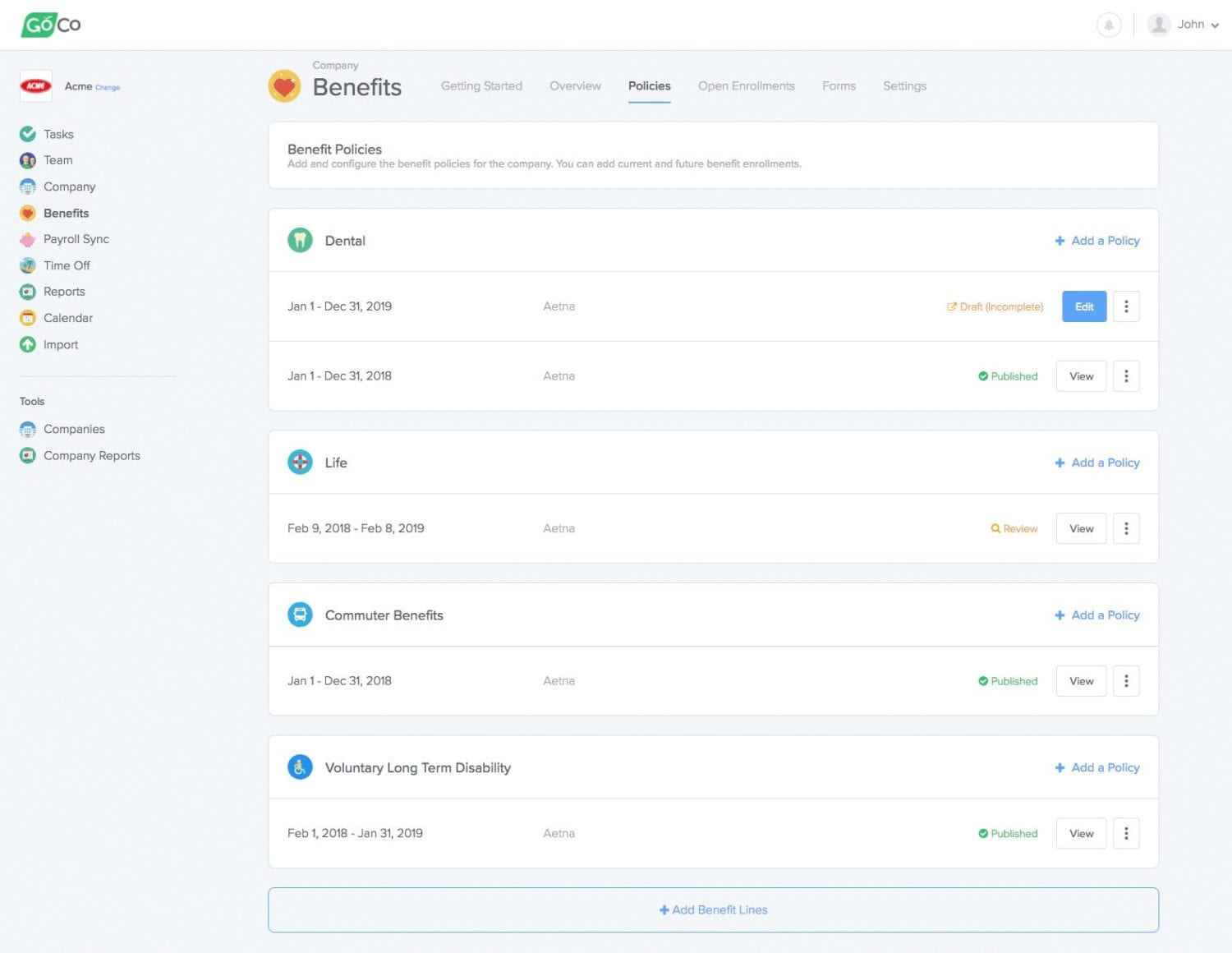 Open Enrollments ?
Open Enrollments have been improved to give you and the company more flexibility.  You simply add the published benefit policies to the open enrollment and then you'll be able to see all the team members that are eligible to participate.
Select Benefit Policies
Select all the benefit policies used for the open enrollment.  Team members will be able to enroll in each benefit policy, depending on their eligibility for each policy.
Schedule / Reschedule / Close Early
We now let you schedule an open enrollment for the future.
If an open enrollment needs to be extended, you can reschedule it put in a new enrollment end date to extend the enrollment window.
If everyone finishes early, you can close the open enrollment early to submit the enrollments to the carrier.
Email Team
You can now create and schedule a fully customizable email to send to team members when open enrollment starts.  You can also come back later and send additional emails to specific team members who have not yet started enrolling to help remind them.
Note: GoCo will also still automatically remind the team members when their open enrollment will end, and encourage them to finish enrolling in benefits.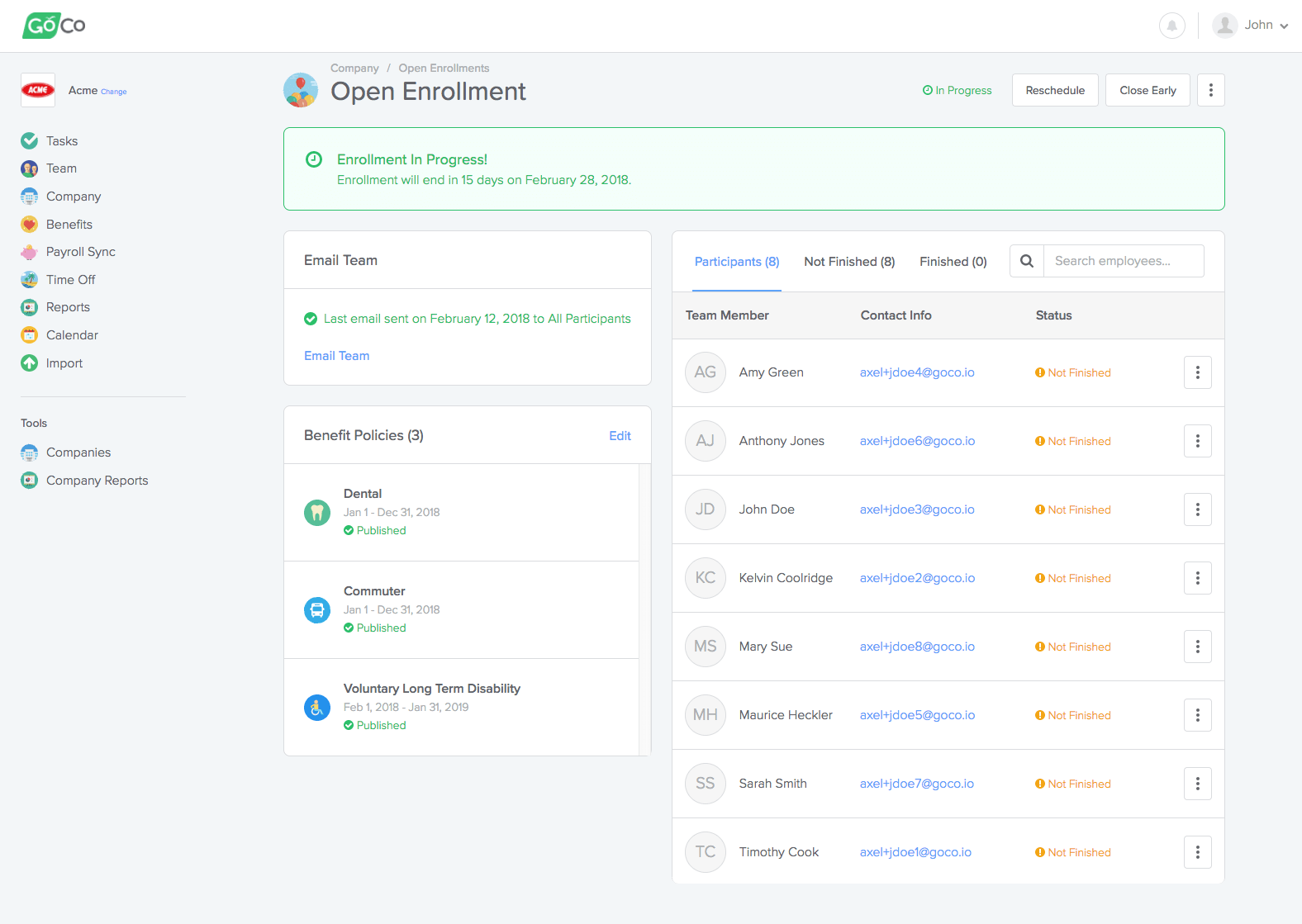 Importing Benefits ⬆
We've revised our Team and Benefit Enrollment imports to be even better.  You can quickly access everything you can import from the Imports app from the left side navigation.  Here are some of the notable improvements to imports:
Pre-Filled Templates
When you go to import, you'll now be able to download a template that's pre-filled with all the current information saved in GoCo.
Improved Errors & Warnings
If you import a file that has invalid data, GoCo will give a summary of all the errors and warnings for you to review.  This will allow you to quickly spot the issues, and fix them in the import spreadsheet.
Create Work Locations
If the spreadsheet you import has work locations that don't exist, GoCo will first warn you.  If you decide to import, we'll then give you a quick way of filling in the missing addresses for each new work location.  GoCo uses the work location addresses for various things, such as determining whether or not to collect state tax withholdings from a team member.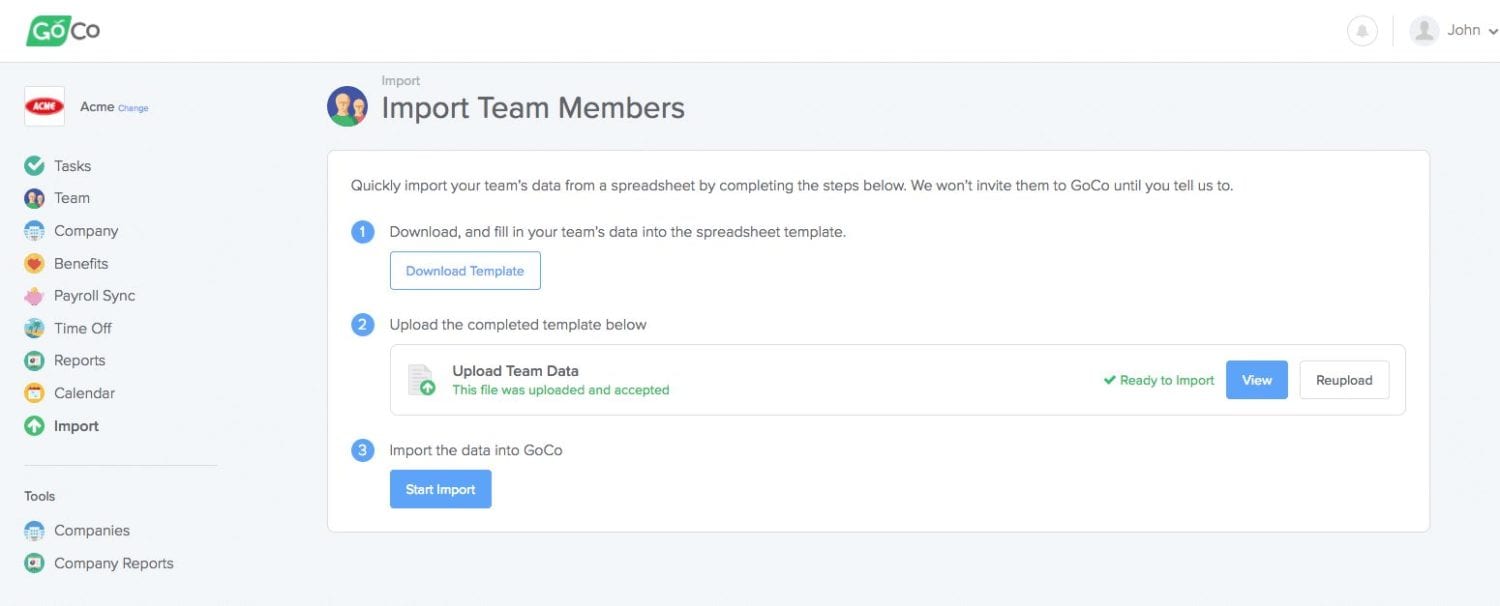 Your feedback is important!
As always, we'd love to hear your feedback.  If you have any comments, suggestions, improvement requests, please let us know!
Send us a message at [email protected]