= 50)" :class="navScrolled ? 'lg:mt-20' : 'lg:mt-32'" x-transition >

Blog Articles
New Integration! E-Verify by Tracker I-9
GoCo's new I-9 integration simplifies and streamlines the E-Verify process.
The I-9 Form is required for all employers in the United States to verify the identity and employment eligibility of all new and rehired employees. E-Verify is a government-operated electronic system that compares an employee's Form I-9 info to records available to the U.S. Department of Homeland Security and the Social Security Administration. With E-Verify, employers can confirm employment eligibility electronically.
At least 22 states require some or all of their workforce to be authorized for work via E-Verify. We know this applies to many of you – E-Verify is our #1 requested integration. 
Until now, you had to re-enter the sensitive and confidential I-9 data collected in GoCo into the E-Verify site. GoCo has partnered with Mitratech to integrate their I-9/E-Verify product into our platform.
Tracker I-9 is the industry's most advanced I-9 compliance offering for employers. Created by internationally recognized immigration experts, it's the only cloud-based I-9 compliance tracking software that maintains a perfect 20+ year track record of zero client fines in ICE audits. 
Unlike I-9 solutions that provide a fillable .pdf or an online form with some field validation, Tracker I-9 automates the entire compliance workflow while manager self-service easily guides field managers through the successful completion of each I-9. Its intuitive interface and secure encryption from any mobile or desktop device helped earn Tracker I-9 the title of "Best Innovative or Emerging Tech Solution" at the 2022 HR Tech Awards.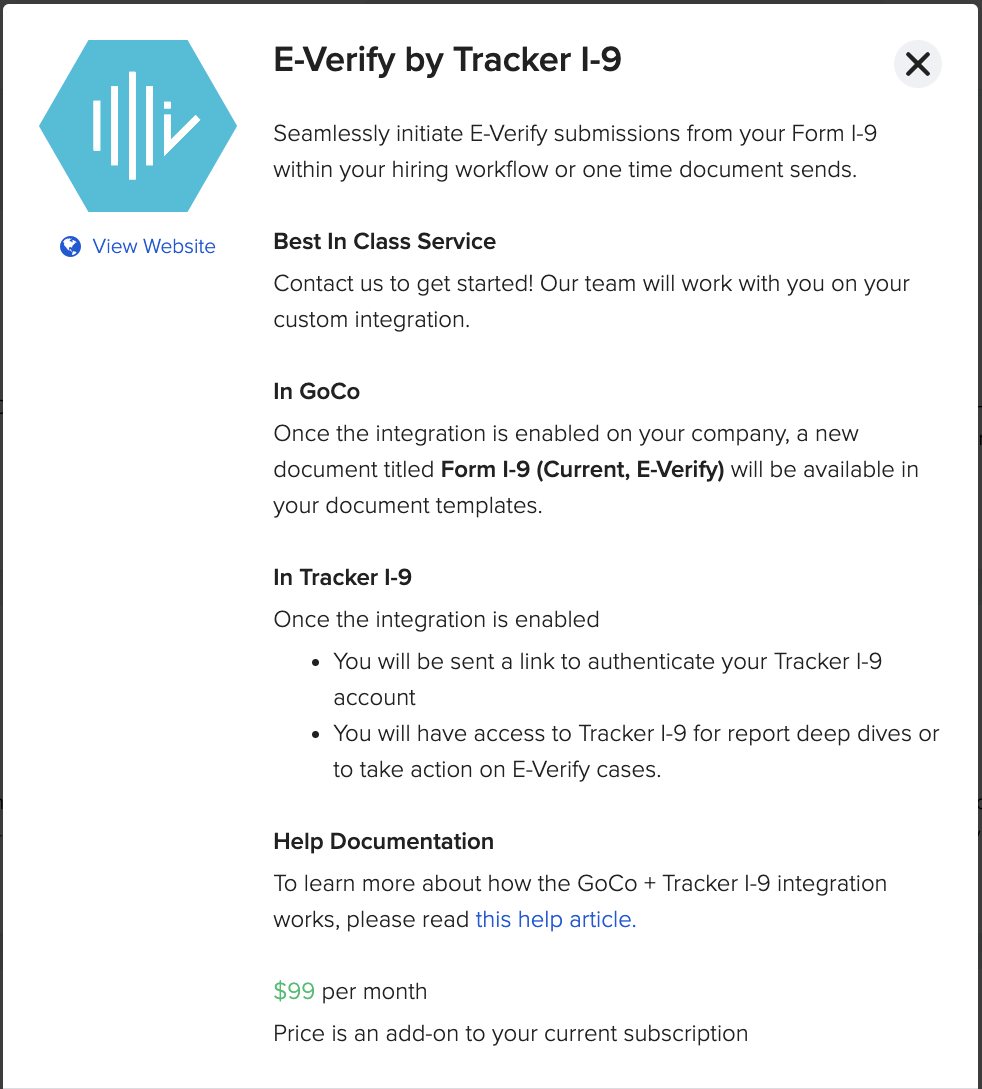 How It Works
Once the integration is enabled for your company, a new document titled Form I-9 (Current, E-Verify) will be available in the Government Forms section of your document templates. Note that this will be in addition to your template Form I-9 (Current) used in GoCo's native I-9 compliance solution. You will still be able to use that if desired, but it will not feed to E-Verify via the integration.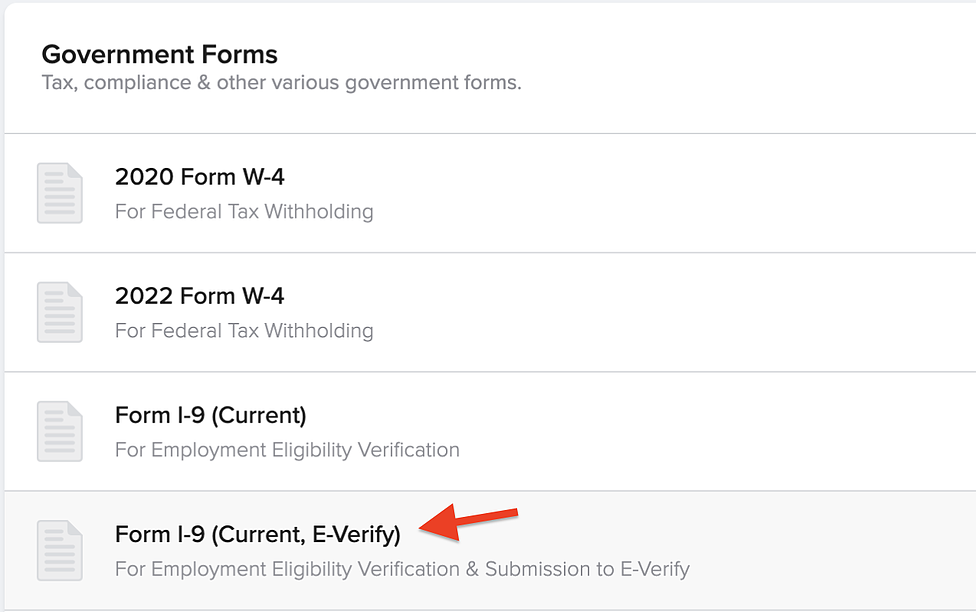 Access Tracker I-9 directly for report deep dives, to view the dashboard, or to take action on E-Verify cases. 
To use the integration, you should add the Form I-9 (Current, E-Verify) template to the document section of your hiring workflows. Just like our native Form I-9, you will be prompted to select who should be allowed to verify (Section 2). 
Similar to how it works with GoCo's Native I-9, the employee's information (name, address, SSN, etc.) will auto-populate into the form, eliminating double data entry. The employee will be prompted to review the info as well as complete Section 1 of the form, including verifying their employment status and completing the electronic signature. 
You'll notice this new document has an additional step for E-Verify submission. Once your employee completes Section 1 of Form I-9 (Current, E-verify) and you verify the documents to complete Section 2, the case will be automatically submitted to E-Verify and the evaluation process will begin.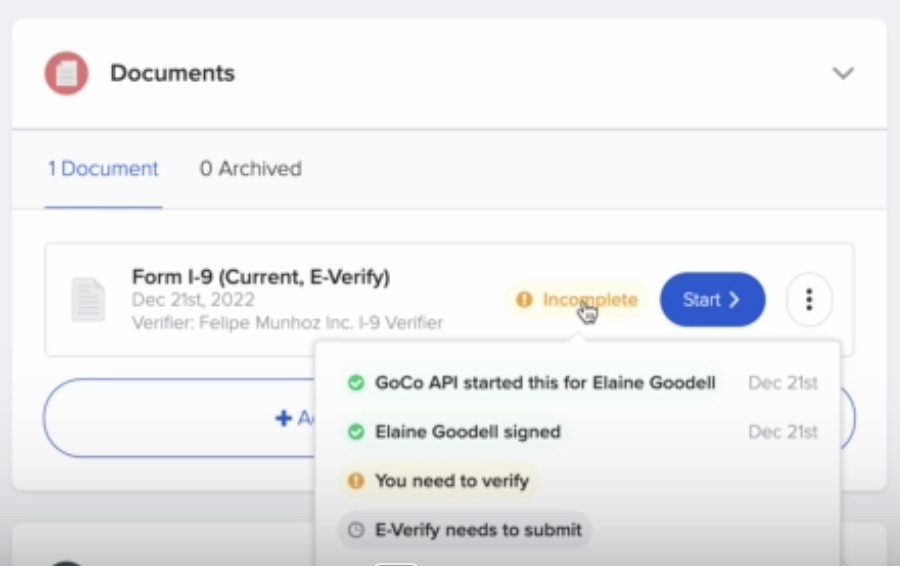 You'll be able to check the status and track progress from GoCo by going to your company's document section and clicking on Form I-9 (Current, E-verify) to view all completed and in-progress instances. 
The document will stay open until the case is officially closed. When the case is closed as authorized, it will show as authorized in GoCo. If it is not authorized, the case will remain open in Tracker I-9 until you log in to take action. If the case is closed for any other reason besides Authorized, you will see Case Closed. 

Watch a demonstration of the integration from the What's New in GoCo Winter 2023 Webinar:
Recommended Posts