= 50)" :class="navScrolled ? 'lg:mt-20' : 'lg:mt-32'" x-transition >

Blog Articles
How to Manage Employee Welfare in the Cost of Living Crisis
HR departments can take several measures to protect employees' welfare during these challenging financial times.
Factors like high grocery prices, soaring energy bills, and fuel costs are pivotal in driving a cost-of-living crisis impacting spending power in the US and beyond. For HR departments, managing the welfare of employees throughout these troubled times must be paramount. 
In the United States, inflation rates peaked at 9.1% in June 2022 and have since slowed to 5% at the end of Q1 2023–a rate that's still far higher than much of what we've experienced throughout the 21st Century. 
The Federal Reserve has increased interest rates to calm inflation, making borrowing significantly more expensive for consumers.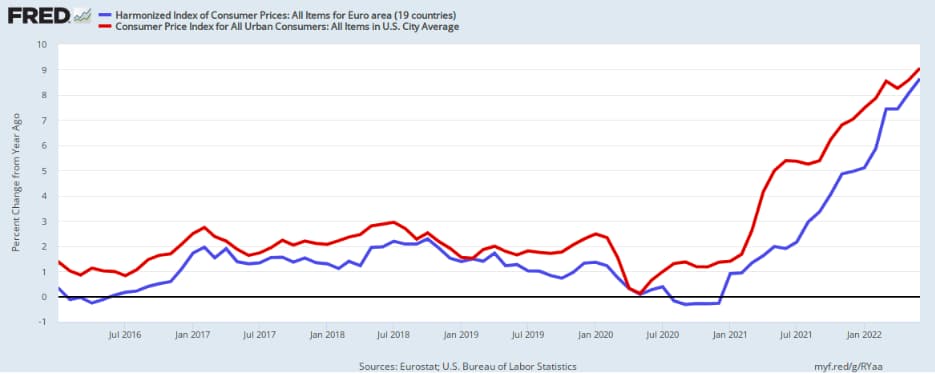 For employees, this means that the cost of goods and services is rising, and so is the interest expected to pay on loans and mortgages.
Logically, if inflation continues to rise at 5%, employee wages will effectively be devalued by 5% in real terms, which can lead to a cost-of-living crisis where essential services and utilities become unaffordable. 
At this stage, it's worth noting that employers have no obligation to change their operations to help improve employee welfare in these troubled times, but 49% of employees believe an employer has to improve their workers' financial well-being. 
HR professionals are likely to be well aware of the impact of personal financial problems on employees. Worries over money can cause dips in productivity, more stress, higher quantities of sick days, and a fall in worker mental health. 
While it can be difficult to combat a cost-of-living crisis, HR departments can take several measures to protect employees' welfare during these challenging times. Let's take a deeper look at how businesses can better protect their workers: 
Review Your Pay and Benefits Policy
Of course, a cost-of-living crisis can negatively impact businesses and employees, and increasing pay in-line with inflation can be far easier said than done when revenue streams are falling. However, the most effective way to support employees is to review your pay policy to ensure that all employees are compensated fairly for their work. 
It's also worth making staff aware of progression opportunities and how to apply for higher-paying roles. If internal promotions aren't possible, you can introduce new opportunities by training and developing staff skills. 
Introduce Employee Discount Plans
Some employers negotiate discounts to save employees money on essential and non-essential purchases. These plans could relate to retailer discounts, subsidized transportation, company gym memberships, offers at local restaurants, and even better mortgage rates. 
Many firms specialize in setting up employee discounts at major retailers. However, helping employees out doesn't have to be any more complex than getting in touch with one of the office's favorite lunchtime cafes and enquiring about creating a discount program. 
Offer Financial Education
By offering financial education programs, HR professionals can aid employees in more effectively managing their money during the cost-of-living crisis. Through these programs, workers can learn to be proactive in facing their financial problems and will be emboldened to act on them before they can grow. 
Employers can provide financial education through various channels, and tools like seminars, interactive workshops, videos, and even specialist webinars have a significant effect. However, employers must remain focused on providing an element of interactivity and inclusivity as a priority. 
Employees can attend presentations that provide financial education and tips on improving their financial health within the company. Platforms like Powered Template can offer free presentation templates that HR departments can add more specific tips and tools to aid employee financial management. 
Tips for creating personal savings plans to help cover future unexpected expenses, setting financial goals, coping with financial pressure, and effective budgeting can all be covered in these financial education plans. 
Other factors like credit card consolation, exchange rates, and understanding risks surrounding 'buy now pay later' plans can also be approached. 
Establish Hybrid Working Opportunities
Although the Covid-19 pandemic has made working from home (WFH) more accessible, some businesses remain cautious about opening the door to out-of-office work. Despite this, 51% of employees believe they are more productive when working remotely, and flexibility can provide excellent money-saving opportunities for workers. 
Switching to a hybrid working environment can help to save employees money on petrol or transportation costs when commuting to and from the office, and there are many tax relief services in place to support the cost of a home office. 
For HR teams, highlighting these services can go a long way in helping employees stretch their money further throughout the downturn while assisting them in reaping WFH's benefits. 
Prioritize Employee Mental Health
Crucially, HR professionals must work to ensure that they can protect employees' mental health. The cost-of-living crisis will invariably raise concerns about paying bills and managing recurring expenses and helping managers to understand the early signs of depression or anxiety can be an essential measure to take. 
To aid this process, it's worth considering offering mental health services like counseling and therapy to help employees access the help they need as quickly as possible. Likewise, setting up training programs for managers to better spot the signs of health issues developing in employees is also essential. 
One popular approach to managing employees' mental health is to convert existing managers into mental first-aiders. You can accomplish this through specialist courses designed to help train employers to become the first point of contact for employees experiencing mental health concerns. 
Another program that can help to aid workers' mental health is the Employee Assistance Program (EAP). This provides access to a confidential telephone line available around the clock. 
Although the cost-of-living crisis can be difficult for HR professionals to manage in terms of caring for employees' welfare, many plans and services can help make the challenge easier. 
By looking at the internal and external measures you can take, you can foster a productive and happy working environment that can navigate the cost-of-living crisis more effectively, no matter how long the downturn may continue. 
Recommended Posts