= 50)" :class="navScrolled ? 'lg:mt-20' : 'lg:mt-32'" x-transition >

Blog Articles
GoCo Expands Features in Support of Diversity, Equity, and Inclusion
A deeper look into GoCo's newest DEI-focused feature expansions
Though our rainbow logo may be coming down after Pride month, our commitment to creating meaningful changes in support of Diversity, Equity, and Inclusion (DEI) within our product continues. We're so excited to share that expanded DEI features have landed in the GoCo platform! We understand that the tools and platforms chosen by your organization represent the values of your entire team, and that these tools must evolve to continuously support inclusion. With that in mind, we've continued to evolve and expand our suite of DEI features in the GoCo platform based on feedback from our valued HR partners and clients. 
From expanded pronoun functionality to anonymous workflow capabilities, here's a deeper look into some of our newest feature expansions!
Mask Legal Sex on Profile by Default
While collecting legal sex may be required for administrative purposes, it can also be sensitive information that employees do not wish to share. Previously, the legal sex field was visible upon landing on the "Personal Info" card, whereas now it's masked by default -- just like SSNs and Date of Birth.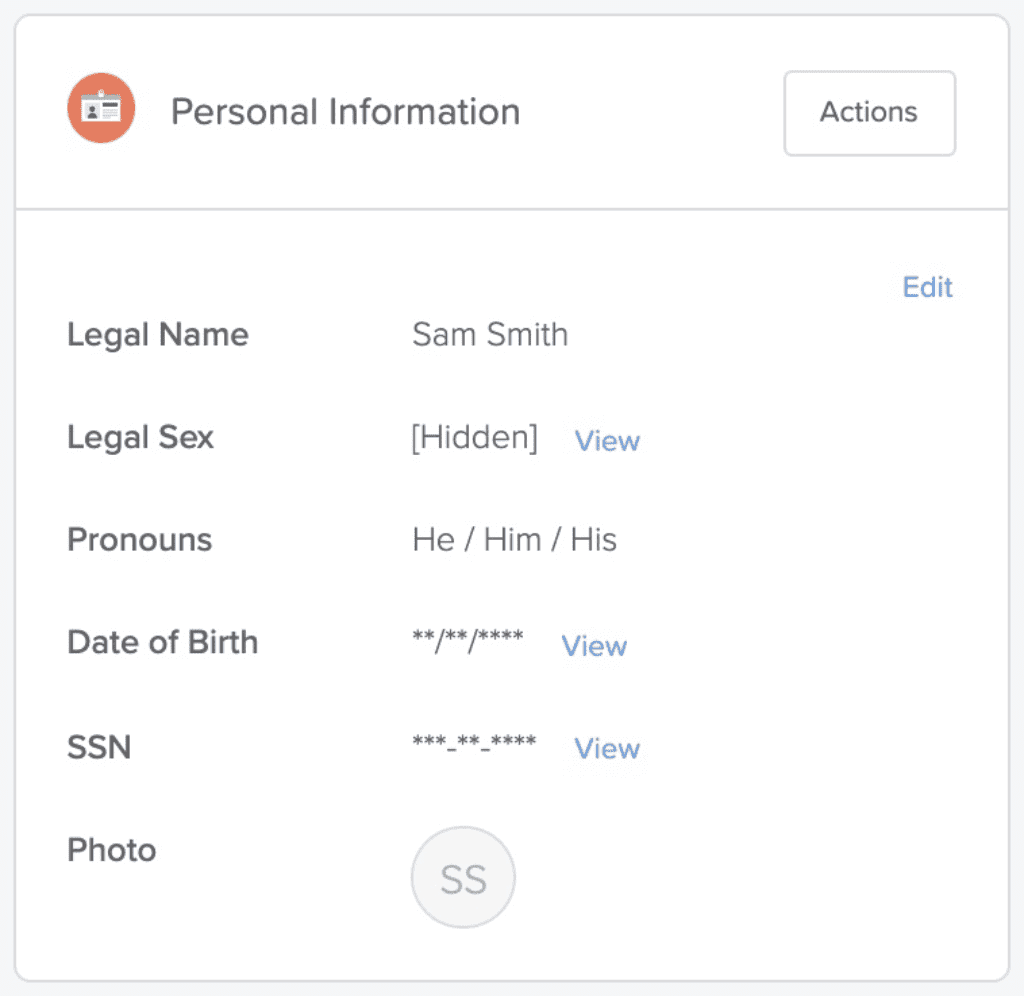 Remove Legal Sex Requirement in Onboarding
Previously, the Legal Sex field required all onboarding employees to fill it in. Now, you have the ability to require, hide, or show it via our Hiring Workflows depending on how your business works.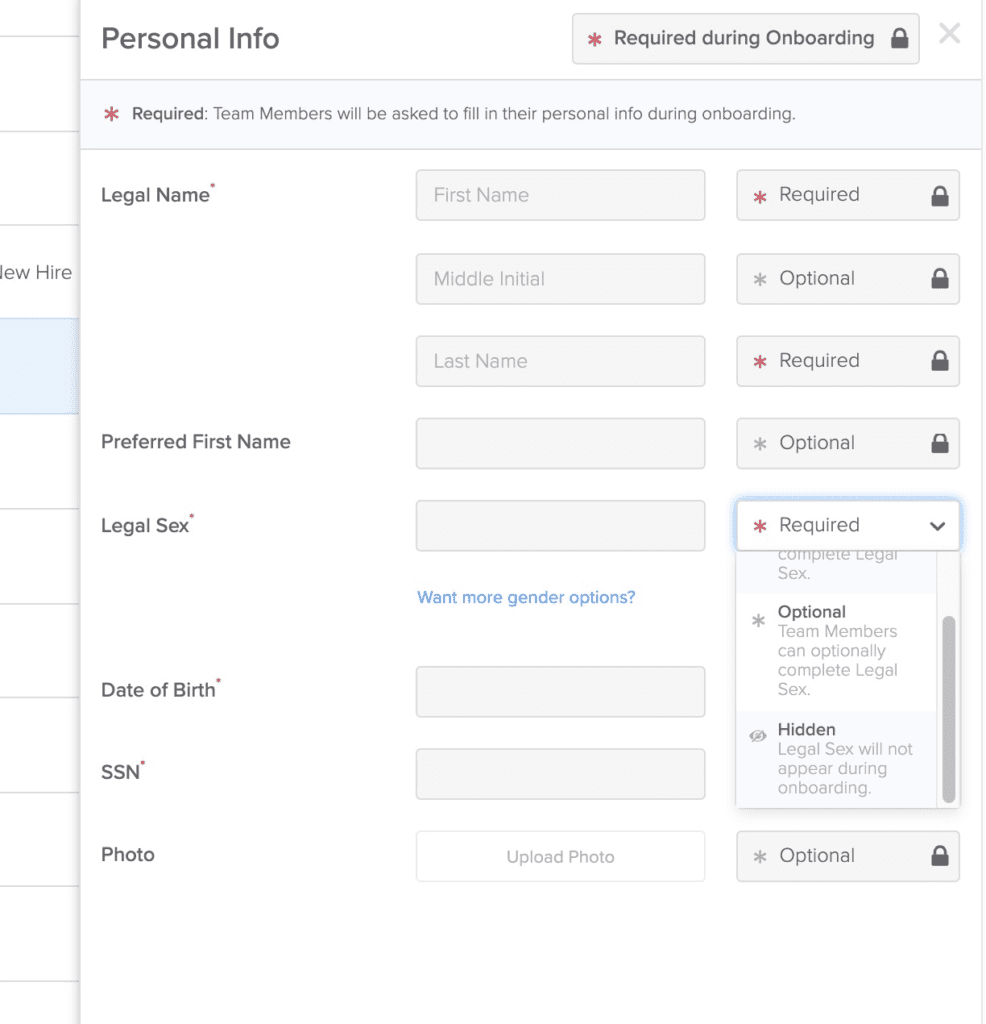 Rename Preferred Pronouns to Pronouns
Because names and pronouns are two key pieces of an employee's gender identity, they are personal and important. There's been some much-needed movement away from asking and identifying pronouns as "preferred", because an individual's pronouns are not just "preferred" -- they are the only pronouns that should be used. We set out to remove the "preferred" verbiage in our newest round of updates!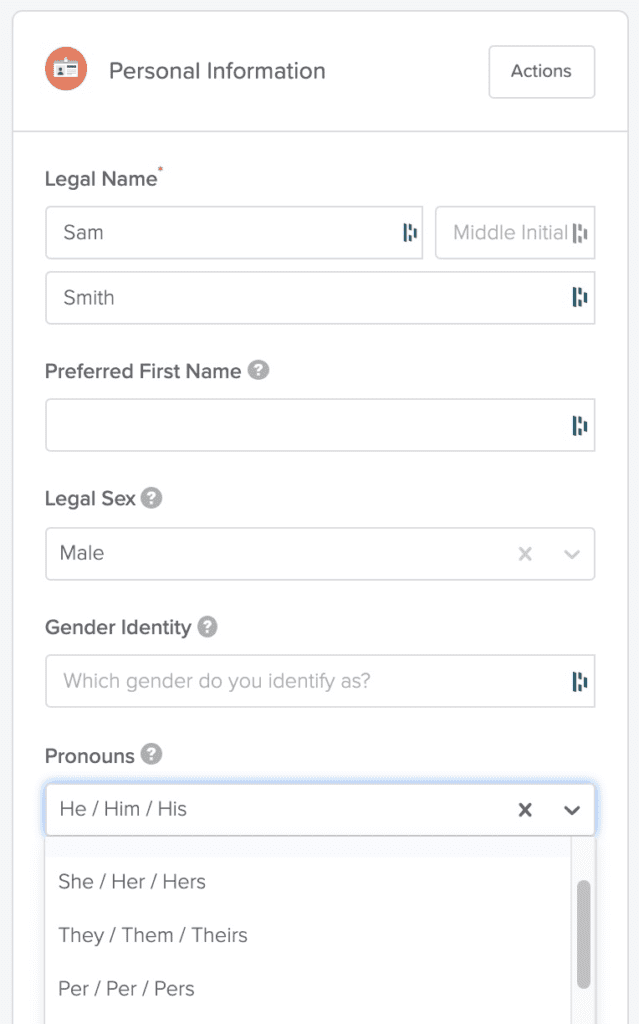 Expanding Pronoun Options in GoCo
Although we most frequently hear pronouns like she/her/hers, he/him/his, and they/them/theirs, there are many other pronouns that people use. Sourcing from our clients, partners, and employees, we've expanded pronoun options within the platform's dropdown to include:
Name / Name / Name's (ex: Amy / Amy / Amy's)

Sie / Hir / Hirs

Ze / Zim / Zims

Ze / Zir / Zirs

Zee / Here / Here's

Ey / Em / Eirs

Per / Per / Pers
Add New Company Holidays
With the recent victory and establishment of Juneteenth as a federal holiday, most private employers will also be offering the holiday off. We've added Juneteenth as a company holiday within the HRIS, so you can easily include it in your default company policy. 
We've also added Indigenous People's Day as an optional alternative to Columbus Day, in order to properly respect and honor Native American peoples and commemorate their histories and cultures. You can customize your PTO policy accordingly with the holidays you plan to offer time off for.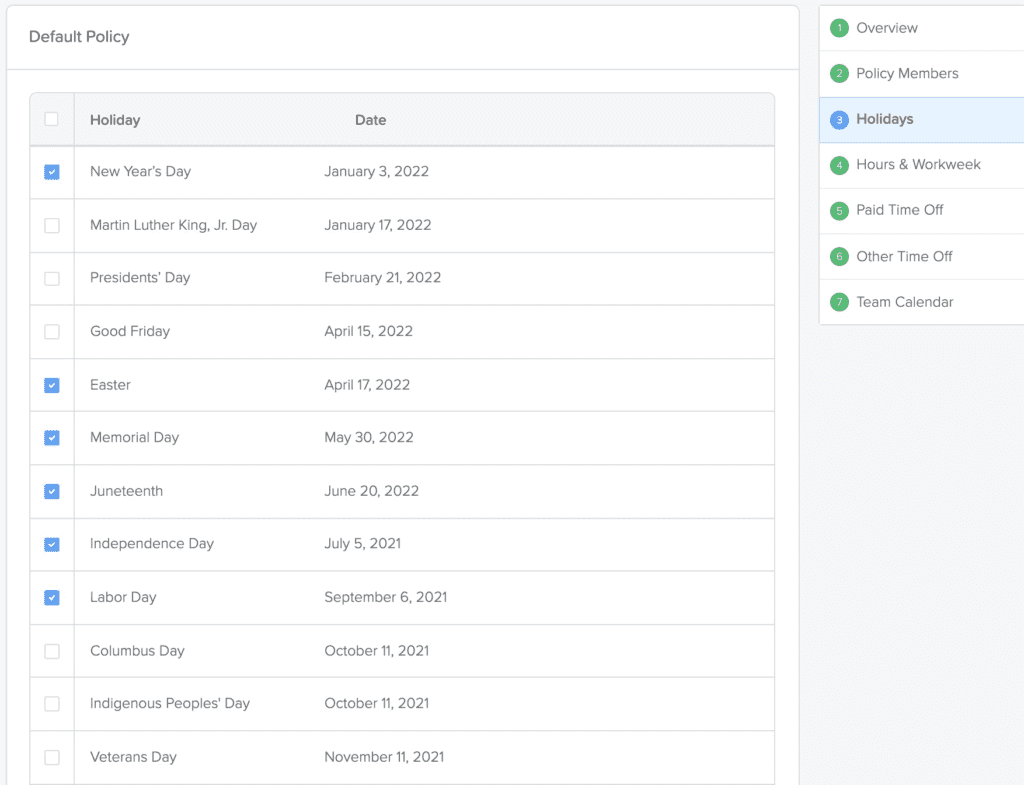 Use Preferred Name in Email Communications
In order to create a consistent experience for team members, we've updated email notifications with the ability to use employees' preferred names instead of their Legal Names. Now, when employees receive email notifications relevant to the platform, their preferred name will populate if applicable.
Anonymous Workflows for Sensitive Communication
Last but certainly not least, we're excited to announce our first experimental feature: Anonymous Workflows! Whether you'd like to create an anonymous feedback box or create a safe space for reporting discriminatory behavior or harassment, the new feature allows HR to create a space for collecting any type of sensitive or anonymous feedback. The possibilities are quite literally endless!
Here's how it works:
1. Add and name your new workflow template by clicking "Anonymous Workflow"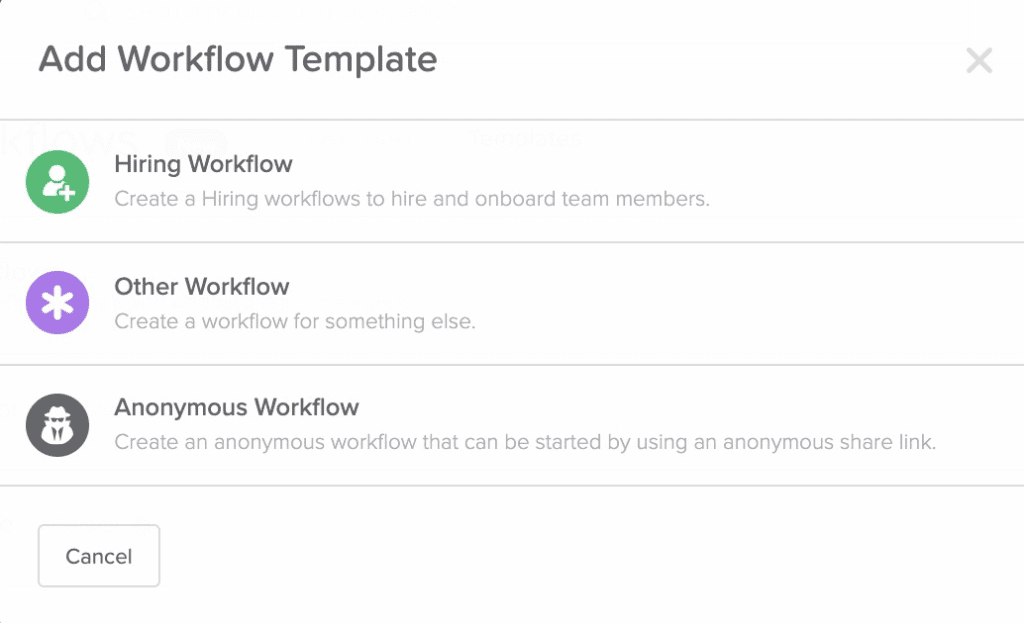 2. Once the template is created, you can customize it in any way, by including various tasks, approval steps, custom fields, due dates, and assigning relevant managers or leaders to review anonymous reports.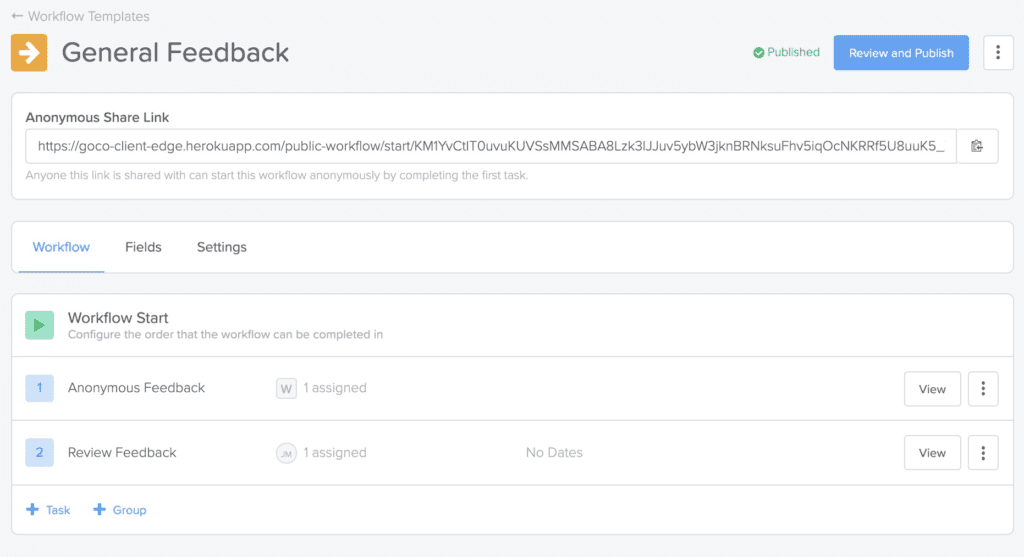 3. After the checklist or steps are outlined and the workflow is created, an "Anonymous Share Link" will be generated. This link can be used both internally within the organization or externally to collect relevant feedback. Simply copy and paste the link wherever you'd like: in an email, on a webpage, or in a presentation!

4. Once the link is placed, employees or external members can bookmark and access the workflow anonymously to provide feedback, complaints, or additional questions regarding the topic of your workflow. Once the link is bookmarked, users can come back and track the progress of the workflow at any time.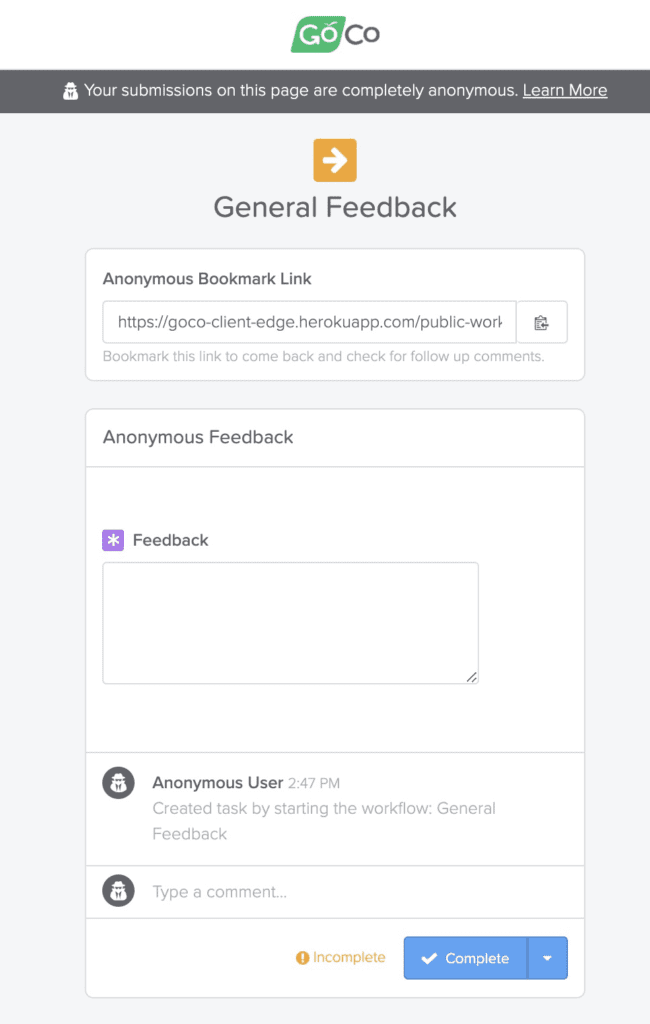 5. The person assigned to the anonymous workflow will immediately receive notifications for new responses, can review feedback received, and comment on the workflow so that individuals know their response, report, or feedback is being addressed (all while staying anonymous).

...and boom! Your anonymous workflow is in motion. 
Common Use-Cases for Anonymous Workflows are:
Sexual Harassment Reports

Discrimination Reports

Complaints & Feedback to the Company

Suggestion Box

Presentation Feedback

Product Feedback

Employee Pulse Surveys
Our new experimental Anonymous Workflow tool helps HR and leadership teams continuously improve business processes by collecting anonymous feedback and info, while simultaneously empowering team members and partners to speak up or ask questions without being singled out. 
We hope you're as excited about these new features as we are! If you have any questions about our expanded DEI features, please feel free to contact us.
To get started with our new features, log in or take a free interactive tour today.
Recommended Posts
See our top-rated HR solution in action