= 50)" :class="navScrolled ? 'lg:mt-20' : 'lg:mt-32'" x-transition >

Blog Articles
How We Hosted a Company-Wide Volunteer Event, and How You Can, Too!
Focusing on what really matters - our community.
Our Volunteer Event
On August 4th, 2022, we decided to dedicate the day to our community. We had the opportunity to assemble a drive for underprivileged children and donate hundreds of back-to-school kits as well as toiletry packages! For this event, we partnered with BEAR Houston, an incredible organization that works tirelessly to support CPS kids in the Houston area. BEAR runs a bunch of fantastic programs, but our drive was part of BEAR Back to School. Also, we were able to head to the Houston Food Bank and continue our back-to-school service there. This was truly such an amazing experience and we're so happy to have had the honor. That being said, let's walk through what this event actually entailed. In order to further establish this effort, we formally called it GoCo Gives Back.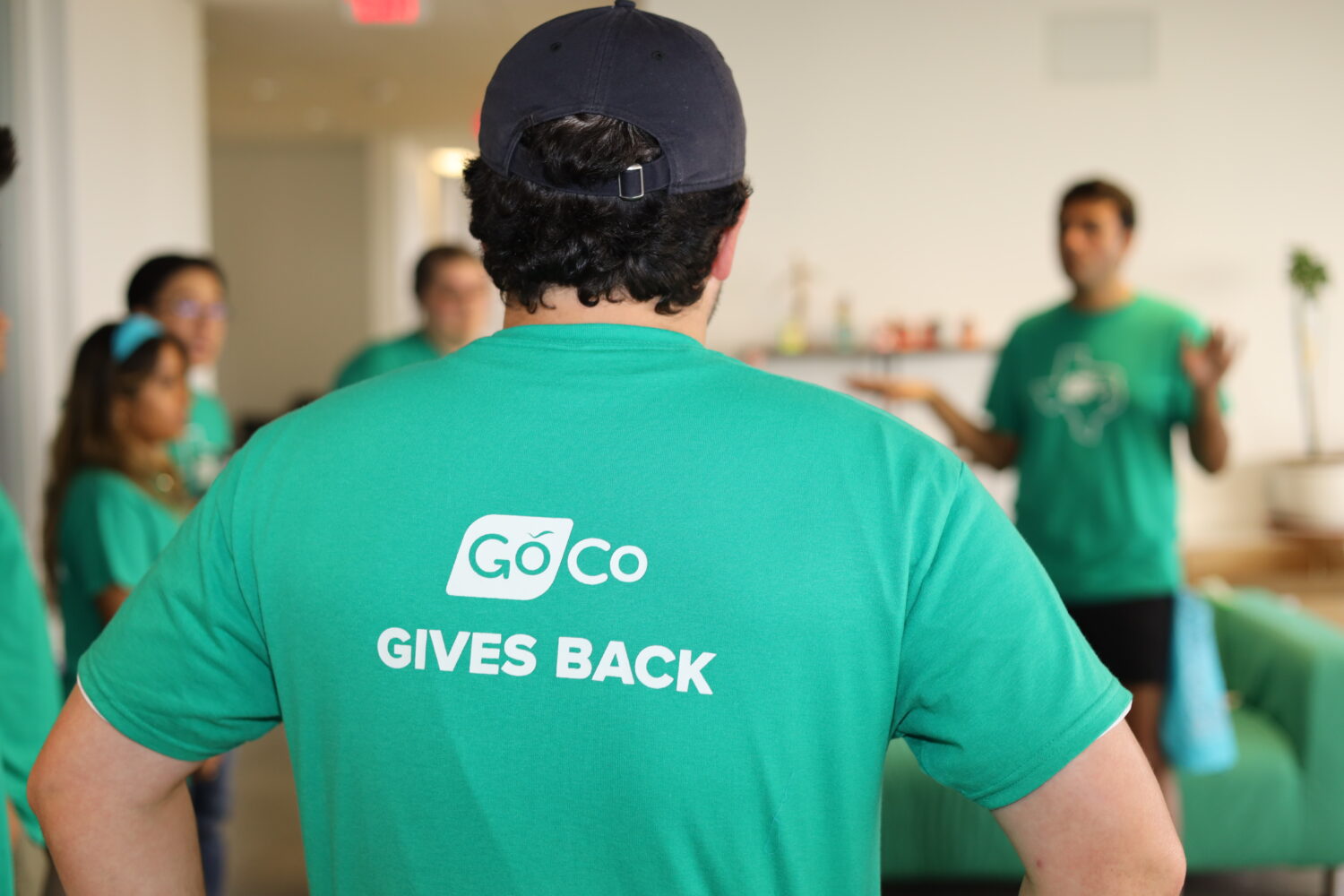 Why is Corporate Social Responsibility Important?
In our specific case, Allie Collins, our VP of Marketing and Chair of our DEI Taskforce, gave us some background. She told us that the primary goal of this event was to focus on our company's external DEI and community support since we've been working nonstop on developing our internal initiatives, such as refining our hiring practices, incorporating teachings into our weekly all-hands meetings, and more! GoCo Gives Back was an opportunity to act on that motivation while making a real impact in our direct community.
The benefits that come with hosting a workplace volunteering event are plentiful. The most important thing is that we wanted to give back on a large scale backed by the support of our entire organization. Big changes are made when the masses come together, and we're so proud to say that GoCo truly showed out. 
The other main benefit is team-building! We're a remote-first company, which definitely has its obvious advantages, but makes interdepartmental communication and camaraderie a bit difficult to facilitate. Having a whole day for the company to come together as one cohesive team allowed people to get to know others within the organization that they would have no excuse to meet otherwise! We randomly assigned teams to tackle the various aspects of this drive (which we'll get more into later on) so it was quite refreshing for all of us to be able to interact with some new people! 
Being able to fulfill our team's needs while also helping out the kids in our own backyard was such a valuable experience - one that we'll never forget and will continue to build on in the future! As you set off to get your own volunteer event(s) underway, don't lose sight of the motivation of the event, helping those around you, and don't underestimate the value of the added benefit of teamwork and togetherness!
How to Execute a Donation Drive
Here's a breakdown of our process:
As soon as this project was underway, GoCo committed to donating a base amount of $5,000 and then matching employee donations. We originally set a goal to raise $12,000 total, but our amazing employees blew that out of the water. We ended up donating around $14,000, allowing us to put together 200 backpacks and 130 toiletry kits! 
BEAR sent Allie a list of supplies that were in demand and she immediately got to work ordering them in bulk to prepare for the drive. As for the actual backpacks, Allie made sure to order a wide array of designs. After all, kids should be able to have a choice in that matter and pick a backpack that resonates with their own interests. We had everything from Pokemon to Minecraft to Frozen designs!
Using our own product made the execution of this event a breeze. We used GoCo's Workflows feature to register employee donations. This way, we were able to carry out wage deductions and simply withhold the donation amount from the next round(s) of paychecks, meaning our team members didn't have to do any extra work to contribute to this cause!
Here's a little snippet of how Workflows helped us out:
[video width="1280" height="640" mp4="https://www.goco.io/wp-content/uploads/2022/08/GoCo-Gives-Back-Workflow.mp4"][/video]
Breakdown of the Day!
Morning Shift: BEAR Back-to-School Drive
Green Team: Big Kid Backpacks 💚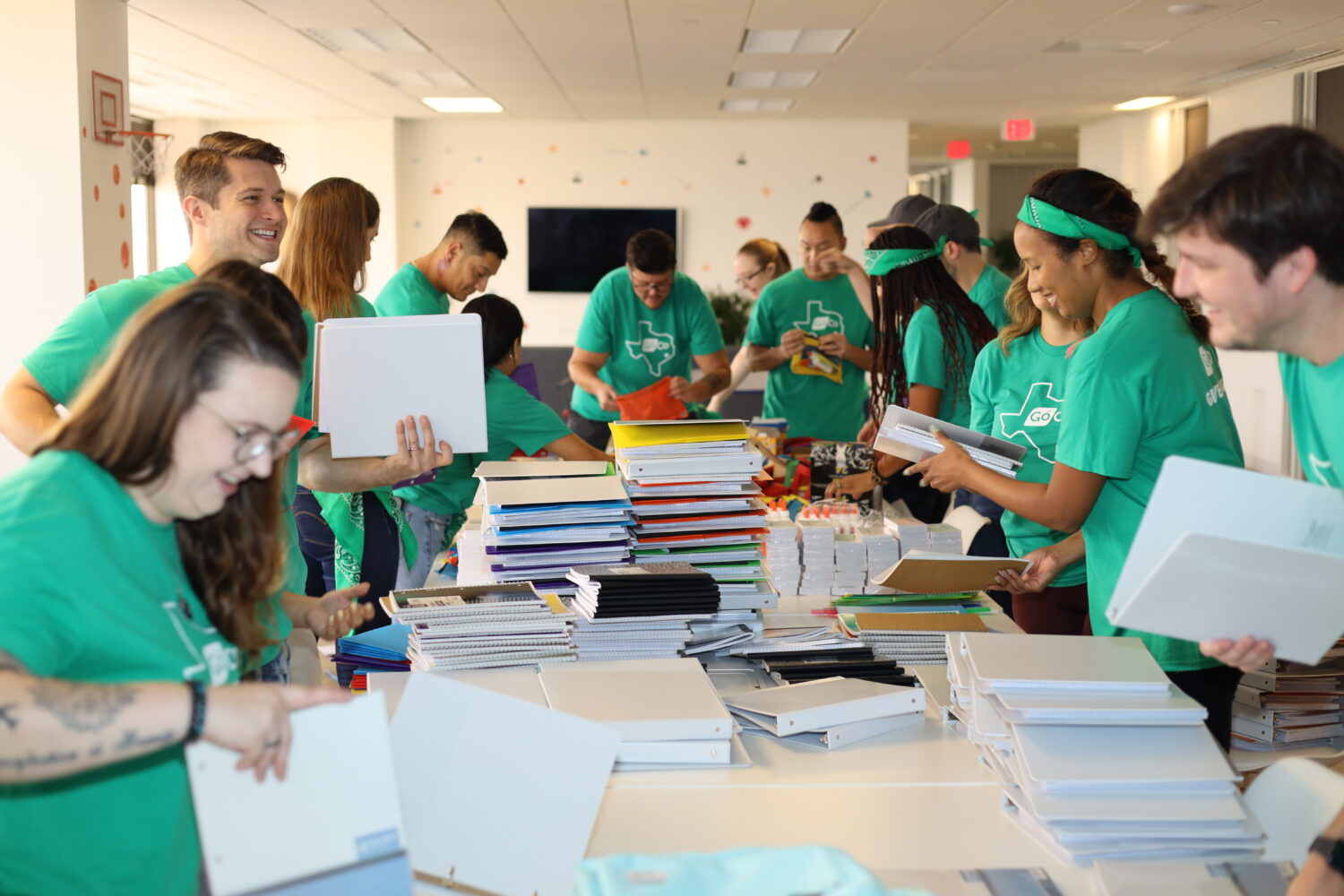 We dedicated one side of our office to the Green Team, who was tasked with assembling back-to-school kits for the older kids! Their supplies were more catered to projects and assignments that older kids would typically encounter.
Blue Team: Little Kid Backpacks 💙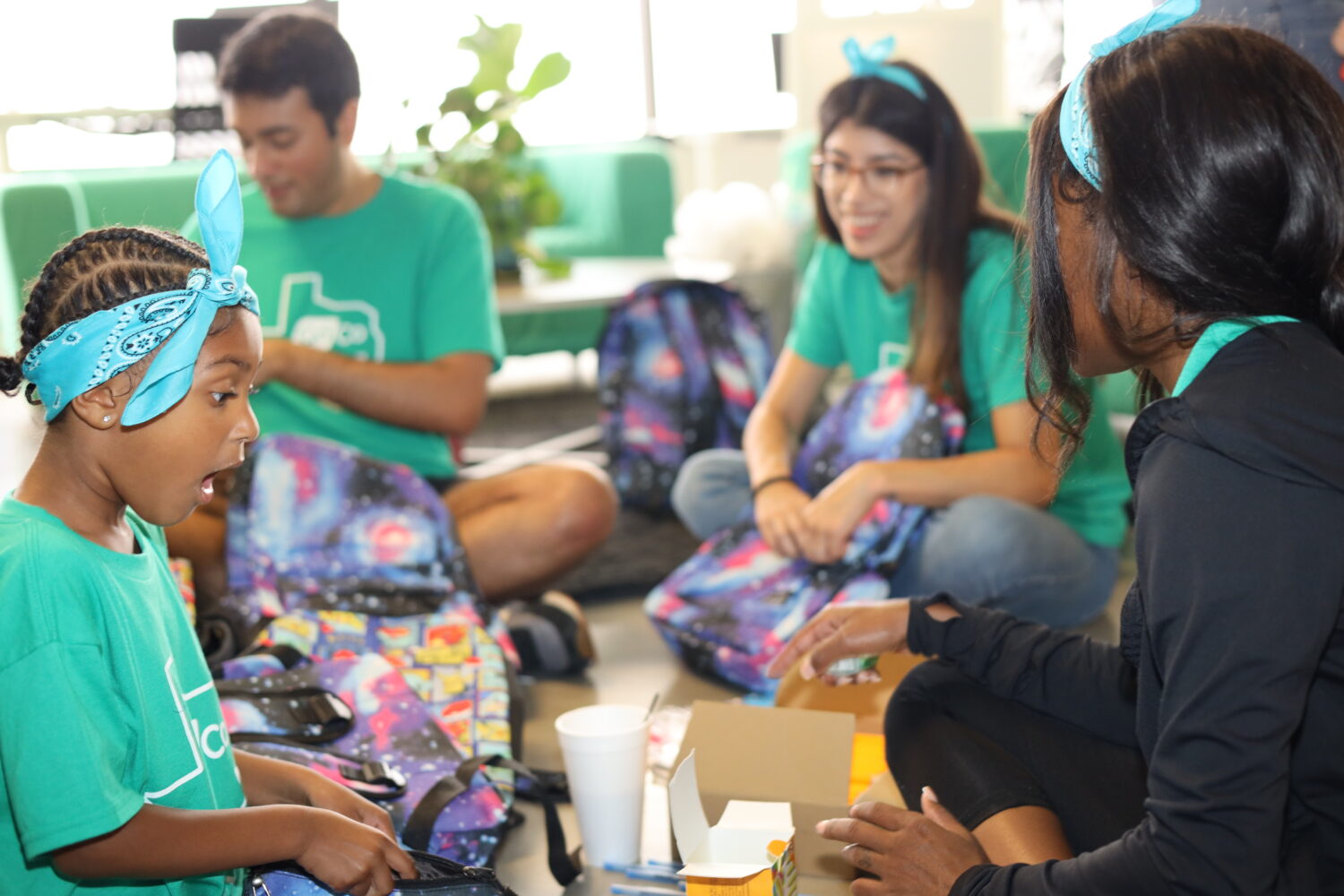 Meanwhile, we dedicated the other side of our office to the Blue Team, who tackled assembling backpacks for the younger kids! These kits featured more fun and whimsical backpacks as well as child-friendly school supplies to get these kiddos ready for the new school year!
Yellow Team: Toiletry Kits 💛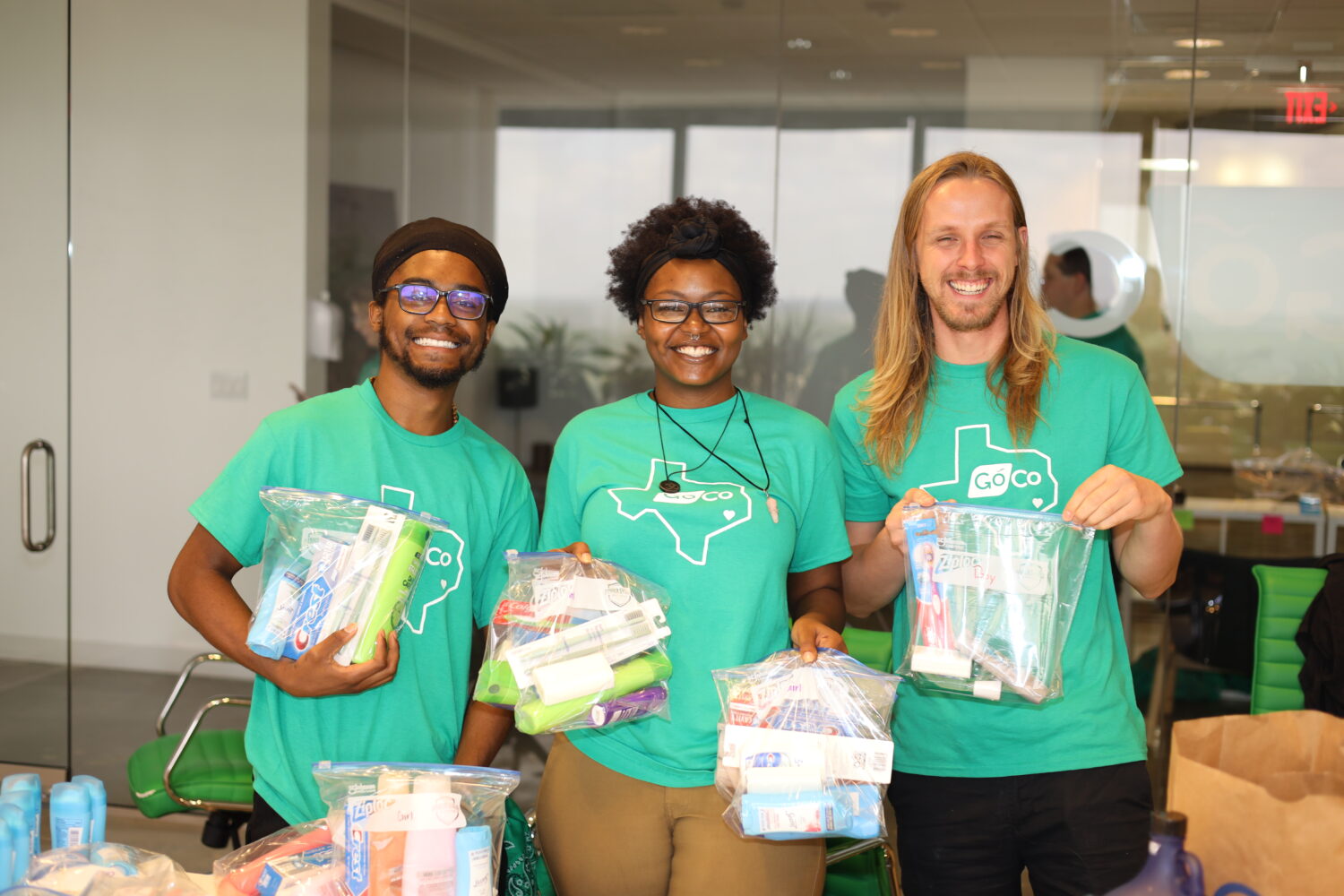 Our final team is the yellow team, who used our main conference room to assemble self-care necessities such as deodorant, hair care products, and soap! These kits were an absolute must so that we could get these kids feeling fresh for the new school year!
Afternoon Shift: Houston Food Bank
We asked Allie about the morning afternoon shift splits. She told us that since she knew the morning collection drive wouldn't take the whole day and she had to address the issue of having some of our team members holding down the fort for our customers, splitting into shifts was the way to go! "We could have some of our client success team come to the morning shift while the rest of the team ran calls and handled customer requests. They could then swap and go to the afternoon shift! Allowing employees to choose whether they went to one or both helped with those departments that can't go completely on pause." 
At the Food Bank, our team got to contribute to a back-to-school initiative from the mayor by assembling folders with resources for families like safety tips, a voucher for a free haircut for the school year, and other general public school materials.
Additional Tips For Executing Your Own Volunteer Event and Getting Leadership Onboard
If any of your team members specialize in photography, ask them to photograph the event. Allie added, "Gen Z and, to some extent, Millennials are so cognizant of their own personal brands." Having someone to take photos of the event gives the younger generations some extra motivation to participate - not only are they glad to help out, but  they also benefit by getting photos for their personal brands!

Don't think of this as a break or distraction from work. Allie strongly advises upper management to view these events as the crucial opportunities that they are. "You're talking about work ideas, non-work ideas, and getting to know each other while helping out the community. That is still working! Part of 'work' is getting to know your coworkers and giving them the opportunity to create pathways to each other."

If you're working with an organization, see if you can get someone from that organization to come and talk to your team. We had a representative from BEAR address our company before we got to work and it really got us in the right frame of mind for the event. We gained more perspective on the cause we were helping out, making it even more special!
Looking back, we can honestly say that this event was a huge success. We exceeded our donation goal, made a notable impact on the kids in our community, and built companionship within our own organization, making our team even stronger. If you're a decision maker in your company, let this be your sign that DEI needs to be at the forefront of your operations. These efforts are beyond worth it, and the returns you see will confirm that. Again, it was truly an honor and a privilege to be able to do this project, and we can't wait to do something similar again soon!
Recommended Posts