= 50)" :class="navScrolled ? 'lg:mt-20' : 'lg:mt-32'" x-transition >

Blog Articles
A Comprehensive Guide to Switching from a PEO to an HRIS
As business needs change, those using a PEO to handle their HR may find that an HRIS is a more cost-effective and scalable solution. Here's how to make the switch.
As a business grows, many solutions must be taken into consideration to streamline processes, consolidate resources, and save money. Some small businesses choose to initially outsource their HR to a professional employer organization, or PEO. As business needs change, they may find that an HRIS is a more cost-effective and scalable solution. Let's examine what exactly the difference is between a PEO and HRIS and how to make the switch.
What is a PEO?
A professional employer organization (PEO) is a third-party organization that allows companies to outsource their HR resources rather than hiring an internal HR team. PEOs are typically used by smaller companies that don't have the resources to manage HR themselves and would rather be more hands-off and pay for an outside organization to handle HR operations. 
What is an HRIS?
A Human Resources Information System (HRIS) is a software solution that helps organizations manage and streamline their human resources and personnel-related functions and processes. HRIS systems are designed to assist HR departments in a variety of tasks, including employee recruitment and onboarding, payroll, benefits administration, and performance management.
What are some reasons for switching from a PEO to an HRIS?
There are many reasons a company may decide it is time to consider switching from a PEO to HRIS, but some of the most common include:
Tech limitations

High cost

Lack of customization and control

Employee dissatisfaction
PEOs are often used by smaller organizations that do not yet have enough employees to warrant an in-house HR admin and would prefer to let a third party handle their HR and hiring duties. As organizations using PEOs scale, however, they may begin to experience growing pains and ballooning costs as they add employees and processes.
Switching to a modern all-in-one HRIS like GoCo is an excellent option for businesses looking to take their HR operations in-house, as it allows HR processes to be consolidated into a single intuitive platform. 
How do I switch from a PEO to an HRIS?
Making the switch to an HRIS can seem like a huge task, but there are really only a few steps that need to be taken.
1. Assessment and planning
Once you decide that a PEO is the best option for your business, begin by evaluating everything that the PEO currently does for your company that you would like to bring in-house. If there are features that your PEO doesn't offer but that you need, make a list of which are must-haves in an HRIS. Then, you can assess different HRIS providers to see which ones offer what you are looking for.
If necessary, this is a great time to make a business case for switching to an HRIS provider. Our helpful free calculator can help you build your case to present to leadership.
2. Select an HRIS provider
Once you have decided what exactly your organization needs in an HRIS, it is time to begin evaluating different providers. When making the choice between HRIS systems, be sure to carefully research aspects such as:
Customer support

Customization and scalability

Ease of use
If there are features that you need to keep from your PEO, such as your payroll provider, make sure that your new HRIS provider can accommodate your needs.
3. Legal and compliance considerations
When transitioning from a PEO to an HRIS, there are legal requirements to consider, such as notifying employees, tax considerations, and other regulatory requirements around transferring data. Be sure to check with your PEO and HRIS providers, as well as any applicable local laws and regulations. 
4. Migrate Data
After you have selected an HRIS system to transition to, collaborate with your PEO to ensure all data is safely migrated to the new HRIS, including payroll records, employee data, internal documentation, and all other critical information.
5. Configuration and integration
The next step is to get your new HRIS set up with your specific requirements, including creating user roles and configuring workflows. This is also when you want to integrate the HRIS with other software that your business uses, such as payroll, benefits administration, and time clocks
6. Testing and verification
Once the new HRIS is set up and data has been transferred, verify that the transferred data is correct in the new system and begin testing features to ensure that they are performing correctly.
7. Training and communication
Now that your HRIS is set up, it is important to communicate to employees all of the new changes and how they can access their information. Having group training and Q&A sessions is a great way to introduce the new system to employees and answer any questions.
8. Go live 
Once the system has been introduced and employees have been trained, the next step is having the HRIS system go live. Typically, this is done at the beginning of a new year in order to simplify tax reporting.
9. Monitor and make adjustments
After the system has gone live, carefully monitor its performance, gather feedback from employees, and make any necessary adjustments for the best effectiveness. Bring any concerns to your HRIS vendor so that they can give advice and make adjustments on their end.
How to choose the best HRIS
With the amount of different HR software providers on the market, it can be overwhelming to choose the best option for your organization. Many companies leave their PEO to find a tool that is a complete HRIS solution that allows you to pick and choose what you need. For example, if you are happy with your payroll provider, find a Payroll Feature like GoCo's that gives you the ability to sync existing providers within your HRIS.
In addition to being customizable, HR software should be intuitive and easy to learn and navigate for both HR and employees. Easy-to-use, modern software comes with features like streamlined digital onboarding, at-a-glance benefits previews, and seamless document management.
Throughout the transition process, it is vital to keep in close communication with your HRIS software vendor to ensure a smooth transition and implementation. For this reason, choosing a provider with a proven track record of excellent customer service is essential. GoCo's award-winning client support team is available to help every step of the way, with each GoCo client receiving a dedicated team to help with everything from implementation to on-demand support and resources post-launch.
Ready to begin exploring the transition from PEO to HRIS? Get started with a free tour to see how GoCo can help your organization make the switch to a modern, all-in-one HRIS solution.
Ready to explore GoCo?
Check out our interactive Product Tour.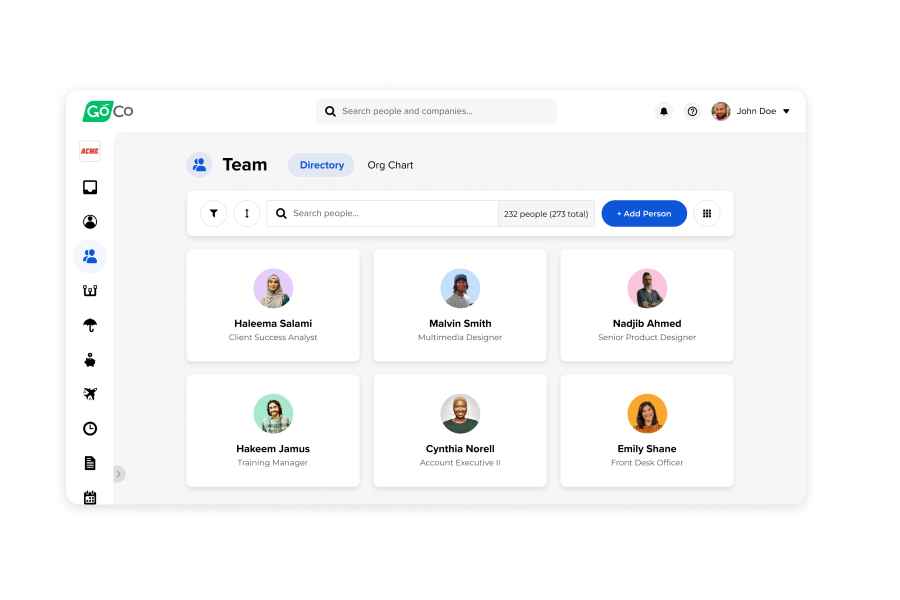 Take a Tour →
Recommended Posts