= 50)" :class="navScrolled ? 'lg:mt-20' : 'lg:mt-32'" x-transition >

Blog Articles
How to Rehire an Employee In 2023 [+Checklist]
Learn how to rehire past employees and ensure they are set up for success.
Employees returning to work for previous organizations are a growing trend as millennials change roles much faster than their predecessors. In fact, some experts say that rehiring "boomerang employees" is one of the biggest new work trends. In fact, in 2021, the estimated rehire rate laid between 27% and 29%
Download the Ultimate Guide to Rehiring Employees
If you're debating on whether you should rehire an employee that previously worked with you, here are several benefits this might bring:
Higher Retention Rates: Rehired employees may have a higher retention rate when they return to your organization. The fact that an employee wants to return also emphasizes to current employees that they work for a great organization.

Expedited Onboarding: The onboarding process will be easier and faster as the rehired employee will already be familiar with the company and its functions.

Alumni Network / Brand Ambassadors: You demonstrate that your organization invests in great talent by rehiring an employee. You also increase your talent pool to include all former employees who may return with new skills and experience.
Policies to Rehire Employees
There can also be challenges when you rehire an employee. You can mitigate these challenges by creating a rehire policy to ensure that you have consistency across the organization. This policy is essential if you are rehiring laid-off employees on an annual cycle for seasonal work or only occasionally.
Why & How Did They Leave?
Do your research into why they left the organization in the first place. Ask their previous manager or the HR professional that supported them. This information will give you some insight into the former employee's experience at the organization.
If they left on unfavorable terms, you should proceed with caution. You can use the termination feature of an HRIS system to report why an employee left, which you can use to determine if they should be considered for rehire in the future. This feature can be helpful when the employees' prior manager is no longer at the organization.
Are They Eligible for Rehire?
Employees that left involuntarily (ex: through a layoff) are only usually eligible for rehire if those reasons were outside their control, such as restructuring. Employees eligible for rehire after termination usually left voluntarily and on favorable terms.
Will You Honor Their Previous Time At the Company?
This is important as it often impacts the employee's eligibility for other policies, such as additional paid time off, waiving the health benefits waiting period, and other perks provided to tenured employees. You'll need to ensure the employee understands how your decision to honor (or not to honor) will impact them.
How Much Will You Pay Them? 
You'll need to pay them based on their new role rather than their previous compensation.
Are You Recruiting Fairly? 
Follow an equitable hiring process and evaluate the rehire fairly against other candidates to prevent any discrimination claims.
The Process to Rehire an Employee
It's best practice to reissue all the letters and forms you send to a new hire. Here are some specific documents that you should consider for the rehire process:
Offer Letter
Provide your rehire with an offer letter. It should include the latest start date and any special terms. You need to indicate whether you will consider their previous time with the company in their tenure or seniority. You can edit your offer letter template and send it to them for signature through an HRIS platform like GoCo, making it easy to keep all the files in one place, even for employees that left and rejoined.
Job Description
You should provide a job description, even if the rehire will return to the same role. The position's responsibilities and requirements may have changed, so setting expectations upfront is essential.
Form I-9
You can fill out a new Form I-9 or fill out Section 3 on the employee's original I-9 Form.
Has it been over three years since the rehire's original hire date? If so, you'll need to complete a new Form I-9.
Has it been less than three years since their original hire date? You'll need to keep the Form I-9 for three years after the rehire date or one year from their termination date (whichever is later). You should keep all these forms in the employee's file. 
Form W-4
You must keep an employee's Form W-4 for four years after the hire date. As part of rehiring an employee, it's best practice to have the employee+ fill out a new Form W-4. You should keep both forms on file. It may seem cumbersome to ask your employee to fill out a new W-4, the process is simple with an HRMS platform like GoCo. You can also utilize GoCo's free tool to collect the W-4.
Onboarding Forms
Your rehire is still a new hire, so sending them all the onboarding documents is essential. They have been away from the organization, so don't assume they will remember how to enroll in the health insurance plan or for retirement benefits. Save time with your rehire process by sending these documents through GoCo.
If you're bringing back furloughed employees, we recommend using an offer letter template to communicate any new employment terms and any efforts from the company to assure their safety at the workplace.
Common Mistakes When Rehiring an Employee
Forgetting to Check Work Authorization
Although the employee had a work authorization before, it's essential to double-check that it's still valid. You should ensure that you have the most up-to-date documents on file.
Ignoring Name Changes
Did your employee change their name before they rejoined? Ensure their employee profiles are linked, and their email address and other identification reflect their new name. Ensure all additional information is current, including their home address, contact information, etc.
How to Rehire Employees Using GoCo
GoCo saves you (and your newly rehired employee or contractor) all the work of typing in the information you already have on file.
All their personal information, banking information, custom fields, and emergency contacts are carried over when you initiate rehiring. And, if something has changed since the employee previously left the company, you can easily update all that information.
The best part is that if you have a company policy of waiving benefit waiting periods for those rehires, you can do that right on GoCo too. Let's take a closer look!
1. Find the previously terminated team member's profile on the Team Page. Click the Actions menu and select Rehire as Employee.
Pro-tip: Make sure you check the "Terminated" filter to see all previously terminated team members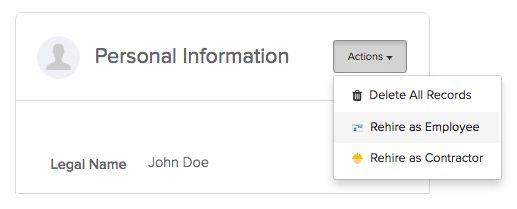 2. We'll automatically carry over all their personal information, bank account information, emergency contacts, and custom fields throughout the rehiring process.
Pro-tip: The team member's terminated record will remain. You can always access their old documents, time off requests, etc.
Want even More HR Goodness? Sign up now to receive the latest HR tips and GoCo updates straight to your inbox!
3. Next, you'll update their salary, send a new offer letter, and recollect documents (like the I-9 and W4). It's similar to how you hire a new employee, but most of the information is pre-filled. And since they're a rehire, you'll also be able to waive the waiting period per your company's & carrier's policy.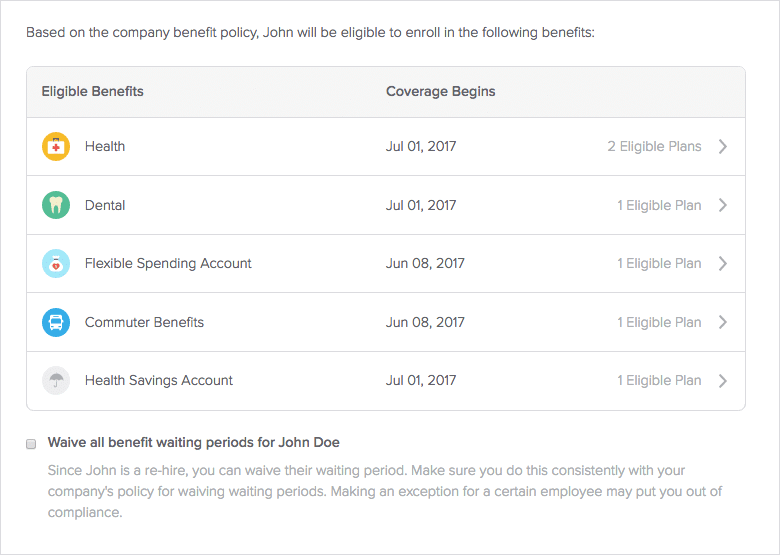 4. Finally, you'll review the hiring information, and that's it! Your rehire will go through the onboarding process again (to check the new offer letter, re-complete the I-9, etc.), but with the pre-filled key fields.
If you ever need to review your team member's employment history, you can now check out the History tab under the Employment and Compensation tab. In the example below, you'll see their original start date, termination date, and rehire date.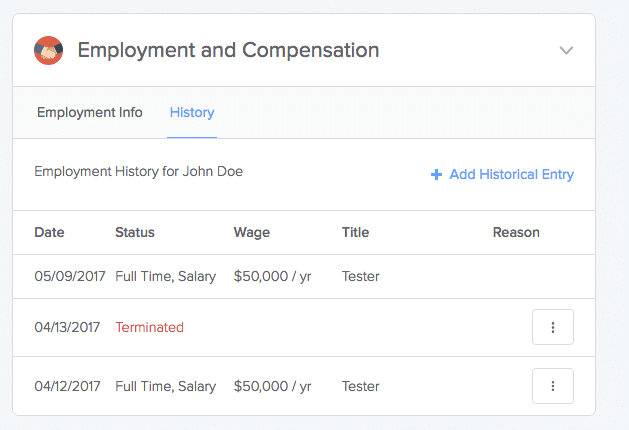 FAQs About Successfully Rehiring Employees
Familiarity

You are already familiar with the employee's personality, work ethic, and abilities as an employer. Further, the employee is conversant with the company, its policies, and the job's KPIs. This aspect will make your recruitment, screening, and orientation process easier.

Increased Employee Retention

When an old employee returns, it is proof that they trust the company. It also means that they have compared it with where they left for and have concluded that it's better. Chances are, therefore, that they will stay longer.

Easier Onboarding

The employee, having worked for you in the past, they're familiar with the process and will make it easier to go through it. You also already have some of their records for reference.

Enhanced Talent Pool

Former employees will bring improved skills and knowledge, adding value to your workforce.

Entitlement

When you ask old employees to return, they might feel indispensable. Consequently, they will be entitled to and demand extraordinary things like promotions and outrageous salaries. This behavior is among the current workforce trends like demands for higher pay and more freedom.

Rigidity

Some employees might be unwilling to adapt to changes and stick to policies and cultures they were familiar with from their previous employment period.

Missed Opportunities

You could lock out better talent when you choose your previous employees over other potential candidates.

Create a robust rehire policy and procedures to guarantee consistency across the organization. Some of the strategies you can have in your rehire policies are:

Find out why the employee left. You can easily do so by looking at "reason for termination" under the company's termination feature.

Determine eligibility. The above step will help you determine whether the employee is still eligible or will give you trouble. There are various reasons for employees leaving a company. For example, if they left due to grievous disciplinary issues, your decision will be based on that.

To curb entitlement, include a few perks, such as waived health benefits waiting period.

Base their salary on the company's compensation policies and not their previous pay.

Stick to the company's recruitment procedures; this will guarantee a fair assessment to help you hire the best talent instead of choosing one based on their history.

Repeat orientation. Share the company's policy and procedures handbook, and furnish the new employee with the company's values and expectations. You will successfully introduce the employee to the company culture and achieve uniformity.

The primary strategy is to ensure you have the correct paperwork to rehire employees. Here is a list of the major ones:

The offer letter. Provide the new employee with a letter stating the new employee's terms and other relevant information. You can take advantage of this sample letter to rehire former employees.

Job description. Guide the employee on what their role will be and what expectations apply. This step is essential, especially if returning to their previous position or department. It will avoid ambiguity, assumptions, and a lack of information about where changes have occurred.

Update their forms. As an HR professional, you must verify the employee's identity and employment authorization by filling out Form I-9. A new record is needed if the rehire is over three years from their previous employment date. If it is not yet three years, the current document applies up to three years from the rehire date or one year after their termination.

Fill in all the relevant company onboarding documents.

Failure to update documents.

Skipping the formal interview.

Assuming their knowledge of the company, deliverables, and expectations is also a mistake.

Ensure all the documents are updated instead of using what is in their previous records.

Interview the prospect. The session will help you gauge the employee's skills and abilities and whether there are changes that might affect their delivery.

Communicate to the new employee about their KPIs to manage expectations.

Take them through the company's performance management process. One strategy you should employ is monitoring their progress to ensure a smooth transition and understanding of the job.

Between their last employment and now, various aspects could have changed, for example:

Family size
Marital status
Names
Contact information
Home address
Education level
Medical conditions
Rehiring an employee has many benefits for your organization, and it can be simple if you know how to do it. By using an HRIS platform like GoCo, you can reduce the burden of completing all of the paperwork again so that you can focus on the rehire's reintegration.
Recommended Posts
See our top-rated HR solution in action