= 50)" :class="navScrolled ? 'lg:mt-20' : 'lg:mt-32'" x-transition >

Blog Articles
Managing HR documents is now even better with GoCo!
We believe collecting employee documents should be simple, and nobody should ever need to input the same data more than once!
Our goal is to simplify complex HR and compliance workflows so managing all of your employee's documents is a breeze. We take your EXISTING company documents, and make them into "magic" templates so they can be signed digitally, and the structured data is stored in our HRIS system of record.
We believe that collecting and organizing employee documents should be simple, and nobody should ever need to input the same data fields more than once!
Hiring / On-boarding
The whole hiring process takes 2 minutes to complete:
Fill in a few data points, like the employee's name, start date, salary, and title, and instantly preview your custom offer letter using our "magic" templates. By default we also collect Direct Deposit info, the W-4, (or W-9 for contractors), I-9, and state specific tax withholdings with a single click. If you have other company documents like IP/Confidentiality, Handbooks, Parking Agreements, or any custom document, we will also digitally collect those.
Once you've configured the digital paperwork you wish to collect, we will send a secure link to the new employee. Using that link, your new employee can accept the Offer Letter, and complete the W-4, W-9, I-9, state tax withholdings, and any custom documents you requested digitally! Everything is signed electronically, and we even provide some handy tools like a simplified tax withholdings calculator. If you've got benefits managed by GoCo, the employee will then proceed to choose their benefits through our online enrollment.
As the admin, you will receive notifications every step of the way. We will let you know when the offer letter is accepted. We will send you a reminder to add the employee to payroll, to review the digital paperwork and certify the I-9 and eligibility documents.
NEW: Send and Re-send documents
Sometimes you make a mistake and send the wrong document to an employee. Or maybe an employee negotiates and wants an updated Offer Letter. We now allow you to easily fix that mistake by re-sending the document!
From the employee's profile, open the Documents Card and click "Add Documents". You can choose from your template library which document you want to send or re-send. If you choose to re-send we will automatically archive the old version of the document, which you can still access by clicking over to the Archived tab. You can also manually archive a document by clicking on the actions menu (the 3 dots on the right).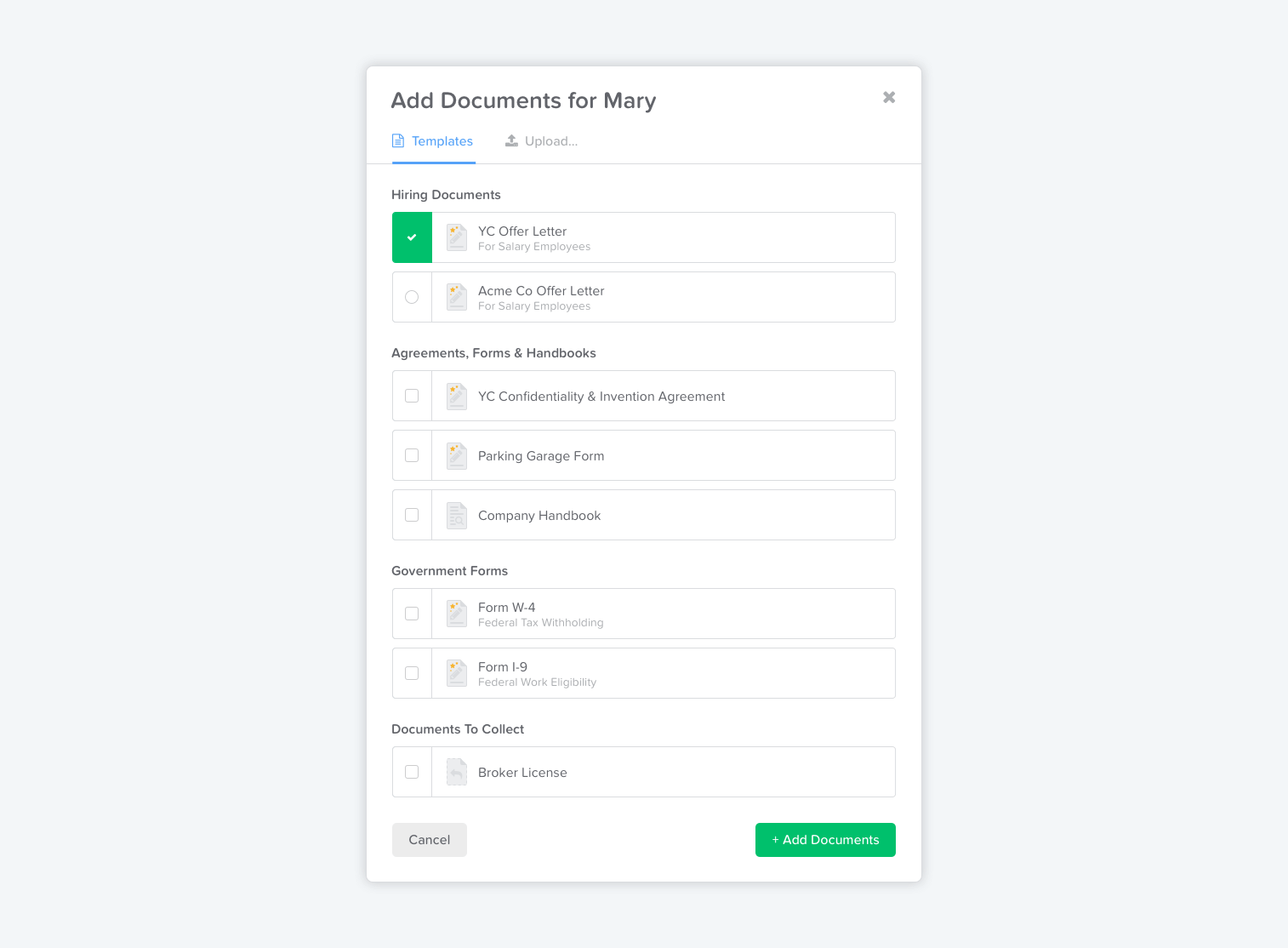 The employee will receive a notification that there is a document that needs to be completed. When the employee has completed / signed the document, we will let you know to review the document if applicable.
NEW: Send a Document to Many Employees (Example: Handbook)
A common use case is to send a document to many people at once. For example, if you are introducing a new company handbook and you want everyone in your company to get it. This was a common request, and we now make it easy to do!
From the Company Profile, click on Manage from the Documents section. Here you will see all of your Company's templates, as well as some default template we provide (W-4, W-9, I-9, YC Offer Letter, etc..).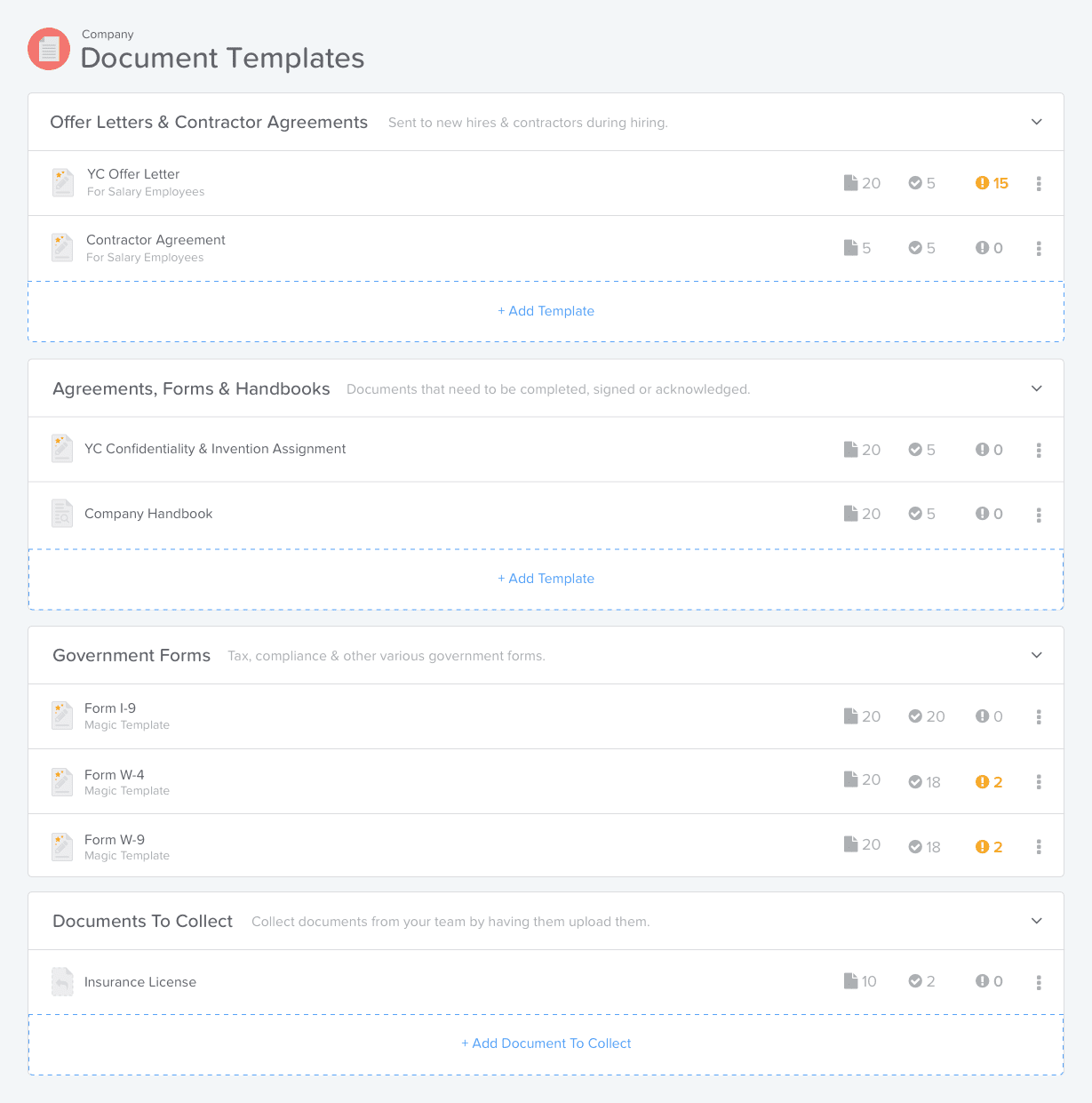 Click on the document template you wish to send. From the template page you can see who this template has already been sent to, and the completion status for each employee.

Click on "Send". You will now see the document preview on the left, and you can pick one or more people to send the document to!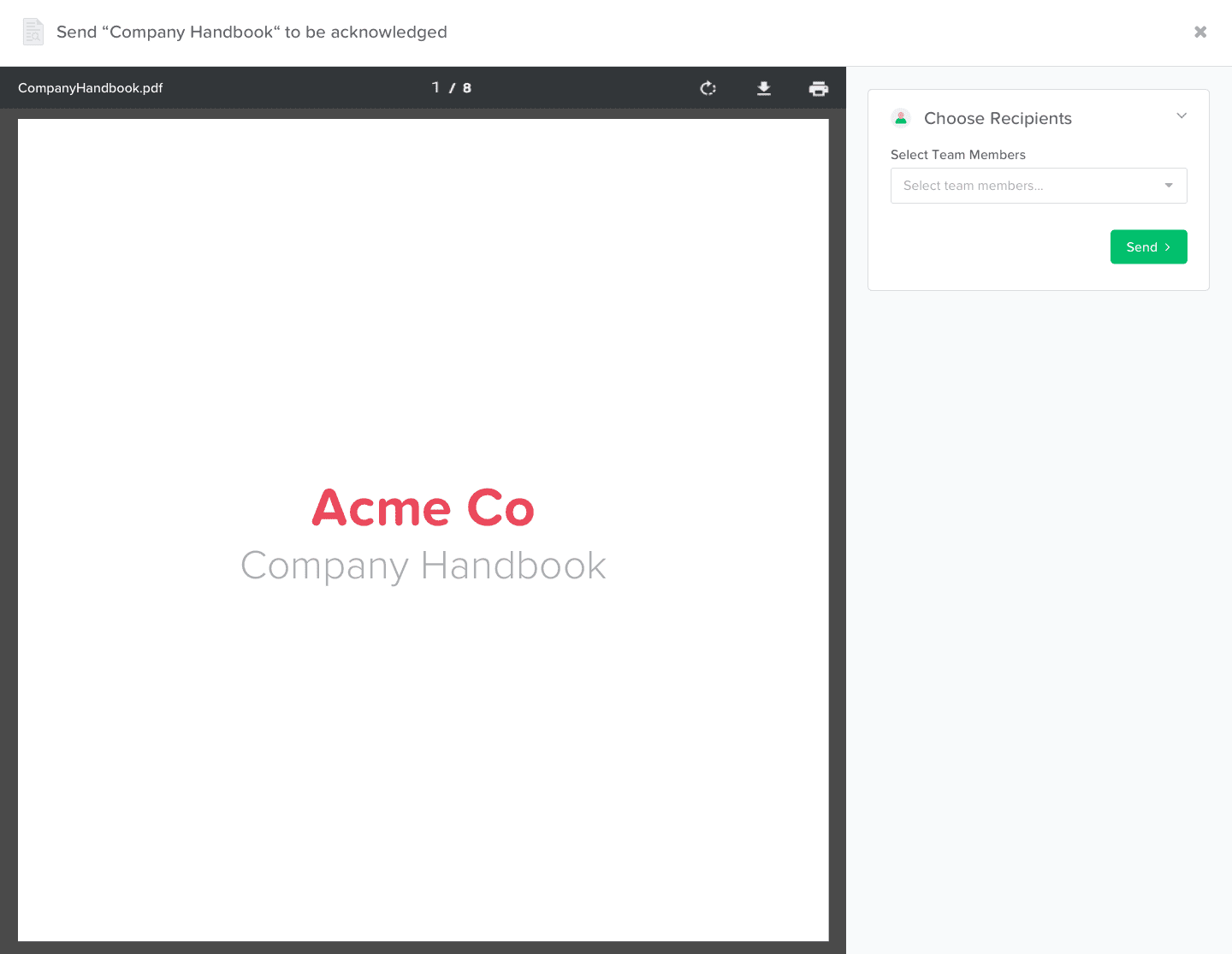 NOTE: some documents can be only sent to one employee at a time, since they require employee specific fields to be filled in by the HR admin. A classic example of this is most offer letters which include fields like salary, start date, and title.
Add a new Document Template
We provide a handful of default templates for you to use. If you have other company documents that you would like to use, GoCo can take your existing company documents and make them "magic".
From the Company Profile, click on Manage from the Documents section. Here you will see the existing Document Templates. Click on "Add New" in the appropriate category to create a new template.
Upload your file, and then we will ask you how the document will be used.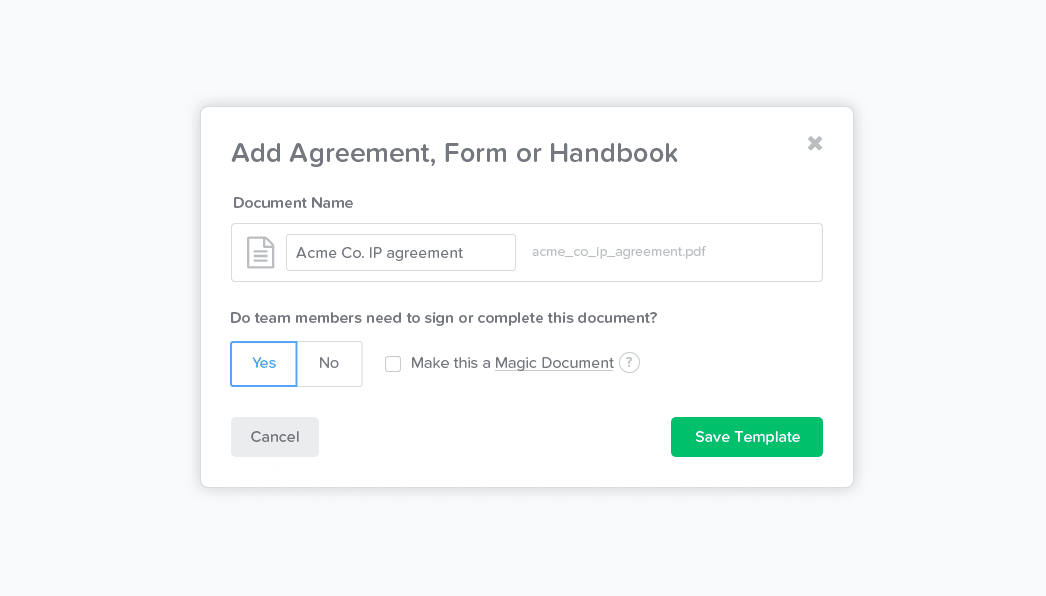 Some documents need to be simply acknowledged - no signature or fields to be filled out by the employee (example: some company handbooks). If this is the case, answer "No" for the question about "sign or complete this document?"
If the employee does need to complete the document, choose "Yes". For these documents, you have the option to make them Magic. More on this below.
Magic Templates Automagically Fill In Fields
GoCo can take your existing company documents and makes them "magic"! Magic templates allow documents to be completed digitally by automatically filling in company and employee information and allowing an e-signature. It does take a few days for us to initially setup your template, but it's well worth it. Alternatively, you can choose to not make your templates magic, and employees will have to download the document, complete it, and upload it back.