= 50)" :class="navScrolled ? 'lg:mt-20' : 'lg:mt-32'" x-transition >

Blog Articles
Volunteer Time Off (VTO): Everything HR Needs to Know About Creating a Policy Employees Will Love
Everything to consider when creating a volunteer time off policy
Do you want to create a company culture that not only benefits your employees but also makes a positive impact in your community? One way to achieve this is by implementing a volunteer time off (VTO) policy, where employees receive paid time off to volunteer at a non-profit, school, or other cause they're passionate about.
But is a VTO policy right for your organization? Many business leaders are asking themselves this question and for a good reason. Such policies can increase awareness of social issues, boost team morale, and promote diversity and inclusion in the workplace.
This article will serve as a resource for HR on everything to consider when creating a VTO policy, whether it's right for your business, and how to implement it easily.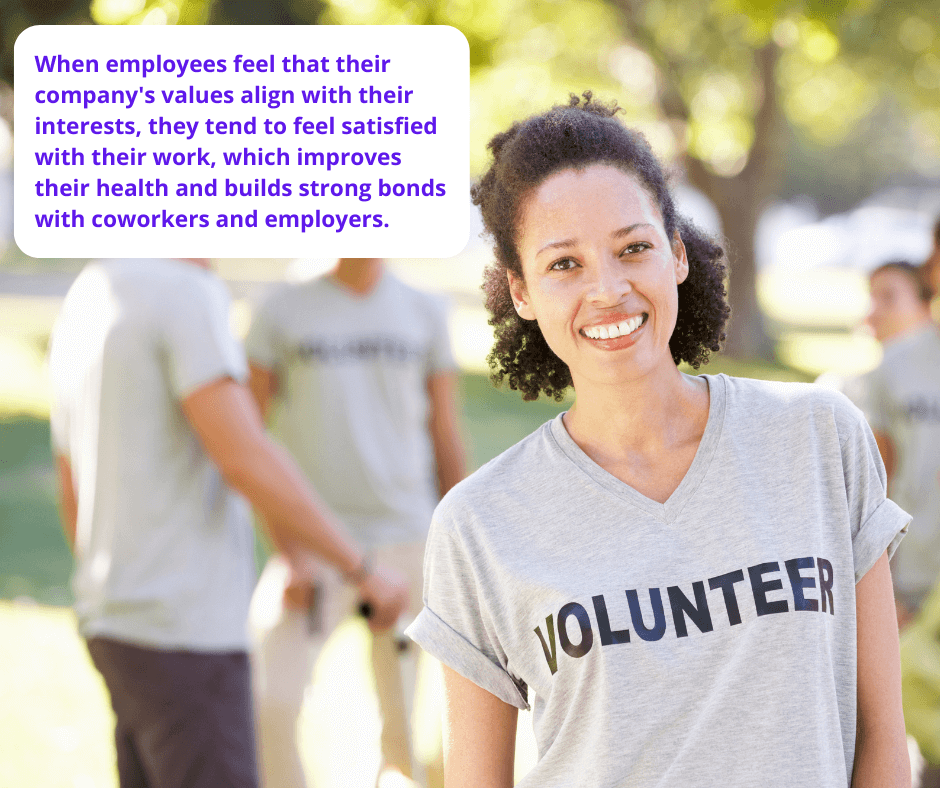 What is Volunteer Time Off?
Volunteer Time Off, often abbreviated as VTO, is a unique employee benefit that enables employees to serve in a community or charitable organization while still receiving regular pay. This innovative paid leave policy allows workers to contribute their time to approved nonprofit entities or charity events, thus making a meaningful difference outside their workplace. The selection of the organization for volunteering can be predetermined by the employers or left to the employee's discretion, thus offering flexibility.
A robust Volunteer Time Off policy enhances employee satisfaction by enabling them to contribute to causes they care about and allows companies to extend their corporate social responsibility beyond mere monetary donations. Ultimately, these VTO policies can be a valuable tool for attracting and retaining a committed and socially conscious workforce.
Download The FREE Remote Employee Engagement Survey Template [2023 Update]
What are the benefits of offering Volunteer Time Off?
To start, a VTO policy can allow employers and employees to positively impact a social cause or in their community while enhancing (or starting) their corporate social responsibility efforts - creating a ripple effect of social change.

"After organizing volunteering events, it is part of our policy to reward the effort of the volunteers," says Adam Garcia of The Stock Dork. "Program volunteers are unsung heroes that need appreciation and recognition from the management. We hold a formal ceremony to honor their efforts and invite not just our employees but also the locals who volunteered for the events. We believe that putting extra effort into acknowledging deserving individuals creates a chain reaction of good deeds. It encourages others to join our campaign and execute the same noble acts."
Companies that offer VTO increase employee engagement by up to 7.5% and productivity by up to 13%
But offering VTO can also make an employer more attractive to candidates - particularly as Millennial and Gen Z employees tend to seek more progressive companies offering added perks. And beyond being attractive to potential candidates, employers might also find that this makes them attractive to potential customers or clients.
It can foster a culture of inclusion and giving by letting employees take time off from their standard work to help the community or work towards a cause they're passionate about. This can spark benefits from improved productivity to enhanced satisfaction and engagement on the job - while also strengthening the employer-community connection and recognition.
Of course, a business should decide if a VTO policy is the right fit for them. Some companies like Deloitte offer unlimited VTO - but they're a large company that won't be easily affected by staff shortages in the ways that a smaller business would.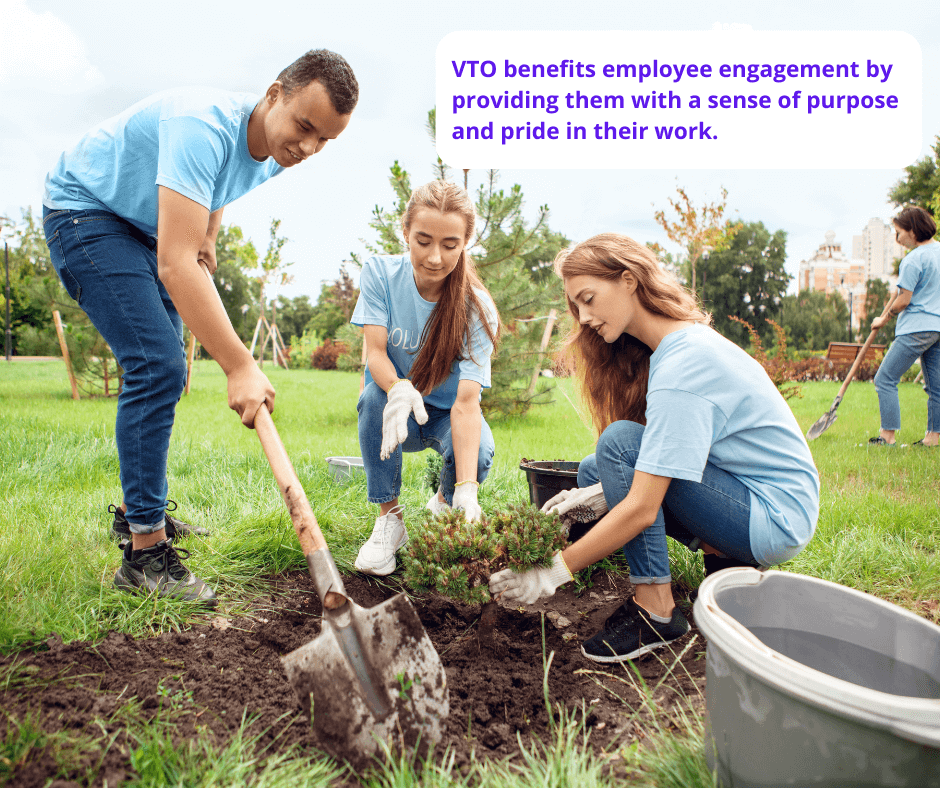 What should you evaluate before creating a Volunteer Time Off policy?
There are a number of considerations that employers should think through before rolling out a VTO program.
Who is eligible?
Will this benefit be eligible for part-time employees and full-time employees? Will organizational rank and tenure be considered? Are there any performance or other requirements to receive this benefit? E.g. If an employee is on a Performance Improvement Plan, will they be eligible to take this form of leave?
What organizations are eligible?
Can employees select an organization of their choice? E.g., volunteering at their child's school for the day? Or will the employer present a list of approved organizations? Can employees volunteer for political organizations? It's worth considering what stipulations there will be, if any, to selecting an organization. After all, if an employee selects an organization that is out of alignment with organizational values or that is particularly inflammatory or a topic of heated debate, that has the potential to create several problems.
What types of volunteering are eligible?
Do employees have to volunteer for a specific event, or can assisting with any organization's tasks be included within the eligibility for VTO? E.g., helping disburse food at a food bank. Can employees volunteer in areas that align with their normal roles? E.g., assisting with marketing, accounting, human resources, or other organizational functions. Sometimes, if the volunteer work is closely aligned with their role at the organization, this can create a conflict of interest - especially if the employee or organization provides such paid services to clients.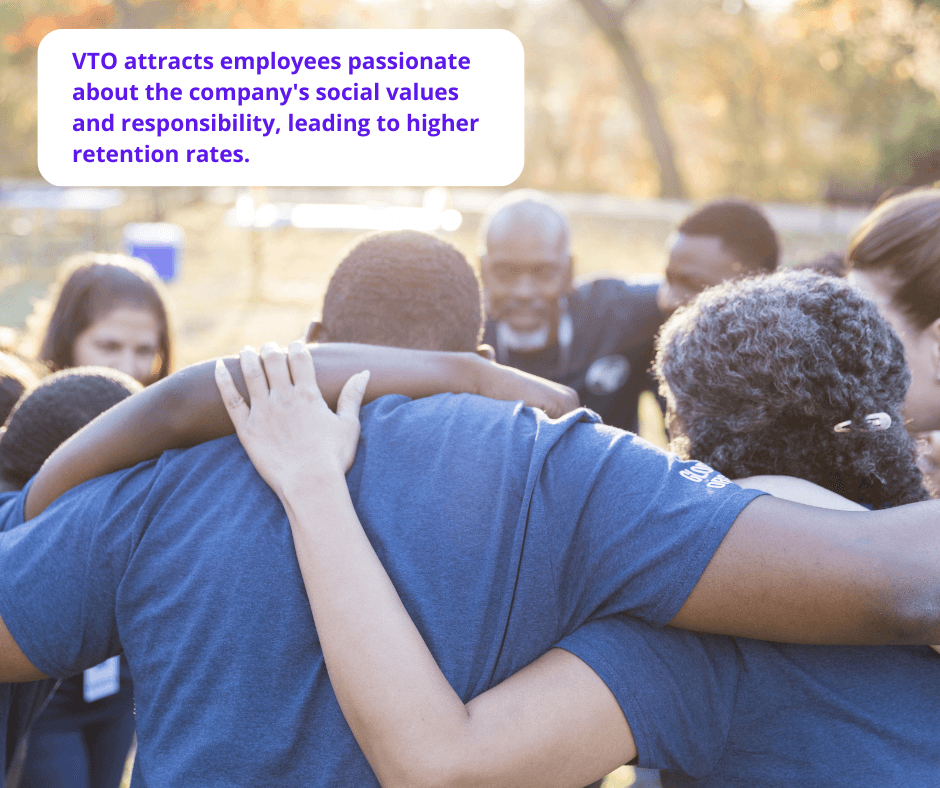 How many days do employees receive?
Is VTO added to their general pool of Paid Time Off, or does it go into its own "bucket?" Will employees be offered VTO in terms of hours or days? Does it need to be accrued? Can they receive more over time?
"Our company offers two paid days off per year for employees to use for volunteer activities," says Brian Meiggs of My Millennial Guide. "We also encourage employees to participate in group volunteering events, and we have a budget to cover the costs of these activities. We have previously organized group volunteering events at local food banks and homeless shelters."
What calendar do they follow?
Are their days allocated on a standard calendar year? Does it follow the fiscal year? What is the best way for employees to track their volunteer time?
How do employees request Volunteer Time Off?
Does it follow the standard process for Paid Time Off, or does the request require additional information about the organization and how they'll be volunteering? How far in advance must it be requested? Will there be blackout days? How will coverage be handled if a significant number of employees want to use VTO around a particular holiday? Who is responsible for approval?
"We encourage VTO as we understand how beneficial it is to our employees' mental health and wellbeing to volunteer for a cause they believe in and help others," says Zachary Weiner of Finance Hire. "In order to ensure that the workflow isn't affected, we required scheduled volunteer time off where a manager needs to approve it, and urgent employee tasks must be completed in advance."
How should you track Volunteer Time Off?
Custom Time Off Tracking— With a modern HRIS like GoCo, you can easily set up custom time off policies like VTO, even if it isn't the "standard" at businesses. All you need to do is customize your PTO policy, indicating that you want Volunteer Time Off to add to their PTO. Easily add managers who will approve VTO requests onto the policy so they can be notified, select employees eligible for the VTO policy, and even sync approved time off and holiday to your company calendars. Review all the settings in your new VTO policy, and you're good to go!
Updating Documents "Magically" - In addition to easy time off tracking for VTO within GoCo, you can easily upload, edit and update the actual written policy document at any given time. Policy changed? No problem. Make edits in real-time and easily send out updated policies to your employees. You can also add custom fields to be collected, from drop-downs to rich text fields, and make the VTO policy truly your own.
Ultimately, the decision to implement a VTO policy is at the business's discretion. While it can have a profound impact on the retention and happiness of the employees, the sense of community, purpose, and pride, and the brand recognition of the company, it may not be the best fit for every single business for financial reasons or otherwise. When executed well, it can benefit employees, businesses, and community members alike.
Recommended Posts