= 50)" :class="navScrolled ? 'lg:mt-20' : 'lg:mt-32'" x-transition >

Blog Articles
State of Layoffs 2022 Q3 Update
In August we published our State of Layoffs 2022 report which covered the first two quarters of 2022, all layoffs up until July 2022. We...
In August we published our State of Layoffs 2022 report which covered the first two quarters of 2022, all layoffs up until July 2022. We reported some interesting and alarming trends in the current state of knowledge workers and tech. 
Key findings included: 
Q2 of 2022 was the greatest number of layoffs since the start of the pandemic.  

B2B employees in industries like Recruiting, HR, Support, and Sales and Marketing were most affected in 2020. In 2022 we see that employees in B2C industries are most affected — those in Crypto, Security, Education, and Consumer.

Tech giants were strategizing their hiring. Apple slowed hiring, and Meta, Google, Netflix, and Shopify had all announced hiring freezes.

Some companies tightened performance management as a substitute for layoffs.
We concluded our report with the reminder that layoffs occur because a company has failed to address its position in the current market conditions - which is no simple task. Layoffs are complicated and these decisions heavily impact people's lives.
We stressed the importance of using layoffs as a last resort and treating all employees well through difficult times. There is a need for visibility, accountability, and communication when layoffs occur. These traits allow for the cultural continuity required to survive a round of layoffs as a company. We suggested that as we continue through the second half of 2022, treating the people involved in layoffs with respect and doubling down on employee experience efforts is critical.
Here we are at the beginning of Q4 and there is an unprecedented amount of layoffs. The COVID-19 pandemic encouraged striking growth in e-commerce and many thought this trend was here to stay. The current macroeconomic downturn is compounding these changes in the markets. Tech companies are now leading with lean and mean as their focus and this has resulted in having to cut expenditures in areas like employee salary, often the highest expense for a company.
This unprecedented growth in the number of layoffs is due in large part to Twitter and Meta. Twitter laid off 50% of its workforce on November 4th, 2022. Elon Musk, Twitter's new CEO has been providing a prime example of how to mishandle layoffs. Rumors of layoffs began weeks before they occurred, little consideration was given to the remaining employee's experience, and some employees even asked back after they were let go.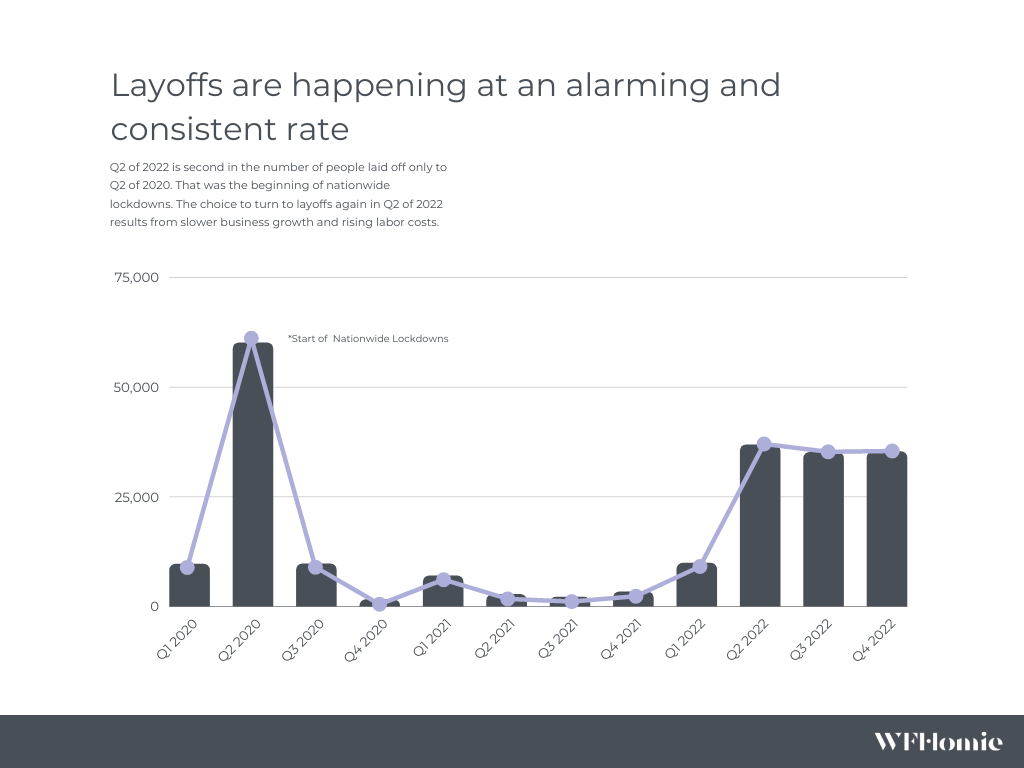 Meta laid off 15% of its workforce totaling 11,000 people affected. Mark Zuckerberg has displayed more diplomacy surrounding communication and logistics, however, layoffs seem to be shaking the company in a similar fashion to Twitter. In his Message to Meta employees, Zuckerberg takes accountability, saying "I want to take accountability for these decisions and for how we got here. I know this is tough for everyone, and I'm especially sorry to those impacted." This was a change in tone from his statements surrounding his decision to freeze hiring. "You might decide this place isn't for you, and that's OK with me." Zuckerberg warned Meta employees back in July.
Although Twitter and Meta are receiving a lot of attention, some other notable layoffs from the start of Q4 include Salesforce, Stripe, and Lyft. Salesforce and Stripe laid off 1000 employees each, and Lyft laid off 700. Outside of these highly publicized situations, what does the current state of layoffs look like since we last reported? We will provide an update from our previous eBook here.
Q3 State of Layoffs Update
In this section we will be reviewing the findings reported in the State of Layoffs 2022 report we released in August 2022 and updating the same data. We compiled our data from the data reported by layoffs.fyi and CrunchBase. With the alarming trends in layoff events at the beginning of 2022 we sought to answer the following questions: 
What types of companies have been affected the most?

Where are they located? 

What stage is being affected the most? 

Which industries? 

What are companies who aren't engaging in layoffs doing?
The number of companies laying employees off continues to grow throughout Q2 2022 
According to our analysis of layoff incidents and total employees laid off in the tech sector since 2020, layoffs through the first half of 2022 suggested that total layoffs this year could exceed those of 2020. This, unfortunately, was true. In our initial report layoffs up until July 2022 made up 33% of total layoffs from 2020-2022. Total layoffs in 2022 currently make up 56% of layoffs in that same time period, meaning that the number of layoff incidents in 2022 exceeds those in 2020 and 2021 combined. There have been 853 layoff events in 2022, 2020 saw 632.
Again, the majority of the layoffs occur in the US, however, Non-US based companies are also being heavily impacted.
The last three quarters of 2022 saw a staggering amount of employees laid off
In our initial report, we found that Q2, 2022 was second only to Q2, 2020 in the number of people laid off. Q3 and Q4, 2022 have nearly matched this number. We predicted that 2022 would outpace 2020, and unfortunately, we were correct in this assumption.  The number of employees laid off has been matched by Q3 and Q4 of 2022. Q2 of 2022 saw 60,141 employees laid off, Q2 through Q4 in 2022 saw at least 35,000 employees laid off each quarter.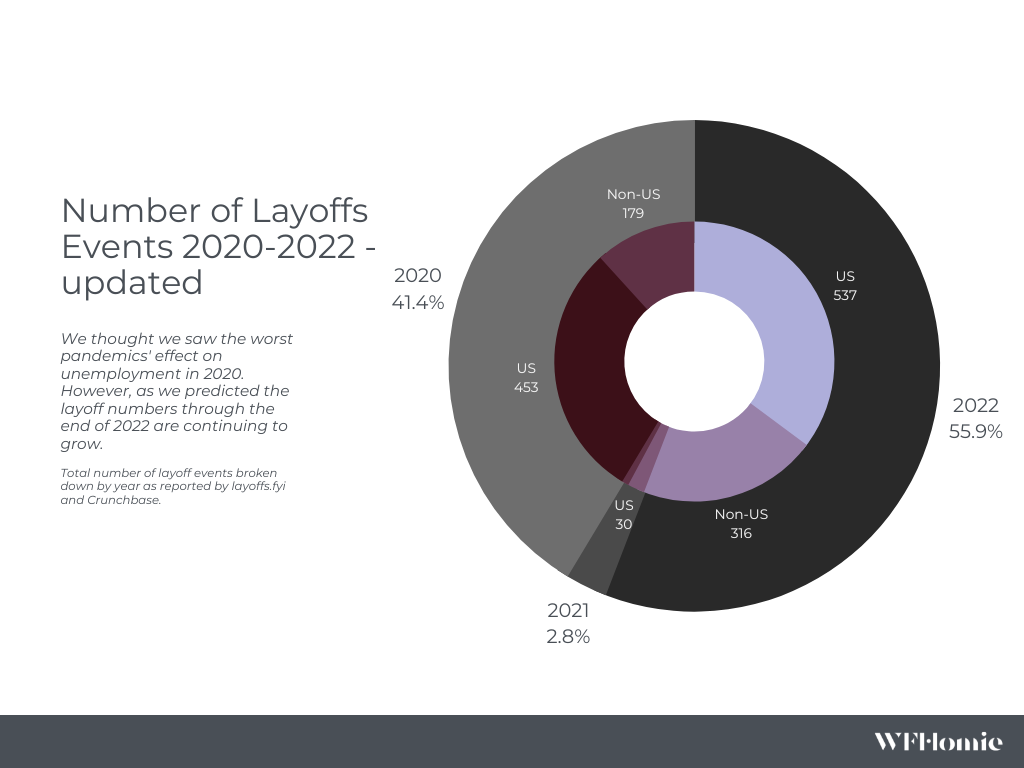 Few industries unaffected by layoffs in 2022
The industry breakdown has changed since we last reported. At the end of Q2, 2022 we found that B2B companies were more heavily affected in 2020, and B2C companies were taking the hit in 2022. We found that B2B businesses quickly adapted to virtual sales and that this change may have influenced this trend. In parallel with consumers cutting spending in the face of increasing inflation, making sales in B2C environments more difficult. 
However, Q3 and Q4 of 2022 have seen more industries being affected by layoffs than during H1 of 2022. A mix of B2B and B2C are more heavily affected in 2022 now. Across the board companies in all industries are feeling the effects of the current macroeconomic trends. The two notable industries that were more heavily affected in 2020 were HR and Recruiting. In response to layoffs, companies have been doubling down on their employee experience in attempts to bolster company culture for those employees who are staying.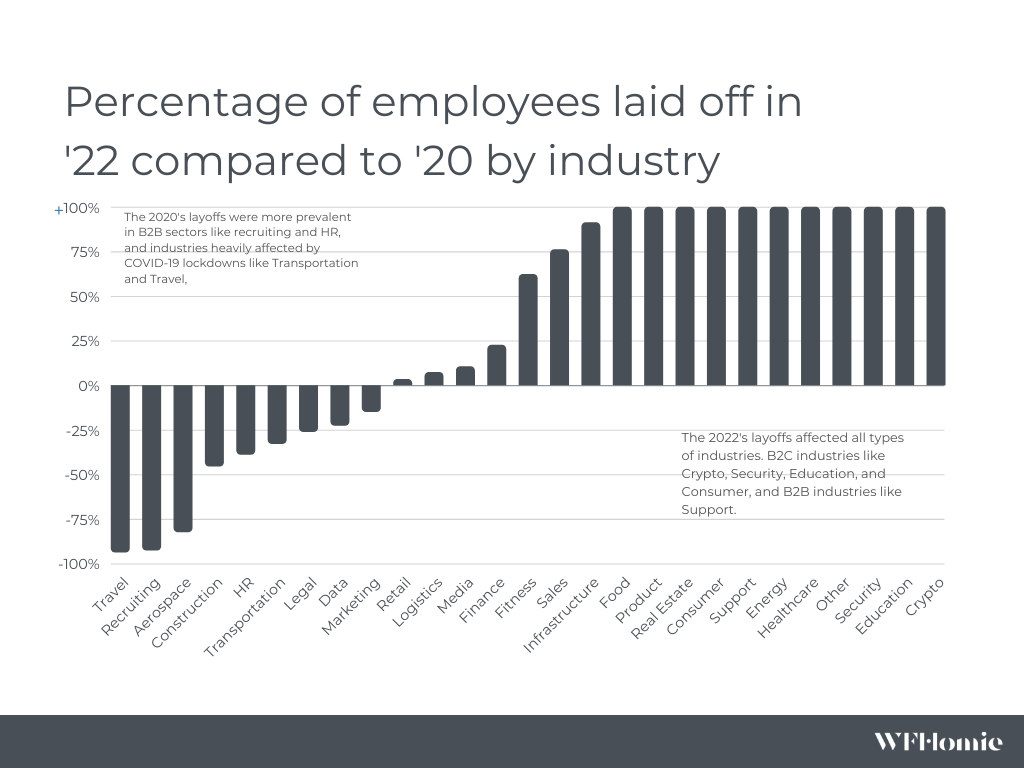 Often when layoffs seem to be the only option the first teams to be affected are recruiting and support, as companies have less of a need for them as they slow or freeze hiring along with announcing layoffs. Other B2C industries like Crypto, Security, and Education continue to be affected. 
Tech giants drive 2022 layoffs with x3 as many events happening at IPO companies
Looking at the updated data on layoffs broken down by the last fundraising stage did not see much change. Every stage from Seed through Series J appeared to be affected at similar rates. The one difference we found was that IPO is increasingly affected by layoffs throughout the last half of 2022. These numbers appear to be caused by x3 as many layoff events at IPO companies in 2022 compared to 2020. In 2020, 22,642 employees were laid off by IPO companies, and 48,360 employees have been laid off by IPO companies in 2022 so far. As we have seen tech giants moving from freezing and slowing hiring to actively engaging in layoffs, these numbers ring alarm bells.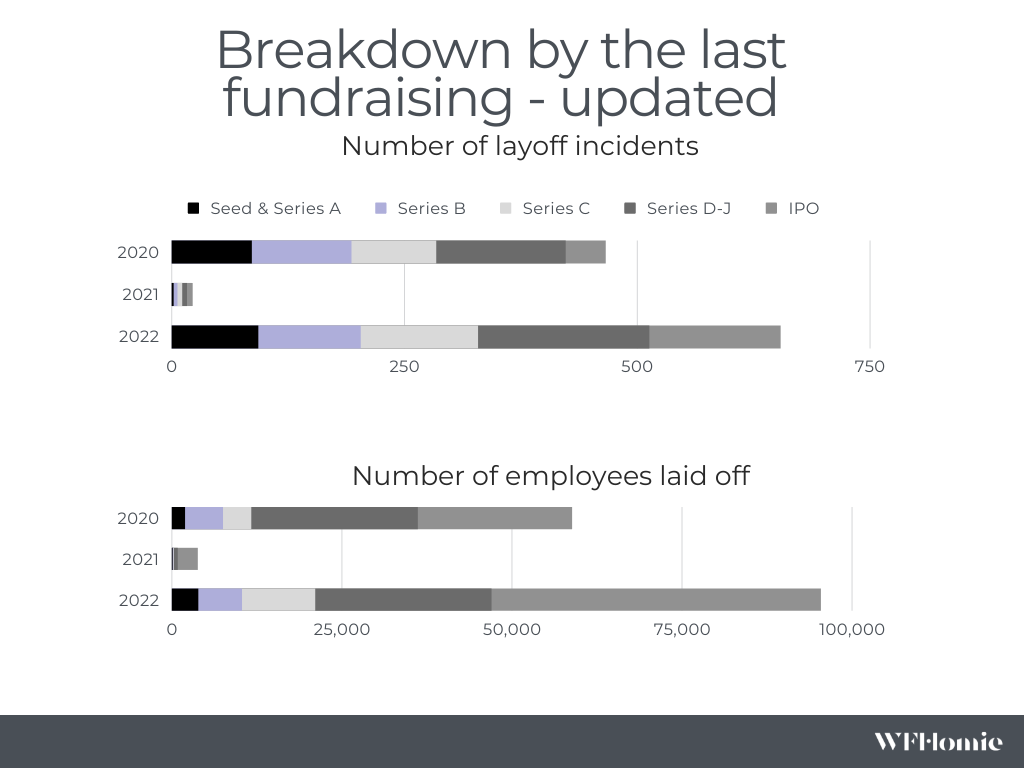 Who is Laying Employees Off? 
Not only are we seeing jarring layoff numbers from tech giants like Twitter and Meta, but industries and companies we previously reported on in our State of the Layoffs 2022 report are extending their downturns and engaging in additional rounds of layoffs.
We previously highlighted Coinbase, a crypto company, that had laid off 1100 people on June 14th, 2022 in response to a predicted "crypto-winter". The company cut at least another 60 jobs on November 10, 2022, as cryptocurrency continues to fall. A spokesperson for the company said these cuts would allow the company to operate more efficiently.
Redfin underwent another notable layoff event, with over 850 employees being laid off, making up 13% of the company on November 9th, 2022. The real estate company is feeling the pain of the downturn in the real estate market and is scrapping its house-flipping areas. 
Unacademy is an education company we noted in our previous report, they cut an additional 350 jobs on November 7th, 2022. 
Stripe is considered one of the world's most valuable startups. The payment company laid off 1000 employees on 11/3/22. Similar to Meta and many other companies engaging in layoffs at the moment, Stripe cited being too optimistic in hiring in over the last two years for the reason. A running list of Xtripe employees affected by layoffs can be found here.
Key takeaways
Based on all of the information currently available, we expect to see continued layoffs and hiring freezes at major businesses across industries in the coming months. Hopefully, companies will be able to see through the current economic turmoil and remember the reasons for their original success. 
What are we seeing?
2022 saw over 850 layoff events so far, and 2020 saw just over 632

107,164 employees were laid off through the last three quarters of 2022 so far, individual quarters are second only to the 60,082 employees affected in Q2 of 2020 

Few industries unaffected by layoffs in 2022, Twitter, Meta, Lyft, and Stripe are a mix of B2B and B2C structures and are a small sample size of the current list of companies conducting layoffs

x3 as many IPO companies are affected by layoffs in 2022
These trends suggest that working for a "big company" or "big brand" may no longer be the safest option. Instead, follow your passion, focus on where you can provide value, and be compensated in ways that you find meaningful - not just salary, but flexibility, mission alignment, and company culture. Finding a company and role that aligns closely with your values and motivates and furthers your career matters more now than ever before, since no additional job safety comes from setting these aside. 
NYTimes reported that Amazon plans to cut 10,000 jobs in corporate and tech roles this week. As consumers start to tighten their wallets in the face of increasing inflation and layoffs the B2C tech company Amazon looks to lean out. As companies attempt to address a striking shift in the market, that is likely to continue into Q1 2023, fortifying employee experience should be a priority to carry companies through.
The benefits of a strong employee experience to employee retention and overall growth cannot be overstated in today's market. Layoffs and economic downturns impact morale negatively, and the organizations that are able to retain and encourage their employees will see success more often in the coming months. 
Layoffs are difficult and the decisions heavily impact many people's lives. As we covered in our initial report, layoffs are a reflection of company performance, not individual performance. Running a company is no simple task, and evaluating the position of a company in volatile markets is not either. We must remember to focus on visibility, accountability, and communication when layoffs are the only answer. These traits allow for cultural continuity that is vital to surviving tumultuous times. 
There are many steps companies can take before resorting to layoffs. Some of them included slowing hiring and not backfilling positions, cutting unnecessary expenses like travel, encouraging vacation to burn off accrued balances, four-day work weeks with reduced pay, and offering remote work, among others. There are also unpaid sabbaticals, asking your teams where they believe spending can be cut, and cross-training and transferring your current staff!  If you are fortunate enough to be in a position to hire or are on the job hunt, Levels.fyi updates a Who's Still Hiring List, this resource is invaluable. 
Remember, treating people with respect and doubling down on improving employee experience strengthens companies. Running companies is difficult, and layoffs do not reflect individual performance, if Zukerberg can say he messed up and hired too many then other tech leaders can prioritize transparency and communication while ensuring their people are taken care of regardless of if they remain with their company.
Recommended Posts