= 50)" :class="navScrolled ? 'lg:mt-20' : 'lg:mt-32'" x-transition >

Blog Articles
Job Interview Recording: The Next Step in Hiring Transparency
The benefits, legalities, and equipment required to start recording your job interviews and improve your hiring process.
by Grace Lau, Director of Growth Content at Dialpad - May 1st, 2023
Interviews are a vital part of growing a business. While job seekers are eager to impress, employers are trying to find the best candidate for the job. However, there is often a lack of transparency in the hiring process, which can cause frustration and uncertainty on both sides.
One way to increase transparency is through job interview recording. This means employers record the interview and share it with other people within the business for review. You may also find candidates will request the recording in order to improve their own skills.
Having recordings of interviews also allows managers and HR to provide feedback on the interview process afterward, which can help employers improve their hiring practices. Below we look at the benefits, legalities, and equipment required to start recording your job interviews and improve your hiring process. Read our HR Compliance Guide to learn more.
Can my business record job interviews?
This is one of the most frequently asked questions about job interview recording and the short answer is: yes, of course! That being said, you do need to make this clear from the get-go for potential candidates and interviewing managers. After gaining consent, you just need to find the best equipment for video conferencing and interviews. 
Using a virtual assistant can help in scheduling and coordinating interviews, making the process even more efficient.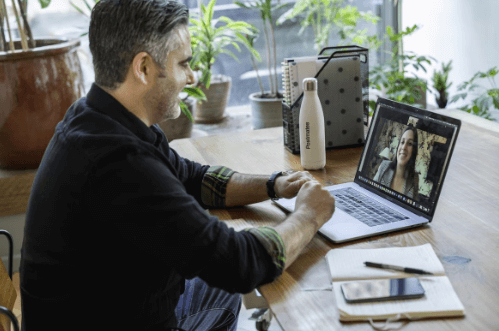 Understanding data laws on interview recording
When implementing video recording, you need to follow current data privacy and protection laws. This includes obtaining consent from the candidate as well as the interviewing manager. 
Any video recordings must be kept confidential and only be used to evaluate the candidate. It is good business etiquette to inform the candidate why the video recordings are taking place and who will be able to view them. 
Remember: a candidate has the right to refuse video recording and this should not affect their chance to interview with your company. 
To comply with GDPR and similar data privacy laws, your company should create a consent form that can be signed by each candidate and details how exactly the recording will be stored. This way, you have a clear record of their agreement and they're fully informed. You can also reconfirm consent verbally at the start of the interview.
Being recorded for a job interview can make the process more daunting, and a candidate has the right to change their mind at any time. This is the same whether you are hosting a virtual interview or a one-way video interview, so make sure you have clear guidelines for what to do should this happen. 
How to record job interviews
Inviting candidates to interview is the first step in this process. This can be done via email – whether you are doing the interview in person or via video calling software. You may need to use an email verification service so the invite doesn't bounce back or end up in the candidate's spam. 

As with any new business process, there can be growing pains. Make sure to do a few practice runs internally in order to ensure that both the video and audio quality are great before interviewing candidates.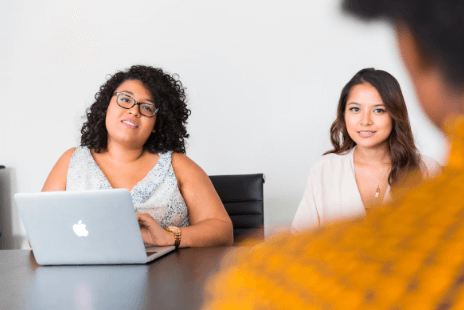 Recording in person may require a little more time to get right. For instance, you will want to consider the position of the video equipment. It may feel more natural for everyone involved if this is not in plain sight, but this is dependent on the shape of the room. 
Play around with the camera placement to ensure you can still capture crisp audio while taking into account the video quality. For best results, natural light should be utilized. If it's too much of a challenge or too big a distraction, consider audio-only recording solutions. These are far less obtrusive and will still capture the important information you need to review.
The benefits of recording job interviews
Recording a job interview can be helpful for everyone involved. Let's look at some of the benefits below:
1. It saves (a lot of) time
Time is money, and when it comes to interviewing candidates all day long, video recording can save a lot of time! If multiple people need to review the interview, the video can be shared easily. This means nobody needs to make sense of quickly scribbled notes or rely solely on memory. 
It can also save time with scheduling since you don't need to find the perfect spot in everyone's day – as long as the main interviewer and the interviewee are available, everyone else can assess it later.
You may even want to rewatch an excellent candidate interview later with shareholders or managers with the help of a desktop screen-sharing software. This allows a few people within the business to have input before the final decision is cast. 
2. Provides a useful reference for later
Recording a job interview allows you to refer back to the conversation and catch anything you may have missed or forgotten. This is perfect for first-time managers who are refining their interview process. 
It is common for both the interviewer and interviewee to be nervous during an interview, so having a recording makes catching up afterward easier. Nerves make it easy to forget what a candidate has answered or for things to go off-topic.
Job interview recordings can also be used to compare candidates' responses with one another. This allows your business to sort out which candidates best match the company's culture, values, and job requirements. One major advantage of recordings is the ability to 'clip' specific answers out to compare directly – for instance, if you've asked about their qualifications, you can easily assess who has the best background for a data engineer role. 
3. Allows interviewers to give their full attention
Video recording takes away the need for constant note-taking. This makes the interview flow smoothly and allows the interviewer to give each candidate their full attention. Although some note-taking is advised (especially anything that requires a follow-up or is of interest), the interviewer can instead concentrate and make the candidate feel more comfortable.
4. Makes the hiring process more accessible
Often, potential candidates will have existing commitments such as their current job or duties. They might also be based quite far away from the job, especially for remote roles or if they're intending to move later. Recording interviews can help make the hiring process more accessible by allowing it to take place digitally. And, as mentioned earlier, it's easier to schedule.
This is particularly important from an HR point of view if you want to promote diverse, inclusive, and equitable hiring. 
5. Enhances candidate feedback and employee training
Recording job interviews can help HR departments provide new employees with better training and onboarding experiences, as they can refer back to it to see what strengths and weaknesses your new hire has. Did they highlight wanting to learn a particular skill in the role? Help them feel valued from the very start by providing resources regarding it.

Additionally, having a recording can help with providing feedback to interviewers, as great examples can be shared around the team.
6. Video recording is low-cost and easy to implement
Using a video call or VoIP software makes it easy to record job interviews, with software like Dialpad being a great low-cost solution. Plus, if you use this software internally, you don't need to buy anything new!
Interview recording best practices
There are many different ways to record job interviews. The equipment you need will depend on many factors, such as if you are a remote company holding virtual interviews or if you're looking to host them in person. 
Equipment
The first things you need for a successful virtual interview recording are a high-quality webcam and microphone. Gone are the days of hosting a telephone interview, meaning you need to find the best magicJack alternative for your business. 
A good video feed looks more professional and allows the candidate to see your face clearly, while clear audio ensures all your questions are clear and easy to understand. This makes for a smoother interview process.
High-speed internet is also required, and you may want to plug in your laptop or PC using an ethernet cable to improve the connection. Lags, audio issues, or disconnections can make the interview an uncomfortable experience and, as a worst-case scenario, lose the recording entirely.

Now all you need is screen recording software (unless the call software you're using comes with it included), and you're ready!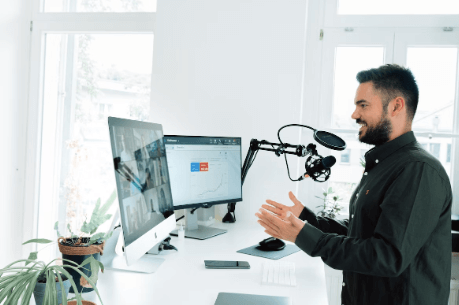 If you are recording in person, a decent smartphone can do the job. All you need is sufficient storage and a stand that can be positioned to get a clear view of the interviewer and interviewee. Having an app that backs videos up to the cloud is a must-have here, as it makes the videos easy to share afterward.
Getting ready for the interview
Make sure the interview is done in a quiet place, away from distractions and noises that can disrupt the interview and the recording. Have plans for dealing with any tech issues, such as having IT on hand for the first few interviews. 

Unfortunately, you cannot control how the candidate's video and audio look. Before the interview, you may want to advise candidates on video interview best tips, such as using an ethernet cable and high-quality equipment. 
Job interview recording: is it worth it?
Overall, job interview recording can be a valuable tool in promoting transparency and fairness in the hiring process. However, employers must carefully consider the legal implications and ensure that the process is conducted professionally and respectfully. 
Happy candidate searching!
Recommended Posts