= 50)" :class="navScrolled ? 'lg:mt-20' : 'lg:mt-32'" x-transition >

Customer Stories
SHIFT Customer Story
How SHIFT created a strong company culture and successful onboarding experience with GoCo.
I love GoCo, and I adore their customer success team, because they are really who have made the experience all that it is for me.

Renee Campbell, HR @ Shift Media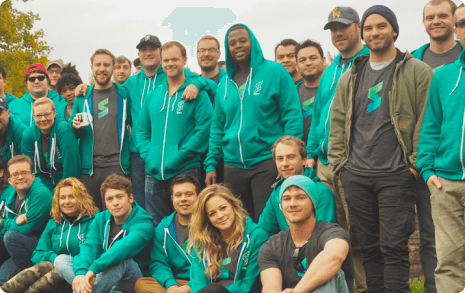 As a technology company, SHIFT is committed to efficiency, effectiveness, and user-friendliness in everything they do, so bringing GoCo into their HR department was an easy choice.
We sat down with SHIFT to learn how they're using GoCo to improve the way they hire and onboard new employees, administer benefits, and create agile, seamless processes for HR. Here's their story:
SHIFT: A Brief Overview
SHIFT is a video post-production and media management platform that fuels creativity and collaboration across all industries. Headquartered in Boston, and with another office in Los Angeles and remote employees throughout the country, the two-year-old tech company grew from two SaaS companies, MediaSilo and Wiredrive.
SHIFT currently has around 50 employees, many of whom were hired after the company implemented GoCo as its HR management, including Human Resources Manager Renee Campbell and Director of Marketing Taylor Corrado. 
How SHIFT is Using GoCo to Create Clarity and Order in HR
With more than 20 years in Human Resources, Renee Campbell has worked at a number of large entertainment-based companies in and around Los Angeles. But she's also partnered with several companies that didn't have massive HR budgets, so the majority of the hiring process was manual.
Most systems were either paper-based or, in the case of companies like Disney and Fox, involved complex internal systems tailored to the company. For Campbell, this meant having to learn new systems and processes with every new company she worked for.
"[Having] to work with all those outside vendors and be able to do it effectively and have that data was difficult," Campbell recalls. The systems she worked with in the past were more like a patchwork of smaller systems rather than a unified solution, and that impacted everything from data transfer through payroll to benefits management. 
GoCo fills in the gaps left behind by the fragmented systems Campbell worked with in the past. It provides a single solution for benefits administration, hiring and on-boarding paperwork, payroll, and time-off requests.
The interface is easy to use for admins and employees alike, and even new employees like Corrado can figure out at a glance what benefits they're enrolled in, what they're eligible for, how they can request time off, and so on.
"What's great about it is that I can customize offers and make sure the package is based upon their location because we have employees in various states," says Campbell. "I'm able to go in and customize that package and then just know that it's going to be seamless so that there's nothing else I need to do."
Life After GoCo: The Lasting Impact on Employees and the HR Team
When Campbell joined the SHIFT team a year and a half ago, GoCo was already in place. Campbell recognized immediately that her role as HR Manager was going to be different this time.
GoCo prompts what needs to happen during those next steps. It communicates the timing of each step and also keeps HR informed on each employee's progress. "I can see when an employee hasn't completed the open enrollment process and can take on a more proactive role instead of a reactive one,"  says Campbell.

As a new employee, Corrado saw immediately what a difference GoCo made in the hiring process. "I got to do all the paperwork and the [benefits] enrollment before I even had my first day of work," recalls Corrado. This includes filling out everything she needs to be added to the payroll automatically so she can start getting paid right away.
Both Campbell and Corrado rave about how easy it is to tailor GoCo features to their needs, from mid-year benefits changes to adhering to the multitude of compliance regulations in California and Massachusetts. 
Campbell uses GoCo's ADA and ACA compliance module, noting that she "find(s) it just like all of the other GoCo processes, just very straightforward, visually nice to look at, and easy to use."
"We recently made some benefit changes that gave the employees a new holiday, and updating GoCo to reflect this was super simple," explains Campbell. 
Final Thoughts: SHIFT Sets Up Every New Hire for Success
Bringing order and clarity to Human Resources is challenging, but it's not impossible.
"Being able to integrate the employee benefits, onboarding, and payroll into a single center helps us stay organized, accurate, and efficient," notes Campbell. "Seeing data transfer over correctly because of this integration has been really nice."
For more inspiration on how GoCo can help your Human Resources department succeed, head to the GoCo blog.
SHIFT
Where creative work flows
| | |
| --- | --- |
| Core Business | Media and Entertainment |
| Year Founded | 2017 |
| Location | Boston, MA |
| Workforce | 50 Employees |
| Became a GoCoNut in | 2017 |
| Biggest HR Challenge | Having a unified solution to streamline HR needs |
| Website | https://shift.io/ |
Schedule a Demo