= 50)" :class="navScrolled ? 'lg:mt-20' : 'lg:mt-32'" x-transition >

Webinars
Using Data To Attract, Onboard, & Retain Today's Caregivers
Actionable, data-driven strategies for hiring and retaining health and home care workers in 2021
Presenters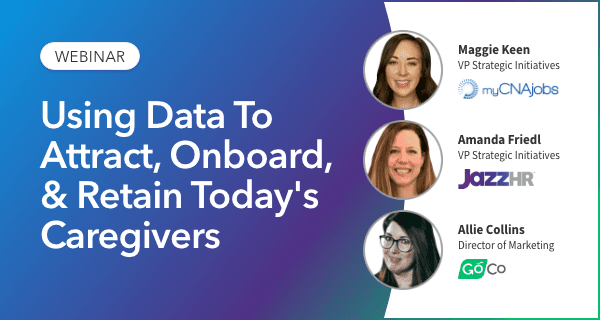 March 02, 2021 at 7:00 AM EST
After an unprecedented year where we all had to adapt on the fly, we're taking control and getting ahead of trends for 2021. That's why we've partnered with JazzHR and myCNAjobs to discuss the latest data and insight and gain new thinking to attract, onboard, and retain today's caregivers.

Accelerate recruitment and retention programs, driving better results. We'll unpack 9 trends alongside actionable strategies that you can bring back to your agency to test and immediately implement.
Data doesn't matter, but what you do with it does. Join three companies with a common goal - to help your agency get stronger based on what we're seeing in the data work and not work.