= 50)" :class="navScrolled ? 'lg:mt-20' : 'lg:mt-32'" x-transition >

Blog Articles
Fostering Belonging in Remote Workplaces With Andy Santos
Learn about fostering inclusivity and belonging in remote workplaces with Andy Santos, Director of People and Culture at SpotHero.
Andy Santos loves board games, volunteers in his free time, and can't watch movies alone without getting bored. He is also the Director of People and Culture at SpotHero, North America's #1 smart parking app. "We provide easy parking for everyone," he notes early on, "and that's how we create space for life."
Treasuring employees' space for life is something Andy has thought about a lot after abruptly shifting to a remote set-up in March 2020. "We were sent home mid-day, and it was a quick transition," he notes. "We just grabbed our laptops, went home, and started creating our [People Operations] strategy — like, how do we do this now? How do we make sure our communication and belonging stay consistent?" Joining the SpotHero team soon after, Andy answered those questions remotely.
According to the Harvard Business Review, belonging is linked to a 50% drop in employee churn and a 56% increase in job performance. Unfortunately, 40% of workers in the US felt excluded and lonely at work, even before the pandemic.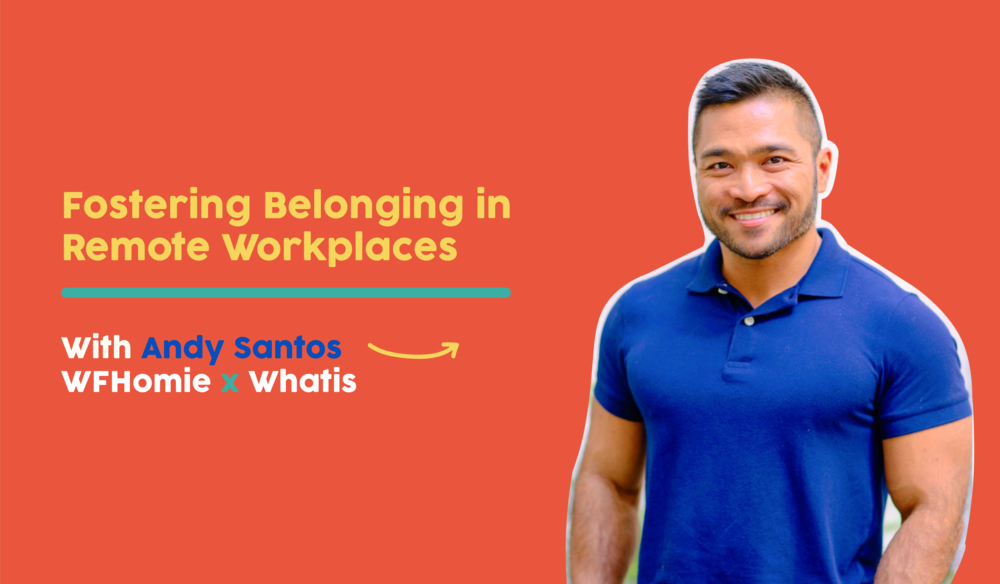 What was it like for you to complete your onboarding at SpotHero remotely?
It was my first time onboarded and working remotely, so it was pretty interesting. When I joined SpotHero, I took many notes and asked people questions. Listening to other people's experiences makes you say, "Oh, I didn't realize that. You're right! Let me write this down so we can add that to our list of things to improve on and be inclusive of everyone's needs — what I consider to be my needs might not be the same for all people."
Now, I lead many programs centered around culture, employee engagement, leadership development, onboarding, diversity, equity, and inclusion. I get to collaborate with a lot of awesome humans — it's a blessing for me to be around people who are genuinely passionate about making SpotHero a great place to work for all.
What does belonging in the workplace mean to you?
To me, belonging in the workplace means a sense of comfort in expressing yourself — not being afraid to take risks, share feedback, or make recommendations, and overall being authentic.
I feel a sense of belonging at SpotHero because not only did I feel welcomed from the beginning, but as I got to know more people in the company, I realized that everyone is just there for each other. Knowing that people appreciate where I'm coming from— so, English is my third language, I'm an immigrant, and I'm a member of the LGBTQ+ community — I felt like that was celebrated. People were just curious to get to know me.
That says a lot about the people you work with when it's not just, "Oh, how can we benefit from this person," but also, "We want to get to know you for who you are and celebrate you for it."
What is the value of cultivating that sense of belonging at work?
It's so important to cultivate a sense of belonging in the workplace for everyone. Inclusion and belonging should be top of mind because they help people come to work as their authentic selves. When people are in that mental space, they are more comfortable taking risks, leading to innovation and success.
In HR terms, belonging also helps with retention because if people don't feel like they belong, they will just leave, right? They're not connected to their community, they're not connected to their company, so it just feels like a job to them. Especially right now, with remote work — if you don't feel like you belong to anything, then you'll feel like an island and quit.
It can take a lot of work to invest in continuous engagement. So, where do you even start to create belonging in remote workplaces?
When it comes to fostering belonging at work, we need to think about where we are first and then where we're trying to be regarding a goal. I think, for me, it starts with understanding people and their various needs and being inclusive.
Providing an environment where people feel like they are trusted, empowered, and connected to how they're making an impact — whether that's an impact on customers, the company, or their coworkers — is a huge factor in people's sense of belonging. It won't be done overnight because belonging and inclusivity require a strong foundation. That foundation comes from education, building empathy, and leading by example.
What challenges do you see companies struggle with regarding remote belonging?
In general, many companies are committed to diversity in the workplace, which is great. But if we don't foster belonging at work, especially for underrepresented groups, then a diverse community of employees will not be activated, and, worst-case scenario, people will just leave.
Now, with remote work, there are people like me whose office is also their bedroom. 
Sometimes, it feels like I am always working because my resting space is also my working space. So, we have a hybrid work strategy that focuses on being inclusive of people's different types of needs in work environments, even in other places or time zones.
I also think of parents who've had to deal with the changes that COVID-19 brought in terms of schooling and babysitting. Parents might not want to participate in a 5 pm virtual happy hour because they have other responsibilities. We're thoughtful when scheduling events and team-building activities that don't take time away from people's personal lives.
How are team-building and belonging connected?
Team-building is essential when working remotely because, for the most part, people don't have the opportunity to build a relationship in person, and it could make them feel isolated. Board games, watercooler conversations, those just don't happen anymore — so how do you cultivate that culture of belonging? You need to ensure people are still getting to know each other and feeling comfortable sharing feedback or having difficult conversations.
I mean… Can you imagine having a difficult conversation with someone you don't have a relationship with? It could be awkward. Team-building activities, or just having time to get to know people, are super important because they help people connect with each other outside of projects and with other humans they may not work with on a daily basis.
Could you give us an example of team-building at SpotHero?
We had our 10th anniversary recently and celebrated our wins with a week of events.
I had the most fun at the company picnic!
We also had a Service Day, so people felt like they had time to contribute to the community and not worry about work while building a relationship with coworkers. To be inclusive of everyone's needs, we asked ourselves, what do we do for people who want to show up in person? 
What do we do for people who don't feel comfortable or can't go in person?
In the end, there was a beach cleaning activity, but there was also a remote opportunity to do closed-captioning in videos for people who are hard of hearing or prefer it. If you can do closed captioning for anything you present, please do so because it's more inclusive of everyone's needs and how others may prefer to receive information.
So, tell us more about communication and belonging at SpotHero.
There's a lot of thought put into how we can be flexible with people's needs and accommodate people as individuals. In my team, we have this Operator Manual conversation in which we discuss fun facts about ourselves, what we are like on our best and worst days, how people can support us in those times, and how we would like to receive communication. 
It's getting to know a person outside of work and at work.
One of our values at SpotHero is signaling how you do for fellow drivers. For example, some people might email at night, but that's just when they are most creative. Signaling means saying, "Yes, I might email you something at 9 pm, but please don't feel like you have to respond, I'm just really creative in the evening, and I use that time to work on high-impact projects."
Otherwise, schedule formal feedback sessions while allowing informal feedback sessions to be given in real time. Making space for formal and informal feedback loops helps foster communication between individuals and teams. It also lets people tackle challenges as they come, so by the time you get to the formal feedback session; issues are already being addressed.
Lastly, as a manager, try to connect with each person on your team in 1-on-1s. Be available and be present — super, super present. Listen to their needs, check in on their capacity, and let them know you're there if they need help or have recommendations. Make sure they feel supported.
How do you ensure people are on the same page at SpotHero?
Explaining the 'why is an essential factor when it comes to effective communication at SpotHero. We ensure that our teams are aligned with why their work is essential, what they're contributing to, and how it fits the company's overall goals. That way, they know that their work matters and the impact they are making.
Being connected to what the company is trying to achieve also helps employees feel like they have more autonomy and freedom to think of innovative solutions — because people are not robots, right? It's not just like, "Oh, this is our specific goal, and this is how we do it." You have to explain why that matters. Then, they can think not just of how it's been done before but also, "Oh my gosh, if that's what we're trying to do, then maybe we could do this as well." That makes communication powerful.
Any final thoughts?
I keep mentioning inclusion and empathy, but it's imperative. You have to be consistent in being committed to belonging and creating a space for life for your people. If possible, promote an environment that gives people the flexibility to work when it's best for them and focus on results rather than when people clock in or clock out
Belong is everybody's responsibility, but leaders must set an example. They have to promote that culture consistently. Initially, it may seem like a process, but when it becomes natural, that is when you have really elevated your work culture. When it becomes a part of the culture, it's not working anymore. It's just accountability for people to support each other instead of saying, "Oh, this is part of our process; we have to do it."
Recommended Posts