= 50)" :class="navScrolled ? 'lg:mt-20' : 'lg:mt-32'" x-transition >

Blog Articles
5 Virtual Icebreaker Activities (Tried & Tested)
5 fun ways to help your remote team bond, connect, and communicate.
by Reza Farahani - March 27th, 2023
With hybrid and remote work here to stay, one of the biggest challenges remains getting (and keeping) your team engaged. While one of the best ways to include the whole team is through virtual icebreakers and games, you probably feel like you've done all the obvious things — office trivia, scavenger hunts, quick reflections, or that-one-game-you-always-forget-the-name-of.
If you're a remote leader, you might believe in helping your remote team bond, connect, and communicate well together, but you can't always find the time or energy to plan something fun. Maybe you're a colleague on that remote team and you think "Ugh, here we go again" every time. Or perhaps you're hosting an online conference soon, and you break into a cold sweat just thinking about hosting icebreaker activities.
What are some virtual icebreaker activities that don't suck — and why bother?
Virtual icebreakers are short and interactive team-building activities that, according to Slido, "help remote or hybrid teams to connect on a personal level and enjoy some fun social time together." By throwing one in at the start of your meetings, or hosting longer virtual icebreakers every now and then, you can help your remote team loosen up and feel comfortable around each other.
Virtual icebreaker activities help create a sense of belonging and trust within your remote team, which boosts both job satisfaction and retention. Your company also benefits from improved internal communication, along with increased motivation, productivity, and engagement.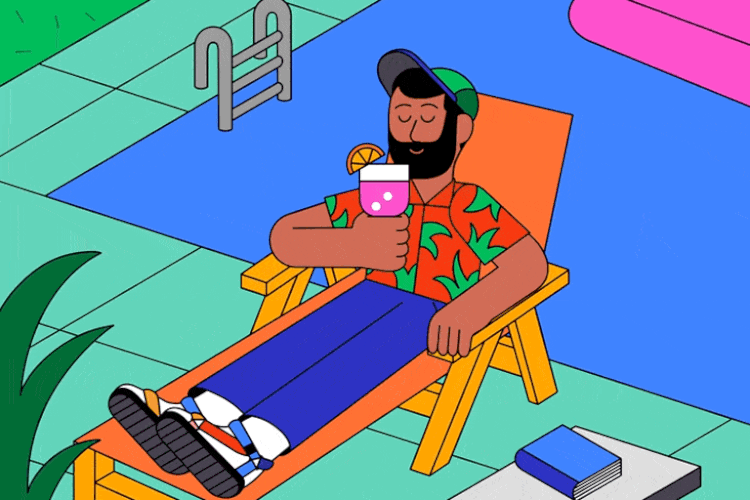 The importance of virtual activities in remote workplaces
As a rule, remote teams aren't able to enjoy the serendipity of office environments, where random encounters can lead to fun chats and games. Instead, remote leaders must put effort into the 'little things' that can build up your organization's culture and distinguish it from competitors. In a supply-side labor market, where top talent holds power over employers, you can't afford to overlook your remote culture.
5 virtual icebreakers o tried and enjoyed!
Our partners at WFHomie don't just enjoy virtual icebreaker activities – they make them for a living! Below are some of the most tried and trusted that they and their clients love. You'll notice we categorized them by awkwardness potential. Of course, it's not really about awkwardness, but rather about trust. Icebreakers suck when you choose activities requiring greater vulnerability than your remote team is prepared to give, so you should choose an activity that suits your current trust levels.

Virtual Origami Class
Awkwardness Potential:  Very Low

Ideal for: quiet, curious, creative remote teams

Group size: Small, Medium, Large

Length: 15-45 minutes
In this virtual origami workshop, WFHomie's talented host explains the history and evolution of the traditional Japanese folding practice of Origami. She then teaches you how to transform a simple square sheet of paper into creative and aesthetic shapes.

From the symbolism of the crane to the amusement of the leaping frog, you won't run out of cool folding projects! This chill virtual icebreaker presents the right mixture of interactive fun and tranquility to kick off intense work weeks or close a conference.
Draw From Memory
Awkwardness Potential:  Very Low

Ideal For: humble remote teams with a penchant for TV

Group Size: Small, Medium

Length: 3-15 minutes
The WFHomie team was inspired by the #DrawShrekFromMemory challenge on Twitter, a trend that commemorated two decades of Shrek. After laughing their hearts out for 10 minutes, they realized that any remote team can recreate this challenge for any Disney, tv show, movie, or pop culture character.  

First, give a heads-up to your team a few minutes before your meeting, letting them know they should have a pen and paper nearby. Then, pick an iconic character you've all heard of before. Find the associated theme song; as soon as you hit play, it's time to draw from memory. The second it ends, it's time to show your work… and the uglier the better.

As one #DrawShrekFromMemory proponent writes: "Can draw? Good! Can't draw? EVEN BETTER!!"

"Most Likely To" Polls
Awkwardness Potential:  Medium

Ideal For: funny, chill, and casual remote teams

Group size: Medium, Large

Length: 5-45 minutes
Playing a round of "Most Likely To" is bound to crack you up within minutes. For example, you might ask something amusing like "Who'd be the first to die in a zombie apocalypse?", and each answer option would be one of your teammates' names.
Here's how to play. The first question should be a test to ensure everybody understands how to vote. Then, set a 30-second timer for each question. When it rings, you reveal the results of the poll, AKA who's been voted "most likely to" for that question.
The trick is to make your questions more surprising, interesting, or downright embarrassing as you go — with laughter guaranteed. You can choose any number of questions to make this icebreaker shorter or longer, although more than 2 and fewer than 30 is recommended.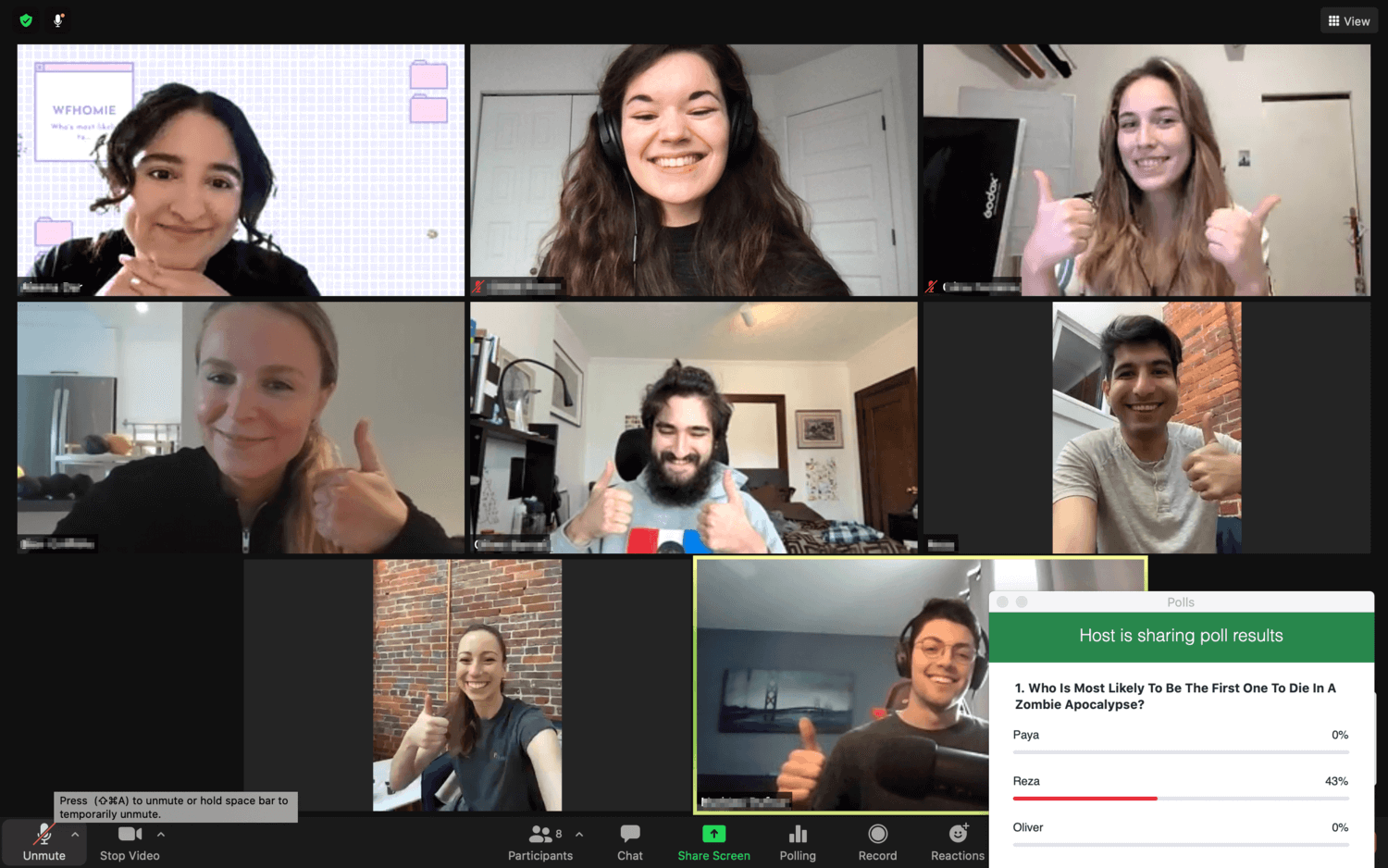 S'mores & More Night
Awkwardness Potential:  Low-Medium

Ideal For: quiet, curious, casual, and foodie remote teams

Group Size: Medium

Length: 60 minutes
A virtual S'mores & More night is the perfect blend of exciting and interesting to kick off an evening conference or ensure the perfect start to a cozy day. Prior to the virtual event, your team will have S'mores kits delivered to your homes, complete with a set of matches and candles. All you'll need to do is fire up your laptops and tune in to historic ghost stories and fun games while roasting marshmallows.
No Spain No Game Scavenger Hunt
Awkwardness Potential:  Low-Medium

Ideal For: casual, talkative, high-energy remote teams

Group Size: Medium

Length: 45-60 minutes
This virtual scavenger hunt lets you have fun as a team while exploring the secrets of Spain. This virtual icebreaker gives you the chance to explore your creativity and learn hilarious tricks with your coworkers.
The host is a skilled NatGeo winner from Barcelona who knows how to create a high-energy ambiance. This is an ideal icebreaker to jolt your team before a long work week or to get your creative juices flowing before a brainstorming or design session.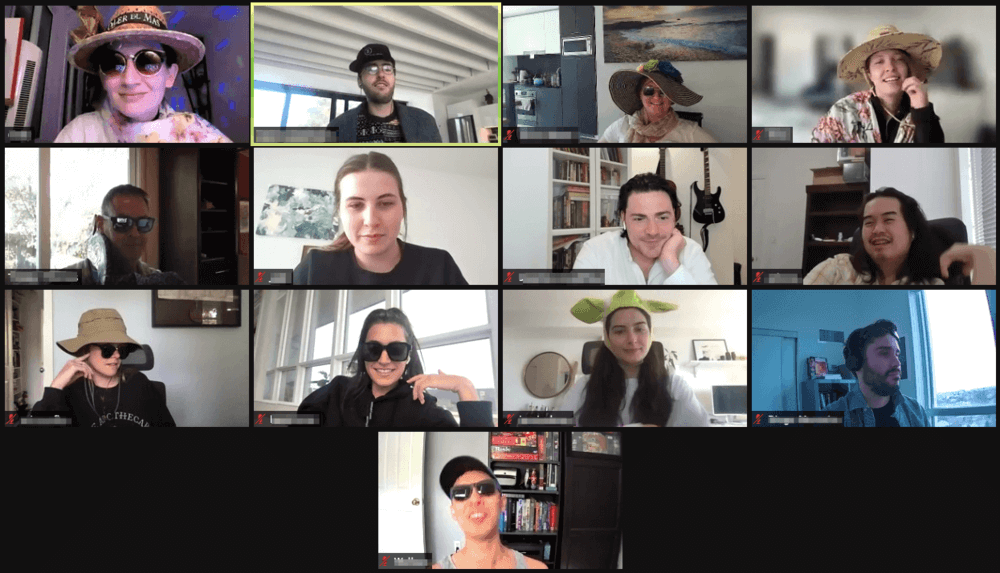 Final Thoughts
Virtual icebreakers can be a great way to make the transition to remote working more enjoyable and rewarding. They provide an opportunity for everyone on the team to get to know each other better and create mutually beneficial relationships, while still having fun!
Plus, they help organizations prevent burnout, improve communication, increase engagement levels, and show employees that their work is valued. For teams that are looking for a fun and productive way to bond, virtual icebreakers could be the solution. So why not give them a try?
Recommended Posts
Ditch the paperwork and onboard new hires in 15 minutes or less with GoCo