= 50)" :class="navScrolled ? 'lg:mt-20' : 'lg:mt-32'" x-transition >

Blog Articles
4 Reasons to Automate Employee Requests
Why it's time to streamline your employee request workflows, and how to do it efficiently.
If 2020 has taught us anything, it's that efficiency is key. HR managers all over are reviewing their existing processes and finding the most productive methods for onboarding, offboarding, employee engagement and more during a time of uncertainty. In addition to the "typical" duties, HR pros are often tasked with collecting and approving requests like:
Tasks that need approval:
Travel Requests

Business trips, seminars, etc.

Professional Development & Training Requests

Webinars, online courses, diversity training and other requests

Bonus & Compensation Change Requests
Role-Change & Promotion Requests
IT Access Requests

Access and approval to systems and networks
Fringe benefits or small bonus requests (this can go both places)

Get approval and distribute rewards for a friendly competition
Tasks that can be done at a designated time:
Equipment Requests

Laptops, desktops, and other equipment needed for the job

Supply Requests

Office supplies, crafts, and other supplies necessary for employee work
Each type of employee request requires HR involvement, whether that be approving equipment applications or verifying new supply pricing. Requests may also be time-sensitive and crucial to the continued success of team members.

Without a streamlined process for managing and tracking request workflows, pain points arise for both employees and HR managers. Employees may feel guilty for constantly reaching out to check on the status of their requests, and HR managers may feel guilty that they are unable to provide updates in a straightforward way. Having a clear process for submitting, collaborating on, and tracking requests can help in these ways:
Employees have a clear understanding of how to submit and track requests crucial to their success

HR stays organized by consolidating requests in one place, instead of over email, chat, in-person, and more
With the shift to remote work, now is the time to automate employee requests. Here's why.
Benefits of Automating Employee Requests
1. Save Time & Reduce Error
With the admin process automated, you can easily focus on high-value tasks within your organization, all while reducing potential for human error. Workflow software like GoCo helps create standardized templates for employee requests and HR approval workflows.
2. Keep Employees Engaged
Your team is your most valuable asset. Providing employees with a simple, digitized option for requesting resources lets them know that their needs are valued, and HR pros can better provide them with tools for success.
3. Improve Communication
Automated HR workflow software like GoCo helps open up communication channels between direct managers, employees and HR pros. You can easily assign tasks and trigger reminders so that requests are completed efficiently.
4. Never Miss a Step
Streamlining the employee request process holds you accountable even in the busiest of times. Creating custom drag and drop checklists with due dates helps ensure consistency and sets clear timelines for both the employee and the manager.
How to Use Workflow Automation for Employee Requests
With GoCo's HR workflows feature, it's easy to take action and begin streamlining employee request workflows.
In this example, we're going to create a request form that employees can use to request new equipment. The same checklist can be used to create other types of request forms!
1. Create a custom template for employee requests:

Add name, description and icon

Designate permissions levels for parties involved

Create a custom checklist for a complete equipment request workflow

Group tasks by employee, manager, and department if necessary

Assign tasks and due dates to the appropriate team members to ensure timely completion

Insert relevant form fields to collect information (i.e. equipment requested, descriptions, etc.)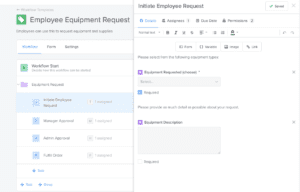 2. Start the equipment request workflow
After you've created your employee request template,  employees can initiate workflows when they'd like to request equipment

Once an employee starts the workflow, you can dynamically assign tasks to their manager to minimize back-and-forth and keep everyone on track.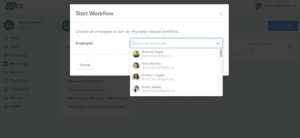 3. Trigger alerts and view assignees and task completion status in regards to new hire orientation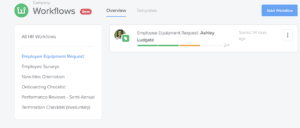 GoCo's new workflows feature helps HR pros create templates, workflows, and assignees for employee requests. Schedule a demo today!