= 50)" :class="navScrolled ? 'lg:mt-20' : 'lg:mt-32'" x-transition >

Blog Articles
HR Organizational Charts: What They Are and How They Can Help
A look into what organizational charts can do to keep your company's hierarchy in order
From a manager's perspective, there's no better feeling than developing and growing your team. As you experience more success and the volume of your business increases, you'll need to expand your team to accommodate your well-deserved growth. However, determining how to most effectively grow your team can be tricky. You'll want to ensure that the hiring decisions you make are complimentary to your current team members and fill in the gaps of what skills your team is in need of. That's why using an organizational chart is a great idea! Let's talk about what exactly this chart is and how it can help you navigate both your hiring and general team objectives.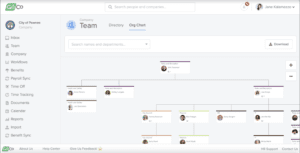 What is an Organizational Chart?
This chart is essentially the complete reference for your internal department structure and hierarchy! It contains the key information about everyone in your company, including their names, job titles, and what department they're a part of. It then takes that information and visually organizes it into an aerial view of your organization's hierarchy! GoCo's organizational chart is actually interactive, so you can manipulate it however you'd like. Here are some of the highlights that we love about this feature.
Team Directory. Instead of just looking at the chart and looking for someone manually, you can just search for them directly using our directory! This feature is a huge timesaver if you just need to get some information on someone in a flash.
Customizable Information. Your team can pick and choose which details are shared and available on the chart. For instance, some team members may prefer that things like phone numbers and emails remain private. That is 100% doable, as they'll have full control over what is on display.
Emojis for Notifications. You can assign some cute emojis to indicate things like employee birthdays, work anniversaries, and even if someone is out of the office!
No matter what structure your organization reflects, this chart will do a stellar job of modeling it and reflecting the information that you need to know. Some typical structures include top-down, flat, divisional, matrix, and more. With this feature's customizability, you can rest assured that your team can be mapped out without a problem!
How Can This Benefit My Organization?
The obvious benefit from implementing this tool is clarification. While expanding your team is incredibly exciting, things can get complicated rather quickly. You can use this organizational chart to keep track of who reports to whom, who is set to collaborate with whom, and how various teams ultimately come together to create the framework for your company. Additional benefits include easing the onboarding process! As someone on the inside, you may understand the "who's who" of your organization like the back of your hand, but that can be complicated to explain to a new hire. It'll be handy to give them a visual when going over it so that they can refer back to it later. Finally, this chart is a great tool for C-level executives to holistically review the organization and determine where any gaps may be and where hiring decisions may need to be made.
Organizational Charts for Small Business/Start-Ups
As previously mentioned, these charts have an obvious benefit when it comes to keeping track of large organizations. That being said, what about small businesses? What about relatively new businesses that are just starting out and trying to get off the ground? Guess what - organizational charts will be a pivotal tool in these cases as well! With small and/or new teams, making sure that everyone understands everyone else's roles and responsibilities in addition to their own is key to ensure initial success and smooth operations. When you use a chart like this, nothing is left to chance, as everything you could possibly need to know on a colleague-to-colleague level is laid out for you. In this instance, organizational charts are a means of accountability, making sure everyone knows exactly what they're in charge of so that they can pull their weight!
Hopefully we've demonstrated why having an interactive organizational chart can be beneficial to you in a variety ways and for a variety of organization types! With an HRIS, like GoCo, you can have this feature seamlessly integrated into your company's system. This makes the chart even more useful, as all of your company and employee data will be accessible in one place with just a couple clicks. If this sounds like something you'd be interested in, come on over and take a free tour with us! We'd love to show you firsthand what our organizational chart, along with the rest of GoCo, can do for you!
Recommended Posts
Fully automate your HR with GoCo.