= 50)" :class="navScrolled ? 'lg:mt-20' : 'lg:mt-32'" x-transition >

Blog Articles
HR Challenges in the Healthcare Industry
A list of industry-specific challenges and tips on how to tackle them in 2021
The ramifications of the COVID-19 pandemic have manifested differently depending on the industry. For some industries, the virus did not make a significant impact on finances, hiring, and operations, while for others, the impact was devastating. A recent report indicated that the pandemic has significantly affected the healthcare industry, from an increase in job losses to employee burnout.
Download The State of Health and Safety In HR Report
Healthcare HR professionals are feeling the burden of the pandemic weighing on their shoulders, with a wide range of staffing, human resource management, and growth concerns looming ahead. With the pandemic exacerbating existing healthcare HR pain points, we've compiled a list of key challenges and tips on how to tackle them in 2021.
Key HR Challenges in the Healthcare Industry
Staffing in Healthcare Settings
Though the healthcare industry is expected to add 3.8 million new jobs by the year 2024, the talent pool is shrinking. As the need for additional healthcare professionals increases, HR professionals and businesses are having trouble filling roles with qualified applicants. In fact, by 2025, the USA could be dealing with a physician shortage of between 61,700 and 94,700. With the shrinking talent pool and increasing age demographic, healthcare HR professionals must learn to cope with staff shortages, added pressure to recruit, as well as validation of medical certifications, licensure, ongoing training progress, recertification, and even reinstatement.
Patient and Worker Safety
With healthcare jobs being among the riskiest in the nation, safety is a top concern for HR professionals. According to the Bureau of Labor Statistics (BLS), healthcare workers are at a higher risk for on-the-job injuries than workers in many other industries. And it's not getting any safer. The agency also reported a 249% increase in injury and illness rates in 2020. Proper safety measures impact both worker safety and patient safety. With over 600,000 healthcare workers that are injured each year, HR managers are tasked with properly regulating and training new hires on OSHA and other worker safety procedures in an effort to minimize injuries on the job. In addition to injuries, the COVID-19 pandemic poses a serious risk of infecting staff throughout the pandemic.
To understand HR's role in employee health and safety, we recently surveyed 1,000 US-based HR professionals. Our survey spanned various employee sizes and industries. With 202 responses from people working in healthcare settings, we found many interesting insights on how these professionals are thinking about workplace health and safety.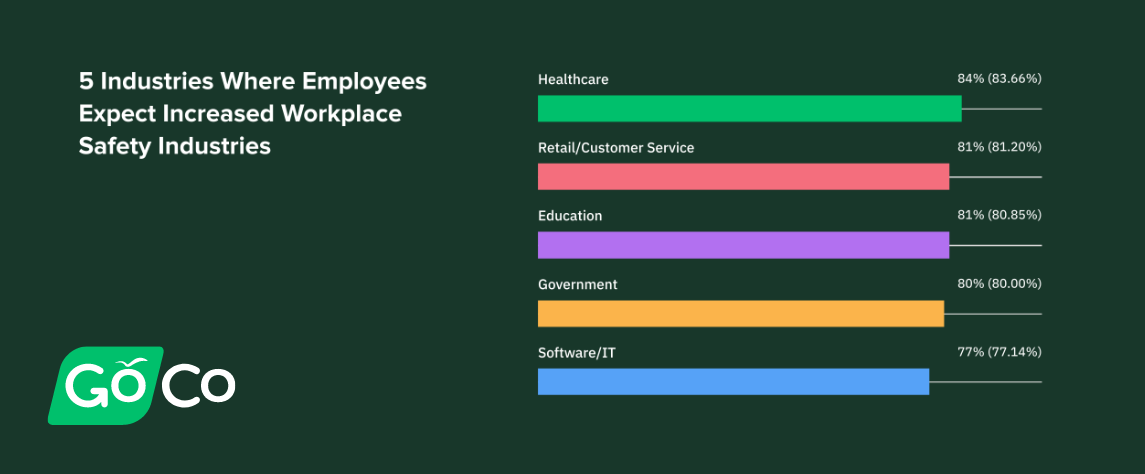 These respondents were worried about a wide variety of issues, with the top three being illness, on-the-job injuries, and emotional and psychological safety.
"It's not surprising that employee health is at the top of HR professionals' list of safety concerns," said Laura Woolford, Chief People Officer at AlertMedia "COVID has impacted nearly every facet of employees' lives over the past 2+ years. The silver lining is that many HR teams have used the pandemic to develop stronger safety programs, improve employee communication, and ensure employees' health and well-being are being prioritized at all levels of the organization, which will have a positive impact over the long term."
When we asked HR pros specifically about issues related to employee emotional health and safety, we got some surprising responses. Across all industries surveyed, only 70% of HRs felt prepared to handle these issues, less than any other type of issue. Healthcare workers are particularly impacted, with more than 1 in 4 saying they have experienced or witnessed emotional and psychological issues in the workplace in the past year.
Digitization
The healthcare industry continues to transform over the years, with digitization being a key focus. As an HR professional in the healthcare business, keeping yourself and your team up to date on emerging technologies requires a flexible and risk-taking mindset, as well as a streamlined training process. Digital upgrades in healthcare can mean anything from new telemedicine processes to electronic health record systems that oftentimes have a steep learning curve. HR managers must be well-versed in assessments, training, and forecasting around new technology.
Eropa Stein, Founder and CEO at Hyre, emphasizes, "Long-term care homes are not traditionally tech-savvy, but in the age of COVID-19, they NEED to onboard managers onto digitized HR processes. Scheduling, hiring, and rescheduling frontline workers is a hassle, especially when you throw in contact tracing and safety procedures."
Bob Clarke, CEO of Furst Group, NuBrick Partners, and Salveson Stetson Group, says, "Screening and interviewing in person throughout the hiring process has changed dramatically since the pandemic… But in a virtual hiring environment, the organization needs to be able to communicate effectively even when all participants are in separate spaces."
Turnover Rate and Retention
According to the 2020 National Healthcare Retention and RN Staffing Report, the national hospital staff turnover rate was 17.8%, and the average hospital has turned over 89% of its workforce in the past 5 years. Because of this, an ongoing HR challenge is decreasing turnover rates and improving employee retention and happiness within organizations. Along these lines, HR managers are also reevaluating organizational culture in efforts to retain workers.
Employee Burnout and Dissatisfaction
Burnout in healthcare has reached rampant levels in the United States, especially with the direct impact of the COVID-19 pandemic on healthcare workers, and the staff shortage and turnover crises stated above. A study on healthcare professionals in the US found that more than 50% of physicians and 33% of nurses experience symptoms of burnout, including feelings of exhaustion and cynicism related to long-term job stress. Job satisfaction is imperative to a productive workforce, so HR managers are expected to help manage, prevent, and reduce employee burnout within their organizations. This could include anything from implementing stronger mental health-related policies in the workplace, to improving PTO regulations.
Clarke adds, "In some ways, the focus on delivering care is masking the toll taken on an individual as they struggle with fear, uncertainty, illness, and even death. HR professionals need to 'keep the trains running' in terms of staffing and hiring, and they need to address the personal toll that this pandemic is taking on their team."
Privacy
With the Health Insurance Portability and Accountability Act (HIPAA) in place to prevent fraud and theft of protected health information (PHI), HR managers must be hyper-aware of compliance regulations around healthcare providers, plans, and clearinghouses. Due to large amounts of valuable digital data and insufficient cybersecurity, data breaches in healthcare are on the rise. In addition, data privacy and security will continue to fall on the shoulders of HR, so making sure staff is trained well is imperative. The growing shift to work from home through the pandemic further emphasizes the need for proper remote employee plans that HR must put into place.
Investment in Talent Management
Staying on top of hospital and business costs also spill into HR territory, so HR managers must strike a balance between offering competitive salaries and attractive benefits to potential employees, while also ensuring the company remains profitable. Without investing in talent management, HR can end up in a sticky situation.
Wage Competition
As the market for top talent grows tighter and tighter, wages are on the rise. HR managers are in charge of creating the most attractive package for future employees in order to stay competitive with other businesses in the market. In addition to salary, work-life balance, benefits packages, and company culture must be used to attract talent as well. HR professionals must find a way to tie in flexible scheduling, PTO offers, and other options to compete for the best team members.
Training and Development
HR professionals in the healthcare industry have a unique set of training responsibilities. In addition to standard staff training requirements, programs, and career development plans typically handled by HR, they are also tasked with medical credentialing, compliance training, and other mixed training of employees. Having a streamlined process for managing the various types of training is crucial.
Regulations and Records Compliance
Last but certainly not least, healthcare HR pros are constantly keeping up with new reporting requirements per the Affordable Care Act (ACA), and are required to report to the IRS to stay compliant. Complying with employee record requirements can be confusing given the numerous regulations. Federal agencies create their own record-keeping requirements, but individual local regulations must also be addressed by HR.
The Rise of Home Health Care
The healthcare industry consists of a wide range of businesses, including medical services, equipment manufacturers, insurance, and facilities. Among these businesses, home health care(homecare) businesses continue to grow at a remarkable rate, especially with the COVID-19 pandemic preventing many patients from going to physical treatment locations for care. Homecare is projected to surpass all other care categories due to an aging population, an increase in chronic illnesses, and the mindset shift that puts patient homes as the ideal care setting.
Specific to homecare, HR professionals are faced with the issue of hiring enough qualified caregivers, and keeping them on board after hiring (recruiting and retention). Compliance is also in the spotlight for HR managers in the homecare sphere, specifically the Fair Labor Standards Act around the wage and hour rule. Due to varying laws and regulations around work hours and medical leave, HR must stay ahead on compliance. Additionally, they are faced with a unique challenge of making sure employees do not pose a liability when working at client homes. Adding personal touchpoints and creating a relationship with caregivers can help boost morale and improve skills.
Overcoming Healthcare HR Challenges
The healthcare industry is undoubtedly one of the most challenging fields to work in. While there are many rewarding aspects to this line of work, it can also be demanding, stressful, and emotionally draining. Healthcare professionals have the opportunity to help others and make a difference in their lives. Despite the challenges that healthcare HR professionals face, there are strategies to overcome these challenges and create a better workplace for employees. Let's take a look at some actionable suggestions from HR and business leaders in healthcare.
Emphasize Transparency and Communication With Employees
Let them know what's happening in the company so they feel like they have an understanding of the situation, or help them get more information on how to be vaccinated.
-Alisa Fedders of Strategic HR Inc
Support Employees' Emotional Health
HR leaders must become facile, skilled, and courageous at addressing and supporting employees who are struggling emotionally. It's imperative that they listen, acknowledge, validate, and most importantly remember that empathy is a very powerful tool in the leader's arsenal during these dynamic times.
-Bob Clarke, CEO of Furst Group, NuBrick Partners, and Salveson Stetson Group
Encourage Employees With Training and Participation in New Wellness Programs
Healthcare is one of the most emotionally and psychologically demanding industries in the world. We are working on several initiatives to address the concerns of our employees. We've recently launched a new program called "Exploring Your Voice," which is a free, confidential resource for our staff members to gain skills in identifying and expressing their feelings, needs, and concerns. We are also addressing this concern by offering comprehensive training. The program includes topics such as health and safety, employee relationships, conflict management and resolution, diversity, and ethical decision-making.
-Brian Clark, Founder at United Medical Education
Create a Mental Health Counseling Committee to Help Employees Deal With Issues and Concerns
The work schedule of Healthcare professionals is hectic, and they frequently have patients' lives in their hands. Form a counseling committee that can help employees process the stress and emotions that come with their work.
-Roger Deutsch, CEO at Alcat-Europe
Hold Regular Workshops to Preempt and Address Mental Health and Safety Issues
Support employees and ensure stressful issues don't escalate into violence. Some topics to consider are emotional regulation, anger management, stress management, and relaxation techniques. Invite topic experts to conduct the workshops and ensure that management also attends. Employees need positive and constructive outlets to express themselves. So, reinforcement and support must continue after the workshops. Support can come in the form of specialized support groups within the company and avenues for artistic or creative but respectful expression.
-Ruth Novales of Fortis Medical Billing Professionals
Organize Quarterly Safety Meetings
Quarterly safety meetings are a top priority at my medical practice. They help ensure everyone is on the same page regarding policies, procedures and the latest CDC guidelines. During these meetings, we take the opportunity to bring in expert speakers that provide wonderful insight on workplace safety in a clinical setting.
-Jae Pak, MD, of Jae Pak MD Medical
Use Labels and Signs to Communicate Health Warnings and Safety Protocols
Social distancing has become an important protocol, but despite the fact that many people are instructed to maintain a distance of at least 2 meters, we frequently observe crowding even when there is sufficient space to stick to this recommendation. Using labels and signs is a cost-effective way to quickly communicate this important information, warn employees of potential dangers, and instruct them to take action, such as maintaining a 2-meter social distance gap, thereby preventing them from engaging in inherently dangerous behaviors.
-Tiffany Payne, Head of content at Pharmacy Online
Set Up Private Meetings and Counseling Sessions for Employees
Just like every other businessman, I don't feel the need to give tips to increase productivity or motivation. Many in the pursuit of success, neglect their mental wellness and health. I have seen many people doing so well and drastically dropping every responsibility because they couldn't do anything anymore. You need to find balance in your life to ensure your long-term health and stability. Many prevalent mental issues like depression and anxiety can kill your motivation and productivity. I always take special care of my employees in terms of mental health by setting up private meetings and counseling sessions. I always advise them to take care of their health as we can enjoy our success only if we are doing well, both physically and mentally. So, take it slow but with steady focus - you will definitely achieve.
Isaac Robertson, Co-Founder at Total Shape
Ensure Workplace Safety and Health of Employees Through a Number of Programs
Our employment agency offers temporary dental staffing solutions for dental practices and clinics needing extra support. We recognize that our clients have different health and safety requirements, so we tailor our strategies to address the unique health and safety needs of each dental practice or clinic we work with. This way, they can focus on providing quality care for their patients. Some of the steps we have taken to improve health and safety in our workplace include: 
Reviewing and updating our policies and procedures on a regular basis.

Providing general training and education for our staff on health and safety topics.

Conducting regular audits of our workplace to identify potential hazards.

Working closely with our clients to ensure their specific health and safety requirements are met. 
These steps help ensure that our workplace is safe and healthy for our employees, clients, and patients.
Chris Lewandowski, President, Princess Dental Staffing
HR Software for Healthcare Businesses
Many HR pain points can be solved or reduced with a modern HR software system. Modern HRIS systems like GoCo can help streamline and modernize HR processes so you can focus on tackling higher-value concerns, like retention and engagement.
HR professionals in every industry will face a variety of unique challenges, especially through the unprecedented COVID-19 pandemic. For those in the healthcare industry, employee and patient risks, as well as compliance should be top of mind in planning processes. If you're currently struggling with any of the HR challenges mentioned above, a completely digital HR software like GoCo could be a great option for you -- but don't just take our word for it. Take a free interactive tour today to see how we can tackle your healthcare industry challenges!
Recommended Posts