= 50)" :class="navScrolled ? 'lg:mt-20' : 'lg:mt-32'" x-transition >

Blog Articles
2023 Employee Onboarding Checklist [3 Easy Phases]
Get your new hires off to a great start with our employee onboarding checklist, designed with 3 easy phases.
As an HR professional, you know that first impressions matter. From the moment a new employee walks in the door, they are forming opinions about their job, their co-workers, and their employer. It is your job to make sure that those first impressions are positive ones. One of the best ways to do that is through an effective employee onboarding program.
Onboarding is a task every business is familiar with, but not every HR team has mastered it. Strategic employee onboarding has become a major component in most organizations, mostly because it just matters that much. Here are a few stats:
If you have questions about employee onboarding, why it's important, and how to make it a smooth process for everyone involved, you've come to the right place. In this comprehensive guide, we'll explain everything you need to know about onboarding new employees.
Download The Ultimate Onboarding Checklist
What is employee onboarding, and why is it important?
So, what is employee onboarding? it's the process of orienting and acclimating new employees to their jobs, their team, and the company culture. A well-designed employee onboarding program will help new employees hit the ground running and feel like valuable members of the team from day one.
There are a few key elements that should be included in every employee onboarding program. First, new employees should be given a rundown of the company's history, philosophy, and mission statement. This will help them understand the culture of the organization and feel like they are part of something larger than themselves.
Next, new employees should be given a thorough overview of their job duties and expectations. They should understand exactly what is expected of them and how they fit into the larger picture. It is also important to give them the resources they need to be successful in their role. This might include access to certain software programs, manuals, or training materials.
Finally, new employees should be introduced to their team members and given a chance to shadow more experienced employees. This will help them understand how their team works together and start building relationships with their co-workers.
An effective employee onboarding program will result in happier, more engaged employees who are more likely to stick around for the long haul. So, if you haven't already, now is the time to start designing your own employee onboarding program!
What are the 3 Phases of Onboarding?
In order to curate the ideal onboarding checklist, we first need to understand what all goes into the umbrella term of "onboarding" - what exactly is an adequate onboarding process? If we look closer, we see that we need to address the phases of:
Preboarding

Actual Onboarding

Follow-Up
Let's talk about what these phases entail and go through some key points for each to make the ultimate onboarding checklist!
Phase 1: Preboarding
Pre-boarding begins even before your new employee's first day on the job. It's all about getting the paperwork out of the way and making sure that your new hire has all the information they need before their first day. This includes things like sending over the employee handbook, setting up their email account, and putting them in touch with their direct supervisor.
It's also a good idea to introduce your new hires to their future colleagues via email or social media so that they feel like part of the team even before they start working. Here's how to welcome a new employee to the team prior to their official start:
Create an Onboarding Program with Goal Tracking
Before you start bringing in new employees, create an onboarding plan through which you can provide training and track the progress of employees to set them up for success.
This plan could either be a part of your larger employee onboarding strategy or a separate plan just for remote employees.
In any case, such a plan should include:
A pre-built plan will let you onboard as many employees as the company needs and focus primarily on training and developing the new team members.
Send the offer letter and make it special
If you use an onboarding system, you can easily create a personalized letter from a template. Bonus points if you go the extra mile and include a personalized onboarding video as a follow-up to your candidate's acceptance! Programs like Loom make it super easy to send a short welcome video to new hires after they accept your offer. This is also a great opportunity to communicate core values, give employees a preview of the awesome organization they're joining, and highlight the company culture.
Whether you've gone fully remote or are staying in the office, getting a welcoming message out can make a world of difference. Have existing employees record personal experiences for a warm welcome.
Collect personal information, such as address and emergency contacts.
Ask whether they have any allergies, dietary preferences, or special needs. Also, collect any necessary certificates from your employee!
Send Links to the Company's Online Assets (training videos, culture articles, databases, etc.)
Before the employee joins formally, send them links to any and all relevant online material that will help them get an idea of what your company is about.
This means providing access to:
Blog posts/articles about the company's culture, values, its place in the industry, and its goals

Videos and multimedia guides, such as explainer videos and presentations

Links to published material from senior company members, experts, and thought leaders
Send a preview of the benefits package
This should include an overview of health insurance benefits, as well as additional options like life insurance and disability coverage. A quality HR management system like GoCo's can create this preview automatically, so you won't need to manually create a new one year after year.
Collect withholding and payroll information from the employee
Have the employee complete the W-4 form as well as state and local withholding forms. (GoCo offers a free tool that you can use to collect the W-4 form.) Also, ask your employee to fill out their direct deposit authorization form. However, this won't be necessary if they receive physical paychecks.
Complete the I-9 form with the employee and prompt them to bring the appropriate eligibility documents to work on their first day
They must complete Section 1 by the end of their first day and Section 2 within three business days of their first day of work. GoCo also offers a free tool for collecting the I-9. (If you're hiring an employee remotely, read SHRM's guidance on how to handle the I-9.)
Necessary document examples include a U.S. passport, Permanent Resident Card, Employment Authorization Document, driver's license, and Social Security card to help establish identity and employment eligibility (see the full list here). Compare these documents to the information on their I-9 form to ensure they've completed it accurately.
Run a background check on the new hire
Ensure nothing surfaces that would prohibit the employee from working for your company.
Set up an email account for the new hire
Send log-in instructions by email so that the employee has an active email account from the beginning of day one.
Send out a welcome email introducing the new employee to the team they'll be working with
That way, everyone will know who the new employee is and will greet them warmly as they come in.
Send a new hire swag welcome kit
Make your new hire feel welcome with a creative welcome package that reflects your company culture.
These administrative elements can actually be made more efficient with an HRIS so that you can minimize the headache for both new hires and yourself! GoCo's Workflows feature allows you to streamline things like sending and signing the offer letter and other mandatory documents! We also offer the rest of the full onboarding suite - benefits administration, payroll set-up, and more!
Ready to explore GoCo?
Check out our interactive Product Tour.
Take a Tour →
Phase 2: Onboarding
Onboarding is where the real work begins. This is the stage where your new hire will start to get settled into their role and begin to understand what will be expected of them. A good onboarding process will cover everything from a tour of the office to an introduction to company culture and values. It's also a good idea to set some goals for the new hire to hit during their first few weeks on the job.
By taking the time to orient your new hires properly, you can help them hit the ground running and start being productive as soon as possible.
Schedule a Remote/Hybrid Employee Orientation Session
Set up a remote/hybrid orientation session, either with each individual employee or in batches.
For such a meeting, you will need to:
Set up a video chat conferencing system that will send out reminders ahead of time.

Create an agenda for the meeting, and let every employee have it beforehand.

Provide digital copies of any documents (employee handbook, questionnaires, etc.) that employees will need for the discussion.
Individual remote orientation sessions will be better for employees who are coming in on a higher rank, or for a more important position within the company. These could be managers and junior executives. Group orientation sessions will be better for general team members, as they will feel like part of the team, from day one.
Invite employees to select their benefits
They can also do this before their first day, but if they don't, their first week is a good time to Inform them of when the benefits will become active and let them know you're available to answer any questions.
Introduce the training schedule
This plan will show new hires the support you'll provide to get them up to speed, making them confident and enthusiastic.
Give your new hire a tour
If your new team member will be in the office for their first day, have their manager take them around the premises and show them everything your space has to offer!
Take your new team member out to lunch
You can structure your day so that the tour of the office ends in a lunch outing! Not only is this a nice treat, but it's also a great opportunity to get to know your new hire and start building that professional relationship outside of an office environment.
If it's feasible, invite the rest of the team that the new hire will work with so that everyone can start getting acquainted! Another thing you could do is group some new hires together so that they feel less isolated and can build some bonds!
Schedule an HR Orientation
After you have held the initial meetings, set up an orientation session with human resources. This is when employees can review and digitally sign HR documents.
These documents can include:
Company policies

Employee requirements

Details regarding PTO and benefits

Company account setup details, etc.
Again, since not all new remote employees will be entitled to the same benefits and perks, make sure to hold group HR orientations with employees of similar rank to avoid disparity.
Give Employees a 'Review Period'
Your remote employees will need to review all the material you have provided thus far. Give them some time to do so before proceeding with the onboarding. Depending on the number of assets they have to review, you can give them up to a week's worth of reviewing time.
During this time, you can start onboarding other remote employees, so your time can also be optimized.
In case you're bringing several employees on board, make sure to provide the same time period to everyone, regardless of how quickly one or more of them finish reviewing.
Phase 3: Follow-Up and Career Development
Set up check-ins
The follow-up stage is all about making sure that your new employee is settling into their role and meeting their goals. This usually involves regular check-ins with the direct supervisor, as well as additional training or support if needed. Ongoing training and development opportunities ensure that your new hire can continue to grow and develop within your company.
The follow-up stage can last anywhere from a few weeks to several months, depending on the needs of the specific employee. By taking care of your new hires during these crucial first few weeks, you can set them up for success in the long run.
Send out a quick survey about their onboarding experience
Four to seven questions work best. This step will help you pinpoint areas that need improvement, as well as show the new hire their opinion matters when it comes to improving company culture.
Follow through with your promises
Onboarding is a time when managers make a lot of claims and promises in order to get their new hires excited for all that's to come! The true test will be your ability to fulfill these promises in an accurate and timely manner. Truly great employers will overdeliver, so HR and management should always strive to exceed expectations in terms of the employee experience!
Final Thoughts
The importance of effective employee onboarding cannot be overstated for HR professionals and organizations alike. First impressions at onboarding are vital, and a well-designed onboarding program ensures new employees feel valued, understand their roles, and integrate into the company culture seamlessly.
The three key phases of preboarding, actual onboarding, and follow-up play crucial roles in this journey. Moreover, leveraging automation tools like GoCo can streamline and optimize the onboarding process, making it more efficient for both HR teams and new hires.
How to Automate Your Onboarding Checklist With GoCo
We've covered the necessary steps in a complete onboarding checklist. Now let's cover how to create a custom checklist and start automating! Modern HR software like GoCo helps HR managers automate routine checklists and workflows in minutes.
Ready to explore GoCo?
Check out our interactive Product Tour.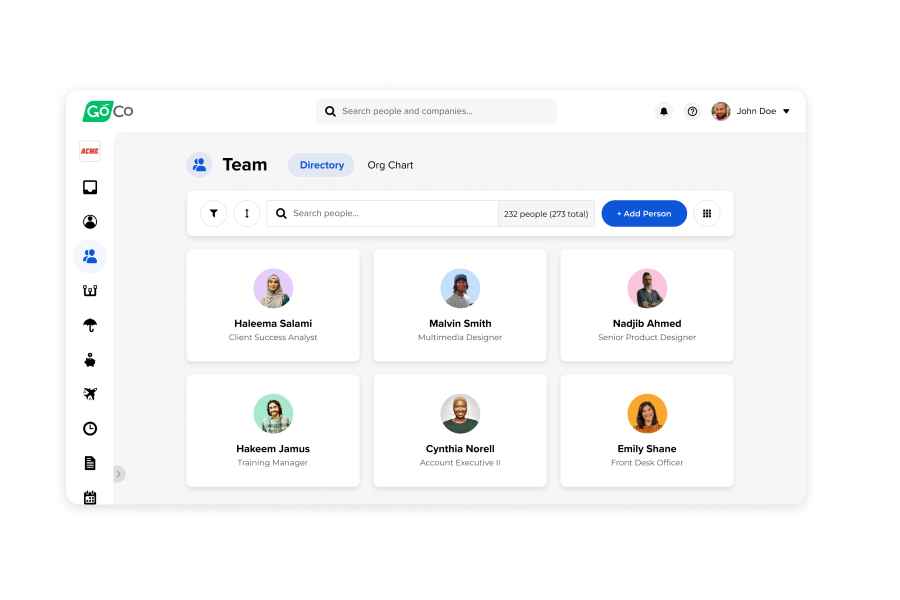 Take a Tour →
Build Your Checklist in GoCo
With GoCo, you can drag and drop to create a custom onboarding checklist template that makes sense for your company or create specific ones for each team or role.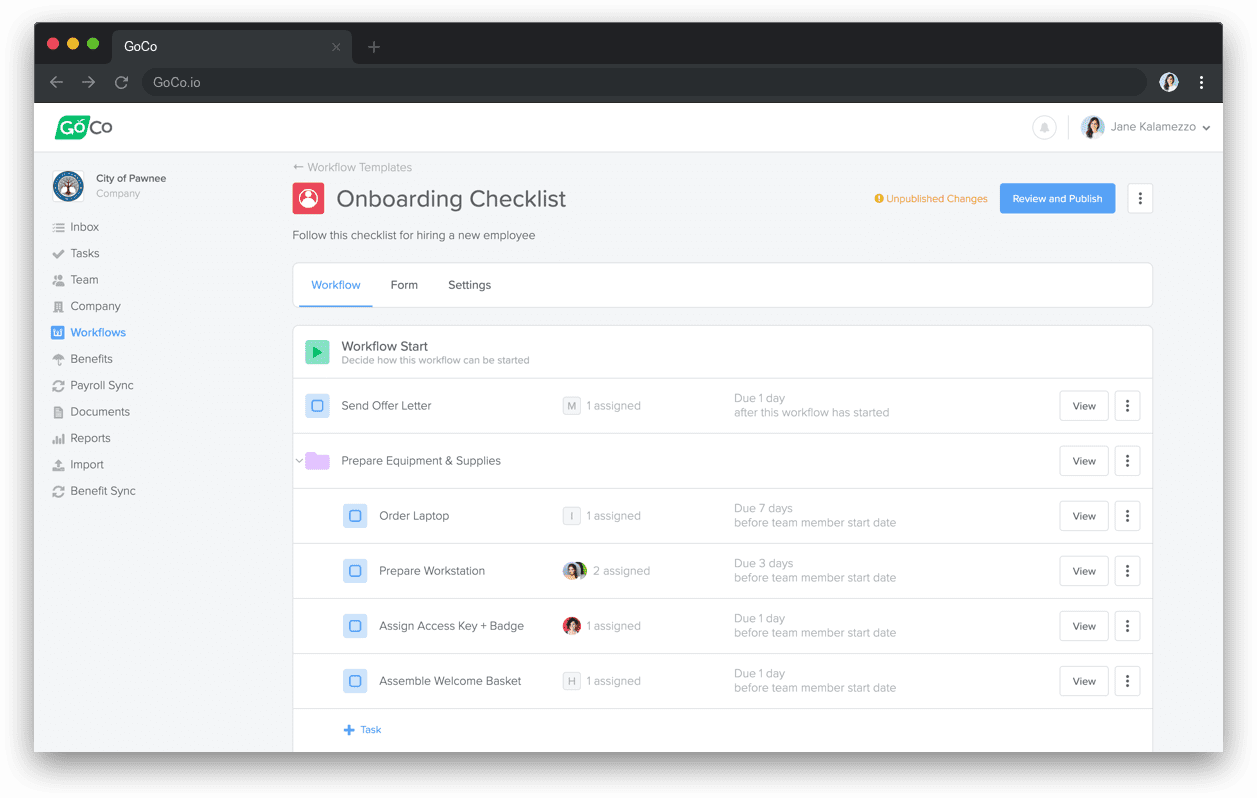 Within your template:
Add names, descriptions, and icons

Designate permissions levels for users

Create tasks for sending the offer letter, creating an onboarding video, sending digital payroll documents, or even your specific company welcome package. Make sure to include all the tasks from your onboarding checklists above!

Insert relevant form fields to collect all the information you need (e-signatures, acknowledgments, and more).
Collaborate with Your Team in GoCo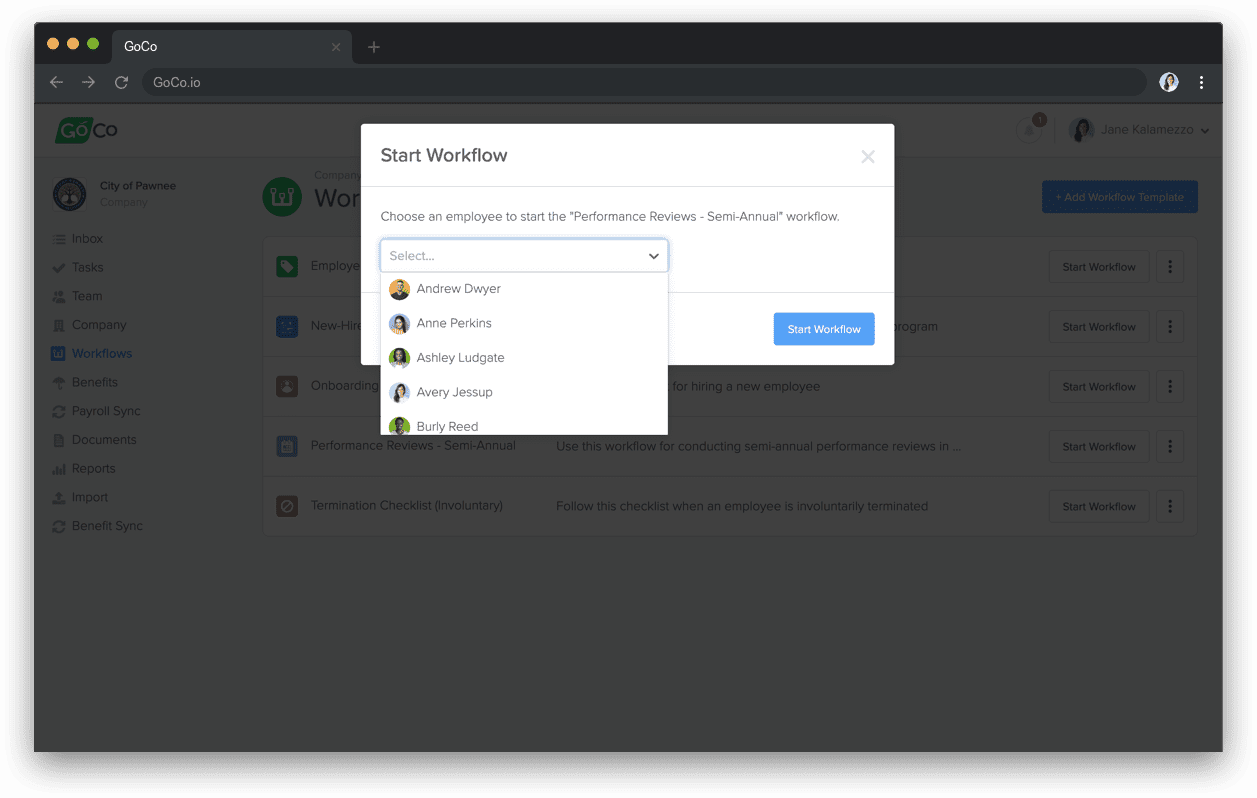 Assign tasks to other departments or teammates to keep everyone in the loop.

You can set custom owners, due dates, and approval flows that make sense for your onboarding workflow.

Group tasks by employee, manager, and department
Track the Progress of Your Onboarding Checklist in GoCo

Get an at-a-glance view of all of your onboarding employees and track outstanding tasks

Trigger alerts and view task completion status in regard to your new-hire checklists!
Onboarding Checklist FAQs
The three main phases of onboarding are:

New Hire Preboarding
New Employee Onboarding
Follow-Up and Career Development

The onboarding process for different positions may be different, but in general you want to:

Start the onboarding process early
Introduce the new hire to company culture before the first day
Create a sense of teamwork and belonging
Provide collaborative learning opportunities

With GoCo, you can drag and drop to create a custom onboarding checklist template that makes sense for your company, or create specific ones for each team or role.
Recommended Posts