= 50)" :class="navScrolled ? 'lg:mt-20' : 'lg:mt-32'" x-transition >

Blog Articles
How to Maximize HR's Impact with Global Gig Workers
Let's take a look at the concept of gig work, including how gig workers, paired with the right technology will help you grow your business.
The global gig work economy is booming. As the internet bustles with recruitment sites targeting self-employed project professionals, taskers and fractional executives, employers of all sizes are taking advantage of on-demand support.
According to Mercer's 2022 Global Talent Trends Study, "Gig working remains a favored strategy for the C-suite, with six in ten executives expecting that gig workers will substantially replace full-time employees at their company in the next three years." An article by Nasdaq further reveals that gig workers added 1.7 trillion dollars to the US economy in 2020 (a 33% increase from 2019). 
In-house HR teams are learning how to attract, hire and retain these skilled go-getters. And self-employed HR consultants are enjoying an extremely receptive marketplace. But what is "gig work" exactly?
Why is understanding gig work imperative for your business's success? In this article, we explain the concept of gig work, including how gig workers, paired with the right technology will help you grow your business.
Global Gig Work Explained
"Gig workers", also referred to as freelancers or independent contractors, are defined as self-employed individuals who support companies with short-term projects, and specific tasks or provide consulting in specialized areas. A gig worker could be anything from a Task Rabbit to a fractional CFO.
Global gig workers are gig workers who remotely support clients in multiple countries. They typically use online platforms like UpWork and Freelancer to bid on projects and ongoing work. When they use these types of platforms, they are able to receive customer reviews and ratings, set their own prices and receive an earnings certificate for their income taxes.
Some platforms even include wage protection to protect global gig workers from getting burned by clients who refuse to pay them. For many organizations, these self-employed rock stars are valued team members who collaborate remotely with their regular staff on a daily basis. 
Why Hire Global Gig Workers?
Fractional labor or gig work provides employers with a tremendous amount of flexibility. Businesses can easily ramp up and scale back operations as needed. This flexibility also benefits regular, full-time employees by averting layoffs and even allowing the core staff to receive greater pay and benefits.
Self-employed consultants and freelancers also often benefit from high rates of pay and the freedom to decide when, where and how much they work. Some global gig workers are even able to work for companies based in other countries that pay them more than three times the local prevailing wage. Offering contract opportunities also helps employers stay competitive in a tight labor market.
Since many gig workers own their own businesses, and their services are the product they sell, gig workers take their work extremely seriously. Self-employed freelancers have a high stake in making their business work, and they tend to be self-directed and quality-focused. 
Ernest Park, Managing Partner at Airius Internet Solutions, shares his experience with a team of gig workers:
"Our team at Airius consists of a bunch of people that are talented, can deliver services to clients, but work does not define them, they are not owned by a company, they want to enjoy life and working as we do allows that. Airius has been in business since 1999 with a very fluid and happy team of specialists, as required.
With changes in business, technology and the way that clients engage services, I cherish the freedom afforded to me by being able to sell my experience to clients without having to be embedded staff. 
Clients get access to excellent people, People that choose not to be employees. The contractors get to be free to enjoy life, while fine-tuning what they offer to clients and when."
HR's Role in the Gig Economy
Human Resources professionals touch every part of the freelancer engagement lifecycle. They recruit and help retain global gig workers through inclusive technology platforms that are geared towards blended workforces of employees and contractors. HR, recruitment and payroll team members can help their organizations hire the best contract talent for the right price in the right parts of the world.  
Hiring global gig workers comes with risk. HR and Payroll professionals help keep their companies in compliance with applicable labor and tax laws that govern the use of independent contractors.
Some countries are more open to foreign companies hiring local freelancers than other countries where stricter criteria must be met for a worker to be paid as a freelancer. The Philippines, for example, generally exempts self-employed, online freelancers from its employer taxation requirements.
The burden of tax compliance in this case typically falls on the contractor vs the foreign employer. Chile, however, classifies individual workers as employees by default, unless the employer can prove that they are independent contractors.
Companies hiring contractors in Chile may still have to remit payroll taxes and are required to continuously obtain government-issued certificates from contractors to show compliance. 
Companies also need to be cautious about where they send money. A US company, for example, might want to avoid paying a freelancer in a country that is on the US Department of the Treasury's sanctions list. Individual freelancers could potentially be on these sanctions lists as well. 
When vetting potential global gig worker hires, recruiters need to consider other factors such as:
time zones, 

cyber security concerns, 

payment methods and 

language or culture barriers. 
Recruiters also need to look at freelancers' work experience, customer reviews and job completion rates prior to engaging them. 
Technology for the Future of Global Gig Work
Companies that experience success with blended teams of remote contractors and regular employees rely heavily on communication and collaboration technology solutions. Project management applications like Asana, Trello, Monday, and Jira are heavily utilized by these employers.
Remote and hybrid teams also rely on instant messaging platforms like Slack, Basecamp, and Microsoft Teams. Other communication tools like Loom allow contractors and employees in different time zones to easily record short video explanations with team members and even provide training content.
Human Resources Information Systems (HRIS) or Human Capital Management Systems (HCMS) also play a huge role in maintaining hybrid and remote workforces. For example, GoCo's native and embedded technology facilitates international contractor onboarding, contracts, payroll, performance evaluations, and communications.
GoCo welcomes contractors to the team and automatically adds them in the company's org chart. By keeping contractors connected to the company's culture and regular staff, HR professionals can better engage and collaborate with gig workers. With embedded payroll, US-based companies can pay both US contractors and global contractors and employees from within one platform. GoCo alternatively can integrate with payroll partners like ADP that offer global payroll. 
What's Next for HR?
Human resources professionals will be responsible for promoting and facilitating an inclusive culture that appeals to traditional employees and global gig workers. Company values and norms will need to be effectively communicated to team members with different levels of engagement and varying degrees of physical proximity to each other.
The below figure, provided by Deloitte shows a few primary company culture-related considerations for alternative workers. In this figure, Global gig workers appear as outside contractors, tenured remote workers, and transactional remote workers.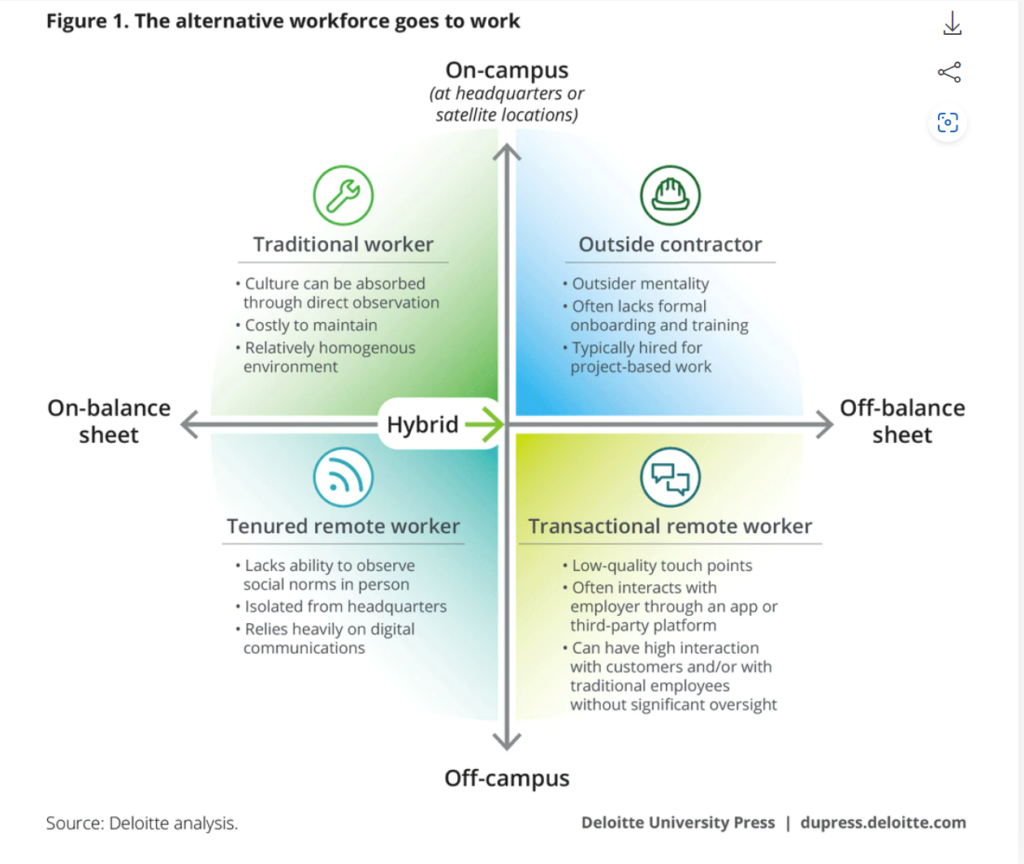 Workplace culture and the alternative workforce | Deloitte Insights
Gig working is here to stay, and HR professionals can set themselves apart and add value to businesses by identifying, hiring, engaging, and maintaining relationships with global on-demand freelance talent. By utilizing technology that improves contractor communication, collaboration, and payments, HR will differentiate their companies as the best employers of global gig workers.