= 50)" :class="navScrolled ? 'lg:mt-20' : 'lg:mt-32'" x-transition >

Blog Articles
Introducing GoCo's Performance Management!
Our new feature reimagines how you manage performance and motivate employees on their path to success!
We created a new feature dedicated to helping you revamp your whole review process and empower employees to strive for success. With GoCo's Performance Management, HR teams can easily drag-and-drop fields to build custom performance review templates for any department or role. 
Since Performance is built into GoCo, we transformed our team feedback into one streamlined employee timeline to document 1-on-1s, professional achievements, and performance documents alongside employment information. 

Performance Management in GoCo
From new hire check-ins to 360-degree reviews, anything is possible with this new feature. Using our flexible workflow technology, our Performance feature enables you to templatize your reviews for each of your teams, as well as customize the fields you use to evaluate performance and collect feedback. 
Opinion Scales
Create your own opinion scales fields which allow you and your employees to provide a rating on a scale. Customize the rating number as well as the corresponding label. You can also provide a description so it's clear to employees what they're rating.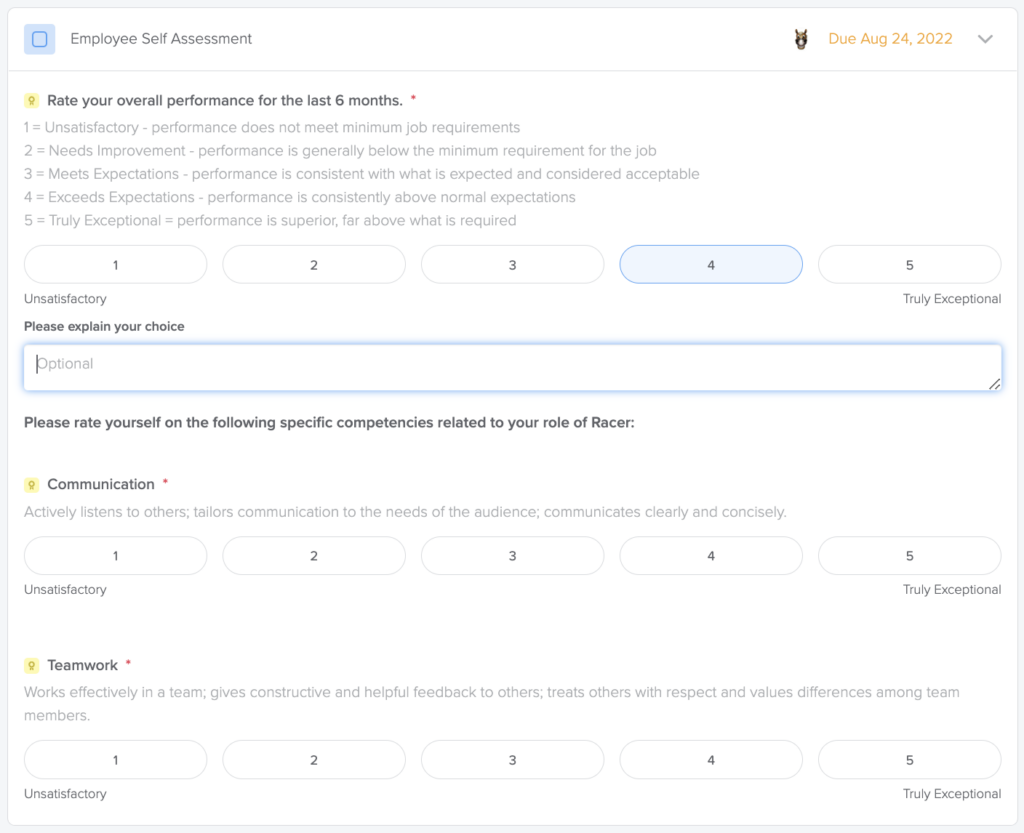 Dynamic Fields
Easily pull in data from employee profiles, past reviews, or from task to task with dynamic fields. Show managers what employees wrote or show employees what they put for certain goals and questions on their last review.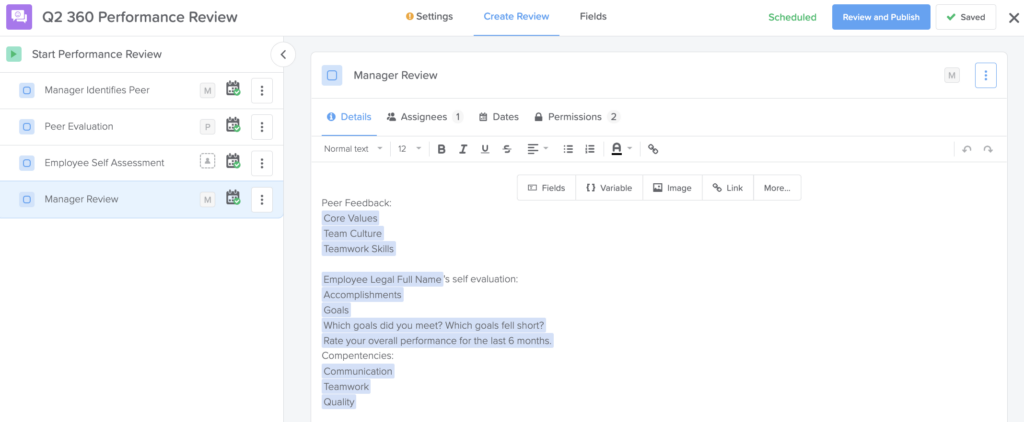 Assignees & Due Dates
Select assignees, start dates, and due dates to each performance task in your template to automate your review. Assignees will automatically receive a notification when it's time to start the task, as well as when it's due.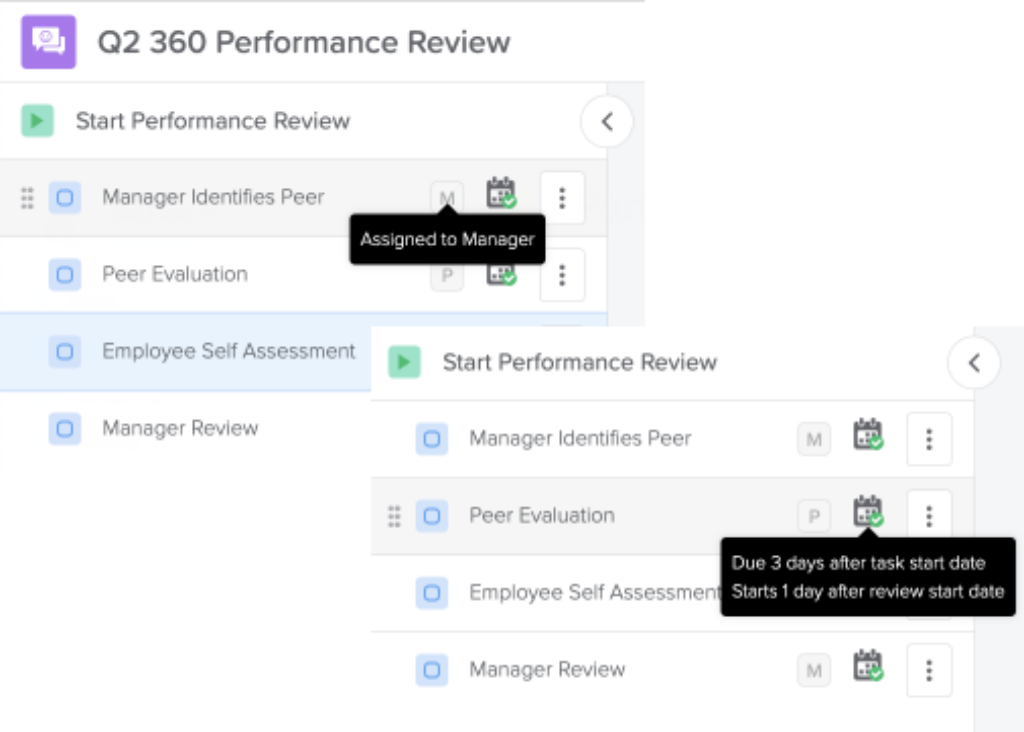 Scheduling
Customize the schedule for each review template so the process kicks off by itself weekly, monthly, yearly, or a frequency of your choosing. This comes in handy for big annual reviews as well as more frequent check-ins and 30-60-90 new hire reviews to get a pulse on your employees.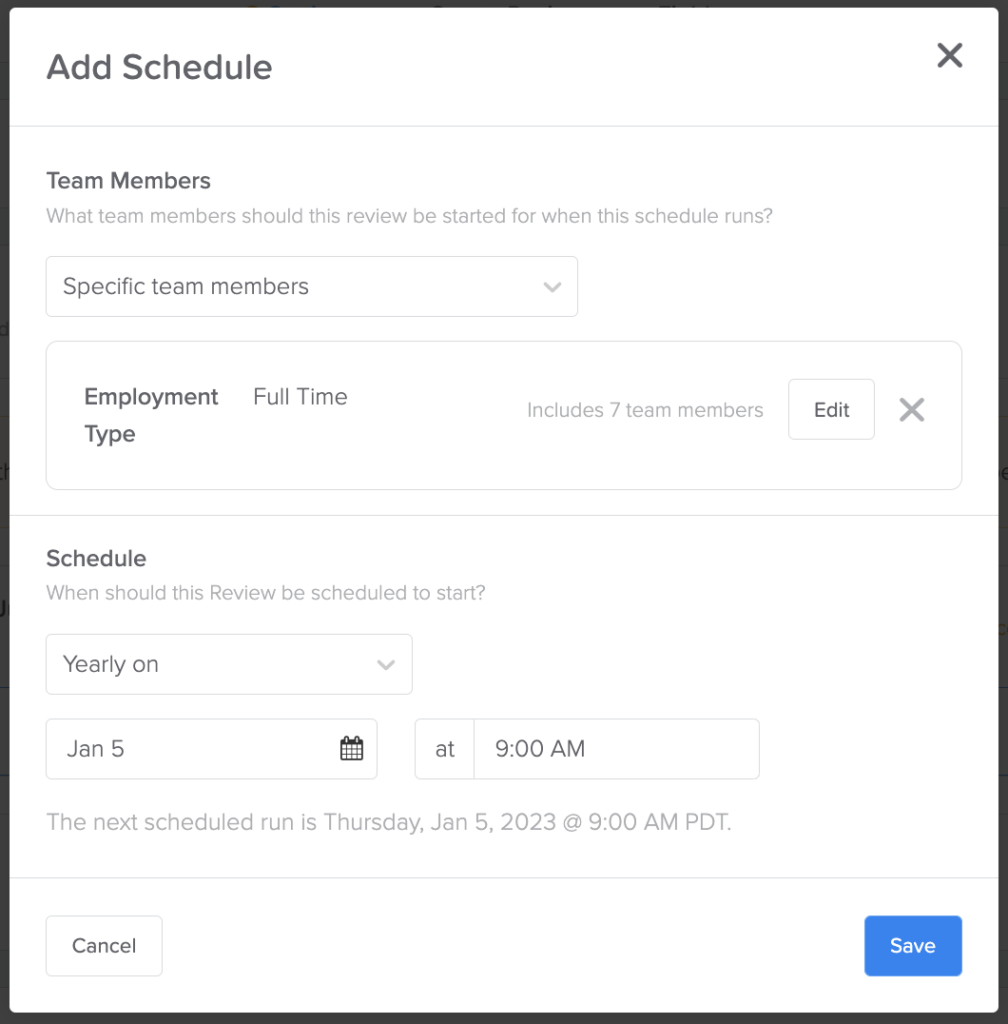 Visual Progress Trackers
No more chasing people down - now, you can see what tasks have been completed and what's still outstanding at-a-glance.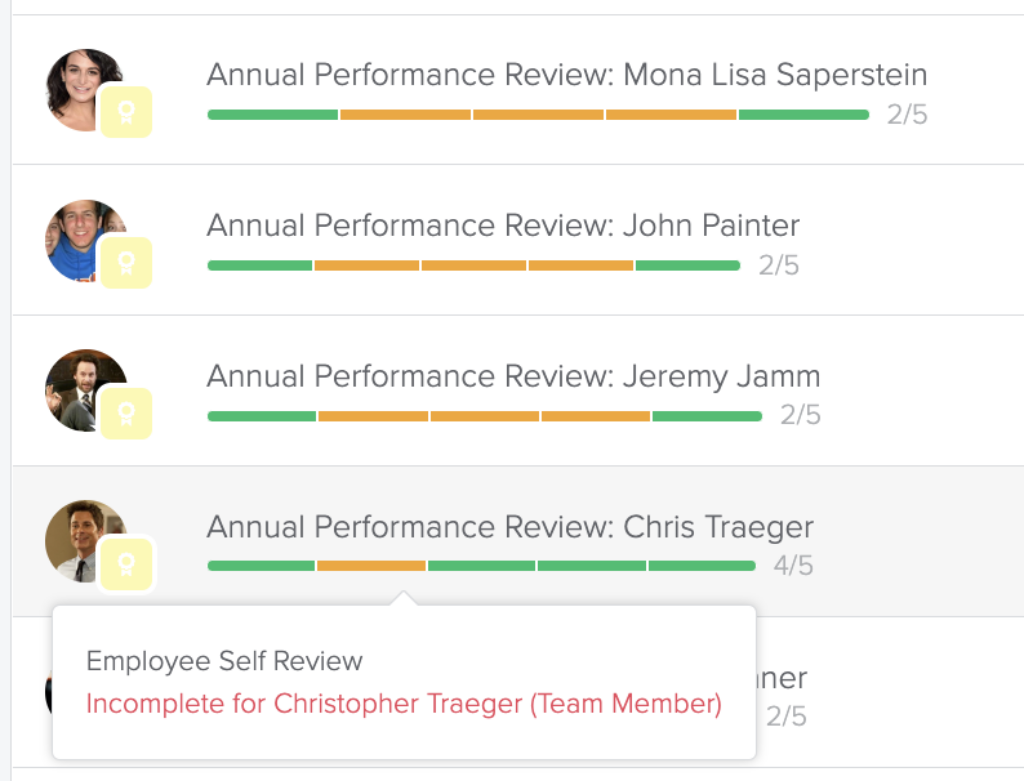 Reporting
We've made it easier than ever to view your team's data with our custom reports. Customize your reports to get a holistic picture of the information captured in your reviews alongside any other GoCo data you want to pull in. 

Employee Timelines
We know performance management is bigger than the annual review. Keeping an open and efficient feedback loop helps managers and employees stay aligned on expectations and maximizes retention. The employee timeline is a one-stop-shop to view employment info and performance documents alongside 1:1 meeting notes, accomplishments, and improvements. Customize access to notes posted on the timeline so managers and HR can stay in the loop and employees to keep track of important moments and feedback.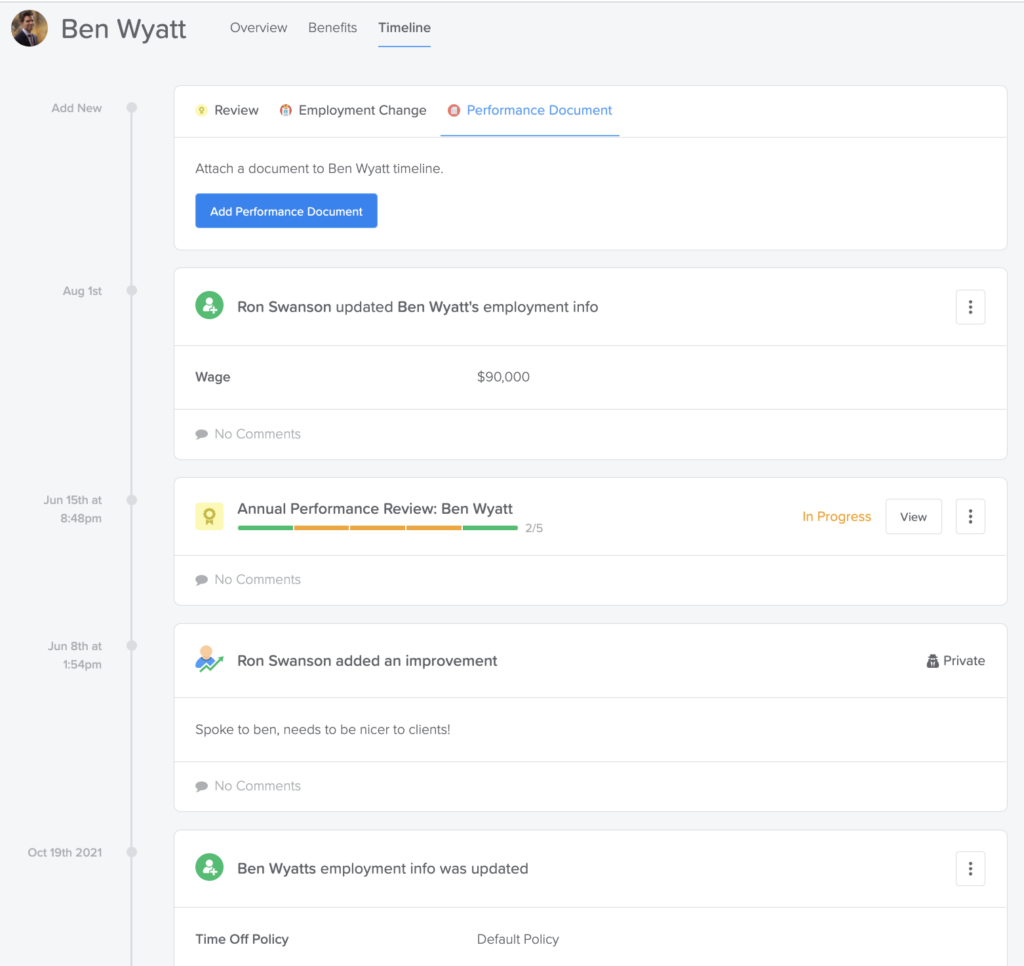 Downsides of a Performance Management Point Solution
A point solution is a software tool that focuses on solving one particular problem or use case. There are many great point solutions that provide an effective solution in their area of expertise, and they can often be implemented quickly. But, with that focus comes some degree of disconnection. 
Having separate systems to manage every process can become a headache if they can't connect to each other, or at minimum, to your core applications. It's harder to efficiently review an employee's performance history if that history lives in a separate system from your performance software. 
Because of the specificity of a point solution, it can also be harder to scale the system as your business and team evolve. How can you determine if a solution with such focus meets your needs when you don't even know what all your future needs will be? 
Enter... a flexible, all-in-one solution!
Benefits of an All-In-One Solution
While there are many robust point solutions focusing on performance management, we know there's a significant benefit to having your performance processes built into your employee management system. 
The flexibility of GoCo empowers you to constantly improve your processes, thinking up new ways to tackle all of your needs, even if they change over time. 
Having only one system to master frees up your admins and managers to focus on their people, an important goal here at GoCo. And your employees only have to go to one place to access all of their information. 

Whether you use paper forms and spreadsheets to manage your process or have a dedicated point solution, we hope you check out this awesome new feature! GoCo delivers everything you need to run effective reviews and easily track performance right inside your HRIS.
Watch a demonstration of GoCo's Performance Management feature from our What's New in GoCo Fall 2022 Webinar:
Book a demo with a GoCo Expert to see how you can transform your performance process with GoCo! If you're a current customer, ask your CSM about Performance Management.
Recommended Posts