= 50)" :class="navScrolled ? 'lg:mt-20' : 'lg:mt-32'" x-transition >

Blog Articles
Creating a Remote Work Policy for Your Small Business
The step-by-step process we followed at GoCo when creating our emergency remote work policy for Covid-19.
As the People Operations Specialist at GoCo, I'm on the frontlines of making sure that my team members are happy, healthy, and productive. So when news of community spread of the coronavirus emerged in our area, I started the process of enacting a remote work policy for our team. 

We talk to hundreds of HR professionals every single day, and one thing has become very clear through this process... there is no one-size-fits-all approach to getting this right, and small businesses are having to make really tough decisions right now to keep their teams safe.
We've been asked about how we built our remote work policy in response to Covid-19, so I'm happy to share what our process looked like. This process will look different for every business, so you should adapt your policy to the unique needs of your teams. Fortunately, so far our teams at GoCo have remained productive, happy, and healthy, despite all the chaos around us -- so feel free to follow our lead.

How we Created a Remote Work Policy for our Business
Here's the step-by-step process we followed at GoCo when creating our remote work policy for Covid-19.
We're rallying our leadership team.
Once news of community spread hit Houston, I invited the leadership team to a meeting to discuss our Coronavirus response plan.
We all shared our ideas about what criteria we should use to determine when, and if, we would go remote. At the time, we agreed that we should follow the local school district for guidance ― If Houston I.S.D. were to close, we would shut down our office and work remotely.
We also agreed to let employees know that if they felt uncomfortable or compromised in any way, they could choose to work from home at any time. 
We're constantly communicating about policies and resources for support. 
As soon as we rallied around our policy, we started a communication plan to remind employees of existing policies (ex: stay home if you're sick), and roll out the new emergency remote-work policy.
In the days leading up to the outbreak in Houston, there was some nervous tension bubbling around the office, as I'm sure many companies have experienced. But we found that as soon as we gave clear instruction on when, and under what circumstances we would close the office, the tension broke and I think there was a general sense of relief office-wide. 
Now that the school district has closed and we're all working remotely, I'm continuing to communicate at regular intervals. I'm reinforcing and reminding everyone in the company about the policies we already have in place, that can protect them during the emergency ― sick leave, health insurance options, FMLA, etc.

I'm also inviting employees to communicate questions and concerns with me, and checking in with managers regularly to see if they need support in other areas.

We're researching best practices.
Research can take time but sifting through the web and finding the best practices is the best place to start. SHRM is a reliable source of information you can count on. Pro tip: If you are looking at a major change, contact your attorney. It's better to be proactive than reactive.
We also created a Facebook Community for HR pros to share tips and look for advice on these issues. You can post your questions there and we'll help you get an answer. 
We're thinking backwards.
The best advice I can give when it comes to any major challenge like this, is to think about the problem you are trying to solve and work backward. As HR professionals we have to balance both the business and the people. Keep your eye on the "why" because you might still have to make tough decisions.
We're getting buy-in from stakeholders.
One of the most difficult parts of creating a new policy is getting approval from your leadership team. But you know who your grumblers/cheerleaders are, so court them before rolling anything out. Have arguments ready to defend your reasons in case there are push backs. Be firm but also give them the chance to speak up their concerns.
We're taking a role-specific approach.
Different roles have different needs. So think through every possible scenario to make sure they don't fall through the cracks.
In the case of Covid-19, while we remained in the office, I set up extra handwashing stations. Made sure bathrooms and kitchens were stocked and constantly cleaned. And constantly checked out the CDC's guidelines on cleaning - here.

If people feel unsafe have a fall back plan for them on a case-by-case basis. New federal programs are constantly rolling out, so stay up to date with the facts. I like BlankRome's task force, but your company's attorney is a great first step.

Essential personnel might have to be available. Certain roles might not have the same flexibility. Also, some roles might not be able to work from home. If you're in manufacturing and the plant has to stay open, essential personnel are going to have to work. All these different circumstances should be communicated firmly and clearly. Also, it's important to be able to show that staff selection is not being done for a discriminatory reason. You'll want to document the non-discriminatory business reasons that support the decision to be flexible, or not, about working from home.

We're setting expectations upfront. 
Establish clear guidelines on how productivity is going to be measured for employees working from home -- our sales team enters everything into our CRM so productivity can be tracked that way. Also, every department in GoCo has daily meetings in which they talk about what they did the day before, and priorities for that day. Be sure managers are communicating with their teams on expectations.
I also recommend putting a clear time limit or time frame for the emergency policy, even if the situation requires a re-evaluation of the policy in the future. Policies should live and be acknowledged in your HRIS. This is the best way to make sure employees see it. Communications through email or slack work too, especially if the policy needs to be reevaluated and announced to the employees. Just be sure it is somewhere where everyone can see it. Like we did in this case: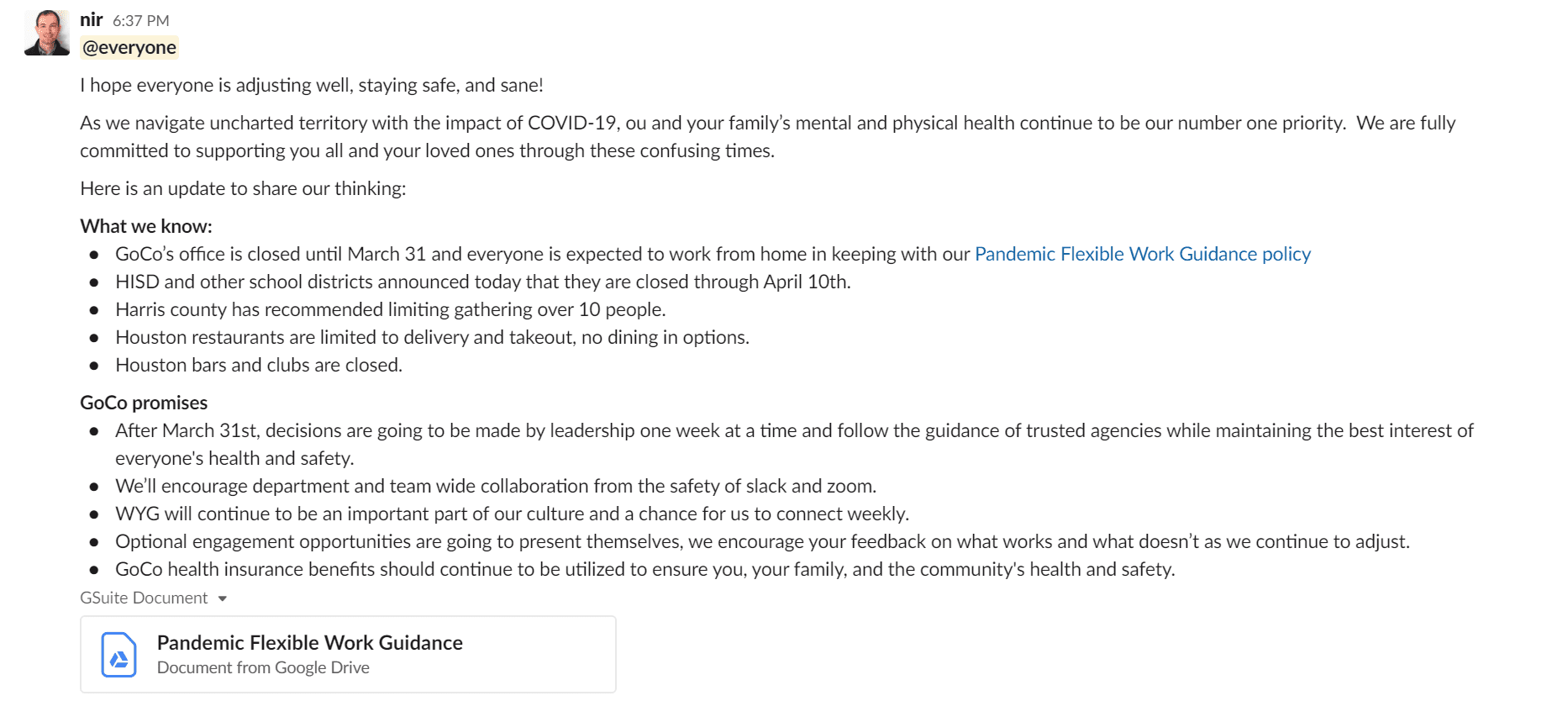 I hope this guide is helpful. We were able to react fast in the midst of a crisis, and I am sure this was appreciated by everyone in the company. Good luck, and stay safe.
Disclaimer: This policy is unique to GoCo.io and meant to be used as guidance only. Each company has the freedom to decide their work policy for emergency circumstances such as the Covid-19.