= 50)" :class="navScrolled ? 'lg:mt-20' : 'lg:mt-32'" x-transition >

Blog Articles
Remote Work Tech, Tools & Equipment HR Should Provide to Remote Employees
Discover how essential equipment and tech tools enhance remote work
In a world that has embraced remote work as the new norm, we find ourselves navigating the ups and downs of this transformative shift. While working remotely has undeniable advantages, such as increased precaution and flexibility, it's essential to acknowledge its challenges, like declining mental health and the need for proper resources. As we adapt to this evolving landscape, we must empower our teams with the tools they need to thrive and achieve their goals in a remote work environment.
Whether you're in HR or a business leader, we've got you covered. We've compiled a comprehensive list of essential equipment that HR can provide employees to ease their transition to remote work and enhance productivity. From the indispensable laptop to wireless computer accessories that upgrade any home office, we've curated a selection to equip your team for success. Let's dive in and explore the possibilities!
Laptop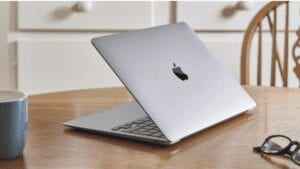 In most industries nowadays, it's nearly impossible to function without a computer - especially in the age of remote work. Our laptops have become our offices, as we use them to handle our actual work, take meetings, schedule our professional obligations, and so much more. Providing your team with this necessity eliminates concerns about a lack of resources. Most other items in this list are "nice-to-have" products, but the laptop is an absolute staple for any remote employee.
Apple MacBook Air 
The Apple MacBook Air (and any MacBook model) is a popular option for companies supplying employees with laptops! With speedy processing, great versatility, a sleek aesthetic, and the potential to connect with the rest of the Apple ecosystem, your team will love these!
Dell Vostro 3400 Laptop
We know how expensive laptops can get, so the Dell Latitude is an affordable favorite for working from home. At $499.00, it has all the features your employee may need, including Mobile Connect and ExpressCharge! This computer also features ports for accessories to improve productivity.
Performance Management Software
Performance management platforms are essential tools many organizations have embraced to enhance remote employee engagement. According to Lou Reverchuk, Co-founder and CEO of EchoGlobal, Motivosity provides HR departments with excellent employee engagement, management, and recognition features - three critical aspects of concern in remote or hybrid business models. 
"With plenty of features that help build a positive company culture, it's an instant performance reviewer with recognition," says Reverchuk. "It is easy to use with a very intuitive user interface, which makes it engaging and fun." 
Printer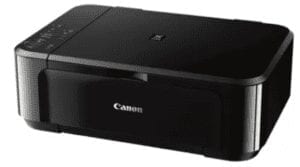 A printer is a staple in any office setup, and a home office is no different. The uses of a printer are pretty obvious, from printing documents to scanning to even faxing if your organization utilizes that. Giving these to your team gets them one step closer to making their home office fully functional!
Canon Pixma MG3620 Wireless Inkjet All-In-One Printer
This printer does it all for a price tag that isn't too crazy! With built-in wifi and Duplex Printing, this option will meet your team's needs. Ink is included with the printer, but your employees may also appreciate you stocking them up with some additional cartridges!
HP ENVY Pro 6455 All-In-One Printer
This option is a little pricier than the last one, but it's still a great choice! Our favorite features with this printer include automatic two-sided printing and self-healing wifi connectivity. If it fits in your budget, check this one out!
Project Management Tools
In pursuing improved project management and collaboration among remote teams, Ling App recently made a game-changing switch to ClickUp, as shared by Jarir Mallah, Human Resources Manager. 
"It's been a game-changer," says Mallah. "ClickUp is an all-in-one management tool allowing teams to track individual, team, and even company progress on goals." 
With its comprehensive features, remote workers can easily access the platform and communicate effectively, eliminating the need for additional tools like Slack. The integration of chat functionality streamlines communication and enhances productivity, making it a valuable asset for remote teams.
Tablet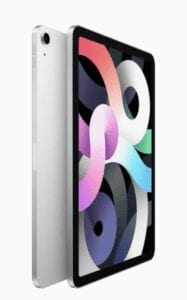 Depending on your industry, this item may or may not be essential. Either way, a tablet can enhance the remote work experience! They come in handy when planning presentations, graphs, and charts while web conferencing, reading and filling out documents, and so much more! If your organization revolves around graphic design, a tablet, and stylus has obvious benefits.
Apple iPad Air
Arguably one of the most popular tablet options in the market today, the Apple iPad Air is a fantastic option for remote employees. The full-screen front and sleek design make this device both functional and classy. Add an Apple Pencil and Magic Keyboard, and you've got the whole setup!
Samsung Galaxy Tab
Here's a more budget-friendly option from Samsung! With a long-lasting battery and expandable storage, this tablet is an excellent option for smaller operations.
Centralized Collaboration Hub
Microsoft SharePoint has emerged as a powerful tool for enhancing productivity and collaboration among remote employees. Atul Mankad, a Domain Expert at Naman HR, highlights the importance of a document management system, which enables remote employees to securely store, organize, and share files from a centralized location. 
"By leveraging document management tools, HR leaders equip remote employees with the necessary technology to collaborate efficiently and stay connected with their teams," says Mankad.
The platform also offers features like version control, document co-authoring, and workflow automation, facilitating seamless remote project collaboration. With customized team sites and intranet portals, remote employees can access important information, stay updated on news, and foster organizational transparency and collaboration. 
Company Phone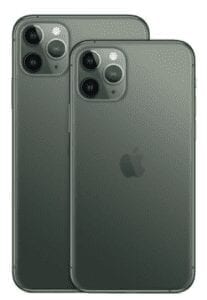 Life can get hectic very quickly. We all have family and friends to tend to outside of work. Managing all of these connections on one phone can get overwhelming. Consider providing a fixed work phone to contain all professional contact to one device! This separation between personal and professional could be a great idea, as remote work already blurs the lines between home and work.
Apple iPhone
The iPhone is a solid option for a company phone, especially if your company uses other equipment within the Apple ecosystem. The big selling point for this phone is its 5G speed, which is perfect for optimizing your organization's operations!
Samsung Galaxy
Also featuring 5G technology, this is another excellent choice for a company phone! This option comes in many fun colors and features a phenomenal display. See if this one's right for you!
Power Bank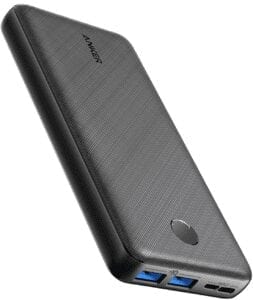 It can feel like we've got 98 gadgets and gizmos running simultaneously. With laptops, phones, tablets, smartwatches, and so much more, a handy power bank can ensure that the essentials are always ready to go when needed. Whether you run out of outlets or need to charge on the go, this tool can become a lifesaver.
Anker Portable Charger, PowerCore Essential
This power bank packs a massive 20,000mAh cell capacity, meaning it'll give you charge after charge after charge! Also, the twin USB ports allow you to charge two devices at once. Here's truly one of the best portable chargers you can find!
Bluetooth Headphones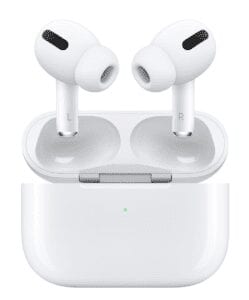 Working from home could mean working with the ambient noise of other family members, so this is a solid option to help maintain a quiet and peaceful work environment. Your team will love This piece of tech because they can also use it outside of work! These headphones can transition seamlessly from the virtual office to an evening workout, and your team will surely appreciate that versatility.
Apple Airpods Pro
This one's yet another wildly popular product from Apple. These headphones feature adjustable earpieces and noise cancellation, perfect for tuning out distractions and maintaining focus. Apple offers a "Free Engraving" service, so consider personalizing them to each employee!
Beats Flex
These headphones feature magnetic earpieces, a 12-hour battery, and a 10-minute charge time. For the price, these can't be beaten.
Blue Light Glasses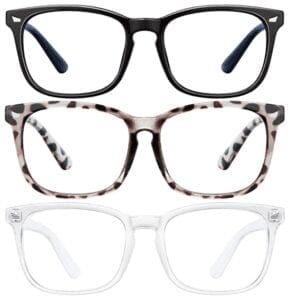 One thing we've become a little too acquainted with over this past year is our screens, phones, tablets, laptops, or televisions. These glasses can help alleviate some of the inevitable eye strain. Not to mention they're super stylish as well! Think about giving your employees some design options so that they can choose before you send them out.
Blue Light Blocking Glasses - 3 Pack
Protect your eyes while staying stylish! If you visit this link, you'll find ample color combinations to find three that suit your team members. Let them choose their set, and then send them out! Your team and their strained eyes will thank you.
Standing Desk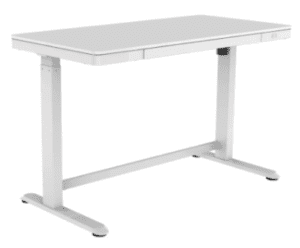 Here's an item that's slowly becoming more commonplace. The professional world is becoming more aware of the health benefits of a standing desk instead of your standard sitting one. This would be a neat piece of equipment for your employees to benefit from reduced back pain, better blood flow, and even higher productivity!
Realspace 48"W Electric Height-Adjustable Standing Desk
Find your perfect desk height with a push of a button! This desk boasts a weight capacity of 100 pounds, and it provides one file drawer for storage needs. This equipment is more of an extra splurge, but it must still be worth it!
Office Chair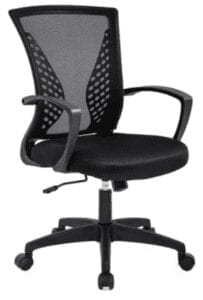 Whether at home or in the office, we arguably spend too much time at our desks. Our posture is suffering, contributing to what we call "work neck." Think about giving your employees a good office chair that's comfortable but also won't kill their backs. Pair this with our standing desk option from earlier to alternate between sitting and standing, and you'll be well on your way.
Ergonomic Desk Chair w/ Lumbar Support
Here's an inexpensive option that will look great with virtually any office setup! We want to emphasize this product's "lumbar support" aspect, as that's a huge plus.
Wireless Computer Accessories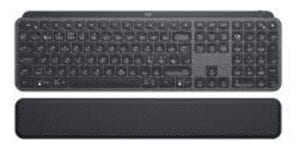 A simple way to upgrade any at-home setup is by adding wireless accessories, such as mice and keyboards, to the mix! These Bluetooth devices can make a workspace so much more functional and efficient. While they're not a necessity, they undeniably add value to the work-from-home experience!
Logitech M720 Triathlon Multi-Computer Wireless Mouse
This mouse can seamlessly pair with three devices, increasing functionality and productivity significantly. Note that it is contoured in favor of right-handed people, so you may want to look elsewhere for your left-handed employees. With average use, the battery should last a solid two years.
Logitech MX Keys Wireless Keyboard
We love this wireless keyboard! You can work with multiple devices seamlessly, similar to the mouse we just mentioned, even if one is a Mac and one is a PC! Also, the backlit keys make it even more special.
Desk Lamp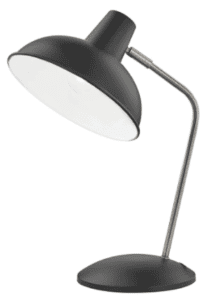 This one's function is pretty basic - if you need to work, you must see. A good desk lamp is a must for those evening sessions of getting work out of the way.
Light Society LS-T261-BK Hylight Retro Desk Lamp
For a more vintage look, think about going with this option! Composed of iron and at an affordable price, you'll undoubtedly get your money's worth out of this purchase. Not to mention, it just looks super cool.
Dean LED Task Lamp
If you're going for a more modern and minimal look, this choice may be more your speed. This lamp features an energy-efficient LED bulb and a touch sensor to turn it on and off! It's simple, elegant, and sure to be a company favorite.
Basic Appreciation and Communication
Marcie Shelton, Owner and Leadership and Strategic HR Consultant at The Leaders Partner, emphasizes the importance of appreciation and communication in remote work settings. 
"Sure, there are new tools that help with this. But the best are the ones you have with you all the time. Your eyes to observe, your ears to listen (there are two for a reason), your mouth to speak, and in this remote age, I'll add your fingers to type," says Shelton.
Shelton believes that the purposeful use of these tools, such as observing, listening, speaking, and typing, can be the most powerful means of showing value and recognition to remote employees. By leveraging these fundamental communication tools, organizations can foster a culture of appreciation and engagement within their remote workforce.
Final Thoughts
The first step to a smooth work-from-home experience is to ensure you're positioning your team for success. Providing the tools and equipment your employees need alleviates much of the stress that remote work entails. Additionally, you're showing your team that you've got their back - they won't feel lost as they adjust. Try sending out some of these suggestions and see their impact on your remote day-to-day!
Recommended Posts