= 50)" :class="navScrolled ? 'lg:mt-20' : 'lg:mt-32'" x-transition >

Blog Articles
New! Flexible Updates to Workflows & Enhancements to the Mobile App
New enhancements add a ton of flexibility & value for both internal team members and external users
Game-changing updates to Workflows and the mobile app have arrived! We're excited to announce 3 distinct new features to GoCo's automated workflow solution that add a ton of flexibility and value for both internal team members and external users. Additionally, our newest app enhancements make for a much smoother mobile experience. 
Here's an overview of what's new in GoCo Workflows:

Workflow User Field
Create custom "user" fields in your Workflow template to track and assign tasks to anyone. Within your Workflow, customize fields and designate whether team members, external users, or both types may be assigned to each separate task.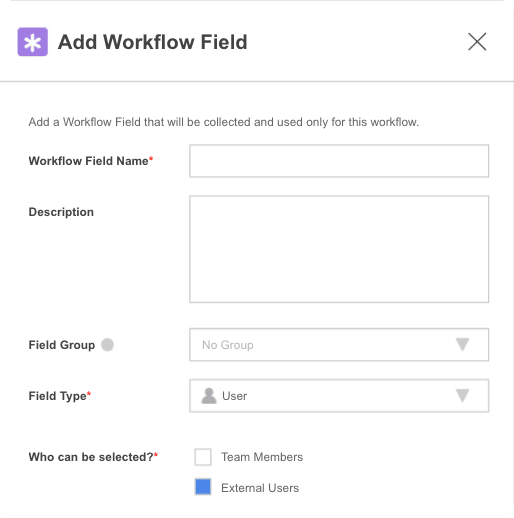 Add custom user fields to any Workflow step or only to the "Start Workflow" step to fit your processes -- you'll be able to see your custom user fields on the assignee list and add them to a Workflow task!
Existing team members will be assigned and notified via GoCo per usual, and external Workflow users will receive an invite via email, login to GoCo, and complete any relevant tasks.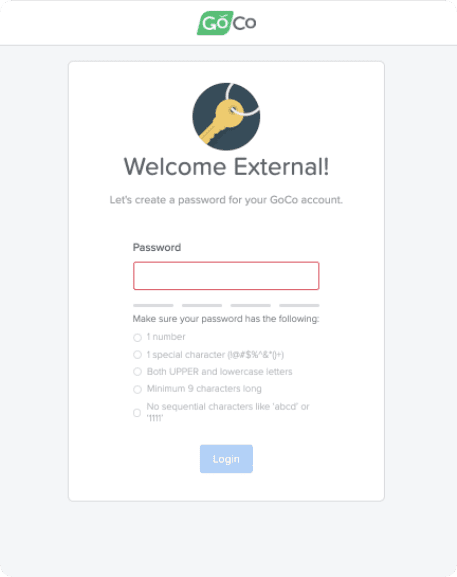 Use Cases
Assigning workflow tasks to different people for a new employee within their onboarding/training process. i.e. Designating an external security trainer for one step, a department head for another step, a team member for the next step, etc.

Giving an external district manager access to a workflow, and allowing them to review and complete tasks within GoCo

Giving an employee's family member access to complete steps in a  workflow (or any type of workflow)
… and so much more!
Here's a more specific example:
Let's say you run an In-Home Care business and you have a certain list of tasks and steps to track for new clients. You can now:
Create a new Workflow called Client Onboarding

Replace the Team Member field with a new User Field called "Client Name"

Assign external people to your workflow who don't work as employees at your company

When you go to start your Client Onboarding workflow, you can fill in your Client Name user field with the name and email of your client

Your client will then be emailed to create a GoCo account and can participate in completing the steps in your client onboarding process
Best of all, all of your Client Onboarding information can be routed and tracked all within a single place. You'll get a visual overview of how all of your Client Onboarding steps are tracking, and be able to dig into the details around the data tracked for the process.
Start Workflow Task
Fully customize the Workflow Start UI to make sure your Workflow gets started with the right data every time. This update allows the "Start Workflow" task to be configurable, so it's much easier to determine what information the Workflow starter will need to complete when beginning the Workflow, including:
Who the Workflow should be started for (i.e. employee, client, etc.)

Who the task can be completed by

Task start dates and due dates

Who has access to the tasks

And order in which tasks can be completed (in any order vs. one by one)

The ability to customize the Workflow Start UI makes it easy to assign and notify an Onboarding Buddy for any tasks related to a new hire's first day, or give external users everything they need to start a GoCo Workflow! Workflow Starters will also have a much better user experience as steps will be combined into the "Start Task" portion with less steps to take after the Workflow is started.
Here's a more specific example:
You've created a "New Laptop Request" Workflow so your employees can request a new laptop at any time. When they do request a laptop, you'd like them to give you information on why they would like a new laptop.
Using the new "Workflow Start" task, you can designate the following:
Who can start this Workflow (in this case, any employee)

Add a workflow text field for why they need a new laptop

Add a workflow dropdown field for what kind of laptop they are requesting

Assign any relevant managers to approve the request
After publishing, when the Workflow Starter has begun, these tasks/fields will be required upon start.
Remove Team Member Field
Create a Workflow for processes not directly related to your team members. Though the Team Member user field is added by default to new Workflow templates, you can now remove this field and start workflows for external users. 
Add the user field in your "Workflow Start" task

Remove the team member field

Start Workflows for people outside of your company, or where a team member does not need to be tied to a task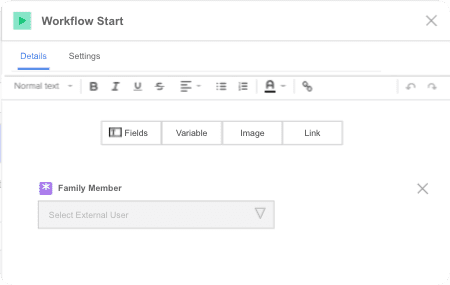 This update allows you to create and track essentially any business-driven process you want to organize around, including:
Onboarding and tracking new customers by creating a Customer Onboarding workflow -- customers can fill in data and complete relevant tasks!

Starting workflows for a team member's family member

Contributing or pitching ideas for a company event
Here's a more specific example:
You've created a new workflow called "Department Offsite Ideas", in which department heads can submit offsite ideas to be approved by the CEO and then Finance.
By default, all of your workflows are tied to team members. However, in this instance, you don't need to attach each task to a team member, so you can remove the team member field with the new enhancement.
Instead, you can customize each task with the updated Start Workflow UI to collect the information you DO need, including things like:
Add a text field for the offsite location suggestion (no team member tied to it)

Add a workflow field for the proposed budget
Mobile App Enhancements
In addition to groundbreaking Workflows updates, we're excited to announce a new and improved GoCo mobile app!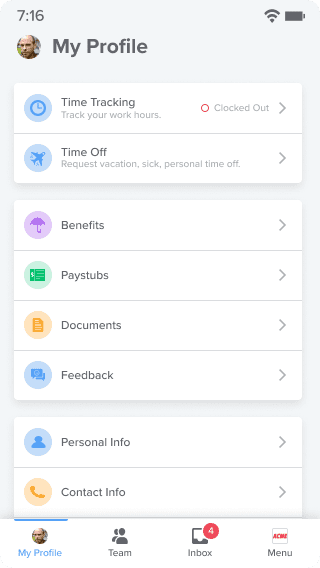 Here's what to look out for:
Improved Log-In Experience
GoCo's updated mobile app supports Apple's Face ID (facial recognition) sign-in, as well as Touch ID (fingerprint recognition) sign-in -- two popular mobile sign-in methods. The app also keeps you logged in so you won't have to frequently type your password in.
Seamlessly Request & Approve Time-Off
Employees can easily request vacation or personal time-off from their mobile devices. No need to log-in through the web! Better yet -- managers with the mobile app will receive mobile notifications for new time-off requests, and approve them right away. 
Efficient Clock-In & Clock-Out
GoCo's digital time clock system extends to its mobile app. Guarantee a pain-free clock-in/-out experience for employees, and makes it easy for managers to manage attendance.
Review & Update Profile Information
Need to update your home address or T-shirt size? Make quick updates to your employee profile right from the comfort of your own mobile device. 
Mobile Notifications
Receive notifications on your mobile device so you don't miss a beat, from time-off requests to payroll reminders.


Access ALL of GoCo from Your Phone
Unlike other platforms, our updated mobile app includes all of the components and tabs you'd have in the web platform for a truly consolidated experience.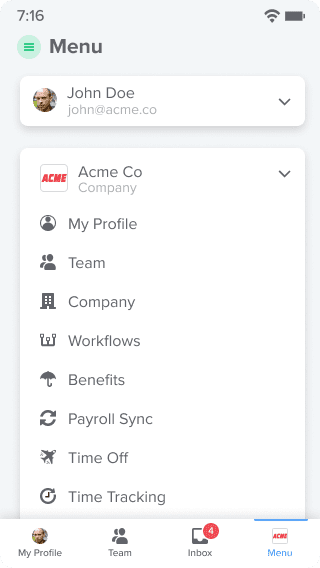 If you already have the GoCo mobile application, all you have to do is update it to the latest version in your App Store, and you're good to go! Enhancements to the mobile app help streamline manual tasks for HR pros, managers, and employees alike. 
Ready to take your HR to the next level?
Schedule a demo and see how GoCo can help!
Recommended Posts
Automate manual HR tasks in minutes with GoCo.