= 50)" :class="navScrolled ? 'lg:mt-20' : 'lg:mt-32'" x-transition >

Blog Articles
Tried and Tested Epic Virtual Fall Games for Your Team
It is challenging for virtual and remote teams to engage with each other. Here are some virtual games for your team that work!
It is really tough for members of virtual and remote teams to engage with each other and get to know one another. Getting together in person can be complicated or impractical, and that is why team leaders need to be proactive in finding and using all the tools and resources they can to foster a spirit of collaboration, comradery, and connection.
The quality and strength of these relationships can make or break a remote business, as they are vital to ensuring productivity and innovation. People who may have never physically met are being asked to rely on one another, and that can be very awkward. So, it is incumbent upon managers to help bridge that gap.
That is why we at WFHomie.com have compiled this list of events and ideas so that you can reap the dividends of a happier, tighter-knit virtual team.
List of Fall-Themed Virtual Events and Activities
1. Campfire Barista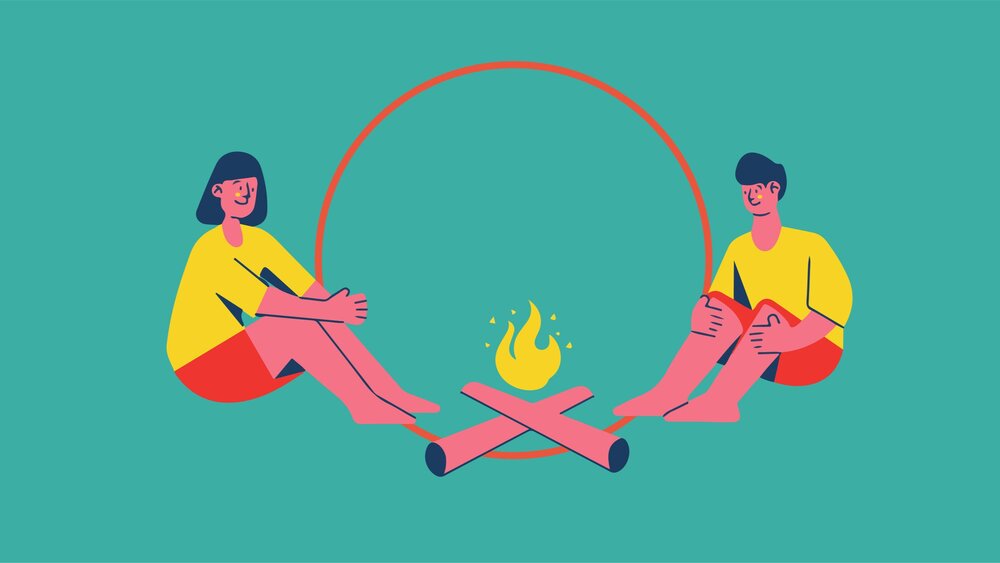 Cozy. Enriching. Wanderlust.
Our Host will teach you to make delicious Lattes and Cappuccinos with nothing but simple, organic coffee, a milk pan, and the flickering flames of a roaring campfire. You and your team will be transported to Halipuu forest in Finland accompanied by the skillful Campfire Barista and surrounded by the arctic wilderness.
You will leave with new insight into what makes good coffee, how to build a fire, and an unforgettable addition to your fall-themed team-building activities.
2. Fall Swag and Gifting
Gifts. Gifts. Gifts.
Everyone loves to get a surprise package in the mail. You can send your appreciation and recognition to your team through our swag drop and gift box products. Hassle-free, branded merch and custom swag delivered to your team by us so that they know you value them and what they do!
3. Thanksgiving Lunch
Thankful. Recognition. Appreciation.
You could host a virtual Thanksgiving dinner for you and your team (bring your own meal) and you could eat together and chat about what each team member is thankful for in their personal and professional lives. They could bring up things like a helpful colleague or a supportive management team.  This could be a great addition to your Thanksgiving virtual team-building activities.
4. Scavenger Hunt
Fun. Challenging. Customizable.
Your team will face a customizable virtual scavenger hunt challenge suited to test your team's ingenuity and problem-solving skills. Our host can set the challenge to your specific goals of what you want out of your fall-themed team-building games.
You could test their knowledge on your business handbook or have them produce deliverables on a new app. Make team spirit the spirit of the season this autumn.
5. Candlemaking Workshop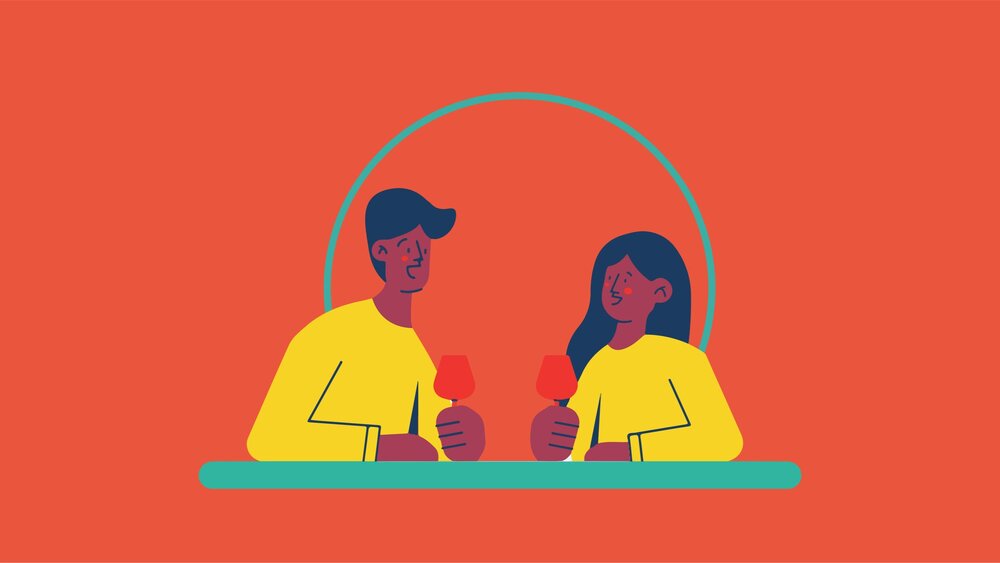 Warmth. Light. Artisanal.
With the chilly fall weather around the corner, this virtual team-building activity is a tactile learning experience that will allow your employees to learn a new skill and have a handmade memento that they can enjoy and share with their loved ones.
Your team will be taught how to make candles by an expert and receive a candle-making kit box. They could enliven their own décor or gift it this holiday season. Give your team the gift of light and warmth and boost your fall team building.
6. Terrarium Workshop
Nature. Connection. Life.
When the leaves fall, the cold winds can't be that far behind. Wouldn't it be great to bring a little green in from the cold?
In this virtual experience, our green-fingered host shows your team how to create a unique, modular ecosystem that your team can keep for themselves or gift to others. The material you'll need will be shipped to your door!
They are a chic bit of décor that will be a living reminder of what your team can accomplish if they pool their talents. Now, this is great fall team building!
7. Italian Tiramisu Class
Gourmet. Taste. Culture.
Every virtual team-building initiative could use a dash of Italiano! This laidback virtual event will give your team the time to laugh at themselves, explore their tastes, and learn to make a classic Italian dessert known for its sublime taste of coffee and chocolate.
So rich. So sweet. Molto bene!
This is a beautiful way for your team to foster relationships outside of work remotely, and it will lead to a happier, more productive team.
8. Musical Bingo
Sing. Dance. Bingo!
Yes, you read that right! Musical Bingo is a thing. We have replaced your granny's old paper cards with a virtual ones with songs and lyrics instead of numbers. This kind of bingo has a hilarious DJ host, couch dancing, and lip-syncing. And yes, there are lots of great prizes. It's pretty rad if you ask us.
9. Flower Arranging Class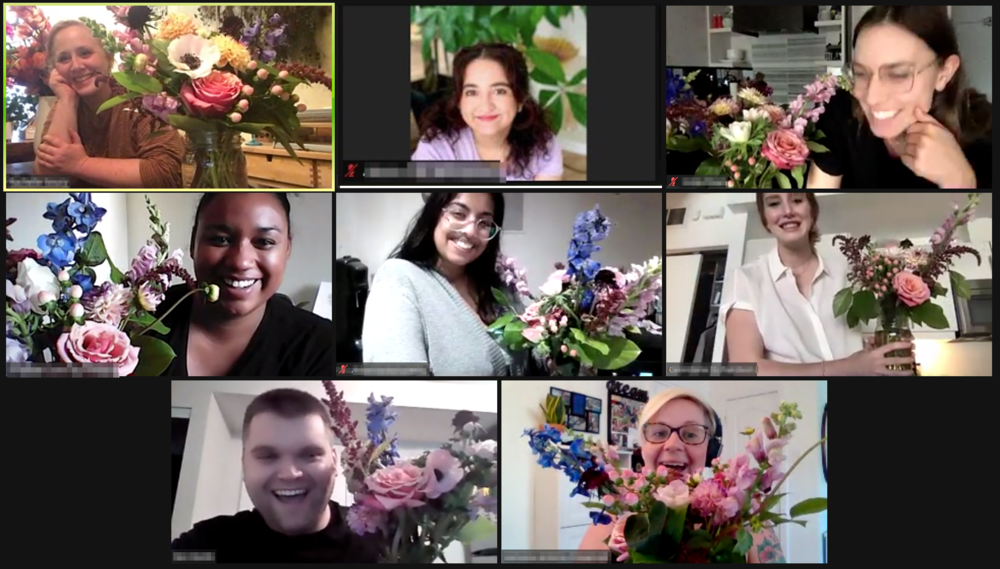 Crafty. Elegant. Homemade.
Your team makes great things happen every day, so why not have your remote team make beautiful and bright things as part of your fall-themed team-building activities?
Our flowery host will teach your team how to make gorgeous flower arrangements while letting them in on the principles of design. It is a functional, tactile experience that your team will love and enjoy as they learn more about each other, themselves, and, of course, flower arrangements.
Flowers and greenery included!
Let's bring the team together with WFHomie
10. Bubble Tea Masterclass
Trendy. Chic. Awesome.
Bubble Tea is the thing right now, and you and your team can get in on the secrets of the latest drink craze. You will have access to a boba expert who will help your team learn the bubble tea basics and get a chance to taste a few great flavors!
11. Happy Hour n' a Half Cocktail Game Show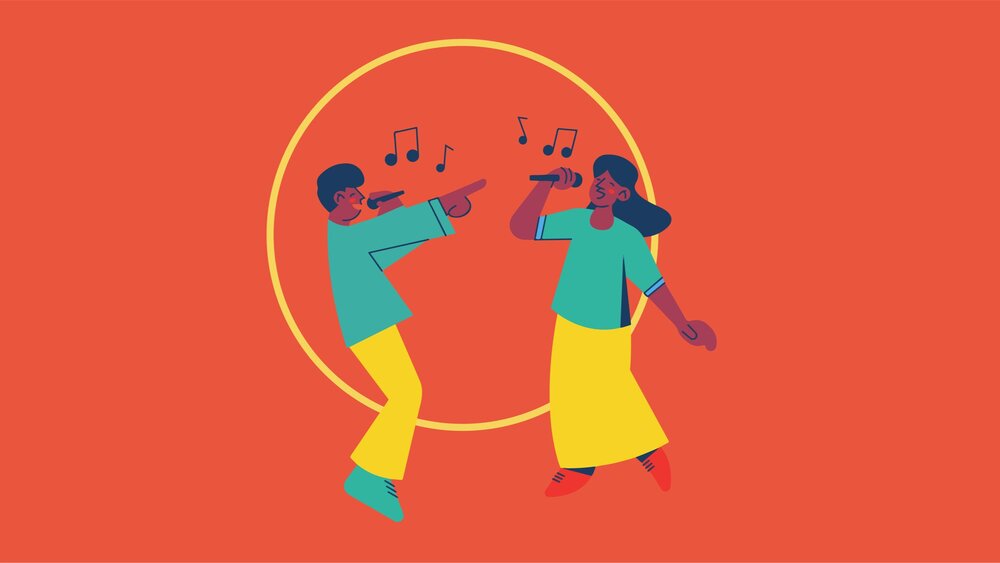 Fun. Energy. Loose.
Your team will be able to star in their very own interactive Cocktail Making Game Show. It is like a pub quiz except you're also the bartender. Your team will play cocktail trivia games with the chance to win fun prizes.
Beyond The Bar's Startenders are here to share their mixology skills while they entertain your team and run the show. With the bars closed, or at limited capacity in most places, this is a great alternative to in-person happy hours and a fantastic way to promote fall-themed team building.
12. Coffee Masterclass
Inviting. Fragrant. Simple.
We all know that coffee is the rocket fuel that soars remote teams and their businesses to new heights. Our host will take you on a deep dive into what really makes a great cup of coffee and why. We will do this by covering some basic concepts about the neuroscience of flavor.
Then, we will go through the different processes and techniques on how to brew a great cup of joe. Also we believe that coffee can make synergy, innovation, and drive better.
This will be the best cup of coffee you'll ever have because you'll make it as a team.
13. Soap-making Workshop
Rejuvenating. Cleansing. Vital.
Our expert instructor will take your remote team through a step-by-step recipe to make wonderful homemade artisanal soap. This soap-making delivery kit and the virtual event will cover the science behind soap-making, the use of essential oils, herbs, and clays, as well as many other topics of interest.
Your team will learn and grow together during this fall team-building experience and create an eco-friendly, homemade batch of soaps ideal for gift-giving.
14. Exquisite Wine Tasting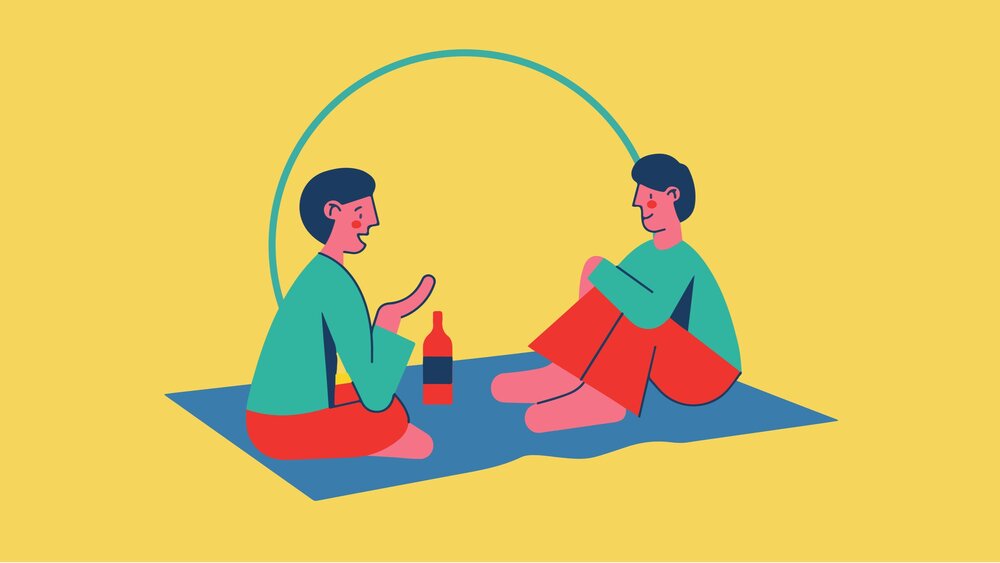 Fun. Exciting. Indulgent.
The flow of smooth, rich wine has a unique way of connecting and bringing people closer together. Your team will be delighted by two bottles of premium wine delivered to their door and enchanted by the expertise of an insightful sommelier as they give a virtual guide and insider's view of the intimate world of wines. This virtual event will give a splash of elegance (possibly a splash of wine) to your fall-themed team-building activities.