= 50)" :class="navScrolled ? 'lg:mt-20' : 'lg:mt-32'" x-transition >

Blog Articles
The Definitive List of Virtual Holiday Party Ideas and Games
We know, and you know, that your distributed team expects a great virtual office holiday party, but we got you covered with some truly awesome virtual games.
by CJ Cowan - December 1st, 2021
Planning a holiday Christmas party is always a hassle and time-consuming. Time, energy, and resources team managers could be putting into outstanding projects during the biggest shopping season of the year is being put towards something as silly as a holiday party.
This is made all the more difficult by the sluggish COVID recovery. We know, and you know, that your distributed team still expects a great virtual office Christmas party, but we got you covered with some genuinely awesome virtual office Christmas party ideas.
Virtual Santa Claus Experience
What better way to tell your team that work-life balance is more than just a buzzword than giving them and their families a visit with Santa? Time to prove that distributed workplaces can be just as family-oriented as the office.
With this virtual holiday event, your team and their little ones will get a live, interactive, one-on-one sit down with the big man himself. This is an essential addition to any virtual Christmas party. Even St.Nick sees the benefits of working from home!
Gingerbread House Competition
Under our Christmas tree of holiday-themed team-building events is our Gingerbread House Contest.
Each team member gets a gingerbread kit with cookies and goodies to build their own fantastic gingerbread house. Our expert judge will choose the best gingerbread real estate and pick the gingerbread house contest winners! Cheaters will be put on the naughty list! 
Exquisite Wine Tasting
We imagine most of your virtual Christmas party ideas involve booze, but why not something fancier? The flow of smooth, rich wine has a unique way of connecting and bringing people closer together.
Your team will be delighted to receive a couple of bottles of excellent wine delivered to their door and enchanted by the expertise of an SMS-certified sommelier as they give a virtual tasting guide and insider's view on the intimate world of wines. This virtual event will provide a splash of elegance (possibly a splash of wine) to your virtual Christmas party.
Bubble Tea Masterclass
Do you want to do something different to add to your sleigh of virtual office holiday party ideas? We got two words for you. Boba.Tea. Bubble Tea is trendy right now, and you and your team can learn about the latest drink craze.
We'll connect you to our boba boss, Jeannie, who will help your team learn the bubble tea basics and get a chance to taste a few great flavors! Our Bubble Tea Masterclass is a hit with remote teams at Google! A delivery kit is included!
Mixology Masterclass
Is anyone up for a virtual happy hour? Some wobbly pops are always a staple of office holiday parties, and they can still be for distributed and remote teams. Our expert mixologists will teach you how to craft delicious and banging cocktails for you and your team.
There won't only be an open bar at a virtual holiday office party; you'll be tending it! Splash a little booze into your cocktail of virtual Christmas party ideas!
Virtual Secret Santa
Here is a freebie for us. Why not have a Secret Santa for your distributed team this holiday season? Gift exchanges are a classic! A lot each participant $20 to spend on Amazon or another reputable online retailer to buy a randomly selected colleague a gift.
You guys can get together on a Zoom call and open your presents once all your gifts arrive. It is a relatively hassle-free way to show employee appreciation this Christmas.
But, it would be difficult to distribute these gift cards quickly and easily.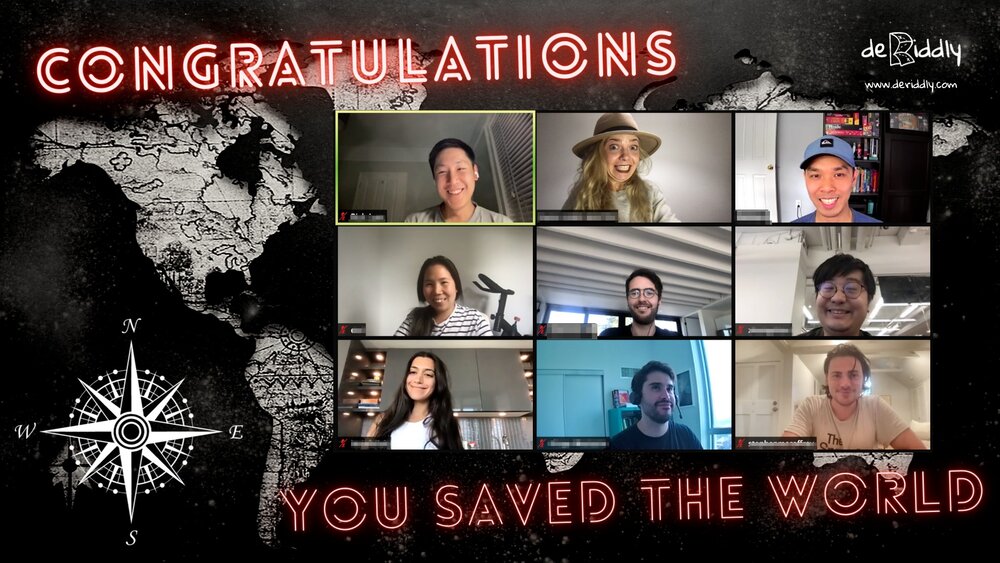 Virtual Escape Rooms
This is one of our most popular virtual Christmas party games. Just like a regular escape room, the entire team can participate no matter where they live. In our varied escape room experiences, including hidden spells and cursed skulls, your team must solve riddles and puzzles before time runs out.
In all the breathless excitement, your team will learn so much about each other and become closer as a team.
Virtual Murder Mystery
If you want dramatic plots to be in your stocking this year, you've come to the right place.
Your team can connect with our experienced detective, who will host and take care of every clue (and every detail) of your murder mystery so that you can let loose and experience a bit of interactive intrigue. It is a fantastic way of team building in distributed workplaces. We handled the hassle, so all you have to do is be ready to solve a case!
Coffee Brewing Class
We know coffee is your rocket fuel! Our host will take you on a deep dive into what makes a great cup of coffee, the science and the art. We'll walk you through various techniques to brew a great cup of joe.
Coffee, wonderful coffee, can make innovation and creativity hit the stratosphere. That's why we offer our virtual event platform perfect for large groups of distributed team members. They're sure to blast off employee morale and business outcomes.
This will be the best cup of coffee ever because you'll make it as a team.
Charcuterie Board Class
The appetizers can be part of the decor at your next virtual holiday party. Our expert host will teach you to make eye-catching, mouth-watering charcuterie boards. These are more than cheese boards, filled with tasty selections of meat, cheese, and other tasty tidbits. Your team will receive DIY cheese board kits with all your supplies.
Christmas will come early and taste great. Our host will give step-by-step instructions on building an elegant charcuterie board and then a guided tasting followed by a quick lesson in taking Insta-worthy pics of your creation. Cheese and clout go great together, by the way.
Candle-making Workshop
With snow piling up outside, this virtual team-building activity is a tactile learning experience that will allow your employees to learn a new skill and have a handmade gift to enjoy or give to a loved one.
An expert will teach your team how to make soy wax candles and receive a candle-making kit box. They'll also learn about aromatherapy. Your team could cherish their creation themselves or gift it during the holidays. Give your team the gift of light and warmth, and add something special to your virtual Christmas party ideas.
Chocolate Making 101
Ever want to know how to make chocolate? Now's your chance! You'll learn to make dozens of chocolatey treats, including Truffles and Chocolate Lollipop, with an online session hosted by an expert chocolate maker and our DIY Chocolate Making Kit.
Only the best ingredients for our clients, including pure Belgian-certified chocolate and other premium ingredients customized to be suited to many different dietary restrictions. What goes better together than Chocolate and Christmas? We don't know, either.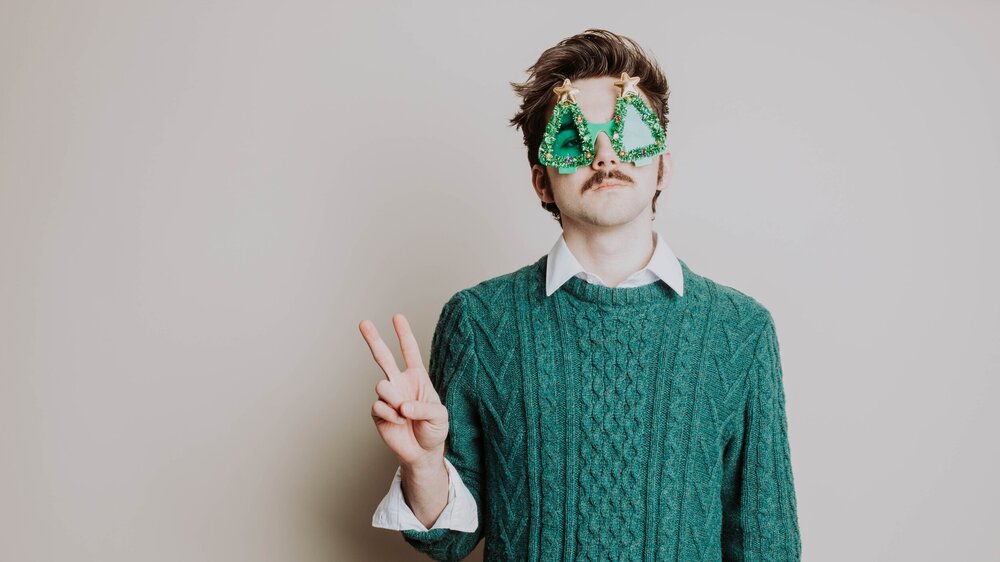 Virtual Sweater Making
Have you always wanted to learn to knit? But you kept putting it off? A couple of unfinished youtube tutorials? We get it. That's why we created our new Christmas Sweater Making Event. Only basic skills are needed for this beginner's knitting workshop.
In this three-part workshop, you'll learn the jersey stitch, how to create the body and the sleeves, assemble the components, and all the know-how to create a basic sweater, so you can snuggle up and enjoy the season in comfort!
Christmas Felt Ornament Making
A little arts and crafts might just be the thing to get your distributed team in the holiday spirit. Join us on Zoom to create some adorable felt ornaments. They'd be perfect Christmas decorations for a Christmas tree or a home office, or you can gift them. There are two patterns for this beginner needle felting workshop. One is a snowy landscape with pine trees, and the other is a jaunty owl with a toque! An artisanal and creative addition to your virtual holiday party.
Chocolate Tasting Experience 
Our chocolatier host will walk you through a whirlwind of chocolate deliciousness, an educational and indulgent exercise. You'll learn about chocolate-making from the bean to the box to your taste buds.
Want to add some booze to the mix? We have beer and wine pairings available for your choosing. Become a chocolate connoisseur today!
Virtual Brownie Bake-off
Bring out your inner Cake Boss by participating in this 'Great British Bake-Off 'inspired virtual team-building activity. These beginners' virtual baking parties are loads of laughs and fun.
A DIY kit will be shipped to each participant with all the dry goods they'll need to start making a mess and start making memories. Let your team get some of their Christmas baking out of the way during your virtual holiday party. Trust us; they'll thank you!
Recommended Posts