= 50)" :class="navScrolled ? 'lg:mt-20' : 'lg:mt-32'" x-transition >

Blog Articles
The Benefits of Having a Paid Leave Policy at Your Company
It wasn't that long ago that the only long-term leave an employee could take from their job was for maternity or serious illness.
Most other types of employee absences were managed through a company's vacation and sick leave policies and it was at their employer's discretion whether any of that time was paid, or even if there would be a job for the employee to return to.
Currently, the US Family and Medical Leave Act (FMLA), administered by the Department of Labor (DoL), guarantees 'covered' employees their job for up to 12 weeks absence from work to deal with medical issues, care for family members, or prepare for a family member's military service, but pay is not mandated and many people are not eligible under the Act.
In an attempt to help employees offset the stress and costs associated with the reasons that they take unpaid time off from work, states, private companies and even cities are increasingly offering employees leave under various paid time off (PTO) plans. Such plans are not only more in line with worldwide employment standards, making US companies more competitive and attractive from a global perspective, but also gives American workers the benefits they want, particularly with respect to paid family leave.
The Society for Human Resource Management (SHRM) defines paid employee absences in the following ways:
Paid Leave: paid vacation leave, paid sick leave, paid personal leave

Parental Leave: maternity, paternity, adoption, surrogacy

Bereavement

Sabbatical

Civic: paid leave to vote in elections
PTO plans often combine some or all of these absences into one single leave plan to be used by employees at their discretion, and with full or partial pay.
Government Rules and Regulations Around PTO
Since there is no country-wide mandated law that must be adhered to, PTO policies can vary widely based on region, company size, and industry. A 2016 SHRM study of US employers found that, across all industries, an average of 98% of all organizations offer paid holidays and 53% offered some form of PTO plan in the form of paid family, maternity, parental, and sick leave above federal or state FMLA leave guidelines. This was an increase from previous years.
The US is the only developed country in the world that doesn't currently offer a federally mandated family leave plan, but that may not be for long. President Trump has drafted a plan that is unexpectedly popular with both Democrats and Republicans. His proposed plan would offer six weeks of paid leave for new mothers (coverage would not apply to same-sex couples, fathers, or adoptive parents). Unlike the FMLA, the plan would be run under state unemployment insurance programs rather than the DoL.
While many states have existing leave plans to support new mothers, most are unpaid and have varying eligibility requirements such as being applicable only to full-time salaried employees of companies with more than 50 employees. Not all state plans address leave associated with illness, though many offer leave for "disability," with pregnancy falling into this category.
The few state-covered PTO plans already in place offer partial-pay support once the benefits under the FMLA run out, with each jurisdiction having its own rules for eligibility, payout percentages, and caps.
Generally, the benefits for each are applicable across a 12 month period and are funded by employee contributions to the state's (or city's) disability insurance program or through employee payroll taxes which are paid via employers.
California was the first state to implement a PTO plan. Currently, they offer six weeks of family leave for the care of a new child or family member, paid out at 55% of employee's weekly pay. In 2018 this will jump to a 60% payout (70% for low-income wage earners) with a cap on how much can be drawn in any leave period.
The newcomer on the scene is New York whose new law takes effect January 1, 2018, with what is considered one of the US's most generous laws. It allows employees 12 weeks of paid leave to care for their biological, adopted, or foster child, prepare for military leave, or manage serious medical issues of their own or a loved one. Already anticipating changes, the 2018 law will offer eligible employees 50% of their usual pay for up to eight weeks, but benefits will gradually increase so that by 2021 employees will receive 67% of their regular pay for up to 12 weeks of leave.
New Jersey, Hawaii, Rhode Island and Puerto Rico also have partial-pay parental leave programs to help new parents with their young ones.
Some cities have chosen to implement their own paid leave plans, including San Francisco which offers six weeks of fully paid leave, and Montgomery County, MD, which cited President Obama's 2015 State of the Union address urging the adoption of paid family and sick leave as their reason for implementing the law.
The city of Washington, DC has enacted a private-sector employee leave plan that goes into effect July 1, 2020, with some noticeably different rules around eligibility. Washington, DC's plan does not require a waiting period before new employees can take advantage of it, participation is open to employees of companies with fewer than 20 employees, and is also open to part-time employees who meet certain requirements. Generally, paid leave plans do not include part-time employees, so drafting this into a new act in the nation's capital may lead to far-reaching changes for other PTO plans in the country.
Initially, many corporations opposed separate state plans believing that it would put too much stress on employers and cost them jobs, but in California after more than 12 years in practice, results show that more than 90% of businesses reported a neutral or positive impact for their companies. Much of this is credited to "improved employee productivity and morale."
Still, there are critics that exist particularly for those programs that are funded by tax credits. The highest payouts under PTO plans will go to individuals with the highest taxable incomes, and little is done to address the often more critical financial needs of lower-wage workers.
Want even More HR Goodness? Sign up now to receive the latest HR tips and GoCo updates straight to your inbox!
How Companies Work With PTO
As popularity with PTO plans continues to grow, companies of all sizes are developing policies of their own in an attempt to increase employee satisfaction, retention and recruit skilled talent. In fact, 63% of employees rated PTO as a "very important" contributor to job satisfaction. With more Generation X and Boomer workers managing elder care for ailing parents, and the millennial generation (now the largest segment of the US labor market) preparing to start families, it's no wonder that PTO plans are desirable.
The move to keep existing employees is a smart one when you consider that replacing an employee can cost a company between 25-213% of their annual salary. That cost alone could be worth implementing a PTO policy for some employers.
Generally, technology companies are leading the way in PTO plans due to high competition in the industry and a skilled workforce that hails from areas in the world where leave plans are often very generous by US standards. As an example, Facebook made big news earlier this year when they announced that all employees would be eligible for six weeks of paid leave to care for family members. This is on top of the already allotted four months that parents working at the company are given. On top of all that, they've doubled their bereavement leave to 20 days.
Though larger companies have the clout to implement innovative PTO plans for their employees, it is often smaller companies who have much more flexibility since they usually have less corporate red tape and levels to go through to get a new plan off the ground.
A PTO that creates a pool of days for the employee to use as needed is the most popular and flexible plan. It helps create an atmosphere of respect, trust, and fairness between the employer and the employee and recognizes that time off needs will vary for each individual. Employers still must approve the employee's time away from the office, but a flexible PTO plan saves managers the effort of trying to police employees' use of their time off.
A study by WorldatWork found that the average number of PTO days offered by US employers was: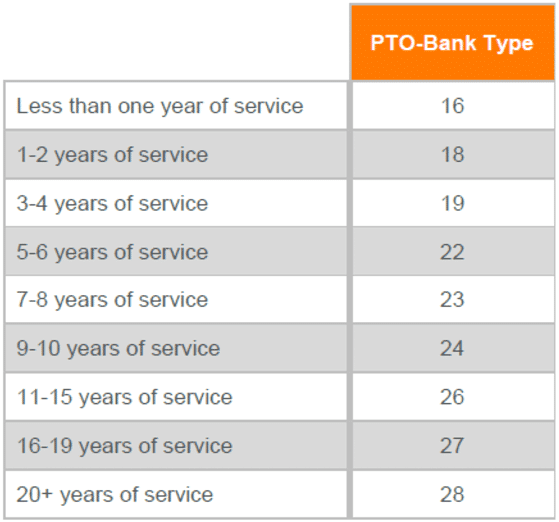 A few daring companies have offered "unlimited PTO" or vacation time to employees, which makes most companies cringe when they think of the potential for abuse. Interestingly, many companies who implement such plans are finding that their employees are still taking approximately the same number of days out of the office as before, however, employee morale is skyrocketing.
All this aside, implementing a PTO plan may not be right for your company. There are considerations such as company culture, employee perceptions, and workforce demographics to take into account, as well as liabilities associated with the transition from one plan to another.
But if a PTO plan is something your company wants to pursue, research what your competitors are doing and consider going at least one step further to boost your reputation as an employee-friendly place to work and attract a higher caliber of talent. Whichever way your company wants to go, there is sure to be a model to help you design a PTO plan that meets your particular needs.
How GoCo can Help
If you have decided that a PTO plan is right for your business, GoCo's all-in-one HR platform organizes and streamlines PTO, onboarding, benefits and more to save you time and money. Our HR software provides you with everything you need to track time and ensure accurate payment. From paid time off to COVID-19 paid leave and managing timesheets, GoCo automates your processes so you can ditch the paperwork. With the current pandemic, it is becoming more and more important to draft a paid leave policy plan, as employees are at heightened risk and may need to take paid sick leave. Take a tour to learn more today!
Recommended Posts