= 50)" :class="navScrolled ? 'lg:mt-20' : 'lg:mt-32'" x-transition >

Blog Articles
How to Boost Employee Engagement in Remote Teams
Employee engagement is crucial for team cohesion, culture, and productivity. But working from home makes it much harder to engage your employees.
by Reza Farahani - July 20th, 2021
Employee engagement is crucial for team cohesion, culture, and productivity. But working from home makes it much harder to engage your employees. As amazing as remote work often is, it isn't easy to know where to even start with remote employee engagement. That's because your company culture is stretched across calls, channels, and emails rather than in the office, where you can see how engaged your team is and try building up their motivation in person.
In this blog, we'll look at remote employee engagement, why it matters, and how to boost it when working remotely.
What is Employee Engagement?
Boston University Professor William Kahn first coined the term employee engagement in a 1990 paper, "Psychological Conditions of Personal Engagement and Disengagement at Work." Since then, the term has evolved to take on many new meanings.
According to Kevin Kruse in Forbes, employee engagement is the "emotional commitment the employee has to the organization and its goals."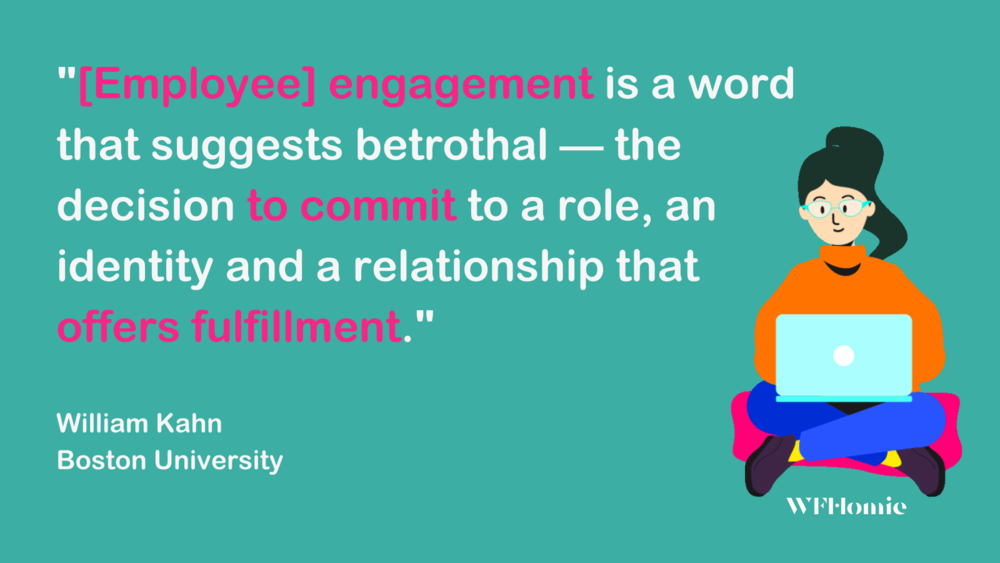 In other words, employee engagement is about the decision to commit to a role, company, and network that offer a sense of belonging and purpose. 
With remote work, employee engagement has come to take on greater meaning. While the heart remains the same, hybrid, remote, and distributed teams now must consider how working in virtual settings, sometimes asynchronously, affects their employees' engagement.
How Employee Engagement Improves Your Bottom Line
It's easy to think that employee engagement is just "another one of those buzzwords." However, it's still relevant, especially in remote settings.
In the last three decades, organizations everywhere have put a new focus on employee experience and employee engagement especially. To quote Michael Gretczko from Deloitte, "This has just become a business imperative." In one study, companies with highly engaged workforces reported a growth rate in revenue 2.3 times greater than average over three years. Other research indicates that organizations with engaged employees have 6% higher net profit margins. Woah!
The business value of employee engagement cannot be underestimated.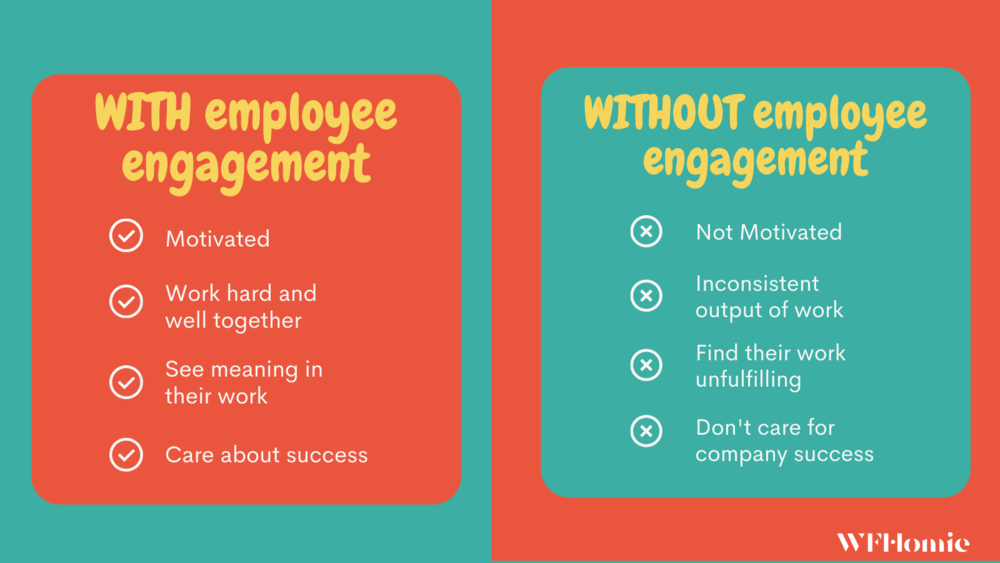 Every quantitative indicator shows that employee engagement matters, from higher service and customer satisfaction to increased sales, profit, and shareholder returns. And more than you'd think!
The reasons why it matters are a bit less tangible, but it has to do with how fulfilled, driven, and motivated your team feels daily.
Teams who feel like their work has meaning and that they belong in their organizations or more motivated and more consistently motivated. In other words, the quality of their work is not driven by temporary and external motivation factors but rather by a deep commitment to the success of their company.
That's why it matters so much to boost your employee engagement, whether you are a remote manager or a team leader in the office. Without employee engagement, your revenue might soon trickle down to nothing.
Challenges of Managing Remote Employees
Employee engagement is generally challenging to create and obtain — mainly because there is no quick fix that will make your team fulfilled. Instead, employee engagement depends on intangible but all-too-important things like culture, values, purpose, and connection. And working from home, it can feel scary to tackle those things for your team.
But it's worth it, and we're here to help you.
Remember, remote employees won't be at the top of their game when they feel disengaged. You'll see their productivity drop, their enthusiasm dwindle, and their ability to communicate and collaborate with others effectively fizzle out.
Here are some key challenges to be aware of if you're trying to boost employee engagement in remote teams:
📓 Documentation
Part of feeling engaged is knowing what matters and what doesn't and seeing how that aligns with your value system. In a remote environment, it's all the more important to write things down and make priorities, values, and communication norms explicit for your team. If you haven't thought of documentation much before or invested much time in a company-wide database, this should be a warning flag for you from the get-go.
🤗 Experience
Working alone at home and asynchronously can be highly challenging to find ways to improve the employee experience from beginning to end. And trust us; this is undoubtedly key to engagement.
What is it like to work in your remote team every single day?

How do you feel when you log in at 8 or 9 am?

Do you enjoy communicating with others?

Do you have virtual events and online team socials to look forward to?

Does your team manager respect your work-life balance and let you clock out early sometimes?

Have you ever received a surprise gift delivery to reward your efforts?
These questions all concern the overall employee experience at your company. Because with remote teams, little things go a long way to improving employee engagement.
🌟 Purpose
Building upon documentation and employee experience, purpose is another puzzle piece in the quest for remote employee engagement. This is a considerable challenge for many remote teams: how do you connect your workers' values, priorities, and core beliefs to your company's success?
If you manage to do so, you will tie your employee productivity to their sense of purpose, significantly improving employee engagement. However, all too often, remote managers and team leaders struggle to get to know their employees enough to be aware of how their values can align with the company's mission. If you're in a similar situation, finding ways to connect and socialize with your workers might help you cultivate their sense of purpose and fulfillment — the heart of employee engagement.
Tools to Engage Remote Employees
If you're scratching your head and wondering how to engage remote employees, we've got you covered. Here are some tips, tricks, activities, and events to boost employee engagement in your remote team!
These tools to engage remote employees help solve the three challenges outlined above — documentation, experience, and purpose.
📝 Write things down: everything you care about in your company should be accessible to your employees asynchronously, anytime. Start with your values, then move to communication norms, build employee profiles, write down key wins and failures from the past few years, and share crucial information that helps your remote team thrive in and out of work.
👩‍🏫 Model empathetic leadership: be the leader you wish to see in all the most prominent companies. Check-in personally with team members, show curiosity and get to know them, ask about their struggles in and out of work, refrain from judgment when they fail, and give them a leg up when they need it. Your time will pay for itself with your team's improved motivation and productivity.
☕ Plan regular virtual icebreakers: Virtual icebreakers are short and interactive team-building activities that help remote teams connect and have fun. Throwing some in weekly, at the start of your meetings, or as a stand-alone can help replace some of those water cooler chats you might have at the office. If you're stumped about where to start, try one of the five icebreakers we wrote about in this blog.
🌱 Invest in personal and professional growth: Getting to know your team members' goals in and out of work, then investing time and energy in helping them achieve those, can boost employee engagement, retention, and loyalty. If you know your boss has your back, you might feel like your company aligns with your mission. Why would you ever leave?
👏 Give kudos loudly and often: There's nothing worse than consistently bringing your A-game to work, believing in the company, and investing time and energy in your most significant project yet, only to have nothing happen when you finish. By celebrating your team's wins — great and small —, you can help foster a positive and inclusive work culture that allows your employees to feel recognized, appreciated, and engaged daily. To get started, send an appreciative message to a coworker on a public Slack or Teams channel.
📆 Hold regular online events: Virtual experiences exist to help your team get to know each other, connect, and bond on a deeper emotional level than before. This allows your team members to feel like they're part of something greater than themselves — like they belong and there's a purpose to what they're doing in your remote team.
Recommended Posts