= 50)" :class="navScrolled ? 'lg:mt-20' : 'lg:mt-32'" x-transition >

Blog Articles
Introducing GoCo Templates: Work Smarter, Not Harder
Explore a curated library of templates to get the most out of your Workflows, Reports, & Performance Reviews.
Templates are a popular request we've heard frequently over the years. As we've added new features and enhanced old ones, our platform has grown more complex. At GoCo, we strive to be as flexible as possible, encouraging you to bring your own payroll, broker, and tech stack. Now, with the debut of our Templates, we want to empower you to get the most out of our building blocks in the way that makes the most sense for you.
Today, you have to start from scratch when building almost everything in GoCo. We know it can be hard to visualize and understand how individual building blocks can easily work together to minimize pain points, save time, and unlock more robust capabilities. 
We wanted to give you an easy place to start. This has inspired us to package these uniquely powerful building blocks into something entirely more dynamic. 
Enter the new Template Library! 🎉

Our new Template Library is a one-stop-shop to access curated templates that leverage the power of Workflows, Reports, and Performance Reviews. With one click, you can install a group of templates to optimize and innovate your most common processes. Or, if you're looking to try something new, the Template Library is a great place to leverage GoCo's position as an industry leader in HR best practices – let us show you an easier way!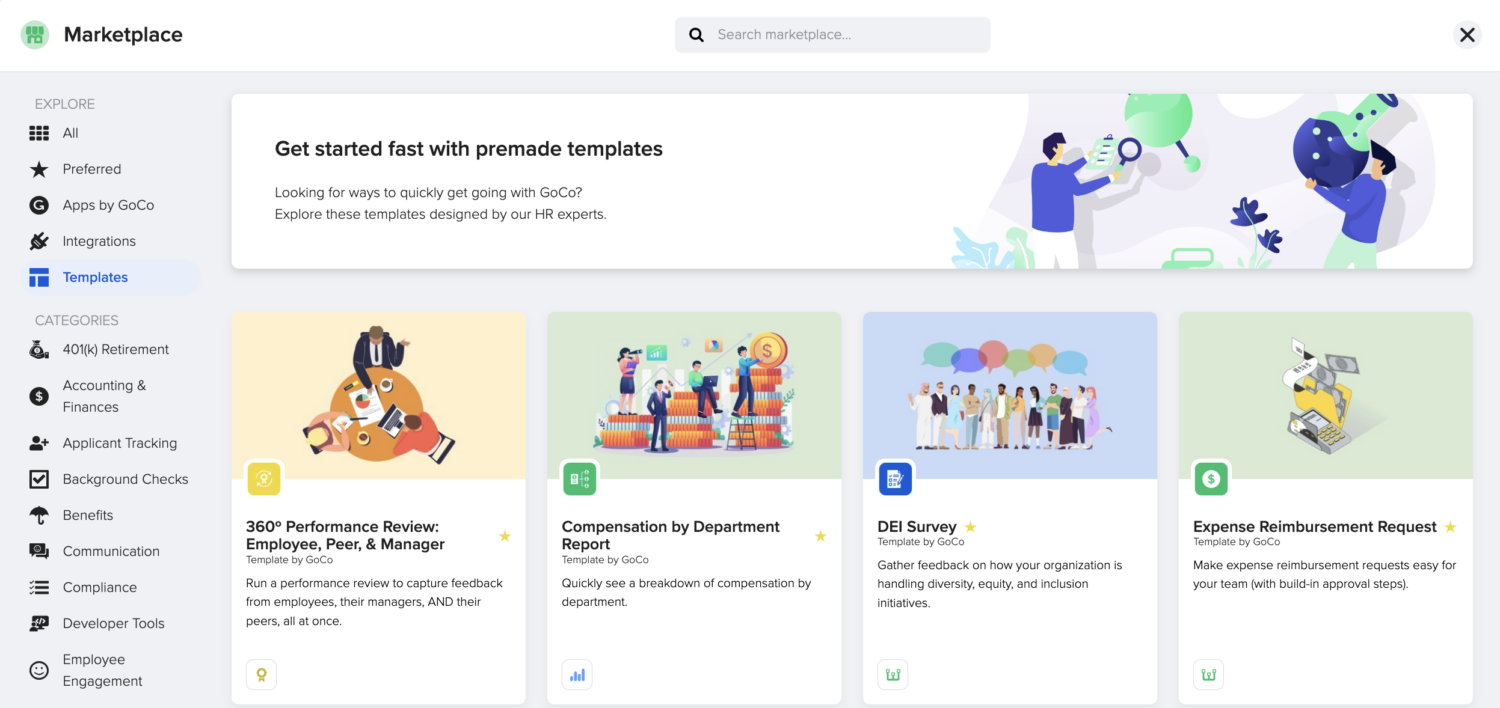 We're launching the Template Library with over 30 templates based on popular HR tasks and workflows, as well as how our GoCo HR team uses the system internally. Here are some examples of templates you'll find in the new Library:
Employee Request Templates
Workflows are great for facilitating employee requests. They provide an easy way to capture necessary data, automatically notify team members for approval, and track progress at-a-glance or by running reports. 
Automating employee requests saves you time, so we created templates around popular use cases to help get you started: 
Compliance
We know compliance can be complicated. At GoCo, we use our workflow technology internally to track requests for reasonable accommodation. We've taken these internal request processes and shared them as templates to provide an easily trackable way for employees to request accommodations for veterans, nursing mothers, religious practices, and more!

Expense Reimbursement
Expense reimbursements are a pretty common HR task. At GoCo, we use a workflow to submit, track, and manage employee expense reimbursements. We created a template modeled off of our own workflow to help you streamline and automate your expense reimbursement process. 

Survey Templates
Keep your HR data consolidated in GoCo by using workflows to facilitate employee surveys. Plus, with our latest enhancements to Reports, it's easier than ever to analyze and visualize the results. It can be hard to envision how to leverage workflows to run surveys efficiently, so we created some templates to help you get started. 
DEI Survey
Promoting Diversity, Equity, and Inclusion (DEI) initiatives in the workplace helps increase employee engagement and improve retention. An important part of creating a DEI policy for your company starts with assessing where you currently stand. We created a DEI survey template so you can easily gather feedback from your employees on how your organization currently embraces DEI in order to determine where you need to make improvements. 
Employee Engagement Templates
Workflows are a great tool for automating your HR processes. At GoCo, we also use workflows   to streamline our employee engagement initiatives. It can be hard to keep your team engaged, especially in a remote or hybrid work environment, so we crafted templates to inspire new ways to engage your team. 
Anonymous Suggestion Box
As part of an internal DEI-themed hackathon (hosted back in May 2021), we built anonymous workflows technology so you can create a safe space to collect sensitive reports or feedback from your team anonymously. We modeled this template off of the anonymous suggestion box we use internally at GoCo. (Template will be available on February 16)

Wellness Challenge
We started the tradition of a GoCompete Wellness Challenge in the summer of 2021 to provide more opportunities for employees to stay engaged and connected in a hybrid or fully-remote work environment. We created multiple templates for you to facilitate company-wide challenges, from wellness to mindfulness and more, all modeled off of our own GoCompete Challenge. It doesn't take fancy planning or a high budget to create an engaging and fun virtual challenge for your workforce. 
We are super excited to launch this new Template Library to give you a starting point. Once you install a template, we encourage you to make adjustments to customize it for your company's specific needs and processes. 
Watch our template library demonstration from the What's New in GoCo Winter 2023 Webinar:
Log in or take a tour to browse the details of these templates and more in the GoCo Marketplace! You can also request new templates (and integrations) from the marketplace.
Recommended Posts