= 50)" :class="navScrolled ? 'lg:mt-20' : 'lg:mt-32'" x-transition >

Blog Articles
New in GoCo: Payroll Grid & Duplicate Workflows!
Exciting new functionality to improve your payroll process and help you automate more efficiently!
New Embedded Payroll Grid
Preparing payroll just got easier with the customizable grid for GoCo's Embedded Payroll powered by Execupay!
Preparing for a payroll run can be a monster of a task depending on your company structure. At GoCo, we think running payroll should be more effortless, so we added a new grid view in our embedded payroll to improve the experience of organizing and updating your payroll data.
Once you have started the payroll run in GoCo, click the new "grid view" button that will enable you to switch to this beautiful new grid: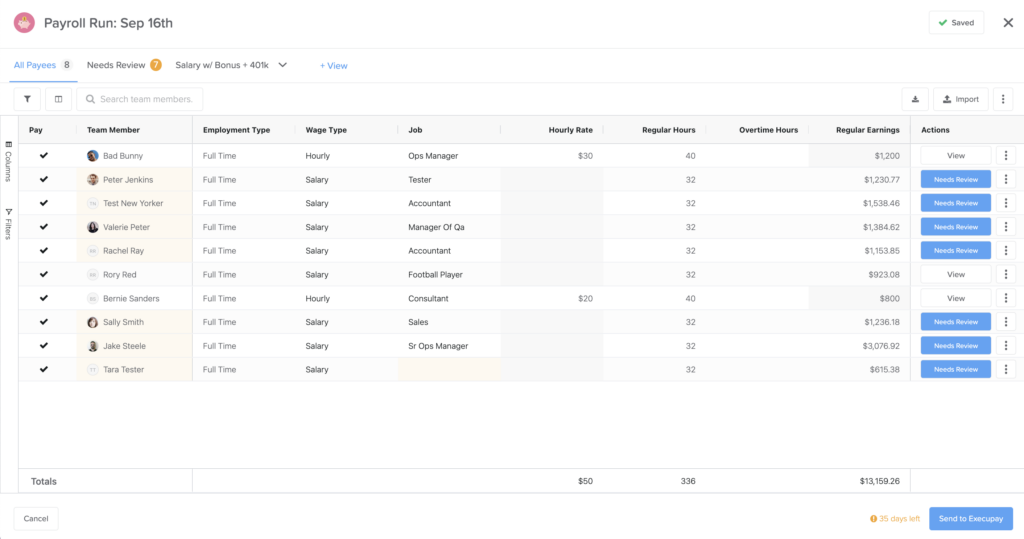 The new grid empowers you to customize and save specific views so you can easily check or update specific payroll data combinations.

With the new filters, you have more flexibility on which employees you want to look at. You can still view all employees at once or only those employees with items that need review. Additionally, you can now filter by department, job, wage type, and more so you can easily update data like hours worked, overtime, and commission directly from the grid view.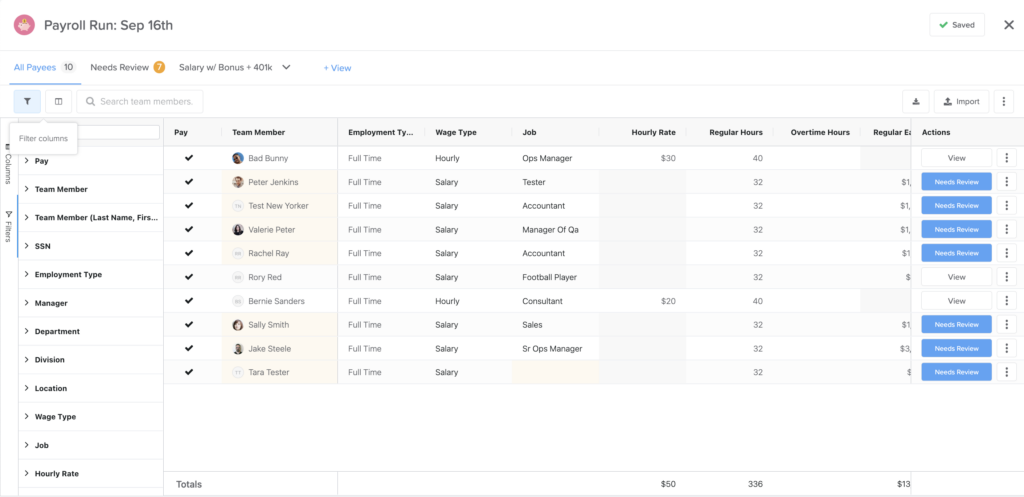 The "customize columns" button enables you to add/remove specific columns as well as drag-and-drop the columns in the order of your choosing. This is particularly helpful if you want to create a view of just your sales team and easily enter commission amounts for all of them in one view.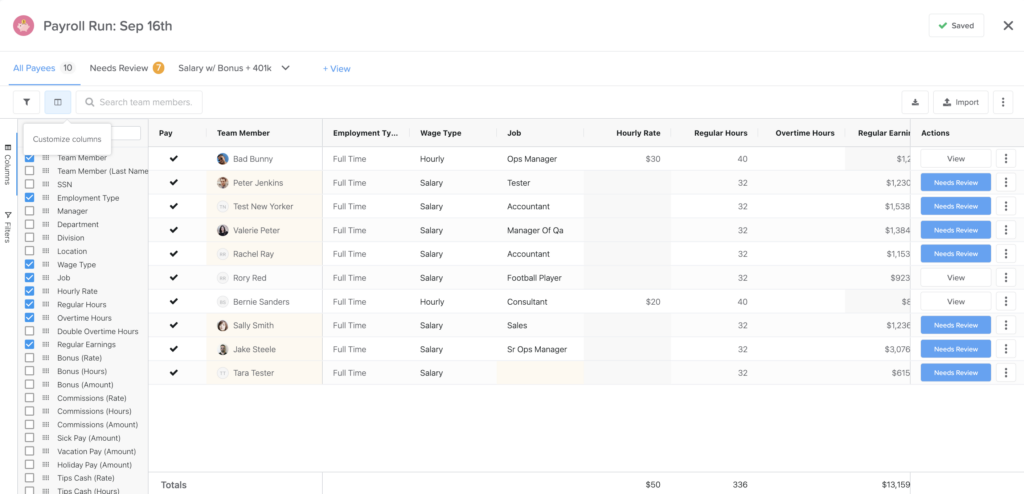 With the new grid, you can create custom views, save them, and use them again on the next pay runs (and the ones after that!). We hope with the new payroll grid, you can save time on your pay runs so you can focus more on your people!
Duplicate Workflows
Frequently requested by clients, you can now copy existing workflows so you don't have to start from scratch!
With our workflows feature, HR teams can use a drag-and-drop editor to build a workflow for any HR-related process or to-do list. Users can create tasks with dynamic assignments and due dates, and track the status of each assignment at-a-glance.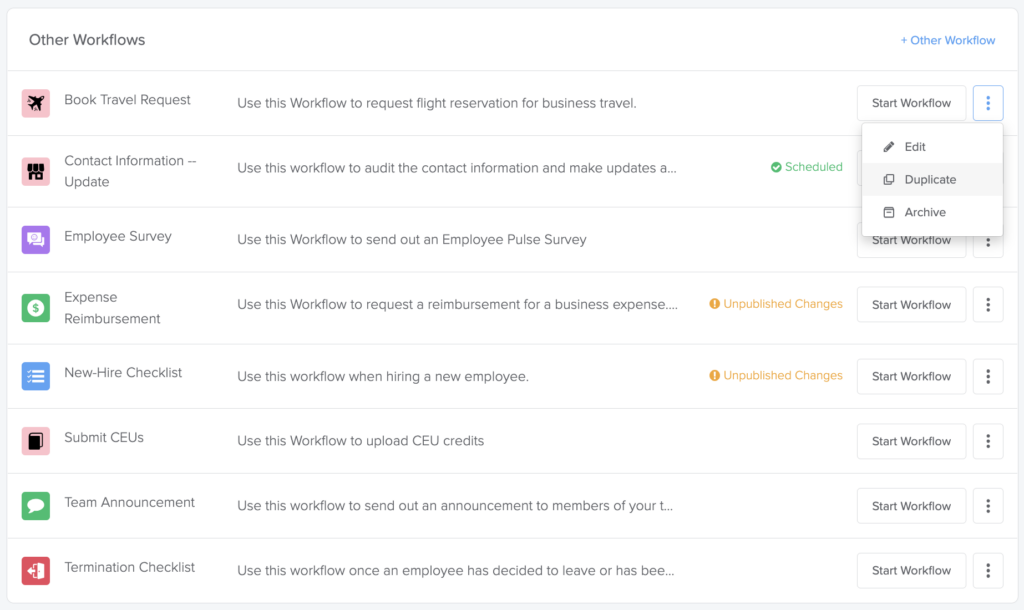 Our clients have made some incredible and intricate workflows, from easy expense reimbursement requests and IT ticket submissions to in-depth performance reviews, vendor applications and more. 
Sometimes different information needs to be gathered depending on job title or department. It can be tedious to have to rebuild a whole workflow when it's just a couple of fields that are different. And, it can be even more tedious for an employee to see fields they don't need to complete. 
Now, it's even easier to customize workflows so you get the right info, from the right people, without any frustration. Simply, duplicate the existing workflow you've built, rename it so you know who it will be for, and make any adjustments needed.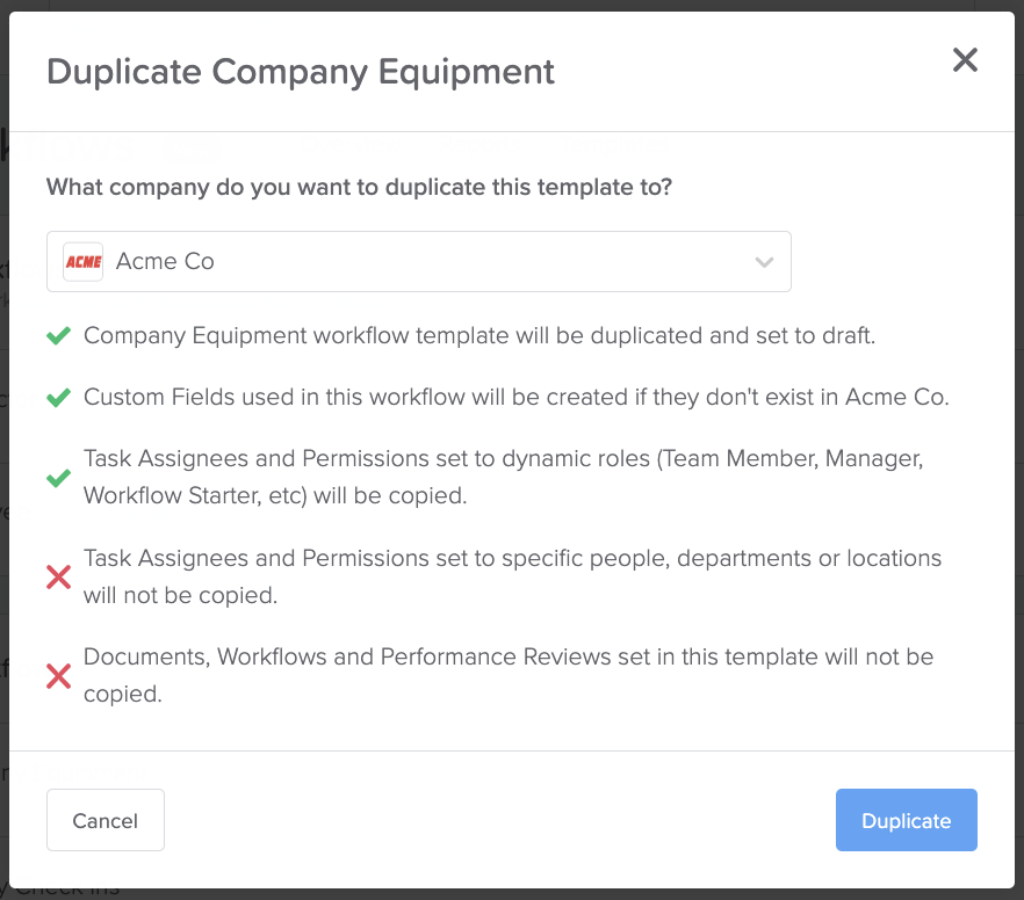 BONUS: for clients who have multiple companies on GoCo, you can now take the workflows you've built on one company and duplicate them automatically so you don't have to rebuild from scratch. All the tasks, fields, due dates and assignees will copy over!
Now, the big question: what will you do with all the time you save?
Resources
Click here to learn more about how to customize your payroll grid.  Click here to learn more about duplicating workflows.
Recommended Posts