= 50)" :class="navScrolled ? 'lg:mt-20' : 'lg:mt-32'" x-transition >

Blog Articles
New Feature: Standardize Any HR Process with Workflows!
GoCo expands its HR platform with game-changing automation for reimagining HR tasks and checklists.
2020 has been a year of MAJOR change. On top of existing duties like onboarding, offboarding and benefits enrollment, HR managers have added remote work policies, COVID-19 plans, and even return-to-work regulations to their plates.
This picture seems to accurately summarize the sentiment in the HR world this year: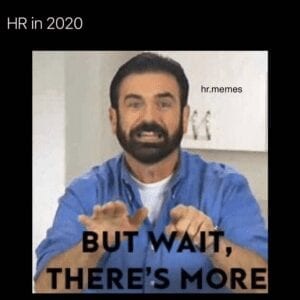 Because we understand the continuous struggle of spending time on manual HR processes, GoCo is announcing a new, game-changing feature that empowers HR pros to digitally reimagine and automate any HR workflow, including onboarding, termination, employee requests, performance reviews, and virtually any other HR-related process or checklist. 

Why Automate Workflows Now?

In a survey of HR professionals, GoCo recently found that the majority of small businesses are still using paper or spreadsheets to manage checklists and multi-step processes like employee onboarding. Even companies that report having a dedicated software solution for HR, such as an HRIS, often revert to email and spreadsheets when it comes to onboarding and termination checklists, because their software solutions aren't flexible enough to support all the tasks and to-dos on their lists. 

Build a Workflow for Any HR Process

In response, GoCo set out to build a feature that empowers HR professionals to bring their existing tasks and checklists to life digitally inside of GoCo. With GoCo Workflows, HR teams can use a drag-and-drop editor to build a workflow for almost any HR-related process or to-do list. Users can create tasks with dynamic assignments and due dates, and track the status of each assignment at-a-glance. 
"We're truly passionate about helping HR spend less time on manual processes, and our new Workflows feature is going to be a game-changer for automating those processes" said Nir Leibovich, CEO and Co-Founder of GoCo. "Most importantly, we built Workflows to be ultra flexible, so HR can not only automate any checklist, but they can be the architects of those flows, and build them in a way that's tailored to their unique needs." 
Some of the most common workflows that users are automating with GoCo include: 
New-hire orientation programs

Employee requests (for promotions, salary changes, equipment and supplies, etc.)
Key features include: 
Drag and drop workflow templates

Dynamic task assignments and due dates

Insert rich text, forms, and documents

At-a-glance view of task statuses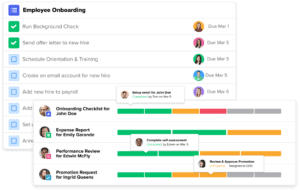 "GoCo Workflows has literally changed my HR life," said Sarah Burch, HR Manager and GoCo customer. "It's automated, you can build it yourself, you can customize it, you can do whatever you want with it. It's fantastic."
And with COVID-19 rewiring the way that businesses operate, GoCo Workflows also support remote employee onboarding, remote employee engagement, and frees up time for HR managers to play a more strategic role in supporting business objectives.   
"We started building Workflows before the pandemic, but since COVID-19 it's become even more clear that HR needs to automate and digitize their to-do lists," said Leibovich. "GoCo Workflows really delivers on that vision, and we're excited to give HR pros the tools they need to support a remote or socially distanced workforce." 
You can learn more and schedule a free demo of GoCo Workflows at goco.io/workflows
About GoCo
GoCo is modern HR, benefits, and payroll, built with flexibility and ease-of-use in mind. Founded in 2015 and headquartered in Houston, TX, GoCo's mission is to help small businesses spend less time on manual HR tasks, so they can focus on growing happier, more productive teams. 
Unlike other HRIS platforms, GoCo is built to be flexible enough to support existing processes, policies, and providers, so that SMBs don't have to change the way they work just to adopt a modern HR system.