= 50)" :class="navScrolled ? 'lg:mt-20' : 'lg:mt-32'" x-transition >

Blog Articles
Make a Flawless First Impression with Automated Onboarding
Taking the initiative to streamline the new hire orientation process can ensure a more seamless transition and leave a great first impression.
With the rise of remote work, HR Managers are struggling to keep up with their ever-changing job responsibilities. From staying connected and organized in a virtual setting to finding new ways to engage employees, the pandemic has certainly put HR pros' skills to the test. One way that companies can help relieve some of this burden is by automating onboarding processes for newly hired employees. Automated onboarding not only helps streamline processes but also ensures that new hires have all of the information they need from day one – allowing them to hit the ground running!
The Automate New Hire Orientation Process
At GoCo, we know how important smooth onboarding is for new hires, and orientation plays a major part in this process. What we also know is just how many tasks fall on HR managers to create a flawless first day.
Typical new hire orientation documents cover topics such as:
Administrative Support
Providing new hires with support on the I-9 form, W-4 form, employee consent forms, background check forms, direct deposit forms and more

Assisting in teaching procedures around building entry, employee requests, and time off requests
Company Policies
Giving employees background on your company's NDA, Non-compete agreement, confidentiality agreements, and more

Reviewing benefits, stock options, employee wellness, and other perks

Providing an overview of the employee handbook, vacation policies, COVID-19 sick leave, safety guidelines
Introductions
Connecting new hires to their manager, the HR team, the IT department, and all other departments

Scheduling meetings for new hires to get acquainted with colleagues

Assigning mentors or buddies to help with any questions
Work Set-Up
Ensuring the new hire has access to all necessary equipment, from laptops to online tools

Scheduling demos and training
With all of the topics covered in new hire orientation, the process can quickly become time-consuming and inefficient. Automating your new hire orientation, especially during times of work-from-home," can help standardize a crucial component of onboarding while keeping everyone in sync along the way.
4 Benefits of Streamlining New Hire Orientation
1. Make a Flawless First Impression
Being able to trigger task reminders and build custom orientation workflows automatically ensures that your new employees are getting the full introduction experience to your organization. No steps skipped!
2. Stay Consistent
Automating your new hire orientation guarantees that materials presented to new hires remain consistent with standardized workflows and document management.
3. Eliminate Paper-Based Processes
Replace your previous paper-based orientation workflows with digital communication, paper-free forms, signatures, feedback, and more.
4. Reduce Costs
Streamlining orientation not only reduces manual labor but also requires less in-person training time and less time compiling information for every set of new hires -- not to mention the amount of money saved on paper and ink costs!
3 Steps to Automate New Hire Orientation
Now that we've covered the "what" and "why", it's time to take action. GoCo's automated HR workflows feature makes it easy to build custom new hire orientation workflows for every team and role.
1. Create a custom orientation checklist template
Add name, description, and icon

Designate permissions levels

Create tasks for company intros, tours, policy reviews, administrative support, and more

Group tasks by employee, manager, and department

Assign orientation tasks and due dates to the appropriate team members

Insert relevant form fields to collect information (i.e. document signatures, agreements, and more)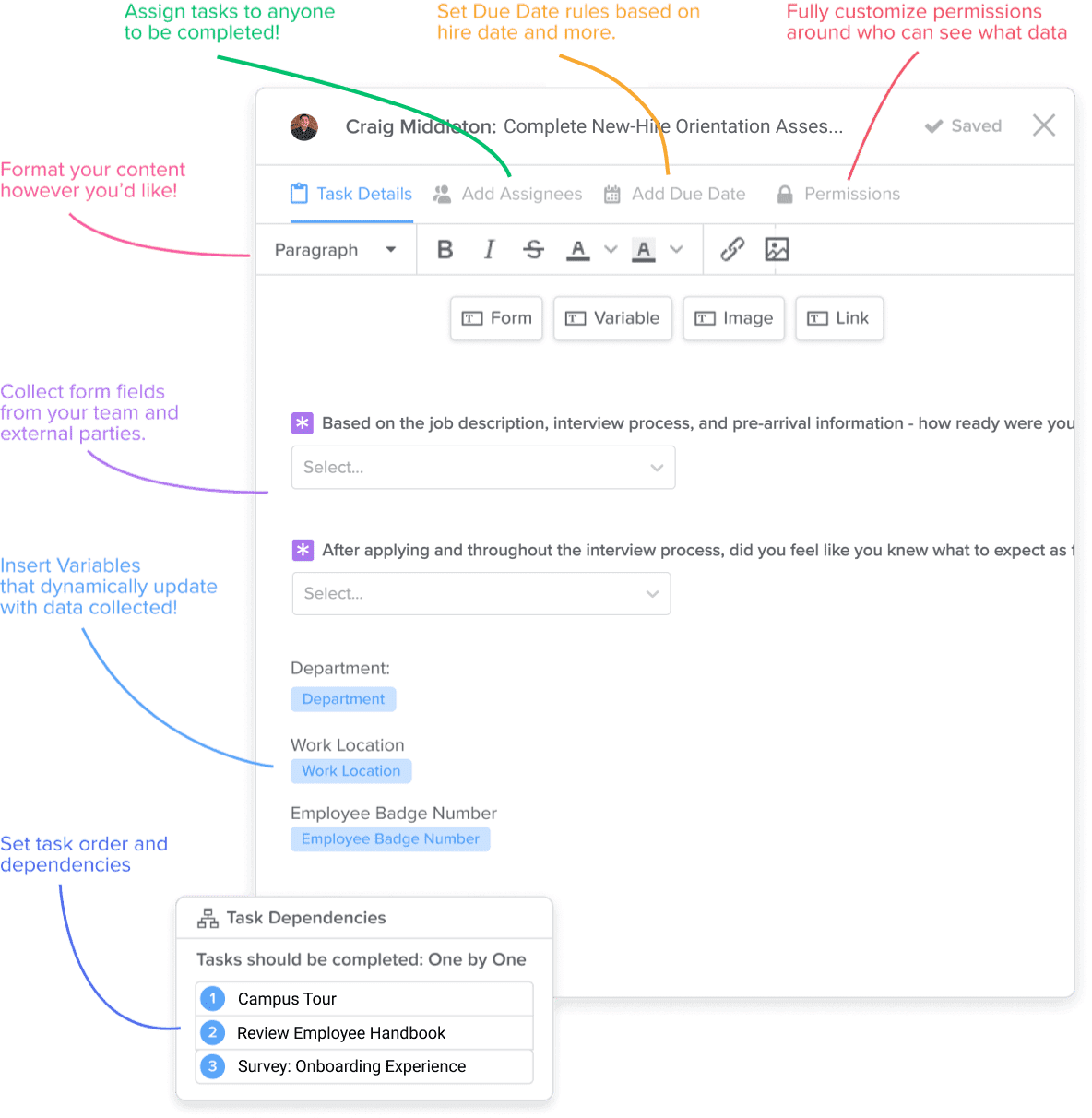 2. Start your new hire orientation workflow
After you've created a custom template, simply select the new team member to start the orientation process.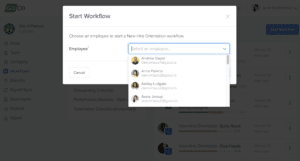 3. Trigger alerts and view assignees and task completion status in regard to new hire orientation

GoCo's new workflows feature reduces the pressure HR pros feel around creating a memorable new hire orientation. Schedule a demo today!