= 50)" :class="navScrolled ? 'lg:mt-20' : 'lg:mt-32'" x-transition >

Blog Articles
New Hire Paperwork & Employee Onboarding Forms [+ 2023 Checklist]
New hire paperwork includes documents that ensure compliance with state and national law, as well as internal policies such as the employee handbook
Any new hire at your company has to go through a series of formalities and hoops before they become official employees. The new hire paperwork is one of those many hoops, and it can be a tedious one for both the employee and the manager who has to onboard a number of employees each month.
Download The Ultimate New Hire Paperwork Checklist
Unfortunately, some of the paperwork is required by law, which makes it mandatory for compliance. Still, paperwork doesn't have to be cumbersome, it doesn't have to dominate a new hire's first day, and it doesn't even have to be paper-based. With solutions like GoCo, your new hires can accept their offer letters and complete all of their paperwork before their start date, creating a better first-day experience for employees and HR pros alike.
To help our clients bring on the best of talent, and onboard them the right way, GoCo includes a digital onboarding solution for sending documents and collecting signatures electronically. Learn more and take a tour of GoCo!
The Definitive New Hire Paperwork Checklist
New hire paperwork is essential for classifying and compensating employees. As an employer, you and your new hires should complete a variety of employment forms, including:
Form I-9 Employment Eligibility Verification

Equal opportunity data form

State tax withholding form

Employee benefits documents

Employee handbook

Direct deposit form

Policy documents and acknowledgments
You'll also need to use the E-Verify system to verify employment eligibility in the US. Be sure to check the legislation in your state and complete all necessary forms within the deadlines to avoid penalties.
Some documents, especially legal ones, are mandatory to include in your new-hire paperwork package. This is to ensure compliance with state and national employment laws. A number of government agencies, such as the IRS, the United States Department of Labor, and the Department of Homeland Security, have guidelines that help you create a set of legal documents for income tax and similar obligations.
Other documents, such as the employee handbook and the company policy forms, are very specific to your company. You can take your time sending them to employees. In fact, it's a good idea to introduce this paperwork in the onboarding process gradually.
At GoCo, we believe in leaving the manila envelope behind! Paperwork can be automatically sent to new hires when they accept their offer letter. Plus, you can easily maintain all employee-specific documents in one place. Check out our new-hire onboarding checklist for more info.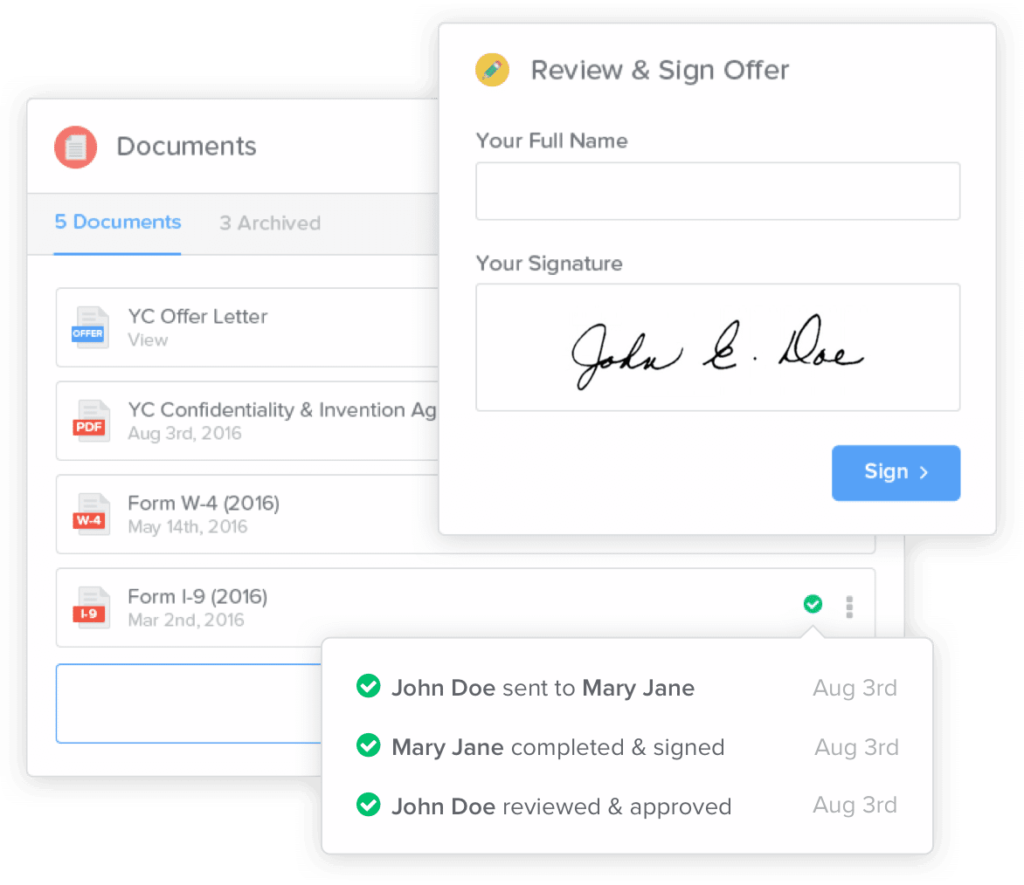 Federal and State New Hire Forms
The government requires all US firms to have their new employees fill out a few new hire forms. Some are mandatory, while others depend on circumstances. There are the legal and tax forms required by law (as per state regulations). Some of the more common employment (legal) forms include W-4 forms, State Tax Withholding and I-9 forms, employment eligibility verification, and E-Verify systems. These are used for tax purposes (federal income tax, background checks, etc.) and for compliance with various other worker's compensation rules.
Here are some details about vital elements to keep in mind when putting together new hire paperwork.

Form W-4
Form W-4 is a tax reporting document. New workers must fill out this form according to the IRS. The W-4 instructs you on how much to withhold from an employee's pay to pay the proper federal income tax. Every new employee should fill out this form and submit a revision if they need to change their withholding.
You must retain an employee's W-4 form for 4 years.
You can download form W-4 from the IRS website.
Form I-9
Form I-9 confirms a prospective employee's employment eligibility and legal authority. Many employers are required to keep this document, according to the United States Citizenship and Immigration Services (USCIS)
It has sections for employees and employers, with employees having to complete by the first day of work. Employers must physically examine the employee's identification documents and complete the form within three days after the employee starts work.
It's essential to read the guidelines to ensure compliance, as non-compliance can result in significant penalties. You must retain an employee's I-9 for 3 years after their hire date or 1 year after the employee's termination (whichever is later). I-9 forms should be kept separate from other personnel documents.
You can download form I-9 from the IRS.
Equal Opportunity Data Form
An equal opportunity (EEO) data form is required by all private-sector employers with 100 or more employees and federal contractors with 50 or more employees meeting certain criteria. It is a document that can help employees understand how you hire. Many firms include a digital version of the EEO-1 Survey as part of the application process.
Employee Benefits Documents
If you offer employee benefits, you need to give each new hire paperwork that includes the terms and conditions for said benefits. You need to document benefits from within and for taxation purposes if you provide them.
These advantages will differ depending on your organization, company size and the kind of benefits you provide, but the most common benefits include:
Health insurance

Life insurance

Retirement plans such as 401(k)

Stock options

Health, wellness, and care benefits (gym memberships, mental health programs etc.)

PTO and sick leaves

Eventual tuition reimbursement

Disability insurance
Internal New Hire Forms
The forms listed below are necessary for success in onboarding new staff, although they are generally not requirements of any state, federal, or other regulating entities.
Download The Ultimate Onboarding Checklist
Offer Letter
This letter follows the employer's acceptance of the candidate's application. The written offer letter contains vital information regarding the employee's job terms, such as:
The job type

Compensation

Company benefits

Start Date
If the employee accepts the provisions of the offer letter, they must sign it and send it to the business for filing. Need help creating your own? Download our free example offer letter template!
Copy of Background Check
You may include a copy of the background check in the employee's file if you complete the check and hire the person. The background check, in most situations, does not go into great detail and informs you whether the candidate passed or failed.
Employment Contract or Employment Agreement
An employment agreement outlines the rights and duties of both you and your employees. It will include any particular requirements related to your hiring process and will be more extensive than an offer letter.
Employment contracts are not required for most positions in right-to-work states. You may want to check with your legal counsel if you are unsure if and when you need a contract. Required or not, we recommend sending one with the job offer and giving employees a chance to examine and sign it.
The employment contract should include:
Job information

Length of employment

Work schedule

Employee responsibilities

Compensation and benefits

Conditions for possible termination
Employee Handbook Acknowledgment
An employee handbook includes human resources and legal information, corporate regulations, company benefits and perks, and information about your operations. It would be best if you gave this handbook to employees early for them to examine and sign an acknowledgment of receipt.
Direct Deposit Form
Many employees choose to have their money transferred immediately into their bank accounts. A direct deposit form authorizes the employer to deposit money into the employee's bank account regularly. The employer needs the form on file to finish the transaction.
Emergency Contact Information and Personal Data For Emergencies
It's good to keep all employees' emergency contact information on file. This straightforward form includes the contact's name, phone number, email address, and relation to the employee.
You can also request your new hires' personal details for a variety of health and safety purposes. These can include known allergies or dietary restrictions (such as gluten-free, lactose intolerant, vegan, vegetarian, etc.)
Remember not to sound too intrusive on the paperwork when asking for employees' personal data. Simply ask them to fill in all the details that would help you assist them or contact them directly (or indirectly), in case of an emergency.
Policy Acknowledgments
Have new hires evaluate and sign off on any other policies not listed in your handbook on their first day. Include it with your new hire documentation if you have a written policy about internet activity or security and confidentiality.
A non-disclosure agreement (NDA) protects proprietary information in a business. New employees may have access to a company's business plans, employee contact information, client information, and other confidential information. A non-disclosure agreement requires them to promise to maintain confidentiality.

A non-compete agreement safeguards a firm against employees who leave one company to work for another in the same field. A non-compete agreement forbids an employee from working for a direct rival for a specific time and in one geographic area.
Other Policy Forms
Get new employees' signatures on these forms to help build relationships with them. Internal forms should include:
Drug testing/alcohol-related and past-record policies

Security and confidentiality agreements
Don't be too focused on the legal aspects of the paperwork when presenting it to employees. While mandatory, the legal documents should not be all the employees think about when signing the forms.
How to Streamline New Hire Paperwork During the Onboarding Process
If your company has limited resources to spend on HR management and record-keeping, chances are you are already overwhelmed at the prospect of creating all this paperwork for new hires. From there, there's the eventual onboarding of new hires - which adds to the responsibilities.
Luckily for you, there are several things you can do to make sure you streamline the onboarding process for every new hire while also minimizing the effort put into drafting paperwork.
Here are some of the main pointers to consider:
Know Federal, State, and Local Labor Regulations
If you know all the rules, not only will it be easier for you to comply with them, but you also won't have to draft redundant paperwork. Additionally, it will help your company in case there is a government-based audit on it. Just keep a close eye on any changes to laws and regulations, and implement them accordingly in all relevant paperwork.
Complete New Hire Paperwork Beforehand
Draft all the relevant new hire paperwork and either send it out before their first day or have it ready for the employee to sign off on during the onboarding process. Also, inform them of these obligations beforehand so that it doesn't distract them while they are learning their responsibilities and the organizational processes in your company. If possible, use a solution like GoCo!
Store Employment Paperwork in a Centralized Location
All employment paperwork should be stored and ready to hand out to new hires from one single location. This prevents delays in regular processes should you need to produce such paperwork in the event of an audit or in case you're looking to alter a new hire's nature of employment (promote them, transfer them to another department, etc.).
Make Use of HR Software
HR software is the modern-day solution to an extensive set of HR professionals, who take time and resources to hire and put in place. One of the best ways to streamline the hiring and onboarding of new hires is through HR software, such as GoCo. Our HR software suite lets your employees complete their paperwork online. You can also store all the employee guidelines and benefits information in one place - allowing your new hires to access them whenever they want.
Onboarding Paperwork FAQs
New hire paperwork is necessary to comply with federal and state laws, verify employment eligibility, enroll employees in benefits programs, and establish essential employment policies and work agreements.

The most important forms that new hires need to fill out include Form W-4 for tax withholding, Form I-9 for employment eligibility verification, and any employer-specific forms for benefits enrollment, direct deposit setup, and emergency contacts.

HR departments can ensure that new hire paperwork is completed accurately and on time by creating clear instructions and deadlines for completion, providing access to digital forms and document management tools, and designing a streamlined onboarding process.

Yes, new hire paperwork can be completed digitally using electronic signature and form management platforms. This streamlines the paperwork process and improves accuracy and compliance by automatically validating data and saving records.

If a new hire fails to complete the required paperwork, it can result in delayed and incomplete benefits enrollment, incorrect tax withholding, and compliance violations. HR departments should communicate the consequences of non-compliance and establish a process for managing outstanding paperwork.
Choosing the Best Onboarding Software for Your New Hires
If you've recently started expanding your workforce, you'll know how tedious all the initial hiring paperwork can be - especially on the employees' first day.
To counter this issue, GoCo provides an all-in-one hiring and onboarding solution through its modern HR platform. From storing all the necessary documents to sending them to new hires and even keeping a record of their onboarding process, GoCo does it all. In addition, you can make direct deposits via the software's efficient payroll processing facility.
With an online Human Resources tool such as GoCo, you can not only manage employees at the earliest stage of their tenure but make sure they get the proper welcoming treatment they deserve as new hires. Check out our product tour today!
Recommended Posts
See our top-rated HR solution in action