= 50)" :class="navScrolled ? 'lg:mt-20' : 'lg:mt-32'" x-transition >
Gusto vs Rippling:

A Comparison Guide
With hundreds of HR software options available on the market, making the right choice for your business can be a daunting task. Which option is best for small businesses? Which option offers the best customer service? Will all of my HR needs be met, from onboarding employees to running payroll? These are likely questions that you'll encounter throughout the research process. As you continue your software evaluation journey, you'll likely encounter two HR/payroll platforms, Gusto and Rippling. Both platforms feature payroll, benefits, and HR for SMBs.
In this day and age, HR software can help all parts of your business work better, in addition to ensuring a better employee experience. The days of manual, administrative HR work are long behind us.
Now let's compare Gusto, Rippling, and GoCo — an impressive alternative that incorporates the highlights of both platforms and more so you can easily streamline onboarding, benefits, payroll, and HR workflows.
Ready to explore GoCo? Check out our interactive Product Tour.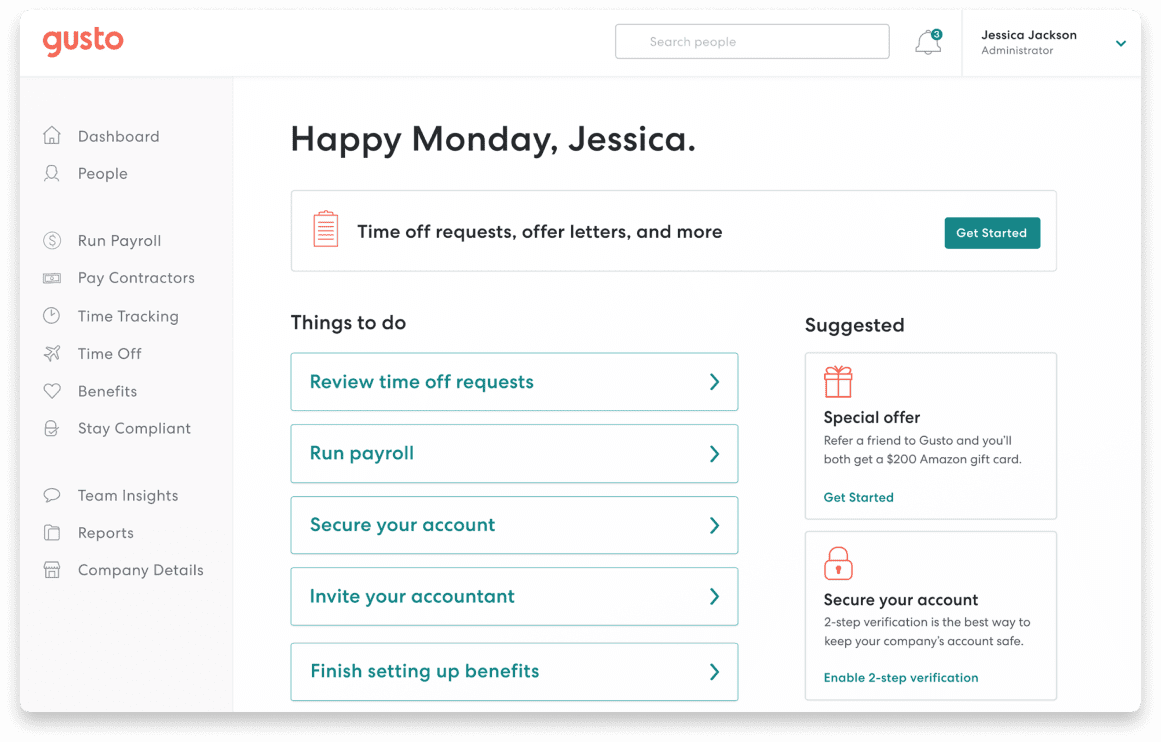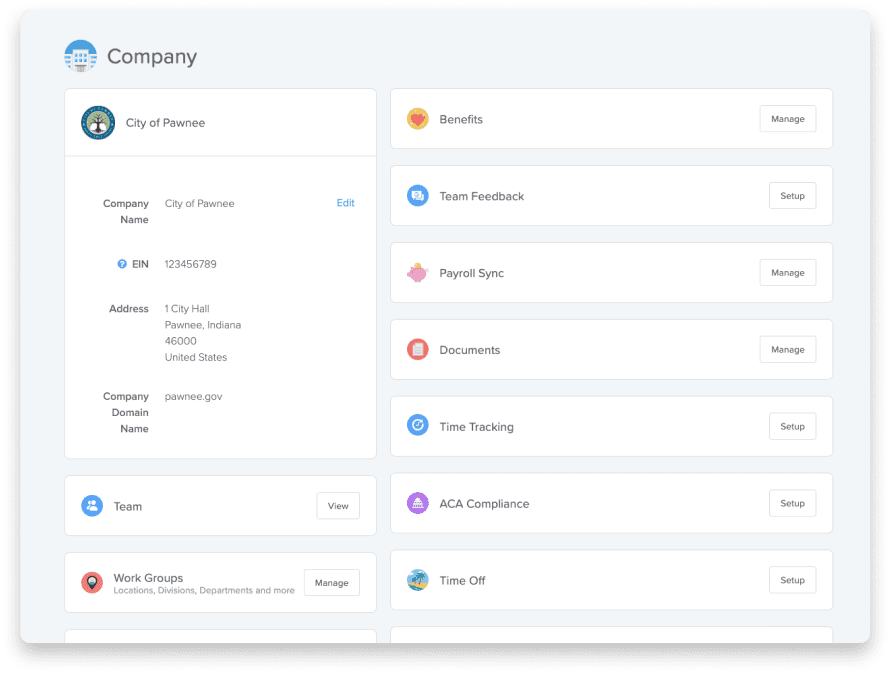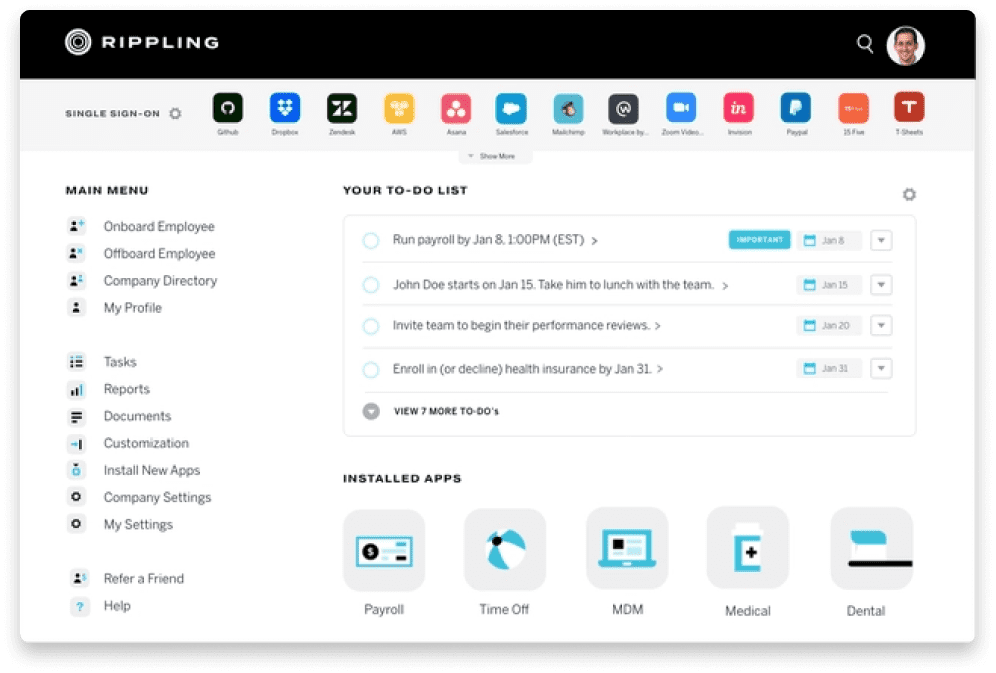 Points of Comparison
Finding the right HRIS can greatly reduce the burden on your HR team, whereas the wrong fit could do the opposite. Here are a few key points of comparison you should look into while evaluating your options: customer satisfaction, key features, and pricing. These three points of comparison are often the main selling points that drive decisions in the SaaS space. If an HRIS ticks all three boxes, you can expect massive time savings, efficient workflows, reliability, and a truly consolidated experience.
Customer Satisfaction
When it comes to an HRIS, customer satisfaction and support are arguably as important as the functionality of the software. Customer satisfaction covers everything from the product's alignment with customer needs to the average support response time. A strong customer service team will save you hassle, time, and energy, which will make all the difference in high-stress periods like payday or tax time.
A strong HRIS should prioritize efficient implementation by scoping out all of your needs, processing your data, and doing all the heavy lifting to bring your processes to life. Your customer support team should be trustworthy, competent, active listeners, and empathetic. From kickoff to data imports and finally, to launch, the HRIS adds value to your processes without making things more complex.
Your support team should also be just a call, email, or chat away. Make note of companies that listen to feedback and go the extra mile to deliver the best support. Response time is crucial too — don't wait on a service that can't make time for you.
Key Features
If you're making the shift from paper-based HR systems to cloud-based software, your ultimate goal is to save time and consolidate processes to focus on higher-value priorities (like your employees). At a higher level, the software you're evaluating should be easy to use, easy to set up, and offer stellar support quality. At the next level, you're researching to make sure your potential HRIS offers core features, like remote onboarding, time, attendance, PTO, payroll, automation, and more. The ability to customize these options and features for your business may also be a deciding factor.
An efficient HRIS should solve the problems above and include the following:
Consolidated employee management features

Hiring and onboarding

Document management

Workflows

Self-Service Tools

Benefits administration

Payroll

Time and absence management

HR Support and advisory features

Dedicated customer support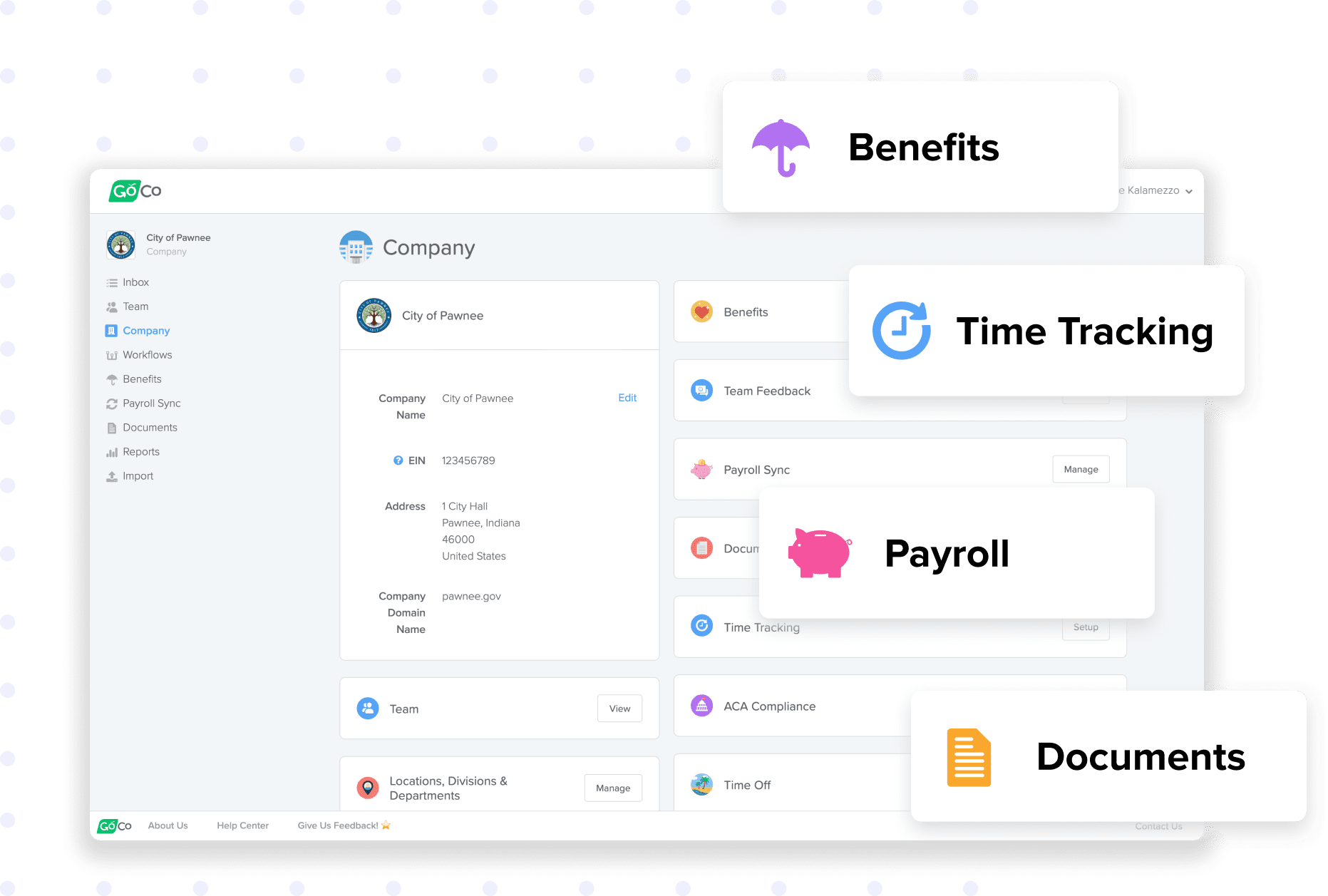 Whether it's the ability to remotely send offer letters and onboard employees, give employees the power to select benefits online, or track time on a modern kiosk, the scope of your future HR platform's features should cover all the bases of your HR processes.
The three platforms overlap quite a bit in employee management features, but Rippling stands out for IT management, Gusto offers month-to-month payroll services, and GoCo shines with advanced workflows, performance reviews, and customizable document management. All three platforms provide payroll, but Rippling does not offer payroll sync for cloud-based payroll platforms.
GoCo leads the way with simple, robust, and completely digital benefits enrollment, whereas Gusto lacks autonomy with benefits administration and doesn't offer ACA tracking. For example, employers must leave existing brokers and switch to Gusto's brokers for benefits administration, while GoCo allows you to keep your existing broker if you choose.
Ready to explore GoCo? Check out our interactive Product Tour.
Pricing
When it comes to pricing, look for an HR platform that can support all of your HR tasks and policies while still being affordable enough for your company size. Though it's important that the software has all the features you desire, it's also important to note which features come at a premium cost, and whether that is in your scope. Define your must-have requirements to ensure that you can build custom pricing plans to fit your HR workflow and any other needs. The key is to decide what modules and features are required for your business and take into account upgrade costs.
Summary
Now that we've covered and compared the key points of comparison, let's talk through the winners!
When Gusto Wins
Gusto is a good option if your focus is only payroll or month-to-month payroll, and not an all-in-one HR software.
When Rippling Wins
Rippling is a good choice if IT is your top priority. If your focus is on provisioning, app management, and device management, this could be a good option for you.
When GoCo Wins
GoCo is the clear winner if your end goal is a truly consolidated and customizable all-in-one HR platform with unbeatable customer support, advanced platform features, and competitive pricing.
Whereas many other HR platforms offer standard HR features like payroll and benefits administration, GoCo shines with unbeatable features like:
Proprietary Magic Docs technology. Re-imagine your approach to sending, collecting, and electronically signing HR-related documents.
Automated HR Workflows. Streamline routine tasks like hiring, onboarding, termination, and more. GoCo's drag-and-drop workflow builder brings any process or checklist to life inside of GoCo.
Payroll. GoCo's embedded payroll powered by Gusto If you can't move to a new payroll, GoCo can sync data from the platform directly into your cloud-based payroll.
Advanced Time Tracking/Time Off Policies. From geofencing and automatic overtime calculations to shift scheduling and custom time off policies, GoCo stands out in this category.
Custom Work Groups. Employees can track time specific to labor groups for the company to better keep track of costs by area of business.
Client Success. Every GoCo customer is assigned their own top-rated client success team that is fully dedicated to their success. With streamlined implementation service and daily support, our team is readily available to address inquiries, troubleshoot issues, and provide guidance to ensure a smooth and reliable HRIS experience.
HR Support Center. GoCo provides access to expert advice from certified HR pros and a resource library with compliance documents, policy templates, and more to support you and your team.
Why Choose
GoCo

Over Gusto and Rippling?

GoCo While Gusto and Rippling are both strong for specific sectors of business operations, like IT and payroll, GoCo's level of customization makes it easy to take the leap. Over the years, GoCo's goal has been to innovate and minimize the friction that SMBs face in adopting HR tech. Easily automate any HR processes, notifications, progress timelines, and data reports in one place, to give both your employees and yourself a consistent HR experience. With GoCo's easy-to-learn user interface, your entire team can adopt an HRIS without spending extensive time and money on training.

Whether you need to sync to your payroll provider, work with your own benefits broker, customize documents for better reporting, or need help staying fully compliant, GoCo's modern all-in-on HRIS and outstanding support team can help. Take a free interactive tour today to see where we win!
Ready to Try the Top-Rated HR Solution for Small Business?